Bobby Flay Insists You Need These 5 Kitchen Essentials
These items are non-negotiable, the "Brunch at Bobby's" star says.
As you can imagine, Bobby Flay's pantry is literal #PantryGoals. The well-organized shelves and aesthetic glass jars would make any food lover swoon. Not to mention, an entire shelf stocked with Sanpellegrino! The celebrity chef and his daughter, Sophie, gave fans an inside look at his studio apartment-sized walk-in pantry on the latest episode of their podcast, Always Hungry.
When the 25-year-old informed her father that she doesn't own a food processor, after some initial shock, Bobby decided to make a list. "I literally went around my kitchen a little while ago," he said, "and I just wrote down what I have." Though he admits that not every cook needs the fully stocked kitchen of a professional chef, he does have some non-negotiables.
Read on to find out if you own 5 of Bobby Flay's kitchen and pantry essentials and next, don't miss, 16 Celebs Share How They Make Their Morning Oatmeal.
Hand Tools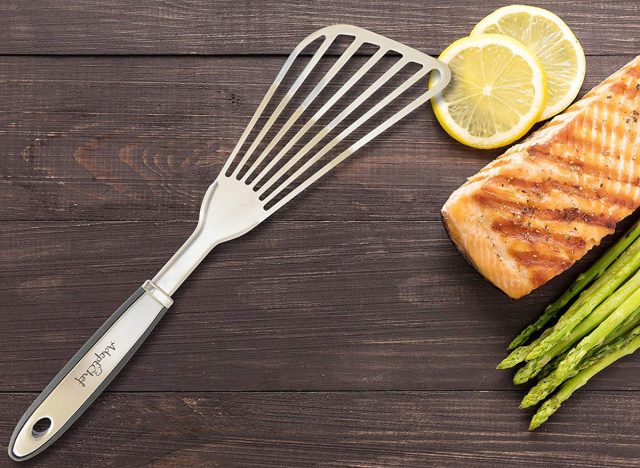 If you're like me, the container of utensils next to your stove is for decorative purposes only. It's full of wooden spoons and various utensils that fit your kitchen aesthetic. It serves its purpose of looking cute while I find myself scrabbling for a pair of tongs or spatula in my chaotic drawer full of less attractive tools.
If you're like Bobby, however, that container of "hand tools," as he calls them, is your best friend while cooking.
"So basically, I have a little container right next to my stove that I call my hand tools," the Bobby and Giada in Italy star said. "The things that I go to most, while I'm at the stove."
A few of the essentials, according to Bobby, "a rubber spatula, a metal spatula, a wooden spoon, a zester, a couple of whisks of different sizes, some tongs, both long and short." Ladles, brushes for glazing, and a "spider" also made the list of items you should have quick access to.
Related: Sign up for our newsletter for the latest celeb food news!
Thermometers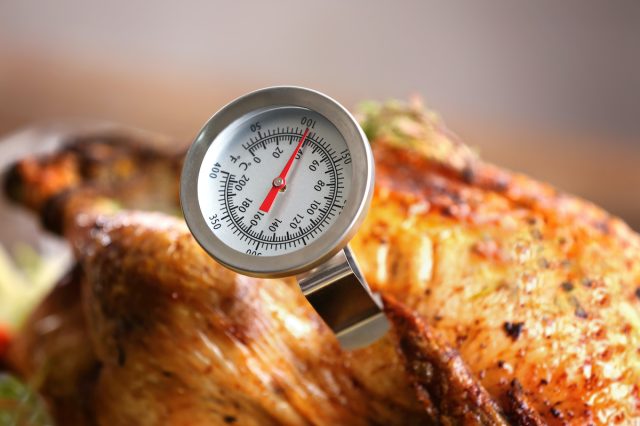 Not one, but two thermometers make Bobby's list. An Instant Read Thermometer and a Deep Fry Thermometer.
On why a thermometer is necessary at all, Bobby explained, "A lot of people say, 'how do you know when it's done?' Well…you check it." Though he reluctantly agrees that you can get away with just one, he goes on to explain that "they do somewhat the same thing, but they are different."
"The thing about the deep fry one, you can submerge the whole thing in the oil and it will actually attach to the pot that you're heating the oil up in," Flay said, "You can watch it rise." With an instant-read, however, "You probe whatever the meat is and then it tells you in the next few seconds what the temperature is."
Seems pretty self-explanatory, that is, until he throws pizza dough into the conversation. "Now, when I make pizza dough," he said, "I take the temperature of the air and the flour." *Insert mind-blown emoji here* "This is science. This isn't pancake batter," he joked.
Related: The Most Popular Kitchen Gadget In Every State
Food Processor
Sophie asked her dad that age-old question of, "Do I really need a food processor if I have a blender?"
She and I can't be the only two to think this! Food processors are just one of those gadgets you add to your wedding registry because "it would be nice to have," but then it collects dust in the far, dark corners of your kitchen cupboards for years and years. Am I right?
Well, Bobby is here to tell you to dust that old baby off! "They are very different," he explained to his daughter. "Just think about it for a second. A blender is incredibly powerful from the bottom up. And a food processor will actually cut and mix things in a circle. It does things very differently."
Though it may still seem like you can get away with just a blender, Bobby added, "Sometimes a blender is too powerful."
Oils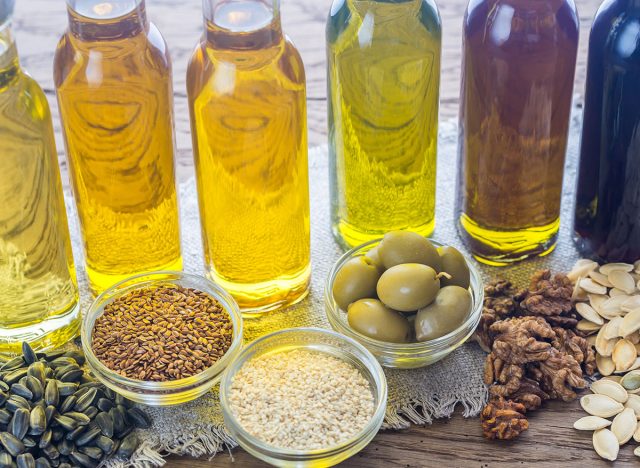 When it comes to oils, Bobby is here to tell you that there are more than one essential oils. "I have a couple different oils," he said. "I have extra virgin olive oil and I have cooking oils like canola or vegetable."
Flay explained that he loves to top dishes off with that EVOO. So why couldn't you just cook with olive oil too?
"Basically, the extra virgin olive oil I don't really heat up very often because it can get very bitter very quickly. I usually finish things with it," Flay said.
EVOO is known for its saucy thickness and "pungent" flavor, but "when you add heat to it, [Bobby thinks] it loses its properties."
Just remember that EVOO is for finishing, while lighter oils are for heating and cooking. According to Flay, canola, vegetable, and peanut oils have "a higher smoke point" and therefore are better to work with.
Related: Surprising Side Effects of Using Olive Oil, Say Experts
Spices
"And then of course there's a spice rack," Flay began. Some may not know that spices "don't last forever." According to Bobby, "It's important to keep your dried spices up to date."6254a4d1642c605c54bf1cab17d50f1e
"After a year or so, it's time to replenish them," he said. Though he acknowledges that replacing spices can be costly, "the bottom line is, you're gonna use these spices. And you don't need every spice ever made."
Sophie asked her dad if she can just order her spices off of Amazon. Though that's a major "no, no," Flay knows that not every home chef will need to buy in bulk as he does. "You want to go to a place that sells spices a lot," he said. "You just don't want to buy it online, because you don't know how long it's been sitting in the warehouse."
So there you have it! Five kitchen and pantry essentials in Bobby Flay's house that should be in yours too.
For more celeb news, check out Bethenny Frankel Warns Others After Experiencing Food Allergy Emergency.
Kayla Aldecoa
Kayla was born and raised in Los Angeles, California and now works as a writer in Austin, Texas.
Read more about Kayla