A Champagne Shortage Is Making Major News—Here's What You Need to Know
Yes, some bottles are harder to find!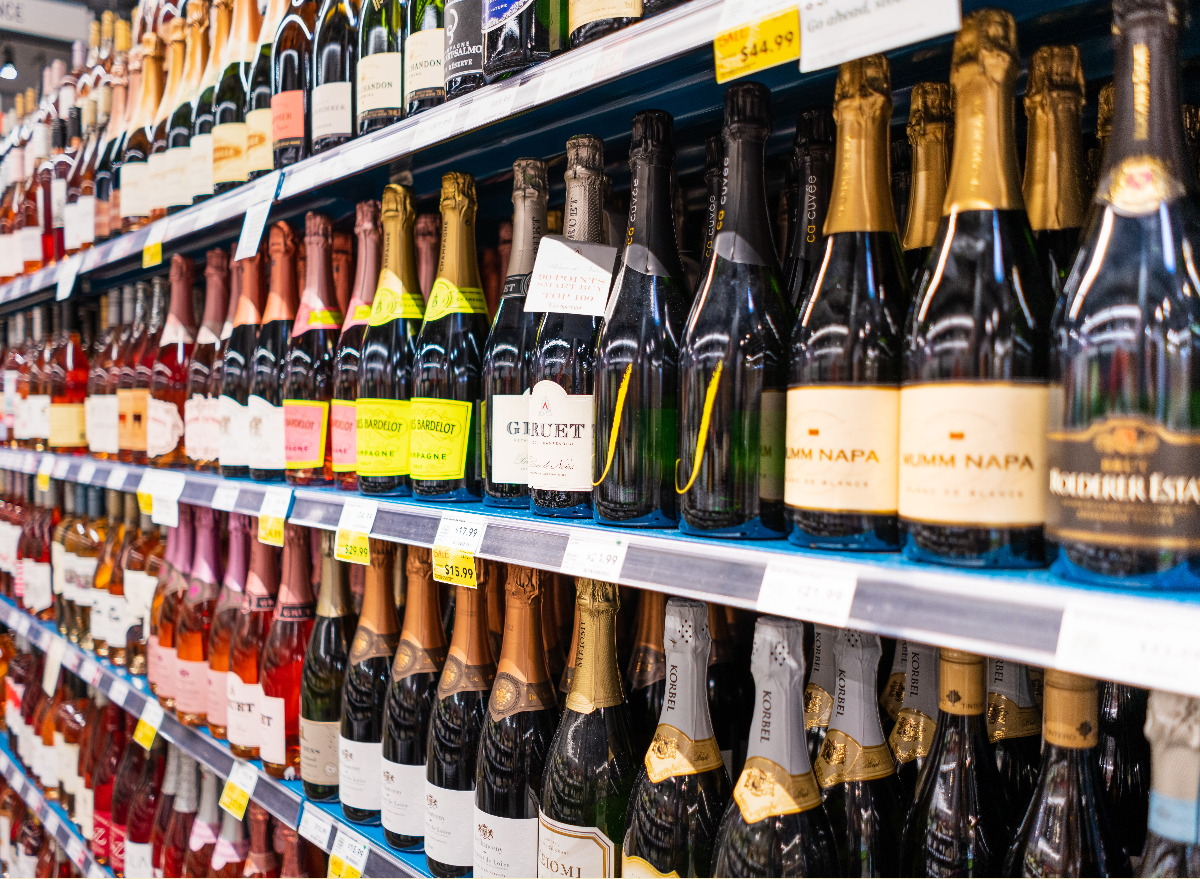 The last two years in food were defined by shortages on supermarket shelves, and the end isn't within sight as we approach 2022. From chicken tenders to toilet paper, grocery shoppers have spotted empty shelves in supermarkets—at least ones that aren't using lousy tricks to fake fully stocked displays. 
In recent weeks, news of glass bottle shortages impacting wine and spirits makers generated headlines. Now, reports of a champagne shortage are surfacing ahead of New Year's Eve celebrations.
Wine Spectator senior editor Alison Napjus said on Wednesday that "it could be tough to find some of your favorite labels this year." The outlet reported earlier this month that the U.S. was "currently in the early stages of a champagne shortage that is expected to last several years."
But how severe is the shortage of this beloved bubbly beverage, exactly? Here's what you need to know:
Related: Supply of These 4 Grocery Items Is Dwindling, Reports Say
Champagne sales were down a whopping $2 billion in 2020.
Postponed weddings and other parties, plus fewer nights out at bars and restaurants during the pandemic led to champagne to lose its fizz last year, according to the Associated Press.
"Champagne has never lived through anything like this before, even in the World Wars. We have never experienced . . . a sudden one-third fall in sales. Over one hundred million bottles unsold," Anselme Selosse of Jacques Selosse Champagnes told the outlet in July 2020.
Demand is back up, but it's complicated.
Demand for the French sparkling wine has increased in the time since. The alcoholic delivery service Drizly reported that 17% of all wine orders in December 2021 included champagne, according to Axios. With the holiday season in full swing, this certainly checks out.
However, the pandemic isn't the only variable that's straining the supply of champagne. "This year's harvest will be the smallest in decades," says Bindiya Vakil, CEO of the supply chain consulting firm Resilinc. Combine the extreme weather with an already strained supply chain, and we have a fizzy problem.
Related: To get all of the latest grocery store news delivered right to your email inbox every day, sign up for our newsletter!
Another shortage is affecting wine and spirits.
Champagne is specifically made in the region of the same name in France, and like other sparkling wines, it comes in glass bottles. The pandemic is straining the supply chain, and wine and spirits makers are being impacted by glass bottle shortages.
"Some of the large distillers—even though they have multiyear contracts for millions of bottles—they're finding in some instances that they have to pick and choose as to which bottle sizes they're going to get," David Ozgo, chief economist for Distilled Spirits Council, previously told CNBC.
Less common sizes of bottles will be more difficult to get your hands on. Don't worry about regular 750-milliliter and 1.75-liter options, since they're likely to be prioritized.
Will everyone be able to find a bottle to pop at midnight?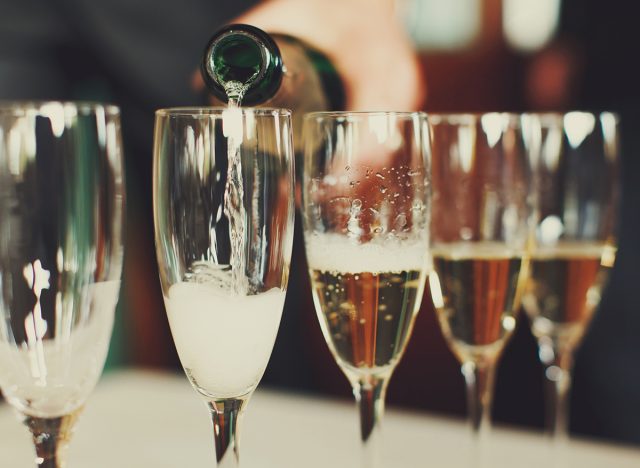 With sales back up and consumers finding more reasons to pop the corks off of bottles of champagne, it's perhaps no surprise that headlines about shortages are hitting grocery shoppers' news feeds. However, consumers may not encounter the bone-dry store shelves that typically accompany reports of shortages (looking at you, toilet paper!).
"Everyone should be able to find a bottle to pop at midnight—it just may not be the one you're used to!" Vakil says, adding that retailers who "saw the writing on the wall and placed an order in spring or early summer" could fare better than others.
The U.S. Champagne Bureau's Comité Champagne agrees, noting that "while temporary tensions may exist in certain markets due to logistical challenges, the sector wishes to reassure consumers on its ability to supply all of its markets with champagne wine."
Here's more of an official statement from a spokesperson:
"After a gloomy year in 2020 due to the health crisis, champagne shipments have experienced an exceptional recovery in the start of 2021 . . . We are delighted with the growing consumer appetite for champagne wines, which increasingly accompany everyday celebratory moments to which it gives an exceptional character."
How long will the champagne shortage last?
Revelers will still toast to the new year with an accompanying glass of champagne, but it may remain difficult to find your go-to bottle long after the clock strikes midnight on Jan. 1. Supply chain disruptions are likely to last into 2023, according to Vakil.6254a4d1642c605c54bf1cab17d50f1e
"Don't fret!" she says. "There will still be champagne on shelves, and if you can't find your go-to, be open to trying a new label. And that new label will likely be less pricey." (Here are some options for bottles under $20.)
Another alternative? Try out other sparkling wines. Prosecco and cava are two delicious options that come from Itlay and Spain, respectively.
For more on what's happening at your neighborhood grocery store, check out:
Amanda McDonald
Amanda has a master's degree in journalism from Northwestern University and a bachelor's degree in digital journalism from Loyola University Chicago.
Read more about Amanda