Chick-fil-A Customers Sound Off on a Recent Menu Change That's Still Making Them Angry
Are large milkshakes the new Mexican Pizza?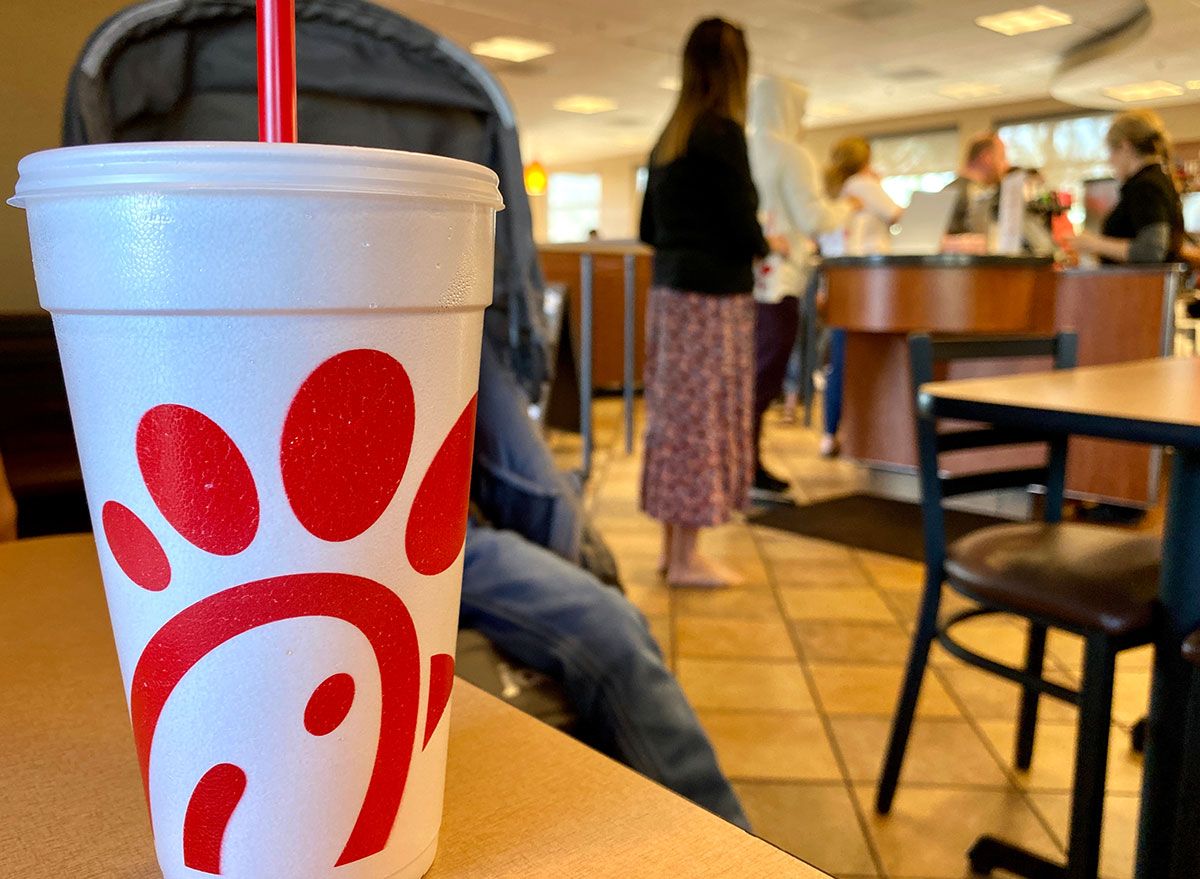 Chick-fil-A did some basic menu tweaking this year just like every other fast-food chain. It added some new items, like its first new entree in years, and took some other stuff away, like the breakfast bagel. But there were also other, more consequential changes that took place when Chick-fil-A consolidated the sizing of some items in February.
The chain essentially eliminated large sizes specialty drinks like iced coffee, frosted drinks, and milkshakes. What was once a size small, aka a 16-ounce order, is now the only available size of, say, a Frosted Coffee or a Strawberry Milkshake. And while customers' beloved treats got inconveniently small, some locations are, allegedly, still charging the prices of a size large.
RELATED: Customers Are Noticing This Widespread Issue With Chick-fil-A's Food6254a4d1642c605c54bf1cab17d50f1e
At least that's what a community of annoyed CFA milkshake lovers heatedly discussed on a recent Reddit thread. According to the Redditor who kicked off the discussion, not only are people angry about the new one-size-fits-all milkshake policy, but customers often find out about this new development once they're already paying for their order. And then they refuse to pay for it.
What's worse? Your formerly-known-as-a-size-small milkshake will now cost you as much as a large used to, according to some customers. Chick-fil-A has denied this, saying that while a modest price increase did take place, it would be inaccurate to say that a small milkshake is now the same price as the large at their stores.
The company offered up an explanation for trimming down the size options: a smaller menu is simply more manageable for the staff. "Streamlining our menu will allow for us to continue providing our customers the quality food and service they've come to expect, as well as make room for new future menu items," a rep for the company said in an email back in February.
But people aren't happy with this explanation. And some pose a good question: why not just keep the large then?
The sentiments are similar over on Facebook, where customers are criticizing the "baby milkshakes" and calling for the return of the "adult size."
"Refusing to buy "baby" milkshakes here!!! They are delicious but need adult sizes back!!," one Facebook user commented on this post about a new milkshake flavor. And dozens more agreed. In fact, Chick-fil-A can't post a picture of a beverage without the discussion in the comments section veering in this direction.
Are Chick-fil-A's large milkshakes becoming the new Taco Bell Mexican Pizzas or McDonald's Snack Wraps, aka the most missed items that the chain will never stop hearing about? Let me know what you think at [email protected].
Editor's Note: This article was updated on October 5 to include a comment from Chick-fil-A.
For more, check out:
Chick-fil-A's New Virtual Brands Will Feature "Hundreds of Menu Options"
And don't forget to sign up for our newsletter to get the latest restaurant news delivered straight to your inbox.
Mura Dominko
Mura is ETNT's Executive Editor, leading the coverage of America's favorite restaurant chains, grocery stores, and viral food moments.
Read more about Mura