Drinking One Cup of Coffee Every Day Can Reduce This Heart Risk, Science Says
But it has to be caffeinated.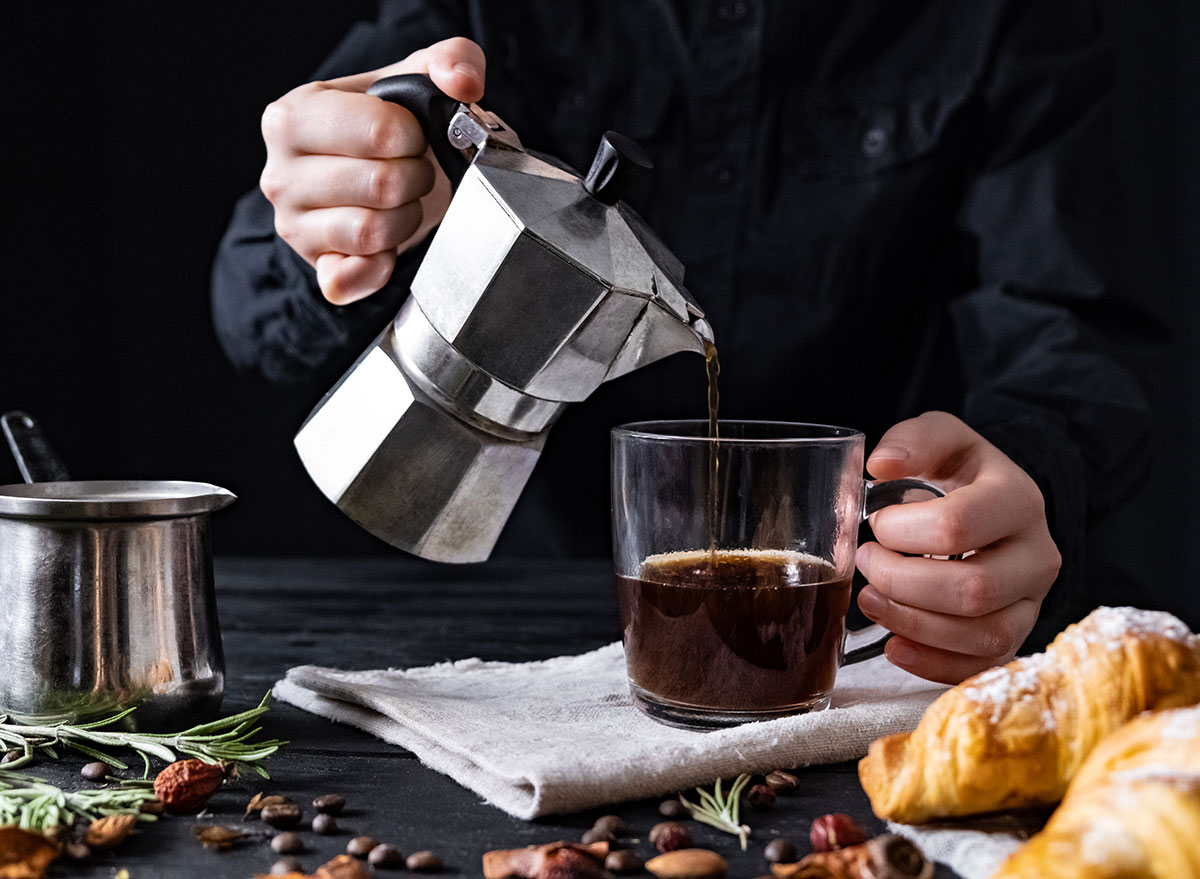 As if you needed another reason to enjoy a fresh cup of brew in the morning, new research suggests that drinking just one cup of coffee a day may help protect one of your most essential organs—the heart.
An analysis of three large studies published in the American Heart Association journal, Circulation: Heart Failure finds that sipping on at least one cup of caffeinated coffee each day was associated with decreased heart failure risk. (Related: The 7 Healthiest Foods to Eat Right Now).
Heart failure, stroke, and coronary artery disease are all among the top causes of death by heart disease in the U.S. While there are several known risk factors for heart disease—such as age, high blood pressure, and smoking—many others remain unknown, according to David P. Kao, MD, and senior author of the study.6254a4d1642c605c54bf1cab17d50f1e
Coffee is routinely examined in scientific studies, with plenty of research on both the health benefits and the side effects of this internationally consumed beverage. For this analysis, Kao and his team used machine learning through the American Heart Association's Precision Medicine Platform to examine data from three well-known studies. Collectively, the studies provided information on more than 21,000 U.S. adults, with each one including at least 10 years of follow-up.
Researchers then analyzed the outcomes of drinking caffeinated coffee in four categories: 0 cups per day, 1 cup per day, 2 cups per day, and greater than or equal to 3 cups per day. It's important to note that all coffee consumption data was self-reported by participants.
The main takeaway? Individuals who reported drinking at least one cup of caffeinated coffee each day had an associated decreased long-term heart failure across all three major studies. More specifically, in two of the studies (Framingham Heart Study and Cardiovascular Health Study), over the course of decades, heart failure risk decreased by 5-12% per cup of coffee per day in comparison to those who didn't drink coffee.
In the third study, Atherosclerosis Risk in Communities Study, the risk of heart failure was 30% lower in people who drank at least two cups of coffee per day. Interestingly enough, decaffeinated coffee seemingly had the opposite effect on heart failure risk, as indicated in the Farmingham Health study; participants who reported drinking decaf java experienced an increased risk of heart failure.
"The association between caffeine and heart failure risk reduction was surprising. Coffee and caffeine are often considered by the general population to be 'bad' for the heart, because people associate them with palpitations, high blood pressure, etc. The consistent relationship between increasing caffeine consumption and decreasing heart failure risk turns that assumption on its head," Kao said in a statement.
"However, there is not yet enough clear evidence to recommend increasing coffee consumption to decrease risk of heart disease with the same strength and certainty as stopping smoking, losing weight, or exercising."
Indeed, study limitations, such as the way cups of coffee were measured (i.e. how many ounces per cup) and the way cups of coffee were prepared (think French press versus espresso) were not recorded, which could have ultimately affected the results.
In short, it can't hurt to drink one 8-ounce cup of caffeinated coffee each day—unless otherwise specified by your doctor. For more, be sure to check out Side Effects of Drinking Too Much Decaf Coffee, According To An Expert.