The Dangerous 'Met Gala Diet' Kim Kardashian Followed to Drop 16 Pounds
Keeping up with this weight loss is going to be a challenge.
The Met Gala is all about the shock factor these days, and Kim Kardashian was no exception Sunday night. Looking beautifully blonde and dawning a white fur overcoat, Kim K showed up to the 2022 Met Gala in a dress that hasn't seen the light of day in decades.
Every year the Met Gala is centered around a design theme, with this year's theme being "In America: An Anthology of Fashion." So for Kardashian, she decided to embody the theme with a tribute to Marilyn Monroe.
Kim K sat down with Vogue to discuss the lengthy, grueling process she went through in order to achieve this shocking Met Gala look.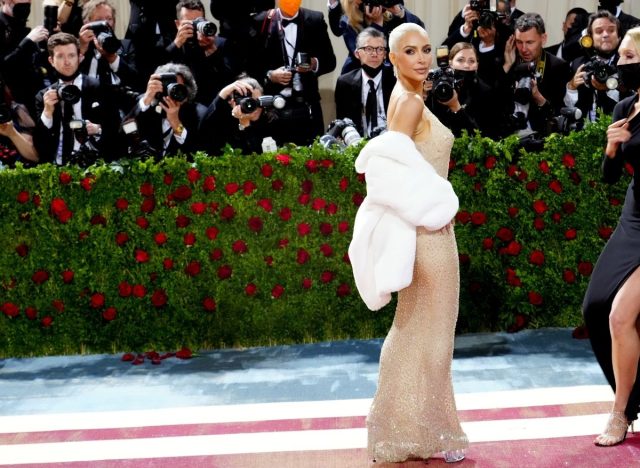 Kardashian explains that she wanted to honor one of Marilyn Monroe's most iconic fashion moments, which was a fitted sheer gown that shocked a room full of people when she revealed it in 1962.
"What's the most American thing you can think of? And that's Marilyn Monroe," Kardashian tells Vogue. "For me, the most Marilyn Monroe moment is when she sang 'Happy Birthday,' to JFK, it was that look."
But Kardashian didn't want to just wear something that resembled the dress Marilyn Monroe wore in the 60s, she wanted to wear the dress. But in order to do this, the star had to drop 16 pounds—fast.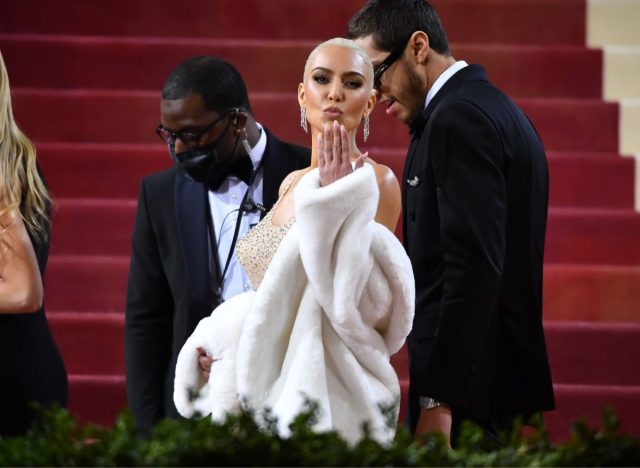 Kardashian continues to tell Vogue about how she scored the original dress in the first place, which has been kept inside a vault in the Ripley's Believe it or Not Museum in Orlando, Florida. The dress, worth millions of dollars, had never been worn by anyone other than Marilyn Monroe, until Kim K tried it on for the first fitting. Kardashian tells Vogue how devastated she was when it didn't fit.
"I always thought she was extremely curvy. I imagined I might be smaller in some places where she was bigger and bigger in places where she was smaller. So when it didn't fit me I wanted to cry because it can't be altered at all," she tells Vogue.
Because of the sheer magnitude and value of this dress, Kardashian knew she'd never be able to get it altered. So what did she do instead? She decided to alter her body before the gala, which is how the original dress ended up fitting the star just in time for the event. Unfortunately, the process she went through to drop over 16 pounds for this dress is a classic example of dangerous crash dieting.6254a4d1642c605c54bf1cab17d50f1e
"I would wear a sauna suit twice a day, run on the treadmill, completely cut out all sugar and all carbs, and just eat the cleanest veggies and protein," she tells Vogue. "I didn't starve myself, but I was so strict."
What's wrong with crash diets?
Crash dieting or "highly-restrictive" diets can be extremely harmful to your physical and mental health, and has been proven to be ineffective when it comes to long-term weight loss.
To learn more, we talked with Caroline Thomason, RDN, LDN, CDERD, CDCES, a northern Virginia-based dietitian who helps women stop chasing quick fixes and find confidence with food, about her thoughts on the subject.
"We see this again and again with yo-yo dieting where people quickly shed weight only to gain back the weight, and oftentimes more, because of the rebound effect," says Thomason, "and typically, the faster the weight comes off, the faster it comes back on. In other words, fast doesn't last."
At the end of the day, Thomason encourages people to avoid these types of crash dieting patterns.
"Sustainable weight loss that lasts is done thoughtfully over time by emphasizing health-promoting habits like eating plenty of fruits and veggies, focusing on balanced meals and snacks, getting daily exercise, and sleeping well," she says. "Focus on these basics first before reaching for quick fixes."