This Fast-Food Chain Is Quickly Becoming the Biggest In the World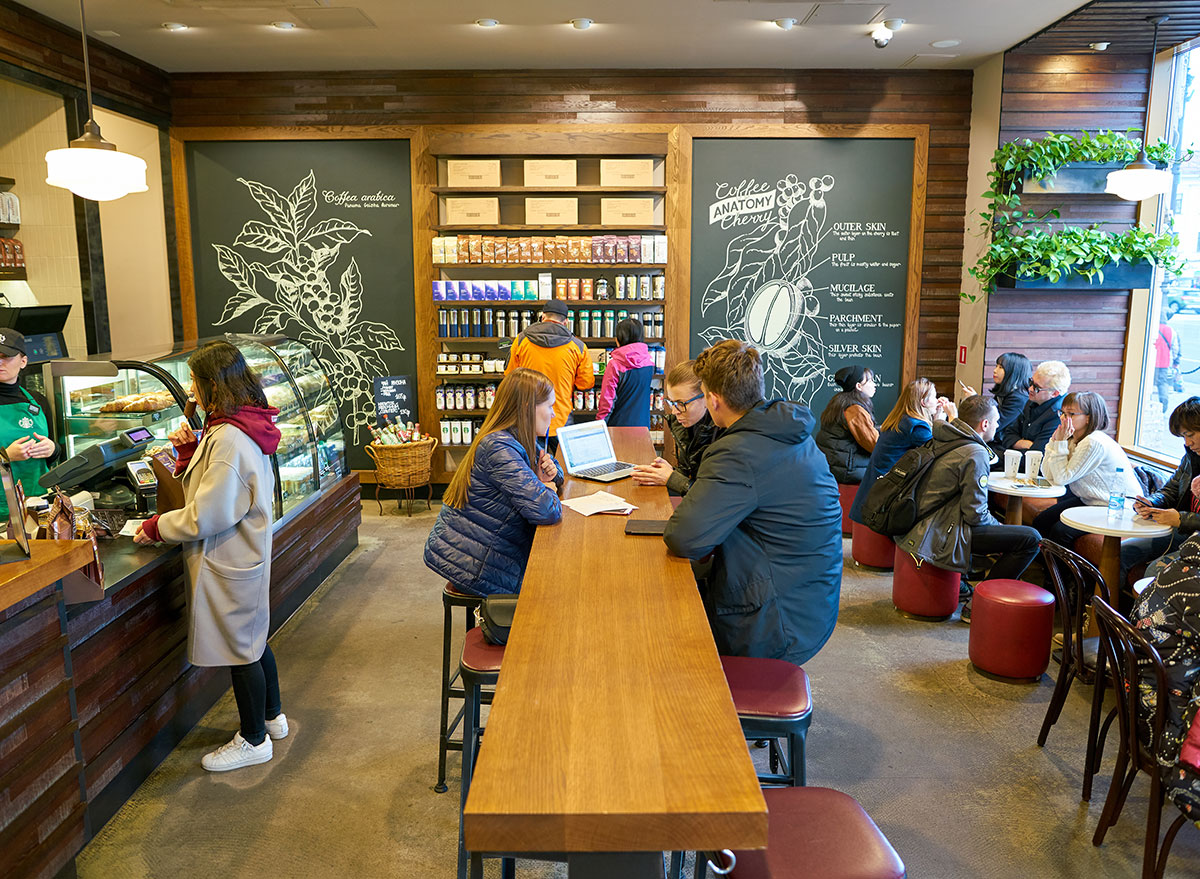 After revealing expansion plans during a recent earnings call, Starbucks has emerged as a serious contender for the title of the biggest fast-food chain in the world. The Seattle-based coffee brand currently operates 34,317 locations and is growing at a faster rate than both McDonald's and Subway—its two biggest rivals for footprint dominance.
Since the start of 2020, Starbucks has added 3,061 stores to its footprint, heating up the global competition with McDonald's. The coffee chain opened 1,173 net new locations in 2021 and 484 locations in the first quarter of 2022 alone, with plans to open 2,000 net new stores by the end of this year. McDonald's—which has over 38,000 locations across the globe—has opened 1,650 net new restaurants since 2020 and aims to add 1,800 locations to its fast-food empire in 2022.
For more fast-food news, check out 8 Worst Fast-Food Burgers to Stay Away From Right Now.
Subway, on the other hand, seems to be heading in the opposite direction. Despite being the biggest chain with nearly 40,000 worldwide locations, the sandwich company has been steadily shuttering restaurants over the past few years, due to declining sales. In fact, in 2020, Subway allegedly closed more restaurants than any other chain ever in the history of the business (although the exact number of closures, which some say was over 2,000, is disputed by the company.)
Thanks to this negative trend, Starbucks is projected to surpass the sandwich chain's global footprint in the near future. However, that doesn't mean Starbucks is without its struggles. Staffing shortages have caused locations to have shorter store hours, inconsistent availability of mobile ordering, and dining room closures. Additionally, the company has cited inflation and supply chain issues as the impetus behind price hikes and ingredient shortages—and customers have expressed their frustrations.
Brianna Ruback
Brianna is a staff writer at Eat This, Not That! She attended Ithaca College, where she graduated with a degree in Journalism and a minor in Communication Studies.
Read more about Brianna