McDonald's Latest Limited-Time Items Have Been Described as "Disgusting" and "Foul"
Many agree: These menu hacks shouldn't exist.
It's now been several weeks since McDonald's added some of its most popular hacks to the menu. And while ideas for these sandwiches originated from fans, it seems they were more of a miss than a hit with those who have tasted them.
Creating new, off-menu items from existing parts has been a fan tactic for breathing new life into a menu for decades. But it seems that when the chain actually embraces and even advertises these rogue combinations, customers feel rather cheated—we expect actual novelties to come out of your test kitchen, McDonald's! The fast-food chain seems to have disappointed rather than delighted customers with the limited-time inclusion of menu hacks for the Hash Brown McMuffin, Crunchy Double, Surf +Turf, and Land, Air & Sea.
For more fast-food news, check out 8 Worst Fast-Food Burgers to Stay Away From Right Now.
In fact, many online reviews, be it in food publications or on social media, have expressed major disappointment with one crucial aspect of these hacks: the DIY aspect. While the chain thought that pre-assembling them would take the fun out of ordering the hacks in the first place, hordes of customers on social media beg to differ.
@McDonalds when did you become ikea? Your new menu hacks item need a some assembly required disclaimer.

— MP (@bunnyxofxdoom) February 13, 2022
@McDonalds I didn't know we had to assemble these 8 dollar 'menu hacks' by ourself… if I had know that I wouldn't have wasted money on the 'hack' and would have gone with plain ole nuggies. pic.twitter.com/QAqBResFjB

— Allison Lambright (@allyponolypous) February 13, 2022
The lack of novelty felt even more pronounced with this move.
So @McDonalds "menu hack" is just you ordering two sandwiches, they already had on the menu btw, and you putting it together yourself. Clever way of getting people to buy two sandwiches and thinking they are getting something new.@Wendys I will just stick with you.

— Jeremy Martin (@scoobaspeaz) January 31, 2022
@McDonalds really dropped the ball with the menu "hacks". First of all its not a hack if it's on the menu. Secondly, if you don't assemble the "hack" what are you offering? NOTHING. It amounts to a combo. Should have been marketed subtly. #hacks should be served assembled.

— Raspberry Ketones (@RasberryKetones) February 1, 2022
The disappointment when you realize that ordering the Land, Air & Sea is just code for ordering three separate McDonald's sandwiches—the Big Mac, the Filet-o-Fish, and the McChicken—was so strong that some didn't even bother assembling it.
Writer Emily Heil touched on another negative aspect of the hacks in her review for The Washington Post: Not only does the combo of fish and beef in the Land, Air & Sea and the Surf + Turf taste "unholy," but the "here are all the parts, assemble it yourself" strategy also ends up producing a lot of waste. Heil says she was left with "a bag full of wasted buns," which is particularly annoying considering the fact that you're spending more money than usual on a McDonald's sandwich.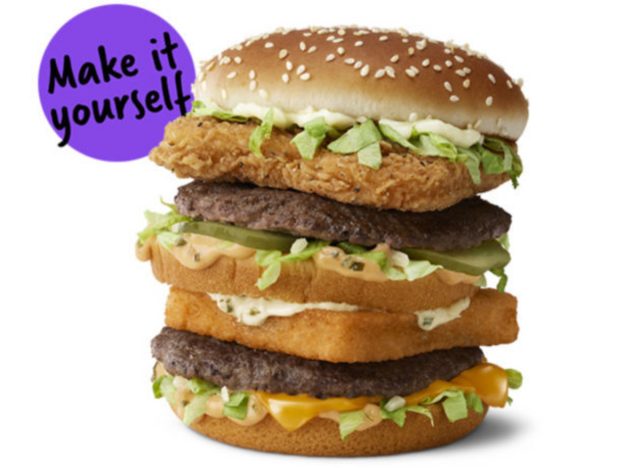 Now, in terms of the flavor, the aforementioned Land, Air & Sea has definitely gotten the most backlash from the bunch. "Genuinely reminiscent of garbage" and "a disgusting ball of meat, cheese, bread, lettuce and some kind of edible glue" have been just some of the unflattering descriptions of this item, which gluttonously combines what no sandwich should ever combine: beef, chicken, and fish. An equally offensive part of this sandwich seems to be the combo of the three different creamy sauces: Big Mac sauce, tartar, and mayo, which combine to create something that tastes "straight-up foul," according to a review in Uproxx.6254a4d1642c605c54bf1cab17d50f1e
There is one item that did fare better than the rest among customers, and it's the simplest hack of the bunch. The Hash Brown McMuffin, which simply features a hash brown pattie inserted inside a McMuffin sandwich, combines two foods you're already eating in unison anyway, which is the key to its success.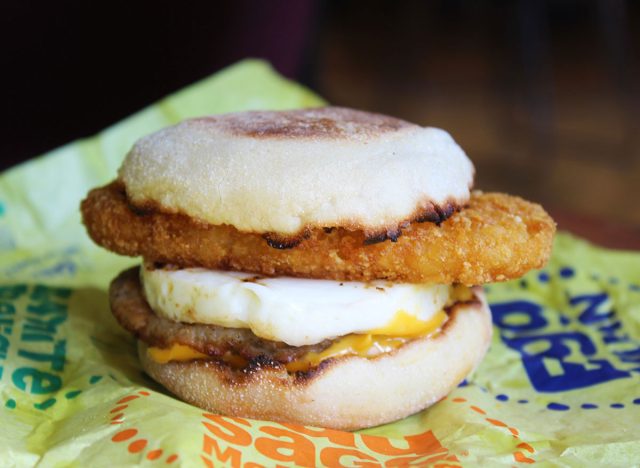 All in all, you can do better, McDonald's!
Mura Dominko
Mura is ETNT's Executive Editor, leading the coverage of America's favorite restaurant chains, grocery stores, and viral food moments.
Read more about Mura