8 Fast-Food Drinks With Exorbitant Amounts of Fat
You could be drinking your entire recommended daily intake of fat in one beverage.
If you're watching your fat intake, it isn't just fries and burgers you should be avoiding. Believe it or not, some fast-food drinks can have way more fat than a large order of fries.
According to the Cleveland Clinic, adults should cap their daily fat intake at 20% to 35% of total consumed calories, which is around 44 to 77 grams for a 2,000-calorie diet. So you may be surprised to learn that some drinks normally pick up at your favorite chain restaurants contain enough fat to last you a whole day, and even more.
We consulted with nutritionist Sydney Greene to identify fast-food drinks with insane amounts of fat—and here are drinks she recommends staying away from.
And don't miss 5 Fast-Food Items With Exorbitant Amounts of Sodium.
Starbucks' Venti Mocha Cookie Crumble Frappuccino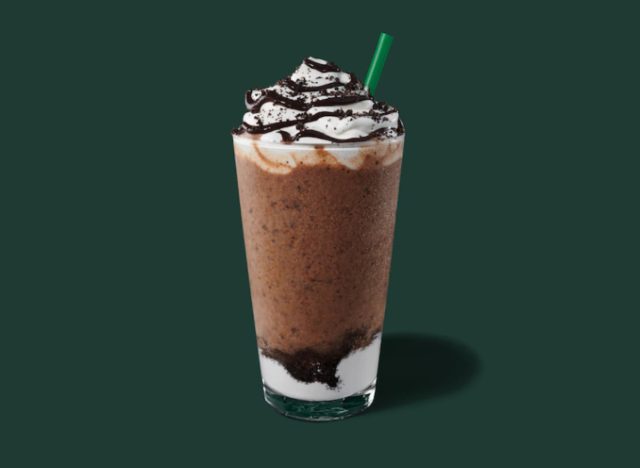 Per serving
: 590 calories, 27 g fat (17 g saturated fat, 0.5 g trans fat), 65 mg cholesterol, 360 mg sodium, 82 g carbs (3 g fiber, 75 g sugar), 8 g protein
A Starbucks Frappuccino was bound to make the list, but according to Greene, it's the best of the worst.
"This drink ranks the best on our worst list because it is lowest in fat and calories and though it is high in sugar, it does not have as much sugar as many of the other drinks on this list," she says. "It is important to note that though there are only 27 grams of fat, more than half of the fat is saturated which can be a problem for those with cardiovascular disease."
Cinnabon's Large Oreo Chillatta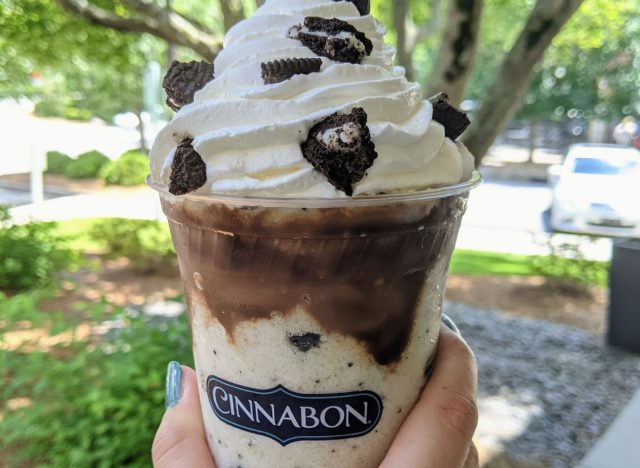 Per serving
: 890 calories, 33 g fat (17 g saturated fat), 85 mg cholesterol, 490 mg sodium, 139 g carbs (2 g fiber, 109 g sugar), 14 g protein
While this Chillatta "only" contains 33 grams of fat, the sugar content makes it one of the overall unhealthiest drinks on the list.
"The 109 grams of sugar makes this drink a terrible choice for your mood, heart health, and digestive health, especially your pancreas," says Greene. "When we drink such high amounts of sugar, it is absorbed way faster than eating the sources of sugar."
It turns out that it's not just the sweet treats at Cinnabon that are packed with sugar!
Jamba Juice's Large Peanut Butter Chocolate Love Smoothie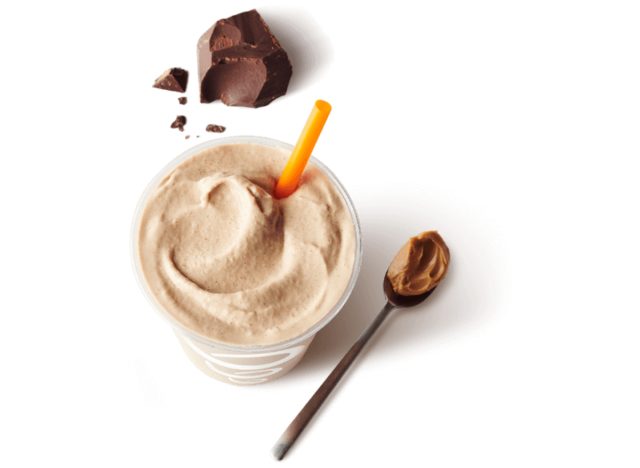 Per serving
: 820 calories, 34 g fat (9 g saturated fat), 30 mg cholesterol, 380 mg sodium, 113 g carbs (10 g fiber, 83 g sugar), 30 g protein
Jamba Juice has plenty of low-fat smoothie options, but this peanut butter chocolate smoothie is loaded with fat. But it does have some nutritional benefits that make it slightly better than your average fat-loaded monstrosity.
"Though it has plenty of fat, this drink also supplies 10 grams of fiber, which can help counteract some negative effects of a very high-fat menu item," says Greene. "In addition, this drink has 30 grams of protein, which will surely keep you full throughout the morning or afternoon."
Smashburger's Large Peanut Butter Shake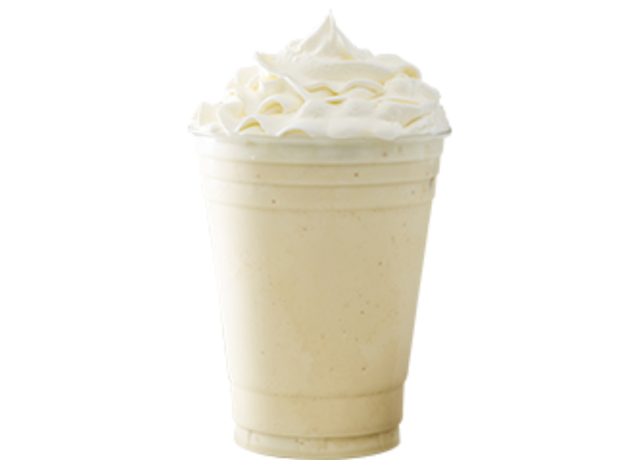 Per serving
: 880 calories, 62 g fat (30 g saturated fat), 285 mg cholesterol, 270 mg sodium, 62 g carbs (1 g fiber, 56 g sugar), 18 g protein
Much like Jamba Juice's PB Smoothie, Smashburger's Peanut Butter Shake is high in fat but offers some nutritional value.6254a4d1642c605c54bf1cab17d50f1e
"Sixty-two grams of fat is certainly a lot for one beverage, especially when about half of the fat is the bad, saturated kind," says Greene. "However, this shake also has about one serving of protein and lots of fiber, which will help with fullness."
Shake Shack's Chocolate Birthday Cake Shake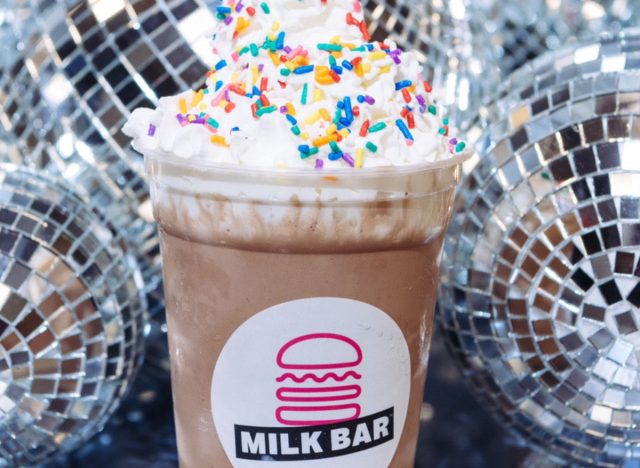 Per serving
: 1,060 calories, 64 g fat (41 g saturated fat, 25 g trans fat), 280 mg cholesterol, 420 mg sodium, 111 g carbs (4 g fiber, 96 g sugar), 18 g protein
In addition to the high fat and saturated fat content, this drink contains a lot of sugar as well, "which, in addition to fat, can do a number on blood lipid levels," says Greene.
Smoothie King's Large The Hulk Vanilla Smoothie
Per serving
: 1,500 calories, 67 g fat (32 g saturated fat), 220 mg cholesterol, 790 mg sodium, 225 g carbs (9 g fiber, 200 g sugar), 48 g protein
It's not only the high fat content in this smoothie that makes it the worst beverage on this list.
"With 200 grams of sugar, this drink is sure to give you a major blood sugar high, followed by a tremendous crash," says Greene. "To process this amount of sugar in one beverage is a terrible task to put your pancreas through."
Dairy Queen's Large Peanut Butter Shake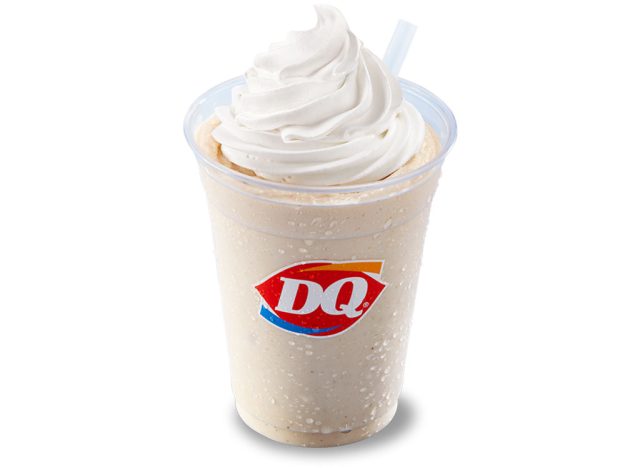 Per serving
: 1,250 calories, 72 g fat (26 g saturated fat, 1.5 g trans fat), 75 mg cholesterol, 830 mg sodium, 119 g carbs (4 g fiber, 89 g sugar), 30 g protein
This milkshake is the definition of drinking your calories and fat.
"It has about the same amount of calories needed to fuel a small child and roughly three times the amount of suggested intake of added sugar per day," explains Greene. "This drink's one saving grace is that it is rich in protein and has a small amount of fiber, which will slow the intense blood sugar spike."
Sonic's Large Oreo and Reese's Peanut Butter Master Shake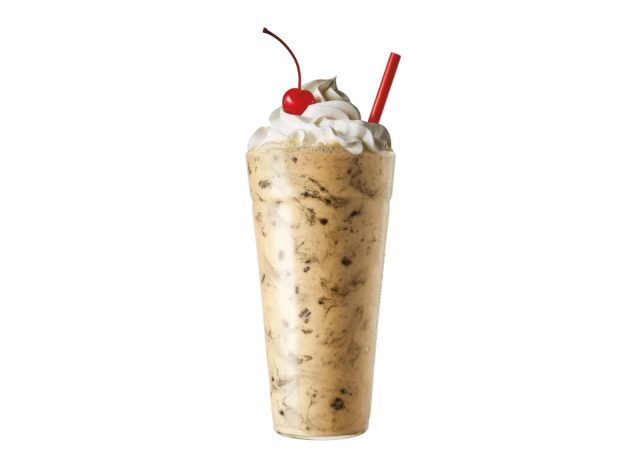 Per serving
: 1,720 calories, 106 g fat (48 g saturated fat, 2 g trans fat), 190 mg cholesterol, 1,130 mg sodium, 168 g carbs (5 g fiber, 107 g sugar), 30 g protein
Sonic is known for having huge milkshakes, so it's no surprise that the fattiest one of them all made it to the top spot on our list.
"This drink has enough calories to fuel an average sedentary person, along with a tremendous amount of saturated fat and sugar," says Greene. Considering the suggested limit of added sugar you should be consuming per day is about 25 grams, this drink is way over the top in that department. "This extra sugar will be stored as fat as well as the high amount of the fat itself that you're ingesting," says Greene.
Mia Salas
Mia is a freelance writer for several publications and a soon-to-be graduate from Princeton University with a degree in English.
Read more about Mia