5 Fast-Food Pizza Chains People Are Flocking To
These brands are seeing major growth in 2022.
Some in the fast-food community might question the wisdom of ordering chain-store pizza over a tried-and-true local pizza shop. But fast-food pizza has its perks . . . and its supporters.
For example, Richard Christy, a writer, and producer on SiriusXM's Howard Stern Show, has repeatedly expressed his on-air love for fast-food pizza giant Papa John's, proclaiming it as his favorite pizza of all time. And Christy is by no means in the minority.
In North America alone, overall pizza market sales this year are projected to grow 5.3% to $56.5 billion. Fast-food pizza chains are both racking-up sales and opening new restaurants at a furious pace fueled by increasingly demanding and sophisticated customers, who not only want good pizza at a reasonable price but also look for innovative toppings, fresher, healthier ingredients, and of course, the best deals possible.
The following pizza chains are currently making all the right moves, enticing new customers with meals, deals, and new pizza products.
And don't miss 5 Fast-Food Burger Chains Customers Are Flocking To.
Papa Johns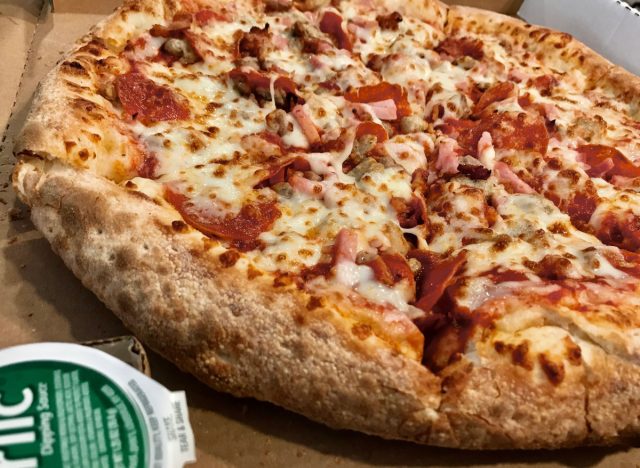 Papa Johns is rapidly turning into the big daddy in the pizza industry with both rising sales and major expansion both domestically and globally. Fueled by the popularity of its stuffed crust pizza and limited specialty offerings like the New York- and Chicago-style pies, the global chain grew its total revenues to $542.7 million while opening 62 new stores this year.
Its expansion plans are also ambitious, projecting between 280 and 320 new store openings during 2022. The company also announced a development deal to open more than 1,350 new stores in China by 2040—the largest franchise deal in Papa Johns' history.
Customers seem to love Papa Johns special deals such as two pizzas with toppings for $13.98 and the Big Deal for $17.99 which includes a large pie, a bread side, and a 2-liter drink. Other popular offerings include vegan pizza, flavored crusts, family meal deals, and catering specials. Plus, Papa Track lets customers check on the progress of their orders.
Little Caesars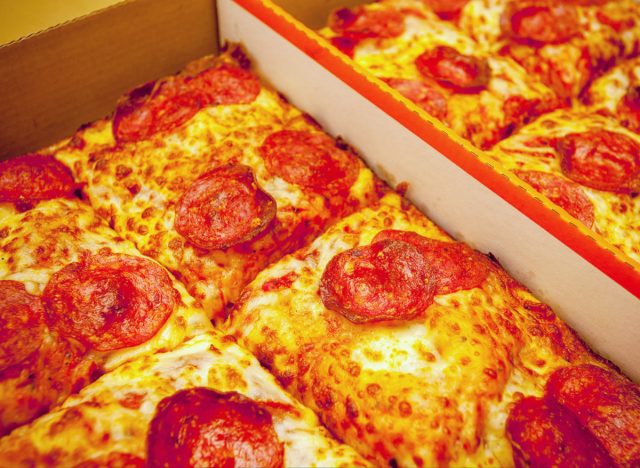 Right out of the gate, Little Caesars' famous marketing phrase "Pizza, Pizza," meant giving customers two pizzas for the price of one. So customers have come to expect both good pizza and an outstanding value from this global mega-brand known for Crazy Bread, Crazy Sauce, and Detroit-style deep dish pizza.6254a4d1642c605c54bf1cab17d50f1e
And despite the fact that the chain was forced this year to hike the price of its wildly popular Hot-N-Ready pie from $5 to $5.55 to cover pandemic-related labor and supply cost increases, customers were understanding as the price hike included more value by way of 33% more pepperoni.
On the strength of operational changes, the chain has powered its way to becoming the third-largest pizza chain in the U.S. with sales rapidly closing in on $4 billion.
Other changes that have helped include the introduction of Little Caesars' contactless Pizza Portal that allows customers to scan a QR code to pick up their pies. The company also introduced delivery for the first time in January 2020, just before the pandemic started.
With locations in all 50 states plus 27 countries and territories, the company is growing further both domestically and abroad, with plans to expand substantially in New York, New England, Minneapolis, Denver, and the Pacific Northwest as well as in Brazil, France, and the UAE.
Blaze Pizza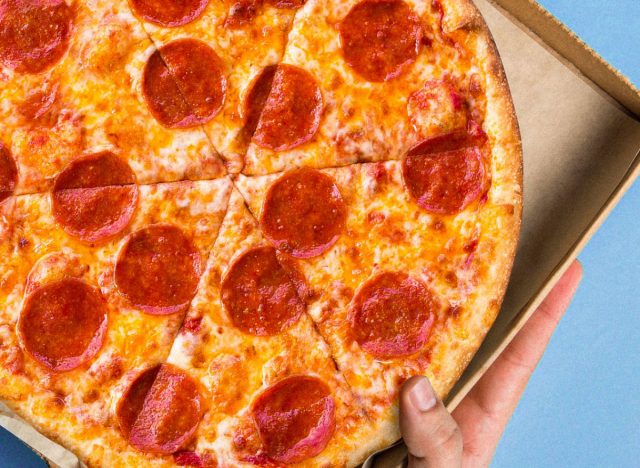 This fast-casual, artisan pizza chain is blazing a trail across the world of quick pizza.
What sets Blaze apart from the pack is its unique assembly-line format that ensures each pizza is made in front of the customer in all of 3 minutes, using a made-from-scratch dough recipe that produces a signature light-as-air crust. The chain also offers salads as well as gluten-free and plant-based options.
Strong customer interest has helped Blaze grow its same-store sales by 18% in 2021 and add 34 new restaurants to its current roster of 340 locations across 38 states and 6 countries.
A new franchise agreement will expand the chain's presence across southern Tennessee, adding to last year's addition of 14 new restaurants in Texas, Florida, Pennsylvania, and California.
Star basketball player LeBron James liked Blaze Pizza so much he invested $1 million in the company in 2012 for a 10 % stake. His investment is now reported to be worth $25 million. And James isn't the only one who is hot for Blaze Pizza.
The company has goals of hitting 1,000 stores and $1 billion in sales by the end of 2022.
Mountain Mike's Pizza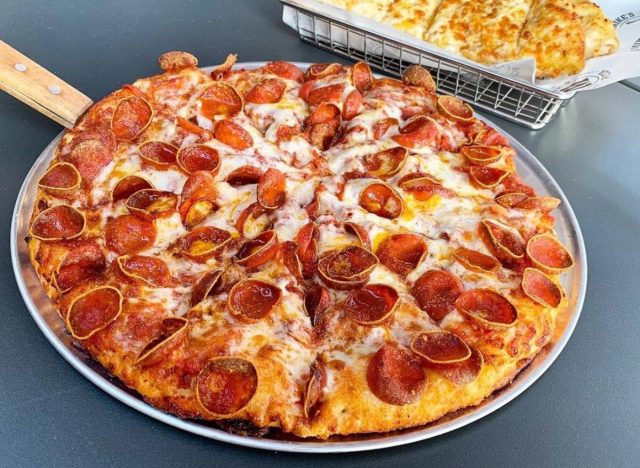 West Coast-based Mountain Mike's has started the year off with a climb in sales.
The chain, known for its crispy, curly pepperoni pizzas as well as a variety of specialty pies, wings, salads, sandwiches, sides, and desserts reported a same-store sales increase of 7% in its first quarter, while total system sales climbed 14.4% compared to the same time period last year.
Mountain Mike's expansion plans include the opening of new restaurants in eight western states in 2022, with many more on the horizon in the near future.
Later this year, the company expects to open locations in Colorado and Texas, along with additional stores in Utah, Oregon, Nevada, and California. Last year, it surpassed $250 million in total system sales.
In addition, the 255-unit pizza chain, which started in 1978 with a single restaurant, also signed franchise agreements this year for 11 new locations.
Marco's Pizza
Marco's kicked off the year by highlighting its signature Pepperoni Magnifico pizza, topped with about 75 slices of crispy Old World Pepperoni and classic pepperoni, romesan seasoning, and its signature fresh, three-cheese blend and original sauce.
Growth is key for Marco's, the nation's fifth-largest pizza chain, as it projects it will hit $1 billion in sales this year while also having more than 200 new stores in development to expand its footprint from 1,000 to about 1,500 locations by 2023.
Fans of the chain enjoy Italian quality pizza made with fresh dough and sauce daily. Various specials include unlimited large, 2-topping pizzas for $8.99 and the popular Pepperoni Magnifico pie for $9.99. Other items include subs, salads, sides, and desserts.
Among the chain's innovations sure to please customers are the rapid adoption of third-party delivery platforms, testing the use of AI for voice-to-text ordering, and generating automated delivery times.
The company is also testing robotic kitchen innovations, ghost kitchens, new operational equipment, and even simulated drone delivery.
Alan Krawitz
Alan Krawitz is a veteran New York-based journalist with 25 years of experience working for a variety of media outlets including Newsday, Zenger News, and Long Island Press.
Read more about Alan