The Price of This Iconic Pizza Deal Just Increased For The First Time In 25 Years
The nation's best-value pizza will cost you an extra 55 cents.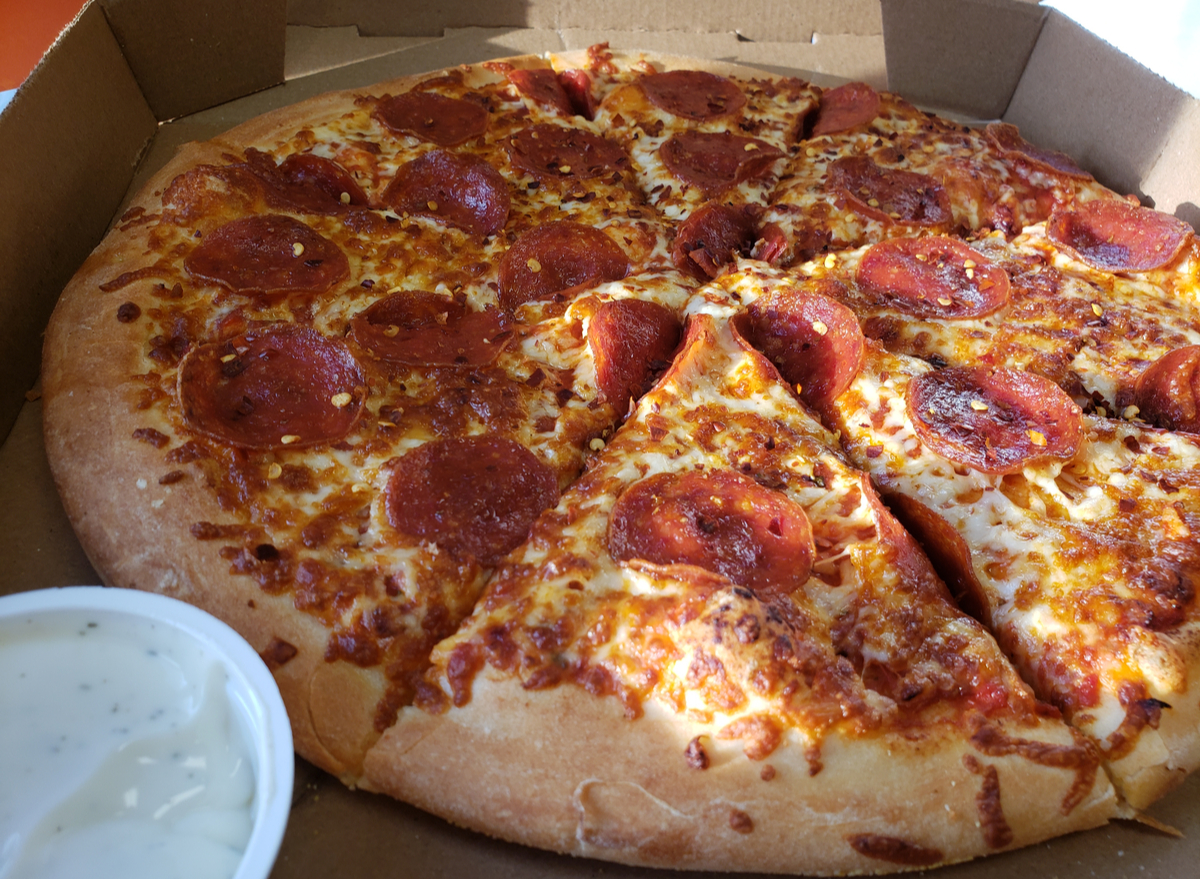 Little Caesars is synonymous with value. The pizza chain is the third-largest in the world and prides itself on its affordable pies, laying claim to the "nation's best price" with its $5 Hot-N-Ready pizza. As of Monday, however, that claim to fame comes with an asterisk.
The $5 Hot-N-Ready is now the $5.55 Hot-N-Ready, and it doesn't quite have the same ring to it. The price increase was announced Monday as part of a larger overhaul of the Hot-N-Ready deal. The best-selling pizza will now come loaded with 33% more pepperoni, too. And according to the chain's press release, "Still at the country's most affordable price."
The Hot-N-Ready is a pillar of the Little Caesars brand, having made its debut in 1997 and launching nationwide in 2004. Known for both its convenience and value, Hot-N-Ready saw Little Caesars become the first major chain to offer "on-demand" pizza available for takeout. The deal has helped cement Little Caesars' reputation for affordability, ranking among the top ten "best value" brands in a 2019 survey by Nation's Restaurant News.
With the Hot-N-Ready's price having held at $5 for so long, Little Caesars customers may not be "ready" to accept the 55-cent surcharge. Following Monday's announcement, fans have taken to Twitter to voice their complaints, calling the price increase a "travesty" and a sign of "end times."
As customers were quick to point out, the price hike is part of a larger trend: throughout 2021, brands across the fast-food industry increased their prices. Papa John's seasonal Shaq-a-Roni went for $13 in this past year, a dollar up from the price in 2020. Chipotle and McDonald's both announced menu-wide price increases, citing growth in labor costs.
Whether or not Little Caesar customers will take to the "new and improved" Hot-N-Ready remains to be seen. While many are still upset about the additional 55 cents, some are beginning to see the silver lining. "@littlecaesars raising its Hot-N-Ready Price to $5.55, but are adding %33 more pepperoni? So, so worth it," wrote one fan on Twitter.
For more, check out:
And don't forget to sign up for our newsletter to get the latest restaurant news delivered straight to your inbox.6254a4d1642c605c54bf1cab17d50f1e
Owen Duff
Owen Duff is a freelance journalist based in Vermont, home of Ben & Jerry's.
Read more about Owen