Nearly 1/3 of Grocery Store Chicken Is Infected With This, Study Finds
Your ground chicken could be very unsafe.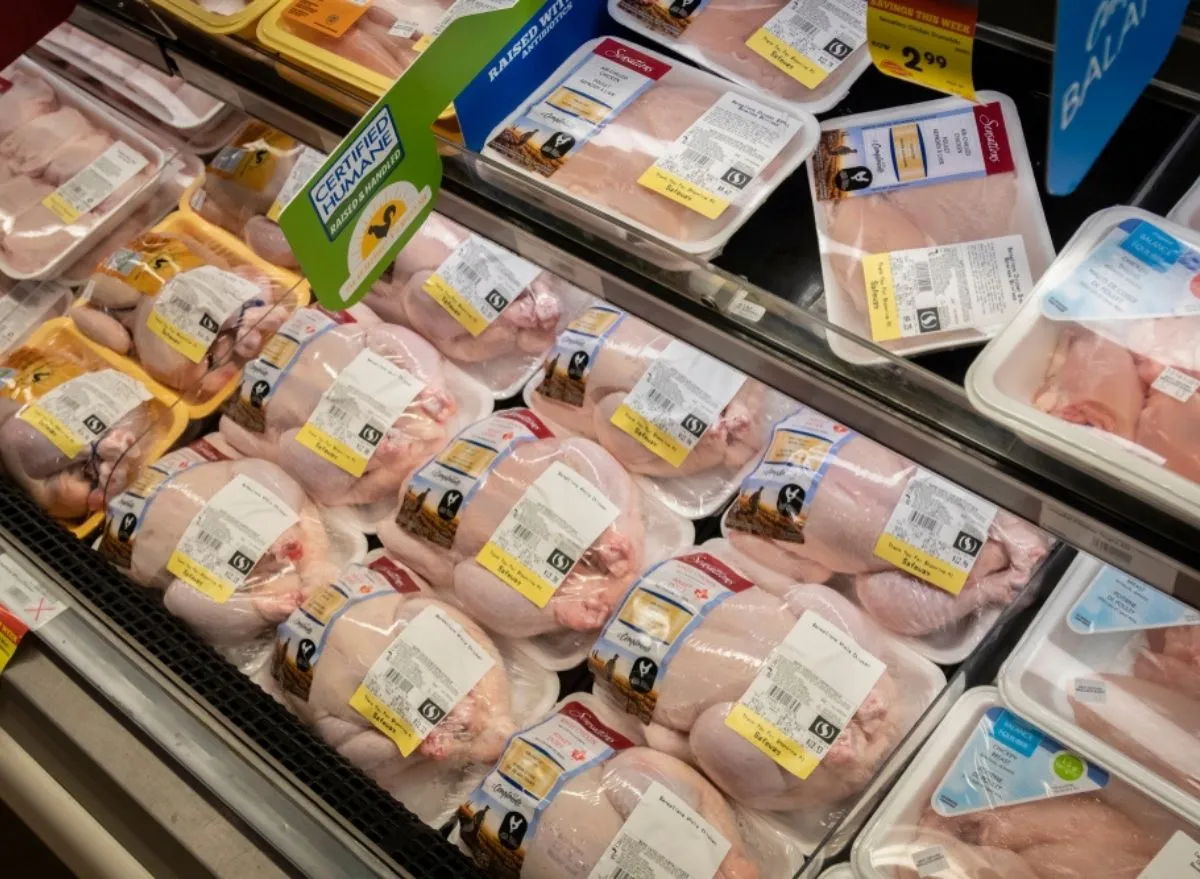 If you have bought ground chicken at the grocery store recently, you may want to be extra careful with it. A study by Consumer Reports published at the end of June found traces of Salmonella in 23 of 75 samples taken from products at major grocery stores and is using the results to advocate for the need for better regulation.
The investigation analyzed chicken from grocery stores around the U.S., including Purdue and Trader Joe's as well as Walmart and Whole Foods. According to the report, "no single brand stood out as being better or worse" in contamination and there is "no statistical difference between organic or conventionally raised birds." All the positive samples collected showed that bacteria strains were resistant to multiple antibiotics and drugs used to prevent illnesses. 
In addition to testing grocery store chicken, Consumer Reports also analyzed several beef, pork, and turkey samples. One ground beef test collected showed the meat contained a deadly E. coli strain known to cause serious kidney damage. The investigation found that bacteria are more common in chicken rather than in ground-up meat since it comes from multiple animals. This also means it can be harder to kill through the cooking process as opposed to whole pieces of meat like chicken breast or even steak.
The investigation concludes that there are "worrisome gaps" in the way that meat in the U.S. was being processed and there was a clear need for heightened protection efforts against Salmonella.
"Dangerous salmonella is far too common in chicken and sickens hundreds of thousands of people every year," James E. Rogers, the director of food safety research and testing at Consumer Reports says in a press release about the study. "The USDA has pledged to reduce illness from salmonella contamination for more than a decade, but CR's tests show that more progress is clearly needed to protect the public. We need tougher action by the USDA to keep salmonella out of our kitchens and off of our plates."6254a4d1642c605c54bf1cab17d50f1e
According to the CDC, more than 212,000 people become sick each year because of antibiotic-resistant salmonella in food, and 70 die from ingesting it. It is also the leading cause of hospitalizations and deaths from food poisoning in the U.S.
Consumer Reports recommends that the USDA do more to stop Salmonella by focusing on reducing the particular strains that pose the biggest threat to human health and also increasing its authority to inspect poultry plants when high contamination rates are found.
Those that buy chicken should take steps to prevent foodborne illnesses. This includes keeping raw meat in a disposable bag away from other foods, thawing raw meat in a secure container in the refrigerator, washing hands in hot soapy water before, while, and after cooking, using a dedicated cutting board and meat thermometer, and refrigerating leftovers no more than two hours after cooking.
Amber Lake
Amber Lake is a staff writer at Eat This, Not That! and has a degree in journalism from UNF in Jacksonville, Florida.
Read more about Amber