5 International Restaurant Chains Exploding in Popularity In America
These brands are taking the U.S. by storm.
Let's be real—Americans love their fast food. We've pioneered and championed the concept, and our biggest national fast-food chains—like McDonald's, Subway, and KFC—have made their way to nearly every corner of the world.
But our incredibly large appetite for fast food also makes America the perfect place for international chains to try their luck at increasing their customer base. While some of these chain's menu items stray from the staple favorites available at most American fast-food restaurants, they still consistently see an increase in annual sales and keep customers coming back for more time and time again.
These are some of the international fast-food chains exploding in popularity throughout America right now. And for more, check out 5 Major Fast-Food Chains Falling Out of Favor With Customers.
Tim Hortons
Canada's one-stop shop for coffee, donuts, and other fast-foods, Tim Hortons is perfect for those on the go (think Wawa or Sheetz). Founded in 1964, the chain now has nearly 4,000 locations in Canada. Considering the popularity the chain has gained on its home turf, it's no wonder that they made their way across the border. In the U.S. today, Tim Horton's owns over 550 franchises and while the chain's sales dropped due to the pandemic, it is still one of the biggest coffee chains in America.
Jollibee
Their irresistibly cute mascot might be what draws in so many customers, but fans say that Jollibee's menu is what keeps them coming back for more. The Filipino chain offers a gamut of comfort food options, from burgers and fried chicken to spaghetti and shrimp—all with an island twist.6254a4d1642c605c54bf1cab17d50f1e
Jollibee has an international presence of 1,300 locations, 66 of which are spread across the United States and Canada. But don't let that number fool you—the chain is gunning for a major expansion with plans to open 234 more locations in North America by 2024.
Bonchon
Who doesn't love fried chicken? Especially if it's Korean. The unique flavors of Asian fried chicken have been skyrocketing in popularity over the past decade, and Bonchon swooped into the American market at just the right time back in 2006.
Since then, the chain gained a reputation for their "crazy crispy" double-fried chicken and has expanded massively—opening 101 U.S. locations (14 in the past year alone!). While Bonchon is already giving KFC a run for its money, it recently announced a five-year goal of opening 500 more U.S. restaurants as well as 500 more worldwide locations by 2026.
Pollo Campero
As Latin America's largest chicken chain, Pollo Campero has a menu selection sure to suit any chicken lover's tastes. Founded in 1971 in Guatemala, the chain currently owns more than 350 locations worldwide, 77 of which are in the United States. They're known for their hand-battered fried chicken and citrus grilled chicken, and customers rave over their flavor-packed sides.
Nando's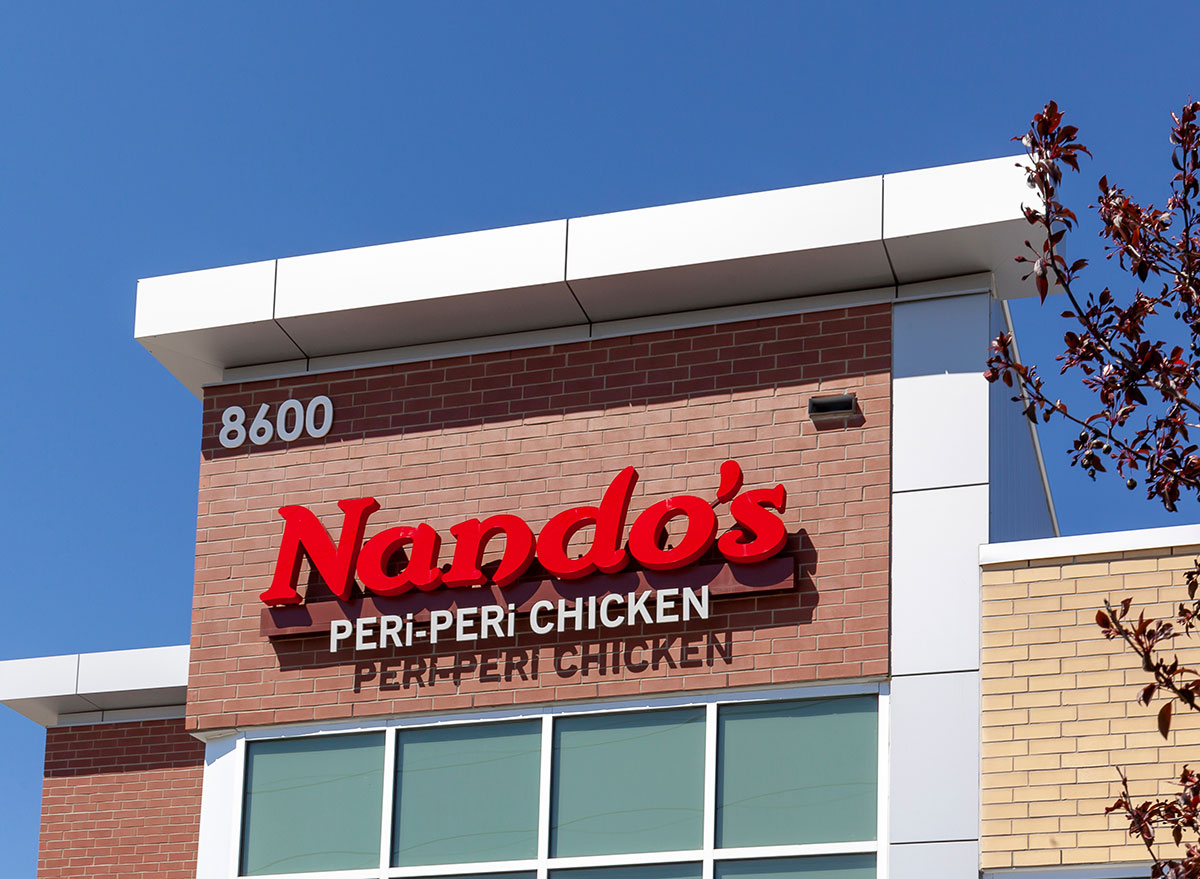 Founded in 1987 in South Africa by two friends with a love for spice, the chain has since made its restaurant known throughout 30 countries around the world. Nando's celebrated well-seasoned flame-grilled Peri Peri chicken made its way to the United States too, where the chain now owns 43 locations and has seen a 24.8% sales growth in 2019 alone. Due to the overwhelming popularity of their sauces and seasonings, Nando's now packages and sells their blends online and at grocery stores worldwide. If you're someone with a taste for some serious spice, Nando's is likely the restaurant for you.
For more, check out the 108 Most Popular Sodas Ranked By How Toxic They Are.