These Are Jennifer Aniston's 7 Anti-Aging Secrets
Everything in moderation for the 53-year-old beauty!
Since the mid-1990s, Jennifer Aniston has been the trendsetter of all trendsetters. Who could forget that iconic hairstyle dubbed "The Rachel" that had women everywhere running to the salons for that perfect choppy look?!
Throughout her career, Aniston has been touted as the definition of aging effortlessly. Holding a photo of the 53-year-old actress now side-by-side with a photo of her then, you'd be hard-pressed to spot the difference. The Morning Show star radiates no-fuss, glamorous vibes everywhere she goes, and her glowing skin is no exception.
Now, with her Friends days nearly two decades in the rearview, Aniston is pushing to change the narrative of anti-aging talk in the beauty world. "Very little offends me, but what I do think is becoming dated are things like, 'Oh, you look great for your age,'" she told Allure in a 2019 interview. "Because at a certain point, you should start to look like shit? Because that's what that is implying. Like, 'You should look like hell right now!'"
That said, the 53-year-old actress works hard to maintain her good looks and has some of the most sought-after diet, skincare, and workout routines in Hollywood. Read on to discover the 7 anti-aging secrets that Jennifer Aniston lives by, and next, don't miss how 16 Famous Celebs Make Their Morning Oatmeal.
She sticks to a morning wellness routine
Whether she's up at 5 a.m. for work, or sleeping until 9 a.m. on her days off, Aniston makes sure to start her mornings with celery juice. "I've been doing celery juice first thing in the morning," she told Allure. Her celery juice is followed by a diluted shot of apple cider vinegar to help lower her blood sugar and cholesterol and "a probiotic, obviously."
"You have to wait a half-hour [to eat], so that's when the meditation happens," she added. "I have to force myself not to go right to my coffee."
She has a simple yet effective skincare routine
When it comes to skincare, Aniston follows the K.I.S.S. method. Though her glowing, wrinkle-free skin would seem to suggest the need for expensive creams and serums, the 53-year-old says that is not the case, and stresses the importance of not overwashing.
During an interview with Well + Good in 2018, Aniston shared, "My whole face regime is just soap and water to wake myself up, then some sort of Aveeno daily moisturizer that's got SPF in it. It's quick. I never linger too long anywhere, to be honest; things need to be as easy as possible [for me].
"I don't overwash my face because you don't want to strip away too much," Aniston told Allure. "And then I just put on nourishing things I feel are as organic as possible."
Specifically, Jennifer Aniston uses her favorite facial cleanser (Neutrogena Facial Cleansing Bar), followed by a toner. She exfoliates three times per week, uses serums, and applies a light anti-aging moisturizer. Jennifer also maintains her youthful presence by lifting and toning her face at home with a special handheld microcurrent device. She uses a few upward strokes of the ZIIP Nano Current device to provide just the right amount of eye revival needed to depuff and uplift her face for a restored appearance. Before heading out the door, Jennifer applies an SPF of 50 to protect her delicate skin from the sun's UV and UVB rays. Finally, concealer and lip balm complete her look for a seamless, fresh finish.
She takes care of her famous hair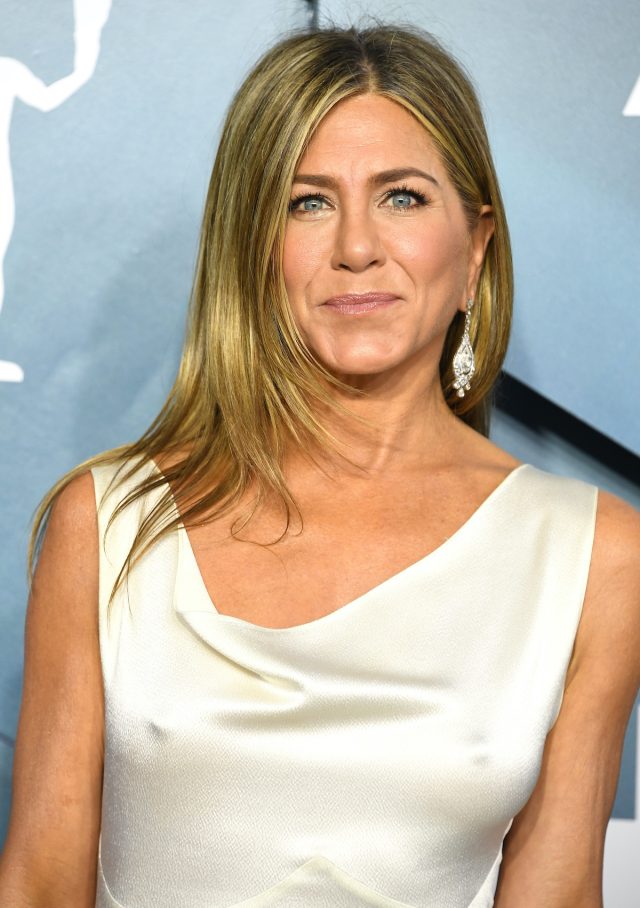 Jen didn't stop caring for her hair after "The Rachel" played out. She traded the fun, layered 'do for the touseled beachy tresses we obsess over now. Recently, she launched her own plant-based haircare line called LolaVie. Jennifer keeps it simple with a daily hair regime consisting of shampoo, conditioner, and a glossing detangler. Before launching LolaVie, Aniston tamed her tresses with Living Proof Perfect Hair Day Shampoo.
Related: The Best Supplements For Your Hair.
She follows a balanced diet
It's widely been quoted that Jennifer Aniston ate the same salad every day for 10 years on the set of Friends. She's a strong believer that what goes into your body affects how you look on the outside. "Science is expanding, and technology is incredible, and there are all of these things that we're learning that our parents' generation and their parents' generation didn't know," she told Allure. "They were smoking or putting all sorts of preservatives in their body they didn't know about."6254a4d1642c605c54bf1cab17d50f1e
Though a typical breakfast for the star includes a protein shake packed with berries, stevia and leafy greens, she recently opened up about easing up on her low-carb lifestyle. "I'm no longer afraid [of the breadbasket]," she said in an interview with People last year. "As long as it's all done in moderation."
It's said that Aniston also follows the 16:8 Intermittent Fasting (IF) practice of fasting for 16 hours and consuming her meals for the day within the remaining 8 hours. She focuses on high-protein, low-fat foods like fresh fruits and veggies with lean protein such as fish.
Jennifer Aniston knows that hydration is just as important as her diet. She keeps dozens of water bottles on hand to ensure she remains hydrated throughout her busy workday.
Related: The Only Time You Shouldn't Drink Water Is…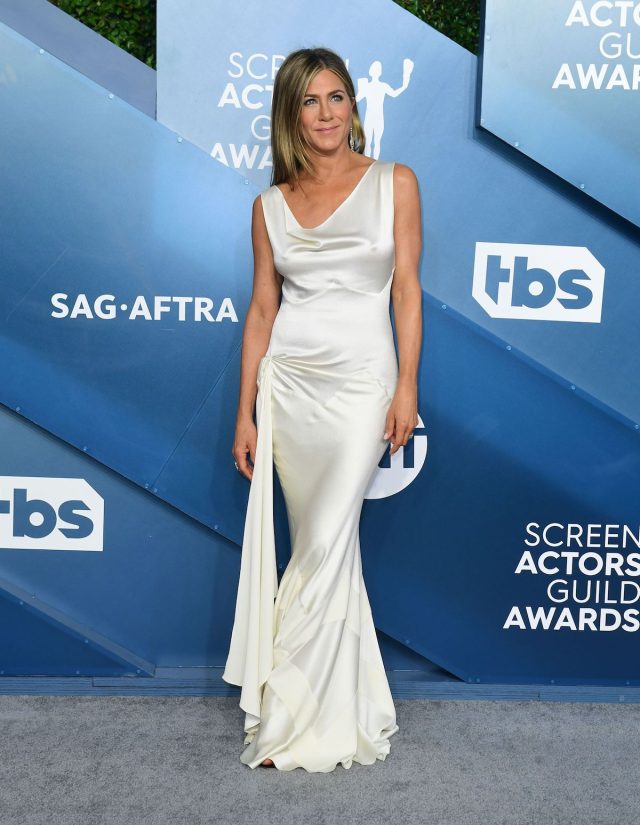 "I feel really beautiful when I finish a great workout," Aniston told Glamour UK. "Because I'm taking care of the one body I have."
Whether it's spin, yoga, cardio, strength training or boxing, she is a huge advocate for moving your body every day. Jennifer herself likes to mix up all of the above. "Keeping your body confused is always the key for me," she said.
"If I'm watching television [on the treadmill] I can't run, because I have to focus on what I'm listening to," she told Well + Good. So, she pops in her headphones and sprints! "It's really good to get sprints in, to get in that interval training, because it's monotonous to do one pace. The whole time your body goes, 'I know what's happening…' It's good to pump it up and then take it down."
Aniston's five-day-per-week workouts consist of elliptical, treadmill, yoga, pilates, and spinning. She enjoys combining both low-impact and high-intensity workouts to maintain her fit figure.
Related: Jennifer Aniston's #1 Workout Tip
She takes collagen every day
In November 2020, Aniston joined Vital Proteins, a company she'd been using for years, as their Chief Creative Officer. "I've always been an advocate for finding wellness from the inside out—and I'm so happy to share the importance of collagen," she captioned the photo on Instagram.
She often sips on creamy beverages consisting of coffee and Vital Proteins Collagen Powder. The collagen powder encourages healthy skin, hair, nails, and joints.
Two years earlier, Jen told Well + Good about the product, saying "I've been seeing a difference! My nails are stronger and there's a healthier… how do you explain it? A glow."
"It's sort of that working from the inside-out thing," she added.
For more, check out Kim Kardashian Just Shared This One Healthy Habit The Whole Family Shares.
Kayla Aldecoa
Kayla was born and raised in Los Angeles, California and now works as a writer in Austin, Texas.
Read more about Kayla