These Are Jennifer Lopez's 5 Anti-Aging Secrets
The star looks so fantastic, we want all her age-defying tips!
As a musician, actress, producer, entrepreneur, and style icon, Jennifer Lopez is the definition of a multi-hyphenate. As a 52-year-old woman, she's the definition of age-defying. Because JLo is known for her glowing skin and healthy physique, she is regularly asked "how" she does it, and she's always been happy to share her wellness and beauty routines.
Of course, it comes as no surprise that her anti-aging secrets are all-encompassing and entail every aspect of her lifestyle. For instance, Lopez refrains from junk food, drinks plenty of water, and has always taken good care of her skin. In early 2021, she even launched her own beauty brand, JLo Beauty, based on her five beauty principles, which she calls "The 5 S's": Sleep, supplements, sunscreen, serum, and sano (meaning "healthy life" in Spanish).
Read on to find out the (not so) secrets to Lopez's anti-aging success, and next, don't miss how 16 Famous Celebs Make Their Morning Oatmeal.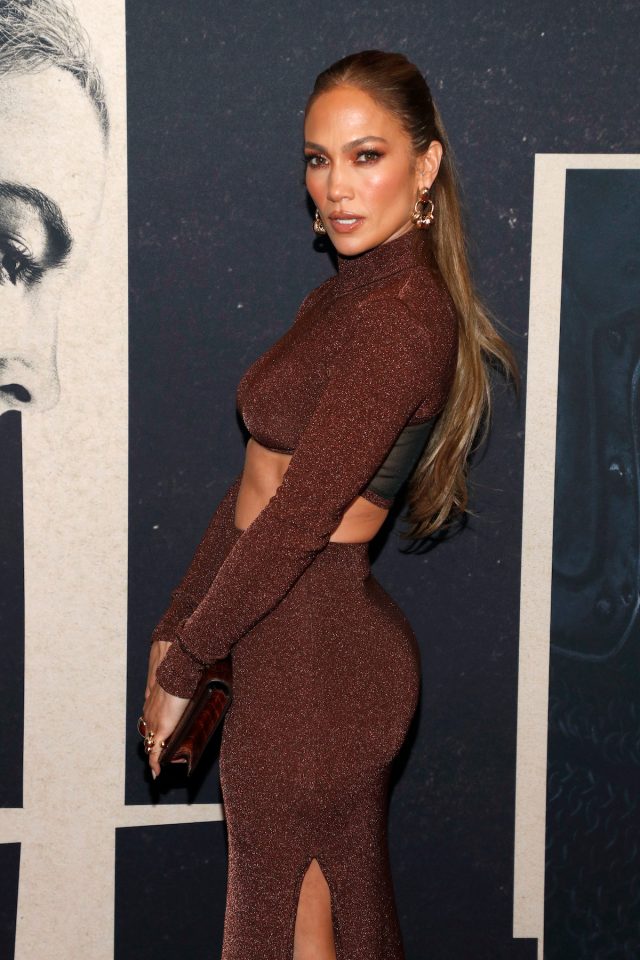 JLo has regularly mentioned through the years how important she believes a good night's sleep is for looking your best, and recently shared an Instagram video saying you should get at least seven hours a night. In an interview with Instyle in 2016, she aimed even higher: "The number one tip is to always get enough sleep. I can't stress that enough," she said. "Ideally, I would love to get nine or 10 hours of sleep, but I always make sure I get at least eight."
It's common knowledge that the sun ages us and wearing daily sunscreen is the first line of defense against it, so it's no surprise to learn that Lopez has been combatting the negative effects of sun exposure her whole life. During an interview on Live with Kelly and Ryan in January of 2021, she shared, "The one thing I've done since my late teens/early 20s is wear sunscreen. A lot of people don't use it every day and only wear it when it's super sunny or when they go to the beach, but I got lucky, because a dermatologist told me early on to wear sunscreen every day."6254a4d1642c605c54bf1cab17d50f1e
Related: This Is Rebel Wilson's Exact Breakfast, Lunch, and Dinner
It's been widely quoted that Lopez once told US Weekly in an interview that she doesn't drink alcohol or caffeine and refrains from smoking. "That really wrecks your skin as you get older," she said. For a feature interview with Harper's Bazaar in 2018, her then-fiancé Alex Rodriguez confirmed as much: "She doesn't drink, doesn't smoke. She lives a very clean life," he shared. Her trainer Tracy Anderson has also confirmed that Lopez eats organic, nutrient-dense foods and avoids processed foods and refined sugar.
Prioritize mental wellness.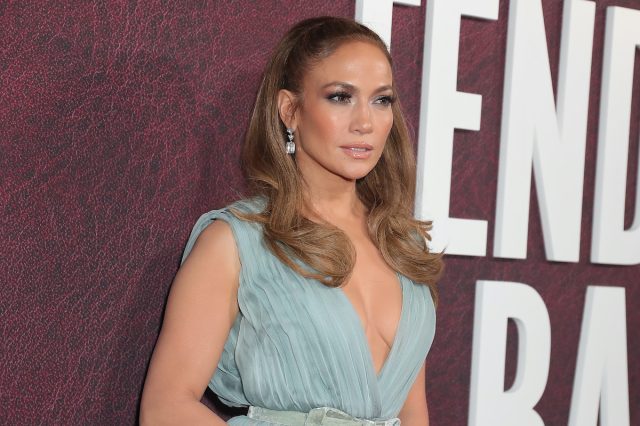 JLo believes in the power of positive thinking and recites affirmations daily. A favorite? "I am youthful and timeless at every age." Along with, "I am open and receptive to all the goodness and abundance that the universe has to offer." She told Instyle in 2016, "I definitely think beauty comes from within–you have to keep your mind, soul, body, and spirit in sync. I am a firm believer in meditating and when you are happy and feel joy and love, you radiate beauty."
Use high-quality skincare products.
While Lopez has shared her favorite skincare products through the years (including brands like Lancer, La Mer, and Dr. Hauschka), her routine now exclusively includes products from her own line. In November, she shared her nighttime skincare routine on Instagram saying, "I wear a lot of makeup every single day, and it's very important to have a cream cleanser that is gentle enough to not rip apart your skin, but will remove every single bit of makeup and really give you a clean, beautiful, tight, taut finish."
After washing off her makeup, she uses That JLo Glow Serum, That Blockbuster Hydrating Cream, and That Fresh Take Eye Cream, all from her eponymous brand. She also revealed that she uses the eye cream on her 11s, her smile lines, and even on her neck: "anywhere that needs a little extra love."
For more, check out Kim Kardashian Just Shared This One Healthy Habit The Whole Family Shares.
Emily L. Foley
Emily L. Foley is a freelance journalist with more than a decade of experience covering fashion, beauty, entertainment and lifestyle, and her work appears in magazines such as Allure, Glamour, Marie Claire, US Weekly and Instyle.com
Read more about Emily