This Is Rebel Wilson's Exact Breakfast, Lunch, and Dinner
The actress has made following a healthy diet a lifestyle.
Rebel Wilson's career proves that she's no stranger to the spotlight. The 41-year old Australian actress has been acting since an early age. Her first role was in the early 2000s comedy series Pizza, followed by the popular franchise Pitch Perfect and numerous other movies. In 2020, however, she gained attention in a much different way. Self-admittedly, she said her emotional eating had spiraled and she wanted to do something about it. Despite pushback from critics and even her own team, Wilson declared 2020 her "Year of Health" and set a 60-pound weight loss goal.
Wilson set out to become a healthier version of herself and inspired many of us along the way. Her goal was never to be skinny, but instead, to change her relationship with food and steer away from emotional eating that led to weight gain. Wilson lost 75 pounds within the first year of her enlightening personal (self-awareness) journey, and the actress/writer/producer encourages her followers to love their own bodies and set attainable goals for success. For Wilson, this means following a healthy eating plan and crushing regular workouts—turning these positive habits into a long-term lifestyle. In fact, she's coined the year of 2022 as 'Rebel Rising,' during which she plans to continue slaying her health goals.
So, what might a typical day dining with Rebel Wilson look like? Keep reading to find out exactly what she eats for breakfast, lunch, and dinner. And next, don't miss how 16 Famous Celebs Make Their Morning Oatmeal.
Rebel Follows The Mayr Method Diet Plan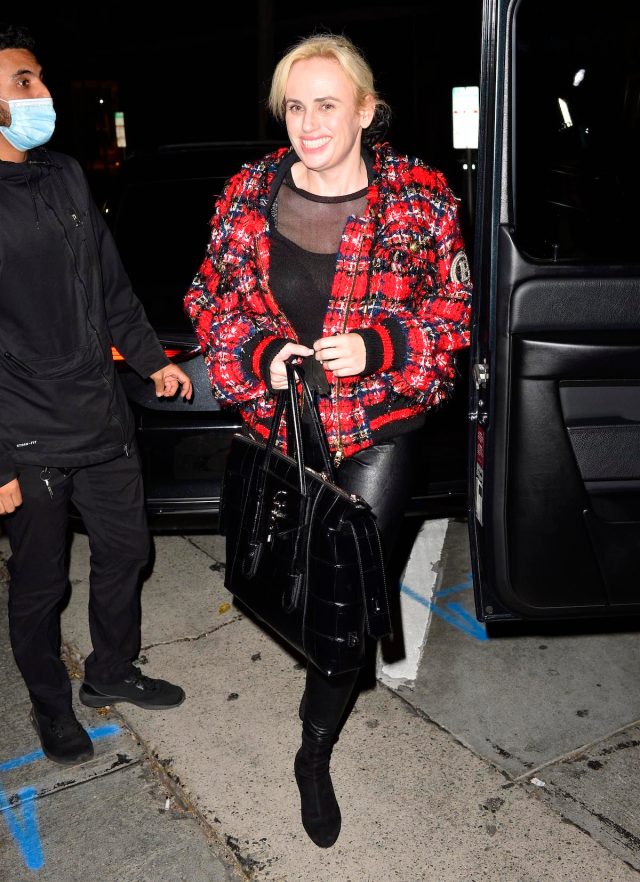 The Mayr Method is an eating plan designed to enhance digestive health and promote mindful eating while eliminating certain foods. The diet emphasizes vegetables, lean proteins, low-carb grains, and non-dairy alternatives. It teaches you to eat breakfast like a king and smaller meals for lunch and dinner. No snacking allowed.
The Mayr Method teaches that nixing distractions, such as scrolling through social media, is a must while eating meals. The 14-day plan focuses on mindful, healthy eating that encourages gut health and the reduction of inflammatory foods. Drinking water, juices, or herbal teas an hour before meals, during, or an hour after meals, is not recommended as this may disrupt efficient digestion.
Related: The Simple Exercise Rebel Wilson Did to Lose 75 Pounds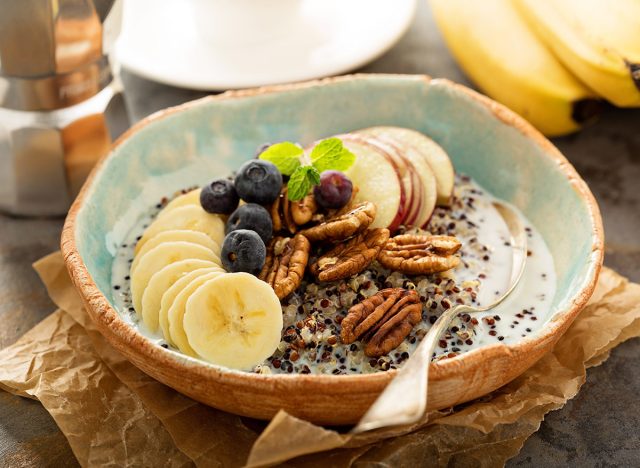 Rebel Wilson likely noshes on a bowl of quinoa porridge for breakfast with a sprinkling of blueberries or chia seeds. Blueberries are packed with vitamins, minerals, and they're high in fiber. At the same time, chia seeds are rich in omega-3 fatty acids and micronutrients. Quinoa provides all nine essential amino acids and is higher in protein than any other grain. It also supports healthy blood sugar and energy levels to sustain you through your busy morning routine.6254a4d1642c605c54bf1cab17d50f1e
Related: What Happens to Your Body When You Eat Quinoa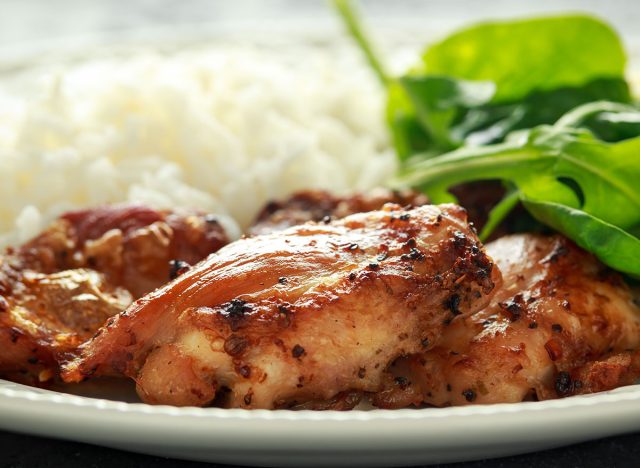 For lunch, Rebel Wilson often reaches for skinless chicken breast, accompanied by a cup of alkaline soup to keep her energy up and her mood elevated. Although she wasn't accustomed to eating much meat before her weight loss journey, Rebel quickly learned that fueling up on lean protein is the key to maintaining energy and staving off hunger throughout the day.
Need inspo? Grab your apron and check out 33+ Healthy Chicken Breast Recipes for Weight Loss.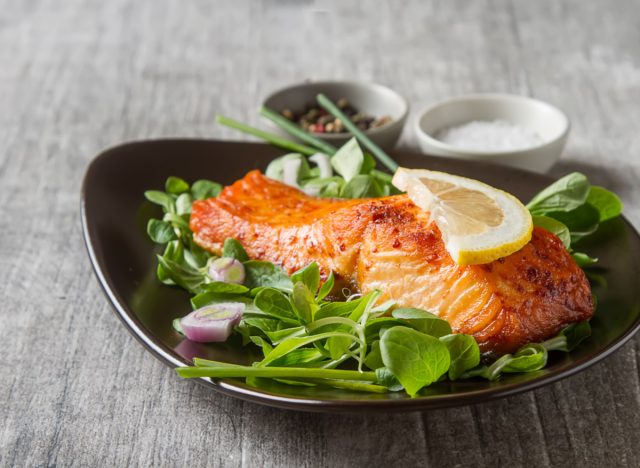 Dinner is the smallest meal of the day for Mayr plan followers. Rebel Wilson incorporates lean protein such as salmon, and a plate of fresh steamed vegetables for dinner, in smaller, pauper portions. Bison, beans, and lentils may also be alternating menu items in the Hollywood actress' cuisine.
For more, find out why Rebel Wilson's Response to Her Body Critics Deserves an Applause.
Shaye Glisson
Shaye was born and raised in Houston, TX. She is a freelance Lifestyle/Beauty/Wellness writer and a licensed Cosmetologist with several years of writing experience.
Read more about Shaye