This Is Jennifer Lopez's Exact Breakfast, Lunch, and Dinner
There are no processed foods in JLo's pantry!
It's no secret that Jennifer Lopez has been rocking a six-pack since her In Living Color days. Aside from a rigorous workout regimen that includes two personal trainers, the Marry Me actress has certain food rules she follows to stay fit and ageless.
For instance, Lopez has long avoided alcoholic beverages and caffeine. "I haven't had caffeine in years," she once told Us Weekly magazine in a 2018 interview. Instead, the 52-year-old mom gets all of her necessary nutrients by maintaining a healthy diet.
One of her trainers, Tracy Anderson, told People in 2018: "I have her eating very clean because she needs really good fuel for all the things that she's doing." In January 2019, Lopez even went as far as joining ex-fiance, Alex Rodriguez, on a 10-day no-sugar, low-carb challenge, which forced them to get creative. "No carbs + no sugar = lots of meat," A-Rod shared on Instagram at the time.
On top of a well-balanced diet and intense workout sessions, J.Lo also makes sure to stay hydrated throughout the day. Her trainer and life coach, Dodd Romero, told Us Weekly in 2019 that "she drinks a minimum of seven glasses [of water] a day."
Read on to discover what a typical day of meals might look like for Jennifer Lopez, and next, don't miss how 16 Famous Celebs Make Their Morning Oatmeal.
Breakfast
Similar to Meghan Markle, Lopez likes to start her day with lemon water. It's believed to promote healthy skin due to the vitamin C found in lemons, as well as aid in digestion.
It has been well documented that Jennifer gets her day going with a protein shake. "Everything is fresh," Anderson said. "There's nothing processed–just [protein powder] in a shake." According to People, J.Lo's morning protein shakes are made up of strawberries, blueberries, Greek yogurt, cinnamon, honey, more lemon juice and her Body Lab protein powder.
Lunch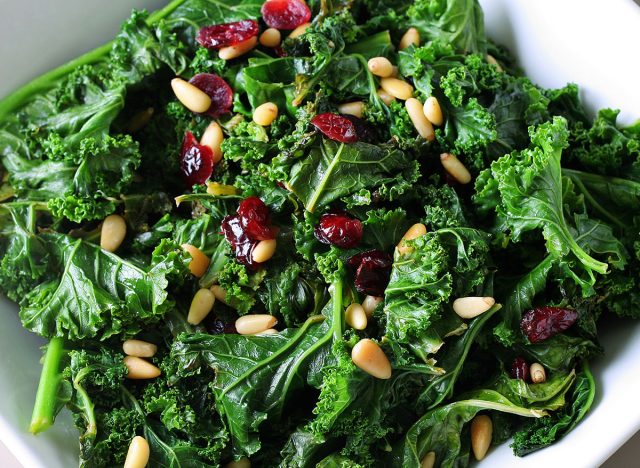 "By lunchtime, I'm starving," J.Lo told Us Weekly. She will often grab a salad, one of which she detailed to People–a kale salad with pumpkin seeds, crumbled queso, and shallots with an olive oil and lemon juice dressing.
In general, "She sticks to a balanced, nutrient-rich diet, and has cut out all processed and refined foods," Anderson said. She aims for more leafy greens and makes sure to avoid carrots and corn, due to their higher sugar content, according to Romero.
Another salad Jen is known to enjoy came during her 10-day detox diet with A-Rod, who shared a photo on day three of their giant lunch salad: hard-boiled eggs, cucumbers, bell peppers, mushrooms, onions, ground turkey, and Brussels sprouts.
Related: The Worst Salad Dressings on Store Shelves
Snack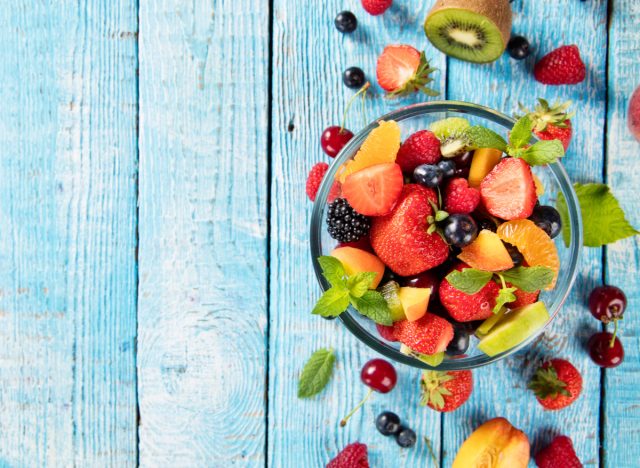 As a busy mother of two and multi-hyphenate superstar, Jennifer is always prepared to satisfy those midday hunger pangs with a nutritious snack. Being constantly on the go, "I always like to have healthier snack options like fruits or vegetables with me," the Hustlers star told People.6254a4d1642c605c54bf1cab17d50f1e
According to Romero, however, she occasionally will reach for a protein-packed pick-me-up. Nuts, he says, are a snack of choice for the star, of which she is allowed "a handful" a day.
Related: The #1 Best Nut to Eat
Dinner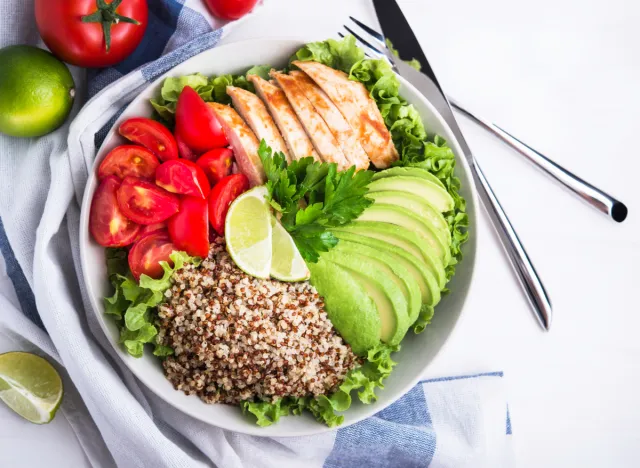 Whenever she can, Jennifer likes to sit down for dinner with her kids around 6:30, she told Us Weekly. They will usually have lean protein and veggies with quinoa or other complex carbs such as sweet potatoes. "It feels like rice and beans, which I grew up with," she said of quinoa.
She "stays away from processed foods and gets her nutrients from whole sources," Romero confirmed to US Weekly. Her main protein sources are white meat turkey, chicken breast, and grass-fed beef. "I like pork and chicken–especially Puerto Rican style!" she added.
"It's all organic and it's all very well thought out, with the balance of very high quality proteins and a lot of nutrient-dense food… everything is fresh," Anderson told People.
Dessert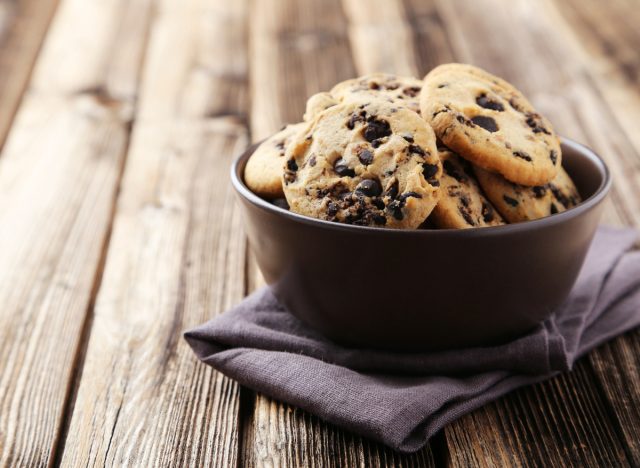 It's hard to believe that a woman who takes her health as seriously as Jennifer Lopez does allow herself wiggle room. But, she does!
"She does have one cheat a week," Romero told Us Weekly. "For that, I think she likes cookies." And he's right. The "Love Don't Cost a Thing" singer told People she enjoys chocolate chip!
For more celebrity news, check out 10 Celebs Who Look Exactly The Same As They Did 20 Years Ago.
Kayla Aldecoa
Kayla was born and raised in Los Angeles, California and now works as a writer in Austin, Texas.
Read more about Kayla