America's Largest Grocery Chain Just Added New Snacks to Store Shelves
And we'll help you pick out the healthier options from the crowd.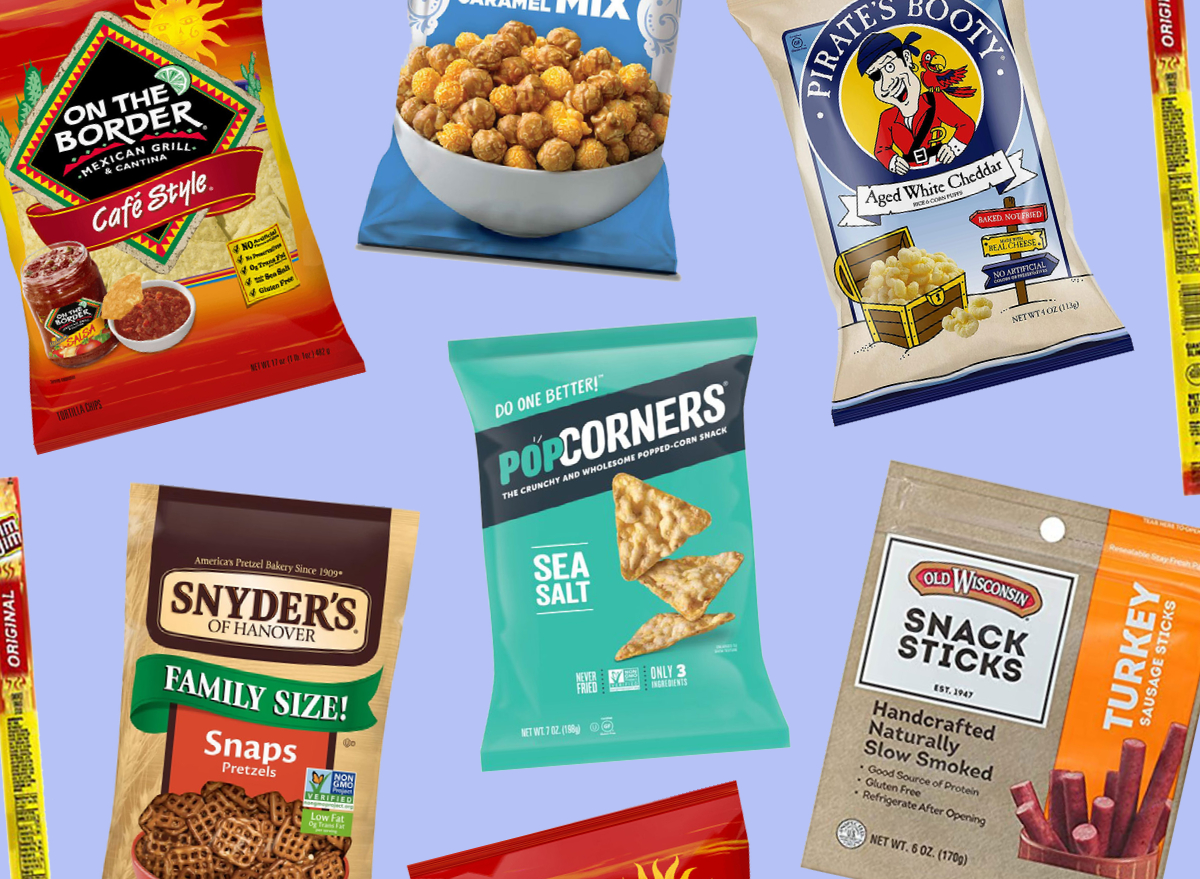 There are a lot of convenient reasons for snacking: being on the go, staying alert through hours of Zoom meetings, or hosting a get-together at home, even though there is evidence for the health benefits of eating less frequently.
Maybe you're looking to change up your pantry pickings, or maybe you're searching for a healthier replacement, but either way, thousands of Kroger locations have new snacks that might fit the bill. These new arrivals may vary by location (you can check your store's availability here), but here are some brands on our list to check out.
Related: America's Largest Grocery Chain Just Added 4 New Items to Its Bakery Section
Frito-Lay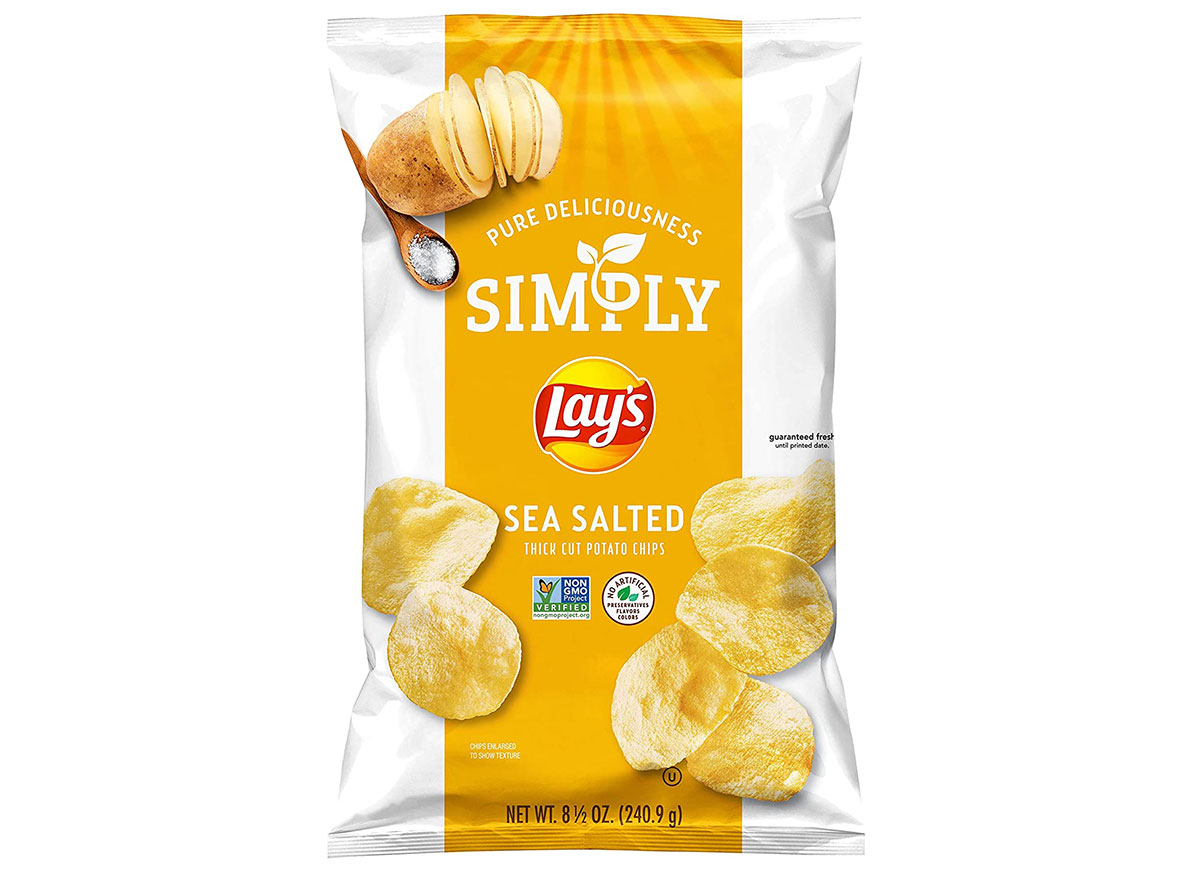 An array of Frito-Lay products have arrived at Kroger to satisfy an array of preferences. From basics like Lay's Simply Sea Salted Thick Cut Potato Chips Snacks and Cheetos Simply Crunchy White Cheddar Cheese Snacks to inventive new-flavor twists like Doritos Spicy Sweet Chili Tortilla Chips, everyone at the party will be satisfied. Need something to scoop with all these chips? Try Fritos Mild Cheddar Naturally Flavored Cheese Dip. Each of these items ranges from $3.29 – $3.99 depending on location.
If you can't find one that suits everyone, the just-arrived Frito-Lay Snacks & Chips Variety Pack Flavor Mix makes it easy with a pre-arranged assortment of savory, crispy bites. The pack of 28 is $11.99.
Snyder's of Hanover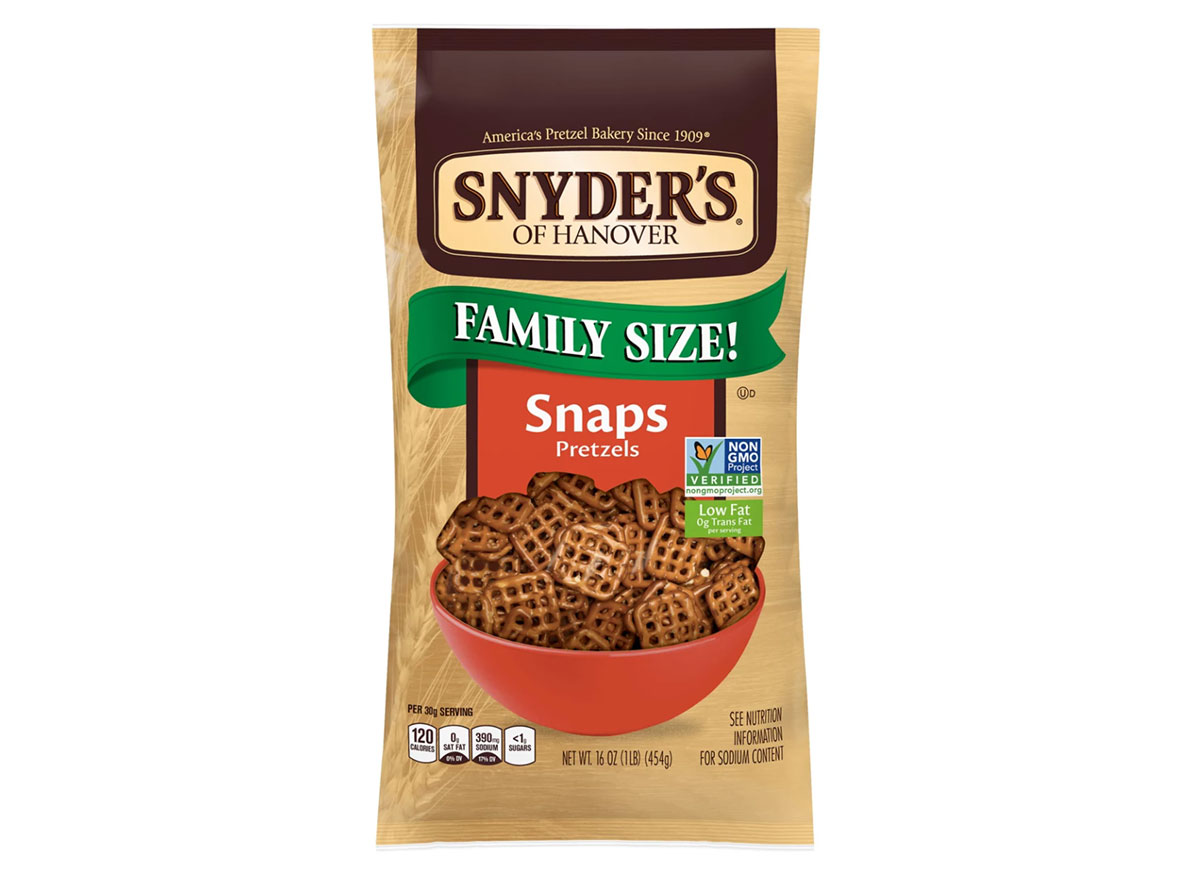 6254a4d1642c605c54bf1cab17d50f1e
A lower-fat snack option that's kosher and free of GMOs, look to Snyder's of Hanover Snaps Pretzels Family Size for those times you want a satisfyingly crunchy munch. The grid shape of this pretzel is small enough to pop in your mouth, mess-free. This 16-ounce bag is $3.99.
Related: To get all the latest grocery store news delivered right to your email inbox every day, sign up for our newsletter!
Slim Jim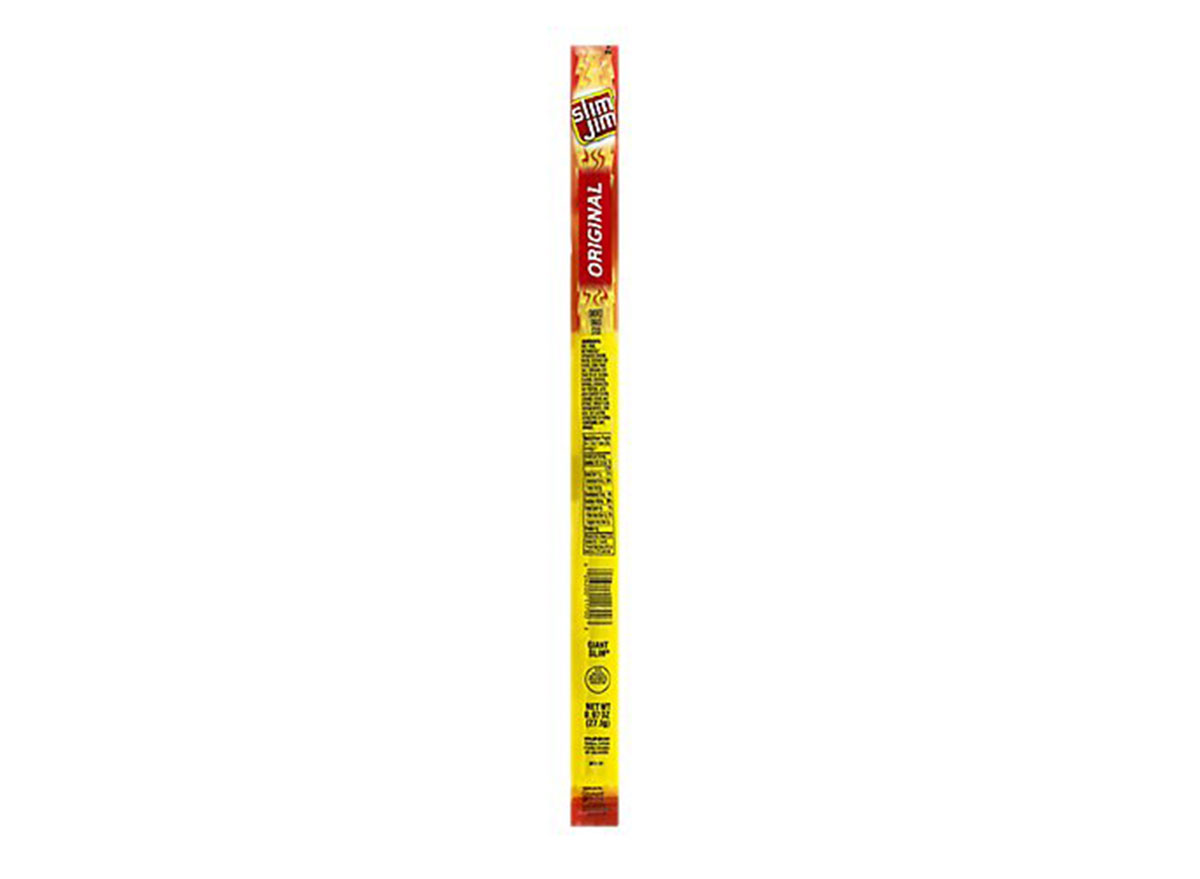 Maybe your munchies can only be addressed by some good old flavor-packed meat. Slim Jim makes handheld beef sticks with 6 grams of protein in a convenient grab-and-go package. Pick up just one of the Slim Jim Original Giant Slim Smoked Snack Stick for $1.29 now at Kroger or the individually wrapped pack of 14 in Original or Mild.
Old Wisconsin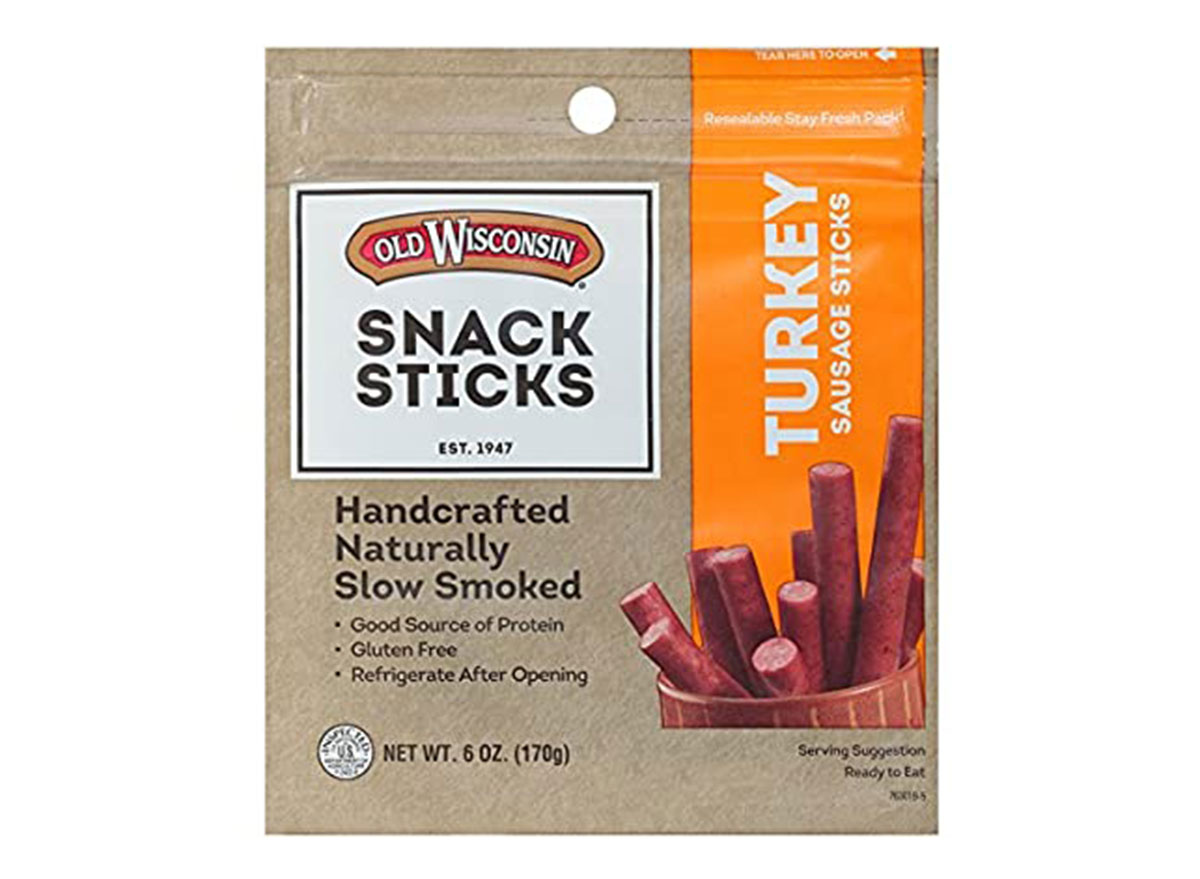 Another meat-based snack that just hit Kroger shelves is the Old Wisconsin Turkey Sausage Sticks. Containing 4 grams of protein per sausage and no MSG, this is a good snack if you're lowering your carb intake. It also has 50% less fat and lower sodium than Slim Jim. The resealable package holds about 14 and goes for $4.99.
Related: The Final Verdict on Whether or Not Red Meat Is Bad For You
Sensible Portions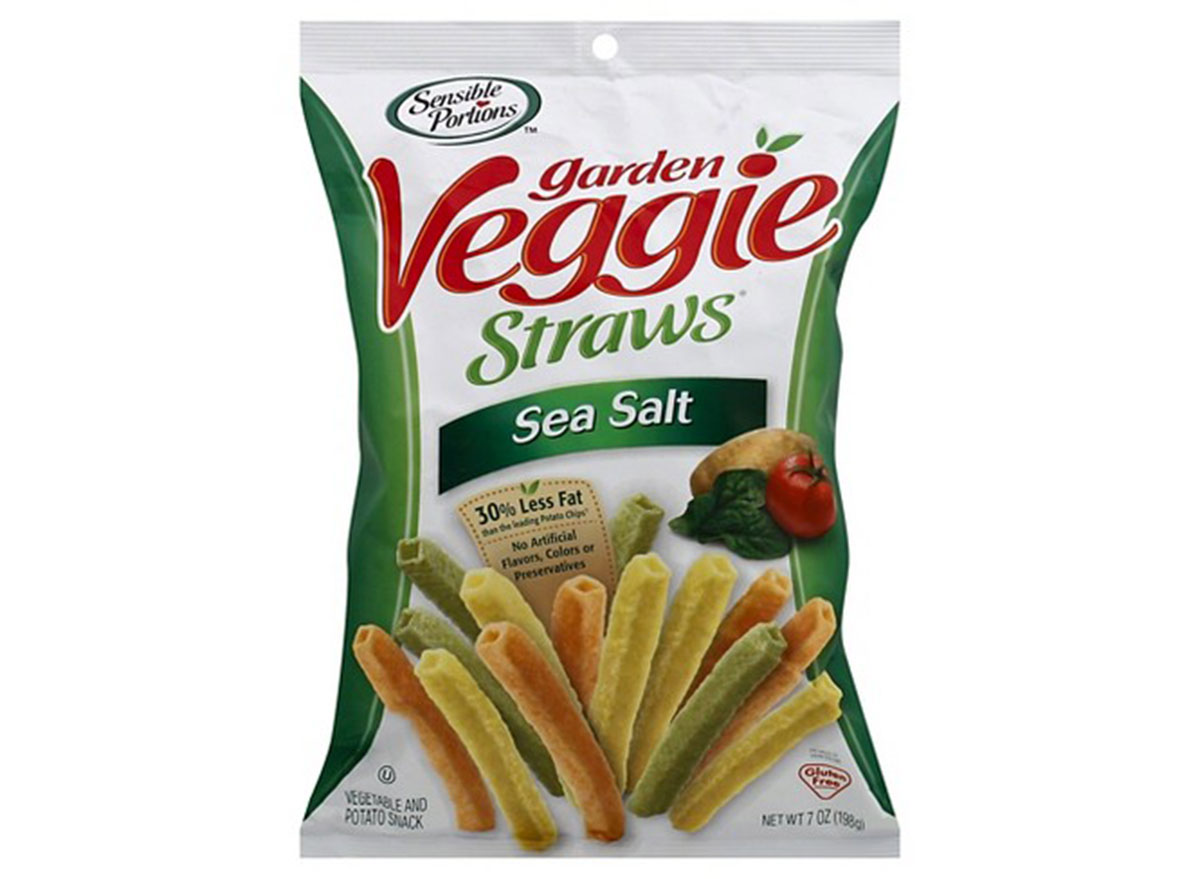 With 30% less fat than a bag of chips, Sensible Portions' items are a relatively low-fat and low-calorie way to graze. The ingredients include mostly potatoes, as well as tomato paste and spinach powder. They're still high in sodium, though, so don't be fooled into thinking they are the golden standard for healthy snacking.
Both the Sea Salt Garden Veggie Straws and Sea Salt Garden Veggie Wavy Chips are available now at Kroger so you can have your veggies and eat them, too. Each bag costs $3.29 for 7 ounces.
On The Border
Here are some (tortilla) chips to go with your dip. On The Border Cafe Style Tortilla Chips are a gluten-free way to enjoy melty cheese, guacamole, salsa, chili—the possibilities are endless. Sprinkled with sea salt, you can now dive into this 11-ounce bag of authentic-style chips for $2.99 at America's largest grocery chain.
Related: We Tasted 6 Doritos Chips and This Is the Best Flavor
Pirate's Booty
Pirate's Booty makes cheesy puffs that are fun to eat—but be warned, your fingers will be covered in white cheddar powder by the end of it.
The Aged White Cheddar Rice & Corn Puffs aren't the healthiest on this list. With 18 grams of carbs, 6 grams of fat, and moderate levels of sodium, this is definitely a sometimes-snack. The brand also doesn't explicitly use non-GMO ingredients, so avoid it if you're going all-natural. This sells in a 10-ounce bag for $5.49.
PopCorners
For another non-fried chip option that you can nibble on, PopCorners is a new snack to debut at Kroger, with three flavors to fit a range of palates. Sea Salt, White Cheddar Cheese, and Sweet & Salty Kettle Corn are never fried and cost $3.79 for a 7-ounce bag.
G.H. Cretors
How about a treat to bring to your next movie night? G.H. Cretors makes this Cheese & Caramel Popcorn Mix with real cheddar, handcrafted caramel, and non-GMO ingredients to give you handfuls of savory and sweet all in one bag. This is now available in a 7.5-ounce package for $3.99.
For more info about what's happening at the grocery store in your neighborhood, read these next:
Sarah Wong
Sarah studied at Northwestern University, where she received a bachelor's degree in computer science and experimented with mixing tech and journalism.
Read more about Sarah