This Is Lily Collins' Exact Breakfast, Lunch, and Dinner
The "Emily In Paris" star has some Parisian influences in her own diet!
Emily in Paris star Lily Collins is known for her very slim figure and, might we add, iconic outfits on the hit Netflix series. But Lily actually has a complicated relationship with her body.
Having struggled with an eating disorder for years, Lily is finally in a good place when it comes to her eating habits and mental health. "I've done therapy for years and I feel like I am getting to the route of why I allowed those darker thoughts to dictate how I lived my life, what I did or didn't eat and the restrictions I put on myself," she shared in Josh Smith's podcast Reign.
So what does this celeb eat now to maintain a healthy, balanced diet that keeps her feeling great? According to a 2017 cover interview for Shape, Lily stays away from red meat and any processed foods, instead favoring farm-fresh ingredients. Part of navigating an eating disorder for Lily was learning to sync mind and body: "On the daily, I want to give my body what it needs to be the best version of myself," she told Shape.
Read on to find out what Lily eats for breakfast, lunch, and dinner, and next, check out Chrissy Teigen's Easy and Healthy Salad Recipe.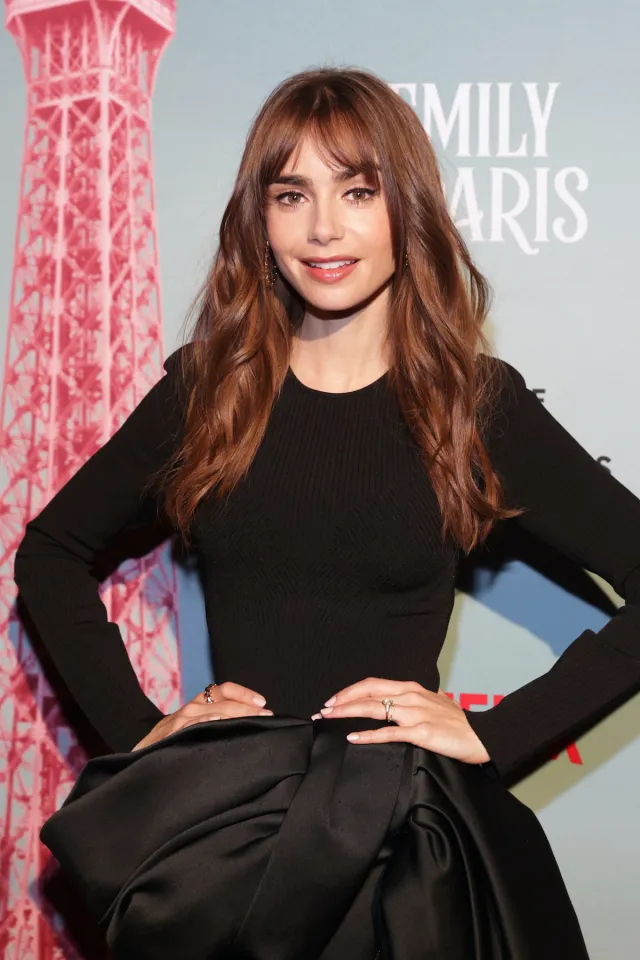 Lily starts off every morning with a glass of water and lemon, according to her "Day in the Life" interview with Harper's Bazaar. A lot of celebs swear by this morning beverage, and they're not wrong. Previous Eat This, Not That! reporting shows that lemon water can reduce bloating, improve digestion, and boost your immune system. Then she'll whip up some oatmeal and fruit for breakfast. "That really energizes me and fills me up," she told Harper's Bazaar.6254a4d1642c605c54bf1cab17d50f1e
Related: Sign up for our daily newsletter for more celeb food news!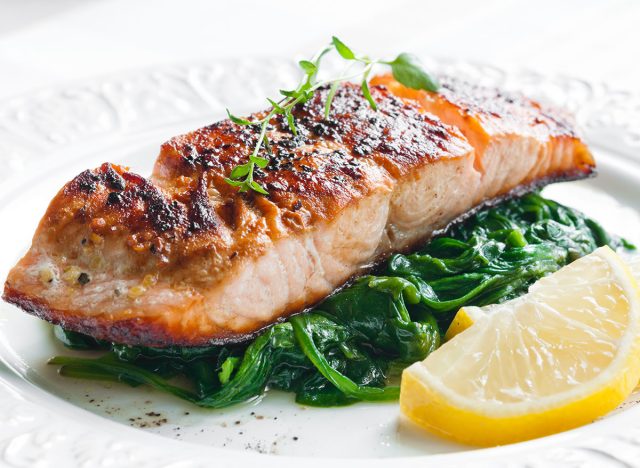 A typical lunch for Lily is salmon or chicken, salad, and quinoa. She likes to take her time with lunch to let her food digest and to take a break from her busy days. "I don't eat it all at one time; I try to make it last," she told Harper's Bazaar. Lily is not gluten-free, vegan, or vegetarian, but she calls herself a "clean eater" in her Harper's Bazaar interview. She tries to stick to fresh, healthy foods. Lily has also traded coffee for tea: "Now I limit myself to two cups of caffeinated tea per day because it can be just as bad for your system as drinking coffee if you have it all the time. I get cold really easily, though, especially on set, so herbal teas are necessary," she told Harper's Bazaar.
A baker but not a chef, Lily doesn't really like to cook so she typically eats out for dinner. "I've been trying to get out of my comfort zone and go with foodie friends to places I don't know about. I can be pretty grandma-ish about having a really early dinner, so I have friends who will be the 6:30 crew," she told Harper's Bazaar. Lily will also treat herself to a drink every now and then if she doesn't have a lot going on the next day. Her drink of choice? Tequila. "I used to be a vodka girl, but I was at a Mexican restaurant recently and ordered a spicy margarita just because the name sounded cool, and suddenly I was hooked. I've graduated—I'm a tequila person now," she told the magazine.
Related: What Happens to Your Body When You Drink Tequila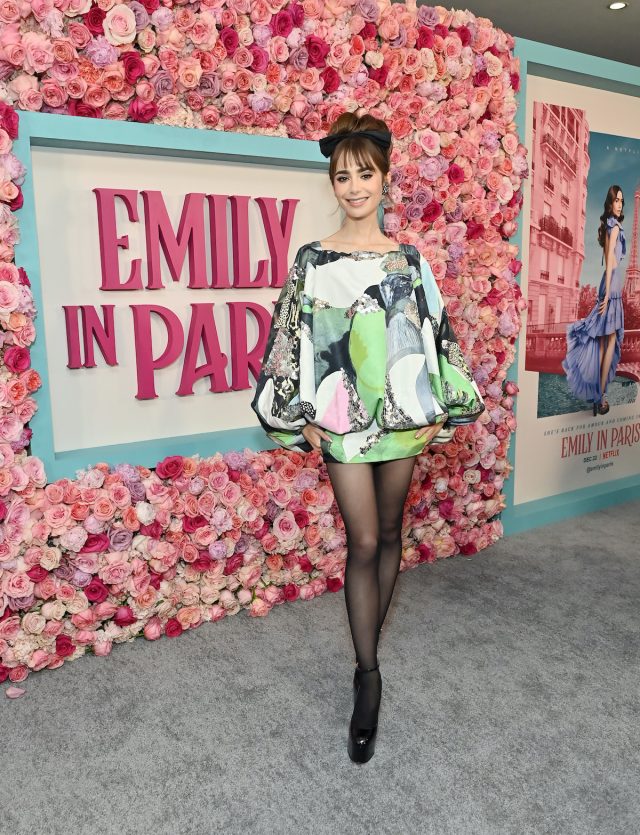 Healthy snacking is actually a part of Lily's everyday routine. "I snack on veggies and juices throughout the day to keep myself going," she told Harper's Bazaar. Lily also seems to enjoy snacking on fruit. She posted a photo of herself peeling an orange on Instagram with the caption: "Orange you glad it's Friday? (Sorry, I had to!)…". And while Lily doesn't snack on sweet treats every day, she enjoys baking and treating herself sometimes. "I make everything from doughnuts to birthday cakes and banana-walnut bread. There was a time when I wouldn't let myself taste those kinds of foods, let alone make them. I bake from the heart. I put love out there, and it goes right back in," she told Shape. Let's not forget macarons in that list, because Lily posted a series of photos baking macarons with her Emily in Paris co-star Ashley Park on Instagram.
Want to learn more about celeb diets? Check out Kate Hudson Reveals Her Food and Fitness Routine.
Mia Salas
Mia is a freelance writer for several publications and a soon-to-be graduate from Princeton University with a degree in English.
Read more about Mia