The Tone It Up Girls Share Their Best Secrets to Eating a Balanced Diet
It involves lots of protein, grilling, and baked goods!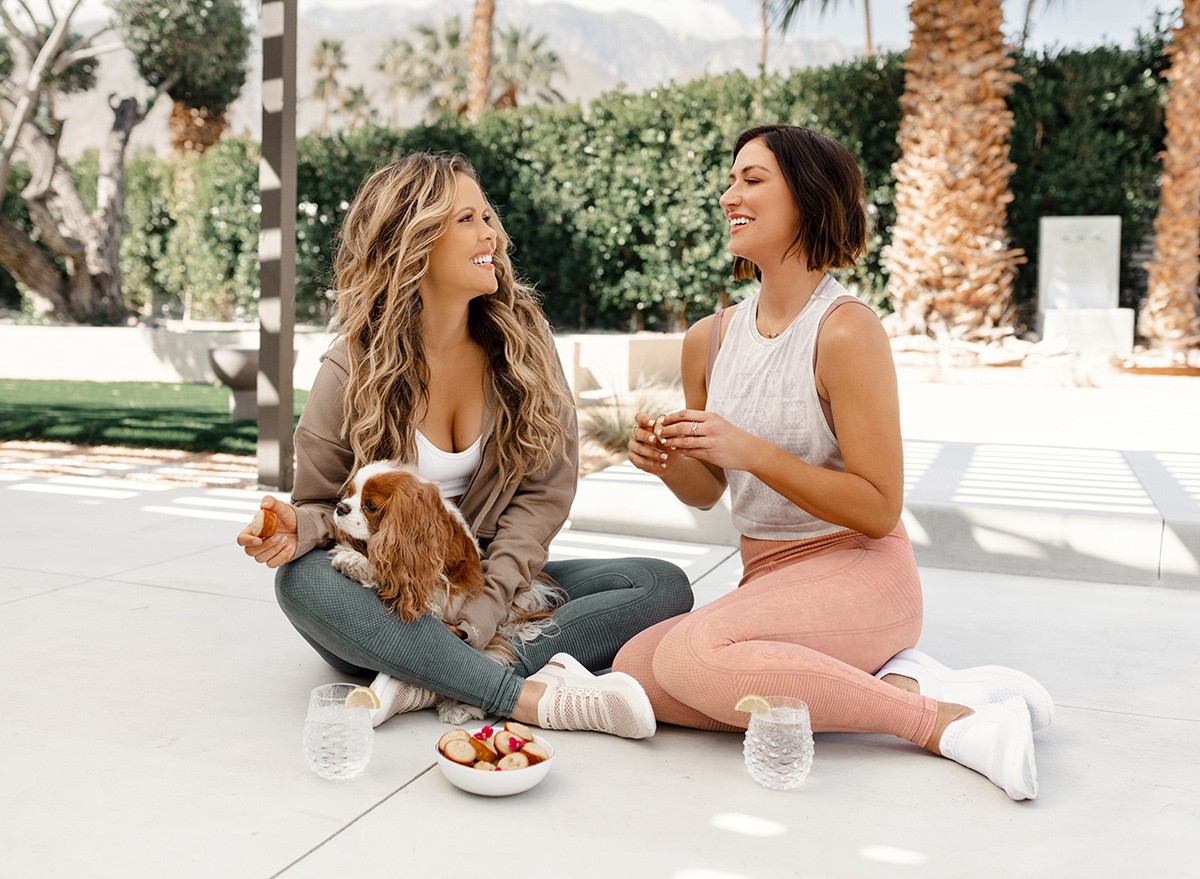 For Karena Dawn and Katrina Scott, the co-founders of the fitness and nutrition program Tone It Up, eating a balanced diet never, ever looks perfect. While these two powerhouse women strive to teach their Tone It Up customers and whopping 1.4 million Instagram followers how to apply healthy practices into their life, Dawn and Scott are all about keeping it real, especially when it comes to eating a balanced diet on the daily.
Lucky for us, we had the chance to sit down with Dawn and Scott and talk to them on a range of topics. From cooking tips to favorite foods, these two women got real about what it takes to eat a balanced diet in your everyday life.
Eating a balanced diet doesn't have to be so serious
The most important lesson from the Tone It Up founders? Being healthy and eating a balanced diet should be fun, and shouldn't be such a serious matter.
"Enjoy food, enjoy working out, enjoy life," Scott says. "It's not all that serious. And the more fun you can have with it, the more fun you can have on this entire journey. And if you want the piece of pizza, eat the pizza."
"One of the lessons in our favorite books, The Four Agreements, says 'always do your best, but each day your best is different.' And that's OK," Dawn says.
"Life is messy, but have it be this beautiful mess. And if you skip a workout, it's totally OK. And if you're just getting into it and you slip up, the kinder we are to ourselves the better off we'll be, and just know that it's normal," Scott says.
Yes, while it's good to create healthy habits for yourself and choose to eat healthy foods, you can have fun and get creative with it. The more fun you have with the process, the more likely you'll be able to keep up and stick with a balanced diet in general.
Eat lean, clean, and green
One of the easiest tricks the Tone It Up women had to share was their easy hacks for healthy dinners during the week.
"For me, usually I'll grill something for dinner," Dawn says. "But if it's super late, I always have tons of salad ingredients and a bit of protein—sometimes we'll grill food the night before—so I'll have extra at home in our fridge and I'll just throw it together."6254a4d1642c605c54bf1cab17d50f1e
Looking for some salad ideas? Try these easy recipes:
Dawn is a huge fan of eating "lean, clean, and green." It's an easy saying that keeps your balanced diet in perspective when trying to pick out some meals, like choosing lean meats and eating clean.
"I don't really cook; my husband does," Scott says. "He always does a tray bake. We'll just put everything from vegetables to a lean protein on a tray and put it in an oven at 350 and bake it. And when he's not in town, I pull up our Tone It Up nutrition plan and I put lean protein and vegetables [on it] and just put it in the oven. You could even put chicken broth or a little vegetable broth with some vegetables or even a little chicken in it, and you bake it. It's actually really, really good and juicy."
"I just use a little bit of olive oil because I also do a lot of tray bakes, because you know, you don't always have a lot of time," says Dawn. "And I use different seasonings, so it can be a different meal every time."
You can make your own easy tray bake at home with these recipe ideas:
We also love these other sheet pan dinner ideas.
Yes, a balanced diet can include eating sweets
Eating a balanced diet doesn't mean eating healthy all the time—it means being balanced with your food! That means leaving space in your diet for special foods that you love, which yes, includes sweets. Even Scott thinks so!
"I love anything sweet," Scott says. She's a huge fan of smoothie bowls.
Want to make your own at home? Try one of these recipes:
Scott also loves making healthy baked goods like brownies and cookies. "I love baking with our Tone It Up protein so I can make cookies." She gives her sweets an extra boost of nutrients using protein powder, which yes, you can cook with protein powder in numerous ways!
Or if you would rather not make baked goods with protein powder, here are a few other easy and healthy dessert recipes.
What to eat pre- and post-workout
The Tone It Up girls aren't just about eating a balanced diet—they love to work out! Part of their balanced diet includes a pre- and post-workout meal.
For pre-workout, Dawn says it depends on the workout. A banana or a smoothie are easy for anyone on-the-go, and Scott agrees.
"A banana with a little almond butter or honey, just to give you some sustainable energy, quick energy," Scott says. "Nothing that will feel like it's coming up. Especially if you're doing something like hot yoga and it's the first thing in the morning."
Both women agree that having protein post-workout is incredibly important.
"After a workout, it's really good to have protein within that 30-minute window, to really feed all your muscles," Scott says. "So having all the amino acids and everything."
How to stay balanced—both in your diet and your life
While eating "lean, green, and clean," is a great piece of wisdom, and working out is important, it's good to also be kind to yourself and recognize a need for balance in your life. Both Dawn and Scott are huge fans of not only eating a balanced diet, but keeping a balanced life.
For Dawn, one of her secrets to keeping a balanced life is scheduling everything out.
"For me, I need a calendar," says Dawn. "I check things off and schedule out my entire day. This is what I have to do, so you don't have to think as much and you can be present instead of thinking about what you have to do later."
Scott is a huge advocate for having moments of imbalance as well, because life won't always go perfectly.
"Balance is being OK with it not being balanced," Scott says. "Balance is saying 'OK, today I'm going to be great, tomorrow I'll do my best, and everything is going to be the way that it's supposed to be.' Nothing's a setback, it's just a pause. And if you want to take care of someone else before you take care of yourself, that's you and you can do that and you don't have to feel guilty about that either."
In the words of Scott, eat the piece of pizza. Have fun with your balanced diet, and don't make it so serious.