6 Major Changes Taco Bell Made This Year
America's biggest Mexican chain made plenty of headlines in 2021.
This was a big year for Taco Bell. From reviving old menu items to upgrading its restaurant design, America's biggest Mexican chain has been making moves to accommodate customers' ever-evolving wants and needs. While some of these changes will outlast the others, they've surely made Taco Bell stand out in our collective fast-food-centric mind.
Here are the six major changes Taco Bell has made in 2021. And for more updates, check out Taco Bell's Controversial Limited Time Item Will Launch Next Month.
Released its first "chicken sandwich"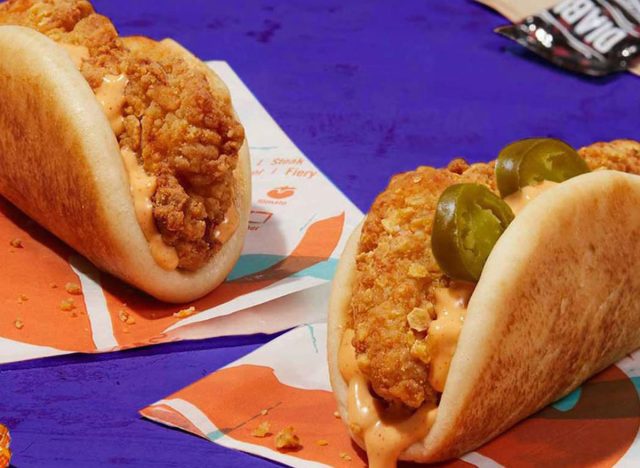 Is it a sandwich or a taco? Taco Bell brought the best of both worlds to its menu—but for just over a month. Officially launching nationwide on September 2, the Crispy Chicken Sandwich Taco featured all-white-meat crispy chicken marinated in jalapeño buttermilk, seasoned with bold Mexican spices, and rolled in a crunchy tortilla chip coating. And instead of your typical sandwich bun—or taco shell—the chicken was placed in a soft flatbread shaped like a taco and topped with Taco Bell's signature creamy chipotle sauce.
Despite the menu item gaining immense popularity among fans, the first-ever chicken sandwich taco was just a limited-time offer.
Brought back potatoes . . . as well as several other fan-favorites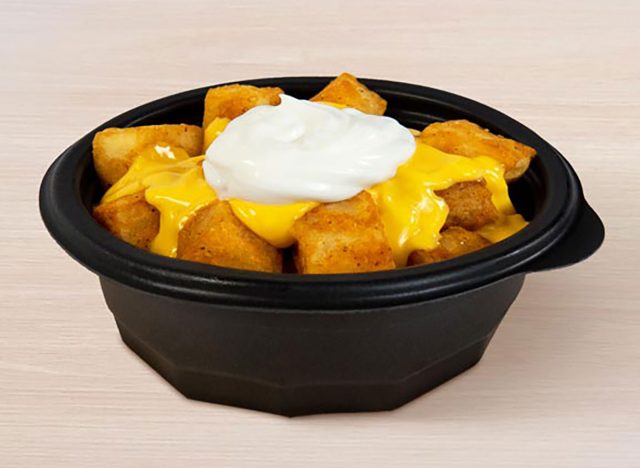 From the Naked Chicken Chalupa and the Nacho Fries to the Grilled Cheese Burrito, Taco Bell brought back several fan-favorites in 2021. But it was the chain's relaunch of potato items that sparked a frenzy among Taco Bell fans. After cutting menu items like the Spicy Potato Soft Taco and Cheesy Fiesta Potatoes in 2020, fans—particularly vegetarian fans—were crushed, with many even creating petitions to convince Taco Bell to keep its potato items.
And thanks to the passionate customers, the chain finally gave in this year. On March 11, the Spicy Potato Soft Taco and Cheesy Fiesta Potatoes were back on menus across the country.
Unveiled major design upgrades for new locations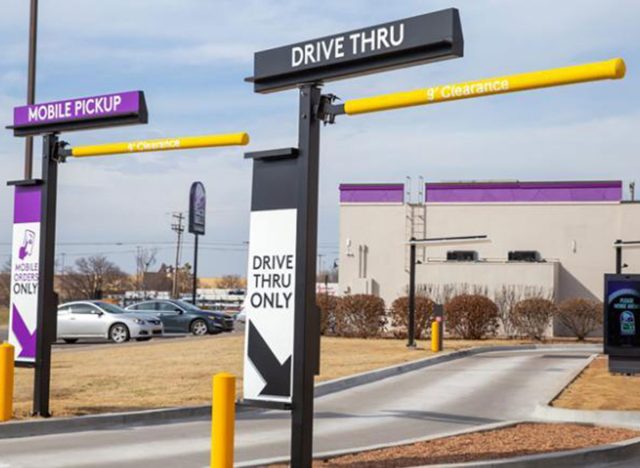 With the COVID-19 pandemic altering the way people interact with fast-food restaurants, Taco Bell unveiled plans for its new Go Mobile locations, the next-generation restaurants it started opening this year. With fewer customers seeking out indoor dining, Taco Bell will be reducing the size of its dining rooms, adding second drive-thru lanes, and equipping these locations with a concierge team of bellhops—employees who will take orders outside using digital tablets.
Taco Bell's other design updates include launching its first drive-thru Cantina in Danville, Calif.—which features an outdoor fire pit, game area, and indoor bar—and rolling out a new digital-only design for stores that don't have the space for a drive-thru. A digital-only prototype with pickup kiosks opened in New York City's Times Square back in April.
Unveiled plans for a first-ever Defy restaurant
And for a real look into the future, Taco Bell announced one of its most groundbreaking restaurant designs yet: Taco Bell Defy. The prototype "is expected to be the fastest way ever to get Taco Bell." Featuring four drive-thru lanes, three of which are dedicated to mobile orders or delivery order pickups, Taco Bell Defy aims to provide "fast-skip-the-line services" for customers who order with the Taco Bell app and other third-party services.6254a4d1642c605c54bf1cab17d50f1e
Other innovations include a new two-way audio and video system for customers to communicate with restaurant staff, as well as a pickup elevator. This will deliver orders from the chain's second-floor kitchen down to the drive-thru after customers scan a QR code to confirm their order. The first Defy location broke ground in Brooklyn Park, Minn. back in August and will open its doors to the public by summer 2022.
Brought back the breakfast menu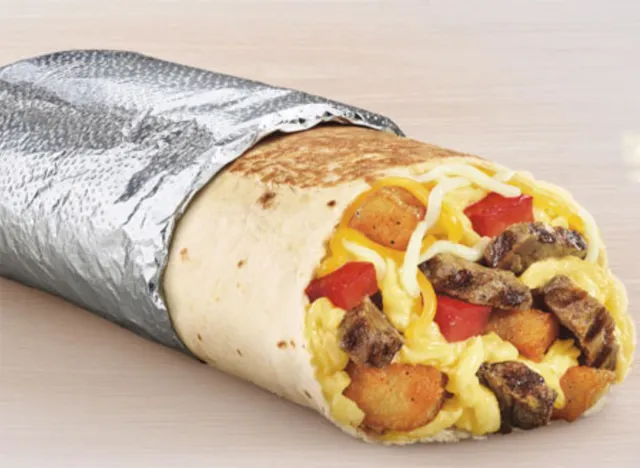 In some of the biggest breakfast news of the year, Taco Bell reinstated its beloved breakfast menu, which was another casualty of the pandemic and began disappearing from nationwide restaurants as early as March 2020. The full morning selection has been back since August and includes three items: the Cheesy Toasted Breakfast Burrito, Hash Brown Toasted Breakfast Burrito, and Grande Toasted Breakfast Burrito.
Kicked off a new recycling initiative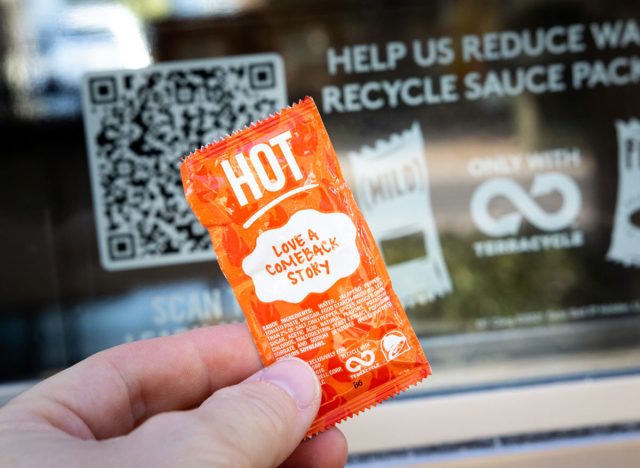 About 8.2 billion packets of Taco Bell sauce end up in landfills every year—which is why the chain decided to take action this year. Taco Bell partnered with international recycling leader TerraCycle on a nationwide recycling pilot program of their single-use sauce packets. Customers can ensure their sauce packets don't go to waste by collecting the empty ones in a box or recyclable container and creating a TerraCycle Account. Then, when their container is full, they can log into their account to download a free shipping label and send their used sauce packets off in the mail to be recycled.
For more, check out the 108 Most Popular Sodas Ranked By How Toxic They Are.
Brianna Ruback
Brianna is a staff writer at Eat This, Not That! She attended Ithaca College, where she graduated with a degree in Journalism and a minor in Communication Studies.
Read more about Brianna