5 New Menu Items McDonald's Is Releasing This Year
The chain is going all in on one crispy protein.
The new year will be a busy one for the Golden Arches. While 2020 marked McDonald's sixth consecutive year of growth in the U.S., there's still a lot of work to do to bounce back from the impact of the global COVID-19 pandemic, the chain announced in its fourth quarter earnings call.
According to CEO Chris Kempczinski, the fast-food giant will double-down on digital sales, as well as its delivery and drive-thru operations, which has yielded significant business during the pandemic.
"[Digital, delivery, and drive-thru sales] were the difference-maker when the pandemic hit and are at the heart of our combined efforts to creating a faster, easier, better customer experience," Kempczinski said.
McDonald's also has a major expansion planned, with some 1,300 new restaurants slated to open worldwide by the end of the year. About 500 of those locations will be in the U.S.
In regards to its menu, the fast-food powerhouse reiterated what we've all suspected by its recent moves—they're going all in on chicken.
"Developing a reputation for great chicken represents one of our highest ambitions," Kempczinski said, adding that the company planned to build on the popularity of core offerings like Chicken McNuggets and McChicken sandwiches with new releases coming as soon as February.
Without further ado, here are all of the new menu items that McDonald's has announced (so far) for 2021. For more news about the Golden Arches, check out McDonald's Is Making These 8 Major Upgrades.
Spicy Chicken Nuggets with Mighty Hot Sauce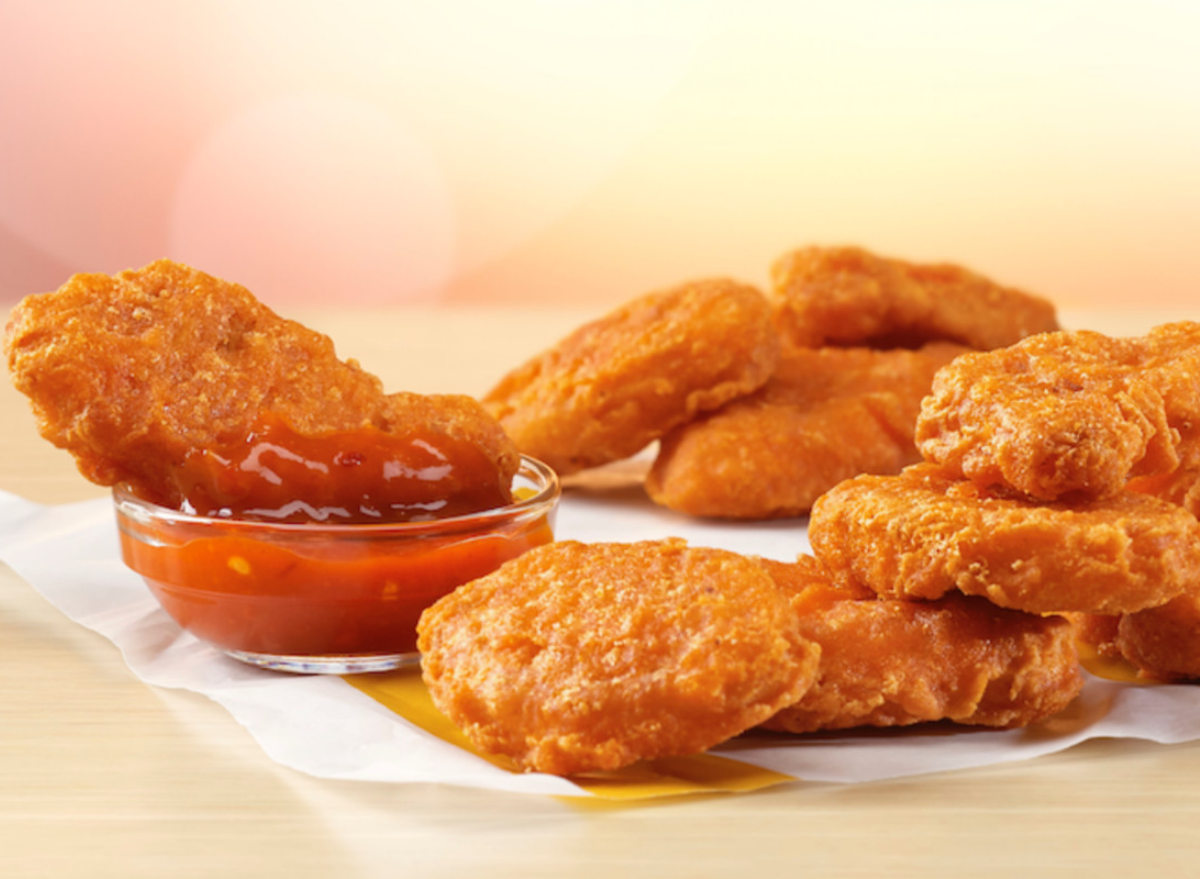 The chain's first flavor innovation on Chicken McNuggets proved to be a huge success with the consumers. Spicy Chicken McNuggets sold out almost as soon as they debuted last fall. And the supply of nuggets wasn't the only spicy thing in demand—the new Mighty Hot Sauce that launched alongside them proved to be equally appealing. The condiment was the first new dipping sauce introduced by the chain in three years, as well as the spiciest offering on its menu.
Naturally, McDonald's is bringing the spicy duo back in another limited-time offer this year, so get ready to dash to your nearest location on Feb. 1 to make sure you don't miss out. (Don't forget to sign up for our newsletter to get the latest fast-food news delivered straight to your inbox.)
Crispy Chicken Sandwich
The announcement of three new chicken sandwiches earlier this year confirmed speculations that McDonald's was fiercely focused on upping its chicken game. McDonald's executives confirmed as much in their Q4 earnings call, saying expectations were high for the new sandwiches rolling out at the end of February.6254a4d1642c605c54bf1cab17d50f1e
The first member of the trio is the upgraded Crispy Chicken Sandwich, which looks a lot like a super popular offering from one of McDonald's biggest competitors. It will feature a new chicken fillet that's thicker and juicier, which McDonald's tested last year. The sandwich will be topped with butter and crinkle-cut pickles on a buttered potato bun. You can get it at locations nationwide on Feb. 24.
Deluxe Crispy Chicken Sandwich
Much like its competitors, McDonald's will also offer a deluxe version of its new crispy chicken sandwich. While it will include the same chicken filet and potato bun as the original, it will also come with the whole gamut of toppings. That means you'll get Roma tomatoes, shredded lettuce, and mayo. On the menu starting Feb. 24, it's a way to fancy-up the new classic.
Spicy Crispy Chicken Sandwich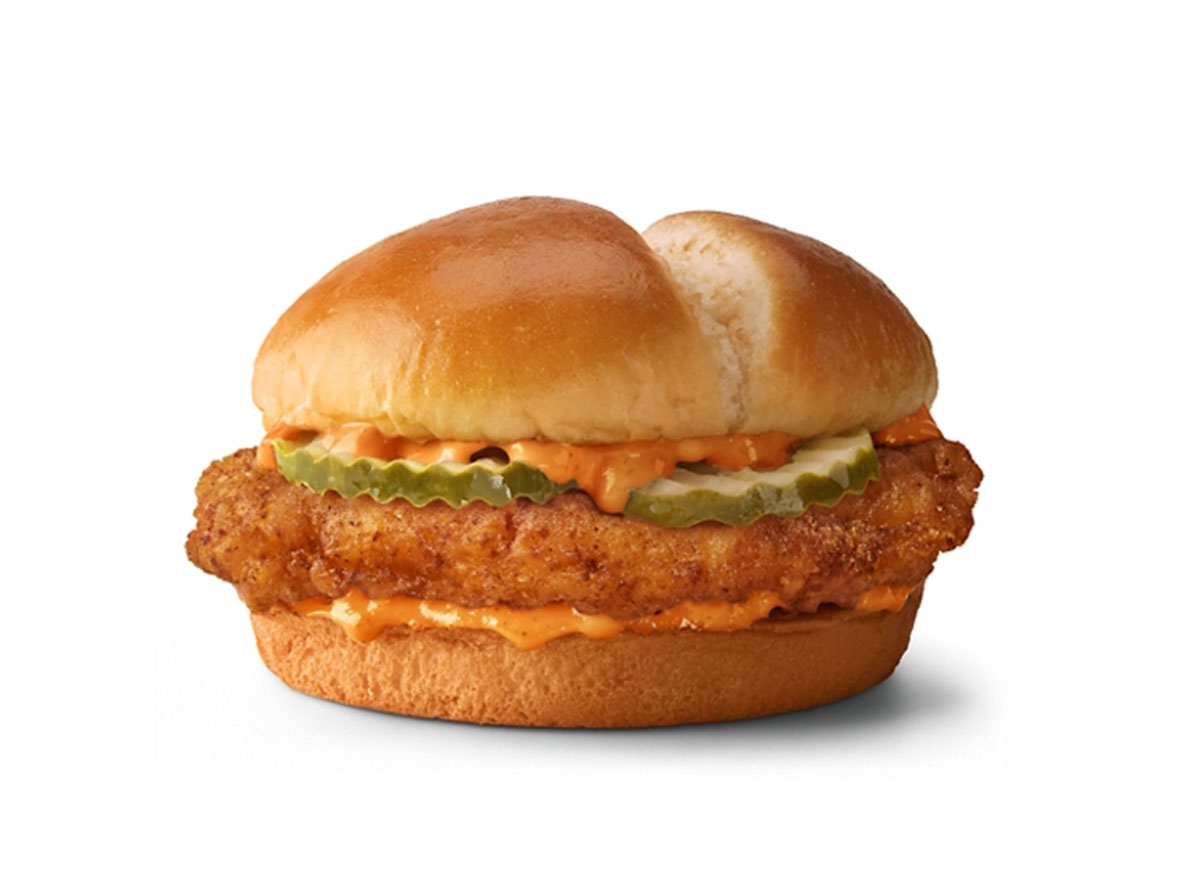 The spicy version of the new chicken sandwich will add a new Spicy Pepper Sauce into the mix, and we're dying to know how hot this sandwich will actually be. Could it taste hotter than the chain's spicy nuggets? We'll find out on Feb. 24.
McPlant
Finally, McDonald's is rolling out a plant-based meat burger this year. While we still don't have a firm release date for the new vegetarian option, we do know the sandwich will feature an original meatless patty created in collaboration with Beyond Meat.
Ian Borden, McDonald's international president, hinted that the McPlant was likely only the beginning of a whole line of plant-based options. "In the future, McPlant could extend across a line of plant-based products including burgers, chicken-substitutes, and breakfast sandwiches," he said following the announcement.
For more, check out 108 Most Popular Sodas Ranked By How Toxic They Are.
Mura Dominko
Mura is ETNT's Executive Editor, leading the coverage of America's favorite restaurant chains, grocery stores, and viral food moments.
Read more about Mura