7 New Fast-Food Chicken Sandwiches Everyone's Talking About
The chicken sandwich is the new burger.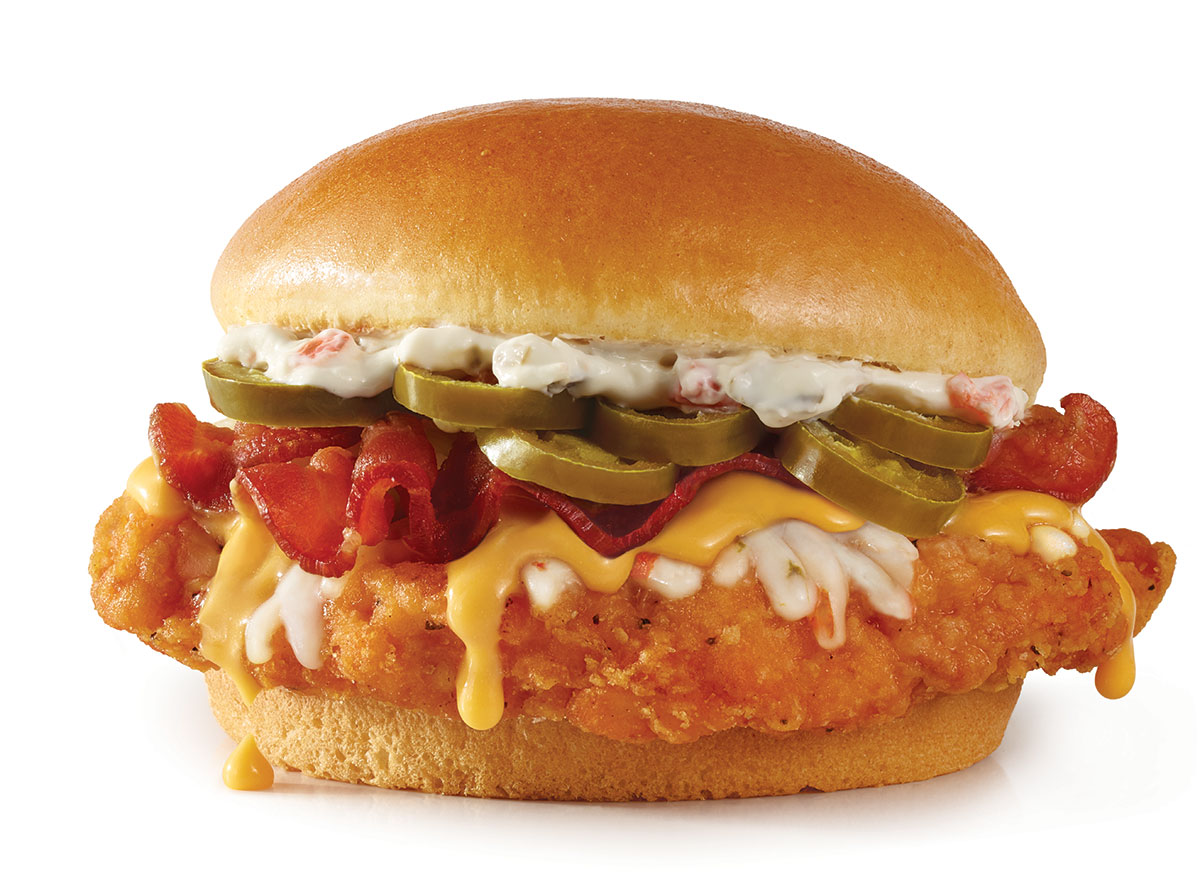 When Popeyes launched its now-iconic chicken sandwich in 2019, their incredible overnight success wasn't lost on the competition. What was supposed to be a pretty routine menu addition of two new chicken sandwiches—a spicy and a mild version—soon prompted a social media frenzy and a sold-out supply only two weeks after launch.
Chains known to reign supreme in the chicken sandwich category, like Chick-fil-A, publicly acknowledged they are gunning to beat Popeyes, while others started fervently working on their own version of the fast-food world's latest golden ticket. Hence the Chicken Sandwich wars were kicked off. And based on the continuous, speedy innovation we're seeing in this category, they are nowhere near over.
In fact, judging by the overwhelming proliferation of chicken sandwiches, 2021 could be the new 2019. In recent months, several of the biggest names in fast food have made their moves on the chessboard of crispy chicken, launching or announcing their own bigger and better versions.
Here are the latest and the greatest fast-food chicken sandwiches to try right now. Don't miss Grocery Shortages To Expect in 2021, According to Experts.
Wendy's Jalapeño Popper Chicken Sandwich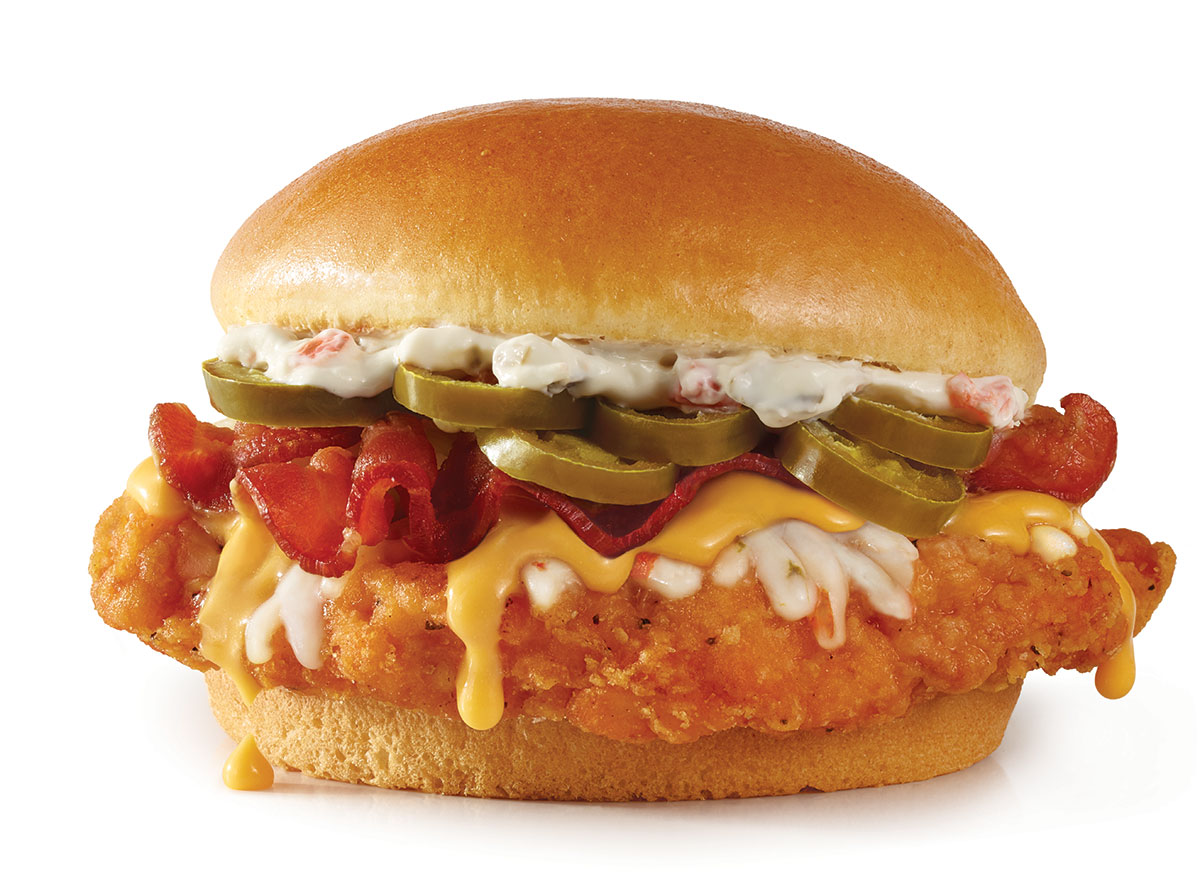 Wendy's recently launched a new hot chicken sandwich that packs a punch. The Jalapeño Popper Chicken Sandwich builds on the chain's Classic Chicken Sandwich with the addition of creamy jalapeño cream cheese, jalapeño slices, Applewood smoked bacon, and a warm gooey combo of cheddar and shredded pepper jack cheeses.
According to Wendy's, big flavor is the future of the chicken sandwich category, and the company very much considers itself ahead of the pack.
"While everyone else is playing catch up and distracting consumers with stale chicken drops, we are listening and bringing exciting flavors and bold ingredients forward to help fans avoid the McStake of settling for the same boring chicken sandwiches from other fast-food joints," said Carl Loredo, Chief Marketing Officer for The Wendy's Company.
Just last year, the chain also improved their overall chicken sandwich game with the launch of a "plumper, juicier, and crispier" fried chicken filet, which is now used in all of their chicken sandwiches.
Taco Bell's Taco-Like Chicken Sandwich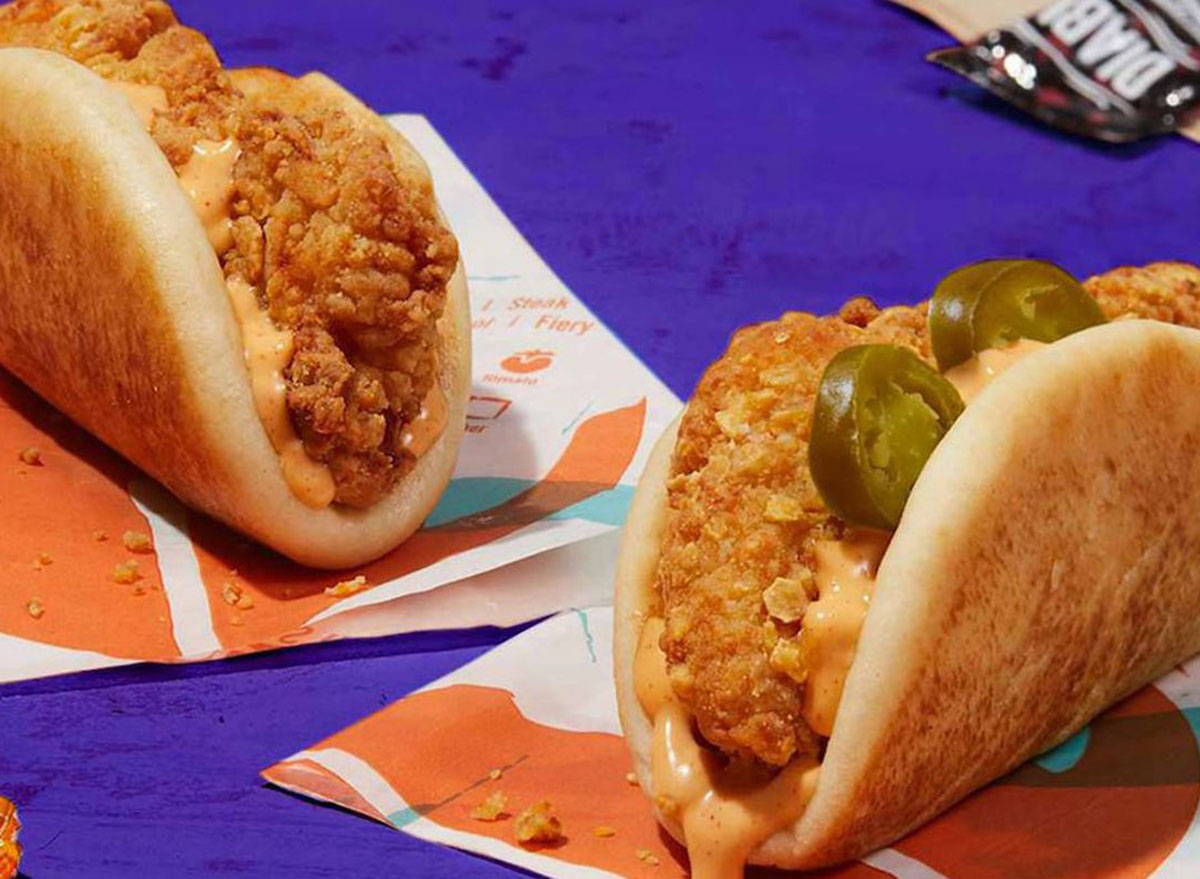 Talk about a dust-raising sandwich! When Taco Bell announced that it plans to "interrupt" the chicken sandwich category this year, we all knew to expect something different from the chain that brought us innovations like the Doritos Locos Tacos. And while this latest hybrid of a chicken sandwich and taco certainly checks the eccentric box, some think Taco Bell could have done better.
For one, the chain set itself up for trolling with the architecture of the Crispy Chicken Sandwich Taco itself. While some see an imaginative taco, others see a deconstructed chicken sandwich, where the chicken filet is split in half and each half folded into a bun half. For another, customers are reporting that the center of the bun literally cannot hold—it allegedly splits at the bottom if folded too tightly. Sounds like a mess.
But, this isn't the end of the world for Taco Bell—they've already announced that this is only the first of several fried chicken items they'll be testing this year. And we'll be here for all of it.
McDonald's Three New Chicken Sandwiches
After several rather half-hearted attempts at competing in the chicken wars in 2019, McDonald's has finally taken the competition seriously. The chain recently launched not one, not two, but three new chicken sandwiches.
The simplest one of the three, the Crispy Chicken Sandwich, is an exact replica of Chick-fil-A's sandwich, down to the crinkle-cut pickle. However, fans are complaining this most basic version is too dry and doesn't hold a candle to the Spicy and Deluxe version, which come with a slather of creamy spicy sauce and mayo respectively.
While McDonald's has seen a notable bump in foot traffic during launch week, only time will tell how the new sandwiches stack up in the Chicken Sandwich Wars. If the popularity of their spicy chicken nuggets is any indication, the chain is done playing [chicken] games.
Zaxby's Signature Sandwich
Zaxby's may be a bit of an outsider in the Chicken Sandwich Wars, but the brand certainly has the right attitude about their new sandwich—they're going for long-term value vs. short-lived buzz.
"When it comes to portion size, flavor and quality ingredients, Zaxby's is in it to win it," said Joel Bulger, the company's chief marketing officer, in a statement. "While we may not be the largest brand competing in the sandwich war, I'm confident we have the right ingredients to win on taste and make chicken sandwich enthusiasts switch to Zaxby's."
The recently-launched Signature Sandwich features a breaded and fried chicken breast filet on a buttery toasted bun with three thick-sliced pickle chips and choice of Zax Sauce or the new Spicy Zax Sauce. And it's available right now at all 900+ locations nationwide.
Jack in the Box's Cluck Sandwich
Testing the waters, Jack in the Box launched their limited-time Cluck Sandwich in December. The classic version consists of a crispy chicken fillet topped with pickles and a mystery sauce on a warm brioche bun, while the deluxe comes with the addition of bacon, cheddar cheese, and guacamole. You can still try both of these—the Cluck Sandwich is currently on the chain's menu.6254a4d1642c605c54bf1cab17d50f1e
What sets this one apart is obviously going to be the mystery sauce, which has already spawned internet debate over its ingredients. While some think it's a blend of ketchup, mustard, mayo, A1 steak sauce, Worcestershire sauce, and hot sauce, we prefer to be dazzled with a little bit of mystery. Good one, Jack in the Box!
Shake Shack's Korean-Style Fried Chick'n Sandwich
Forever the cool kid of the fast-food world, Shake Shack pivoted into international waters and launched four new, limited-time items with  Korean flavors (although, that categorization sparked some controversy). The new offer includes two chicken items, the Korean-style Fried Chick'n sandwich, and the Korean-style Gochujang Chick'n Bites, or the chain's version of a crispy chicken sandwich and nuggets with a twist.
This latest chicken venture was inspired by the fried chicken scene in Seoul, South Korea, according to Mark Rosati, culinary director for the chain. It consists of a crispy chicken breast patty slathered with Gochujang sauce—a spicy-sweet fermented chili paste—and stacked on top of a bed of white kimchi slaw that's made with Choi's Kimchi and sprinkled with toasted sesame seeds.
The sandwich isn't as much of a gamble as it may seem—it has performed very well at Shake Shack's South Korean locations last year, prompting the company to bring it to its American customers where it will be available until April 5.
KFC's New and Improved Chicken Sandwich
KFC has always been synonymous with fried chicken, but the company has definitely felt the pressure to innovate with the rise in competition. Just a few days after McDonald's announced it would be stepping up its game with three new chicken sandwiches, KFC announced major upgrades to its The Crispy Colonel Sandwich.
They've essentially replaced said sandwich with a newer, better version simply called KFC Chicken Sandwich, which was rolled out at all locations by the end of February. According to the company, their old chicken sandwich wasn't "living up to our legacy as experts in fried chicken."
The KFC Chicken Sandwich comes with a heftier chicken filet (25% larger than in the old sandwich), which is double-breaded and served on a new, buttered brioche bun with thicker, crinkle-cut pickles and mayo or spicy sauce.
For more, check out 108 Most Popular Sodas Ranked By How Toxic They Are.
Mura Dominko
Mura is ETNT's Executive Editor, leading the coverage of America's favorite restaurant chains, grocery stores, and viral food moments.
Read more about Mura