These 4 Meat Products Are Being Pulled From Grocery Shelves in 15 States
The recalls includes an assortment of ready-to-eat meats.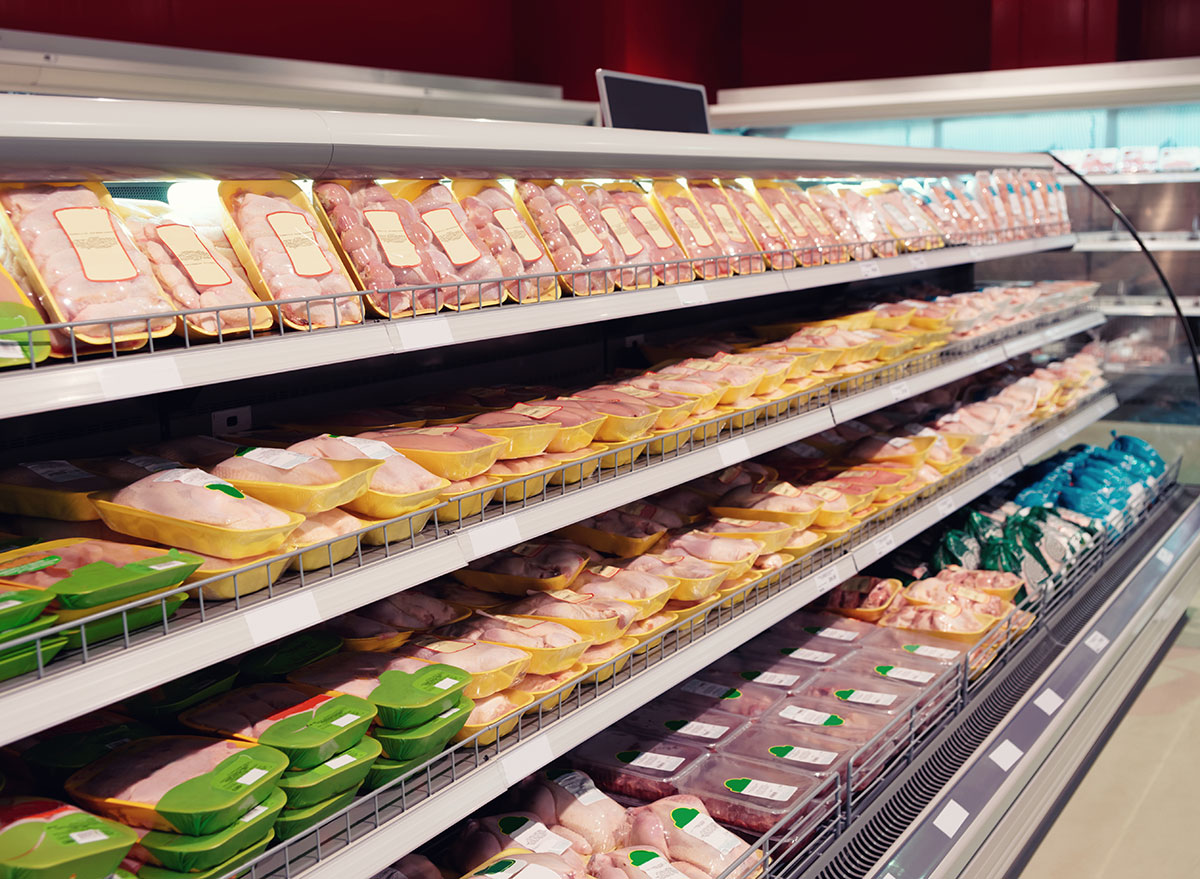 Proteins like chicken and beef are especially vulnerable to deadly pathogens like E. coli and Salmonella, which make inspections particularly rigorous at plants and factories. Recalls have been more common than ever, however, as brands look to get ahead of any reputation damage by voluntarily recalling questionable products.
Just last year, Tyson Foods Inc. recalled 8,492,832 pounds of ready-to-eat chicken products for possible Listeria contamination, and almost 100,000 pounds of Trader Joe's brand chicken patties were recalled for possible foreign matter contamination from "bits of bone." While the U.S. is one of the safest food suppliers in the world, the meat and poultry industry is the largest segment of U.S. agriculture. U.S. meat production totals over 50 billion pounds in a year – which is a lot to inspect.
The U.S., the U.S. Department of Agriculture's Food Safety and Inspection Service (FSIS) has announced multiple recalls on various meat products. With all this in mind, here's everything you need to know about the specific foods that can potentially pose a risk to you right now in the 15 states these meat products are being recalled.
Dole Chicken Caesar Salad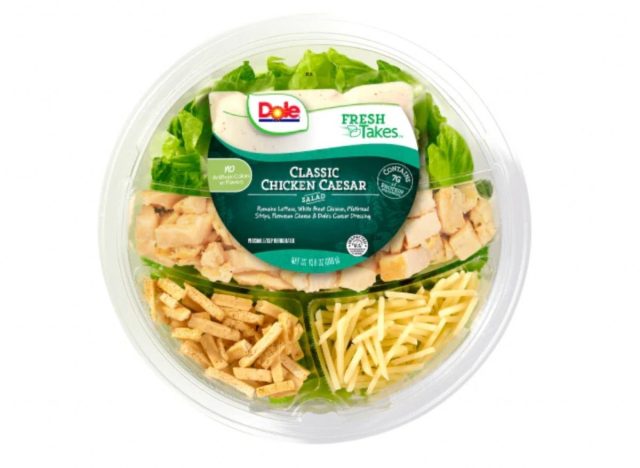 Ready-to-eat Dole Chicken Caesar Salad from Safeway Fresh Food has been recalled due to misbranding and undeclared allergens, according to the FSIS. The product has anchovies, egg, and wheat, as ingredients, which are known allergens and were not declared as such on the label. This could cause a severe or life-threatening reaction in someone who is allergic to any of these.
Over 715 pounds of the chicken salad involved in this recall were sold in a 13.6-ounce plastic bowl and had a use-by date of 05/05/2022 and a lot code with the number: S109000 1, which is located at the top of the front label.
The Caesar salad was distributed to retailers in Delaware, Maryland, New Jersey, New York, Pennsylvania, and Virginia. There have been no reports of illness or adverse reactions yet due to the mislabeling, but if you have the item in your fridge, throw it away immediately or returned it to the store of purchase.
Pork and Chicken Stew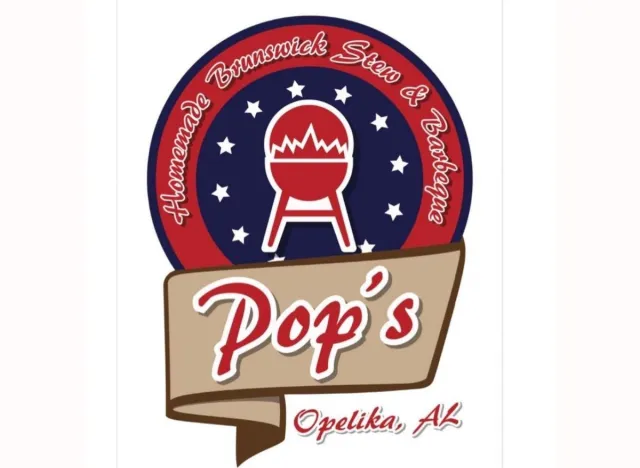 Related: These Are Costco's Most Popular Items Right Now
Pop's Que and Stew has recalled approximately 12,472 pounds of frozen stew products, which were not federally inspected. Although no immediate health threat is applicable to these items, "FSIS is responsible for ensuring that the nation's commercial supply of meat, poultry, and egg products is safe, wholesome, and correctly labeled and packaged," according to the Federal Register, and they contain pork and chicken.6254a4d1642c605c54bf1cab17d50f1e
The recall covers the 30-ounce tubs containing Pop's Homemade Brunswick Stew with sell-by dates through Nov. 30, 2022, and the 59-ounce zippered plastic bags containing the Pop's Que and Stew Brunswick stew product. The bagged stew has no other identifying company or product information on the label.
Affected products were produced between May 2020 and May 2022 and then sold in Alabama, Georgia, Mississippi, and Tennessee. A routine FSIS surveillance activity determined that the Brunswick stew products did not have the USDA mark of inspection and were produced in an establishment that was not inspected by the USDA.
While there have been no reports of sickness or health-related issues in connection with the stew, the FSIS urges anyone who has the product not to consume it but to either throw it out or return it where it was purchased.
Mortadella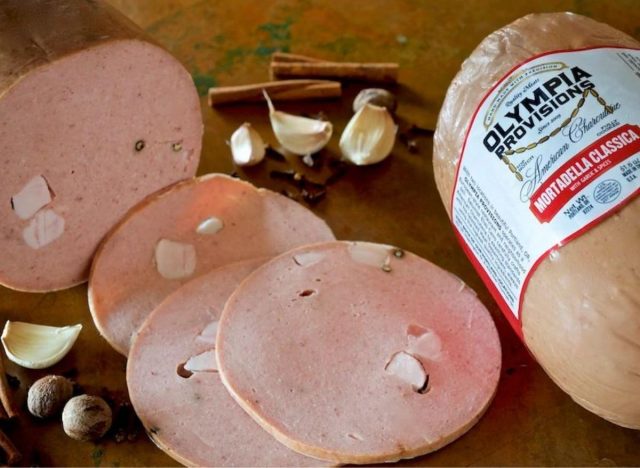 Approximately 862 pounds of ready-to-eat pork deli meat products have been recalled due to misbranding and undeclared allergens.  The recall notice posted by the FSIS says the deli meat contains pistachios but does not declare the potentially deadly tree nut allergen on its label.
The recall is for the Mortadella Classica products, which contain the Mortadella product with pistachios sold in Maine, Oregon, and Washington. The packaging on the products produced between Feb. 10 and Feb. 13, 2022, reads "Olympia Provisions Mortabella Classica with Garlic & Spices" and has a best-by date of 06-13-2022 and 07-14-2022 and batch codes of 0422 and 0402. Additionally, the items have the mark "EST. 39928" inside the USDA mark of inspection.
Ready-to-eat Chicken Breast Products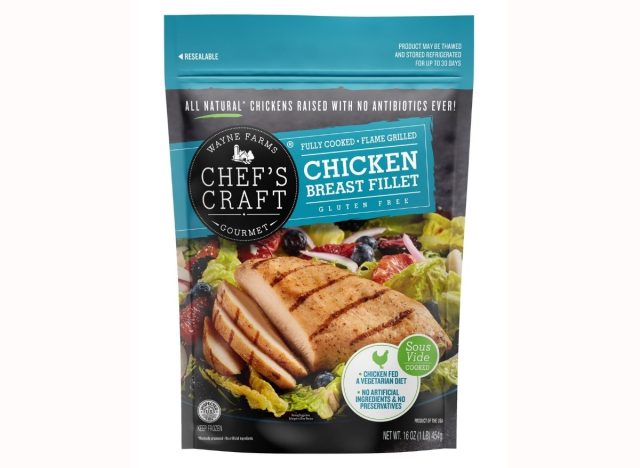 Wayne Farms has reissued a voluntary recall of ready-to-eat chicken breast fillet products, which may be undercooked. This recall has extended from 30,285 pounds to 585,030 pounds of chicken, all sold in stores in North Carolina, South Carolina, and Virginia.
The Fire Grilled Chicken Breast and Chef's Craft Chicken Breast Fillet products were produced between Feb. 9 and April 30, 2022. Included are two 9-pound All Natural Fire Grilled Chicken Breast cases, one containing 8 packages of 6-ounce chicken with a "use by" dates ranging from 5/10/22 to 4/29/23 and the other a containing 12 packages of 4-ounce chicken with "use by" dates ranging from 5/10/22 to 4/29/23.
Additionally, the 6-pound case of All Natural Fire Grilled Chicken Breast containing 24 individual packages of 4-ounce chicken with "use by" date 3/5/23 and the 16-ounce zippered plastic packages containing Chef's Craft Chicken Breast Fillet with the establishment number P-20214 printed next to the 3/23/2023 best by date are being pulled from shelves for potentially being dangerous to eat.
All the Wayne Farms products have the establishment number "EST. 20214" on the case and packaging. The company issued the recall after a customer complaint that indicated that the chicken was undercooked. There have been no reports of illness or adverse health effects otherwise but  "FSIS is concerned that some products may be in consumers' or restaurants' freezers or refrigerators," the notice says.
Stay safe and check out the 5 Most Popular Frozen Items At Costco Right Now.
Amber Lake
Amber Lake is a staff writer at Eat This, Not That! and has a degree in journalism from UNF in Jacksonville, Florida.
Read more about Amber