The Most Popular Exercises People Are Doing To Stay Fit, Survey Says
... and what music they're jamming to while working out.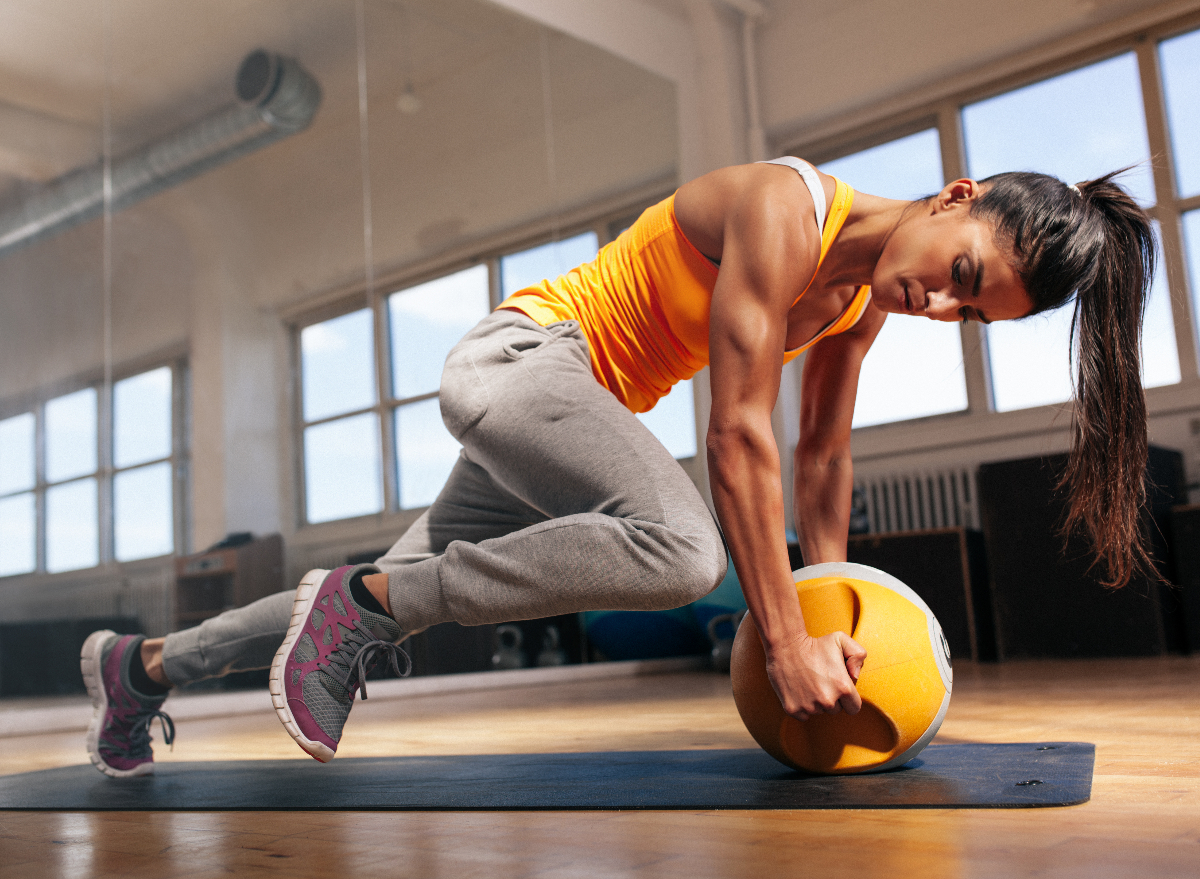 Do you think you have the talent to star in an action film? If the answer is yes, you're certainly not alone. About 60% of Americans believe they would be action movie star-ready if they had the necessary training and resources to make it happen, according to a recent survey. The study was taken by OnePoll for Alpha Lion and was administered to 2,000 individuals living in the U.S. Interestingly, 57% of those surveyed would jump at the chance to "channel their inner Chris Hemsworth or Michelle Yeoh." The survey also reveals the type of music people prefer to listen to during workouts and the most popular exercises. Read on to learn more, and next, don't miss The 6 Best Exercises for Strong and Toned Arms in 2022, Trainer Says.
Many of the surveyed individuals believe action movies are quite influential on their fitness goals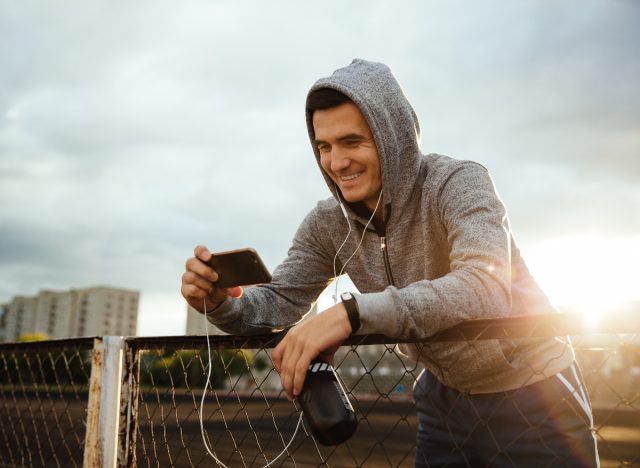 When it comes to being inspired by an action hero, many people are in the most positive ways. In fact, a total of 35% of the survey participants believe that action movies are quite influential on their fitness goals, and 57% admit that the right action movie would absolutely motivate them. A small percentage of respondents (22% of them) prefer to be totally focused when working out, compared to 40% of them who would rather have a distraction. A small 19% of the survey takers constantly require something to remove their mind from their exercise.
Related: These Foolproof Exercises Will Shrink Your Visceral Fat Fast, Trainer Says
71% of those surveyed crank up the tunes pretty often during workouts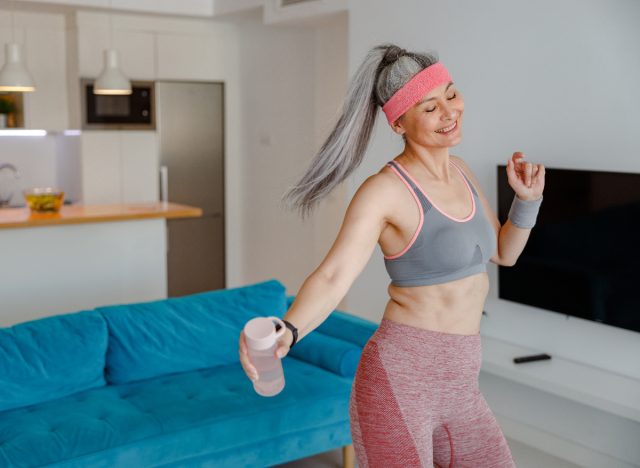 As far as distractions go, 71% enjoy cranking up the tunes pretty often, compared to 56% who enjoy audiobooks, and 55% take pleasure in video games while working up a sweat. When it comes to those who enjoy music while exercising, 35% put it on for each workout, and 66% of the participants make a personal playlist so they can work out to a good beat they know they'll enjoy.
If you're wondering what kind of music most people listen to while working out, 29% choose rock, 29% listen to pop, 25% enjoy rap/hip-hop, 25% prefer R&B, 17% listen to musical theater, and 17% turn on movie soundtracks. Another category shows that 34% of those surveyed choose songs that make them think of movies or TV shows. A whopping 41% expressed that the category doesn't mean as much as actually liking a particular song to begin with.
68% of the participants often work out in sync with the tune they're jamming out to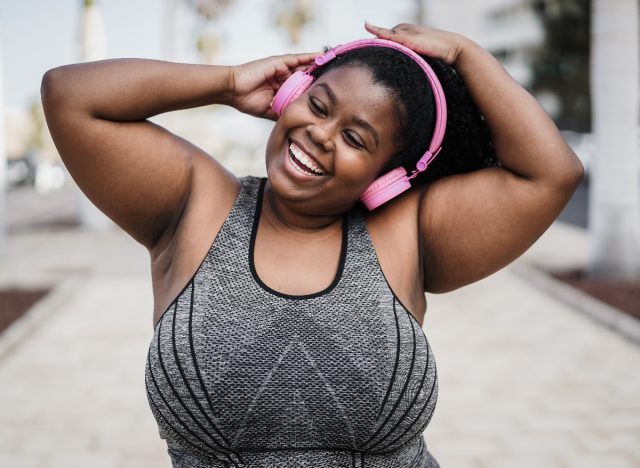 Drew Peters, VP of Science & Innovation at Alpha Lion explains, "Without a doubt, music is a powerful thing. There is robust research that music captures attention, influences emotions, alters or regulates mood, increases work output, heightens arousal, and induces states of higher performance. Think of it as the world's most widely used supplement—it's literally a performance-enhancing ergogenic aid."
One fact we aren't surprised to hear is that 68% of the participants often work out in sync with the tune they're jamming out to, and 62% play the exact tune repeatedly on one continuous loop.
Not everyone out there is a music/workout lover, though. There were 13% of the survey takers who never combine working out with listening to music. One survey participant asked, "You're joking, right? Why would anyone want music to disturb their serenity?"
Related: Slim Down a Thick Waistline With This No-equipment Workout, Trainer Says
Individuals who are very active and overall satisfied with their life consist of 37%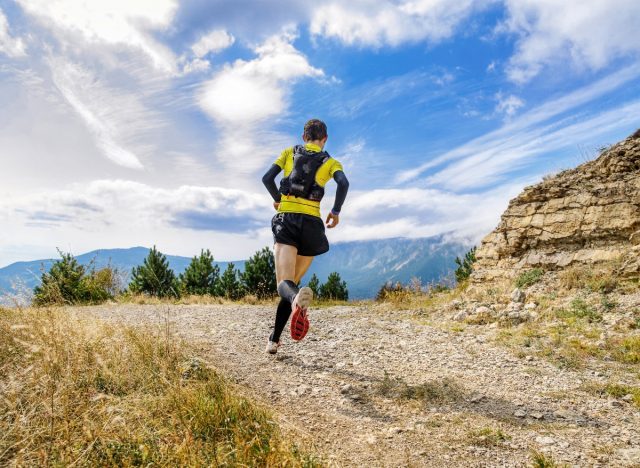 The most important part of exercising is the workout itself, and the research touches on a connection between being happy and being physically active. Those individuals who consider themselves as totally active, and for the most part "very satisfied" with their overall life, consist of 37%, while 10% of respondents who lead totally sedentary lives seem to likely be "very dissatisfied" (87%).6254a4d1642c605c54bf1cab17d50f1e
Peters adds, "While the research is still in its relatively early stages, there does appear to be a direct correlation between listening to music and the effects it has on your performance in the weight room." He continues, "It can positively impact things like muscle power, explosiveness and strength-endurance among a host of other potential benefits."
These are the "most popular exercises," according to the survey
Check out the most popular exercises below, according to the survey results:
Stretching/flexibility exercises (yoga, pilates)—31%
Equipment-based workouts (treadmill, dumbbells, etc.)—30%
Anaerobic exercises (weight-lifting, interval training, etc.)—30%
Aerobic exercises (swimming, running, biking, etc.)—30%
Calisthenics/body-based workouts (planks, burpees, etc.)—26%
Martial arts/dance (kickboxing, Zumba, etc.)—21%
TMX contributed to this story.
Alexa Mellardo
Alexa is the Mind + Body Deputy Editor of Eat This, Not That!, overseeing the M+B channel and delivering compelling fitness, wellness, and self-care topics to readers.
Read more about Alexa