5 Once-Struggling Chains That Have Made a Major Comeback
Here's how they made their way back into our hearts (and bellies).
Everyone loves a good comeback story, especially when it's one involving things like football-sized burritos, spicy chicken wings, stacks of pancakes, double bacon cheeseburgers, or chicken wonton tacos. Here is a brief look at how five popular restaurant chains ended up on a steep decline in sales and reputation, but managed to turn things around and climb their way back from the bottom.
And for more, check out 5 Major Fast-Food Chains Falling Out of Favor With Customers.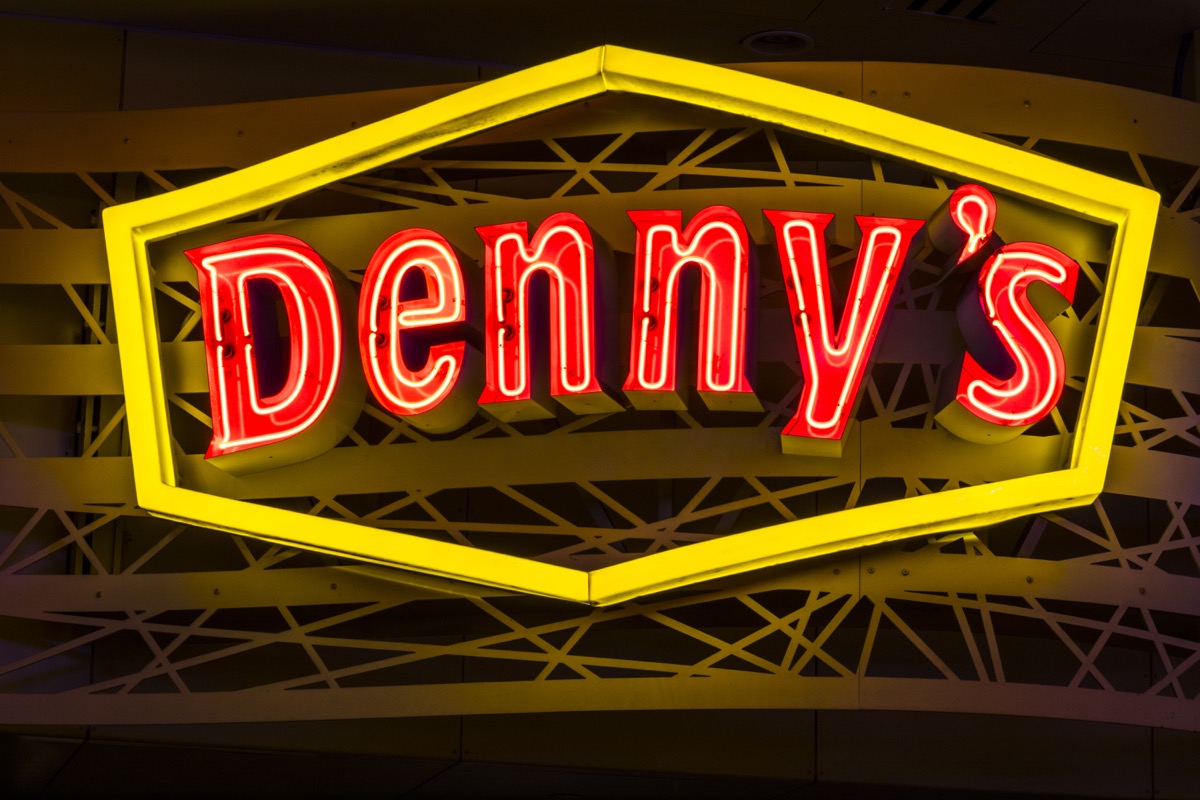 According to Youtuber Company Man, there are 1,650 Denny's restaurants operating today, and the chain has a presence in every single state save Delaware. But in the 1990s and early 2000s, the chain experienced a decline that seemed, for a time, terminal.
From 1989 through 2005, the chain was losing profits almost every year. The real trouble began in the mid-'80s when it was bought out by an equity group and delisted from the public stock market. After changing ownership a few more times, by the 1990s Denny's was facing three major issues: massive amounts of owed interest offsetting profits, competition from new chains, and negative public perception thanks to a slew of racial bias lawsuits that the chain eventually ended up settling with a $54 million payout.
Denny's would spend the next years slowly repairing their image with efforts like diversity training and public apologies. Its parent company sold off other assets, such as the chain El Pollo Loco, to reduce the interest burden. And, ironically, with the Great Recession starting in 2008, the famously low-cost chain finally returned to profitability as cash-strapped diners sought cheaper dining options.
With some 1,200 locations spread across America, today Buffalo Wild Wings is the largest chicken wing-centric restaurant chain in America. Even so, the chain has experienced two significant ups and downs during its nearly 40-year run.6254a4d1642c605c54bf1cab17d50f1e
With only a half dozen locations in the early 1990s, the company began franchising and quickly expanded. As it did, its corporate owners failed to keep up with the management and accounting for the brand, losing cohesion across different franchise locations and as well as track of sales, profits, and losses. And taxes owed.
The hiring of new CFO Sally Smith in 1994 and the subsequent departure of CEO Jim Disbrow helped stabilize the financial issues and saved the chain from its first close call.
However, in 2016, sales slumped and chicken costs rose, both of which cut into profitability, as did more competition from other chains. In late 2017, fast-food powerhouse Arby's purchased the chain and rolled it into the private company Inspire Brands. In the years since, the chain has broadened its menu options and implemented more robust take-out and delivery options, all of which have helped stabilize its business.
From the early 1990s into the early 2000s, Applebee's was on the ascent, opening dozens of new locations across the United States each year. The casual dining chain stopped adding locations around 2006, and within another decade, it began on a downward trend of shutting them down.
This came as a result of a general sales decline as customers turned to other options. Additionally, the chain's parent company IHOP Corp. was in debt thanks to its purchase of Applebee's for some $2.1 billion in 2007, the year immediately preceding the Recession.
What followed was a push to re-brand the chain as a more high-end, health-conscious, and youth-oriented establishment—a move that cost the company a lot of money but failed to attract new customers. Luckily, the company soon went back to its roots, refocusing on value and appealing to older customers. The strategy seems to be working so far.
Despite a business model that seems quaint if not outdated in the year 2021, Sonic Drive-In remains a successful company some 68 years after its founding. The chain which built its brand on fast food delivered to customers' cars, and often by staff on roller skates, enjoyed an explosion of growth in the '70s. During the decade, it expanded from around 200 locations to nearly 1,000.
Unfortunately, Sonic had overextended itself and was soon losing money and closing locations. Its issues were compounded by a recession, increased gasoline prices, and a lack of cohesion in terms of menu and product sourcing across the brand.
The chain regained stability very slowly, developing more consistency across franchises and implementing more national advertising over the course of 20 years. For the past decade and a half, Sonic has held steady at around 3,500 locations nationwide and has remained profitable.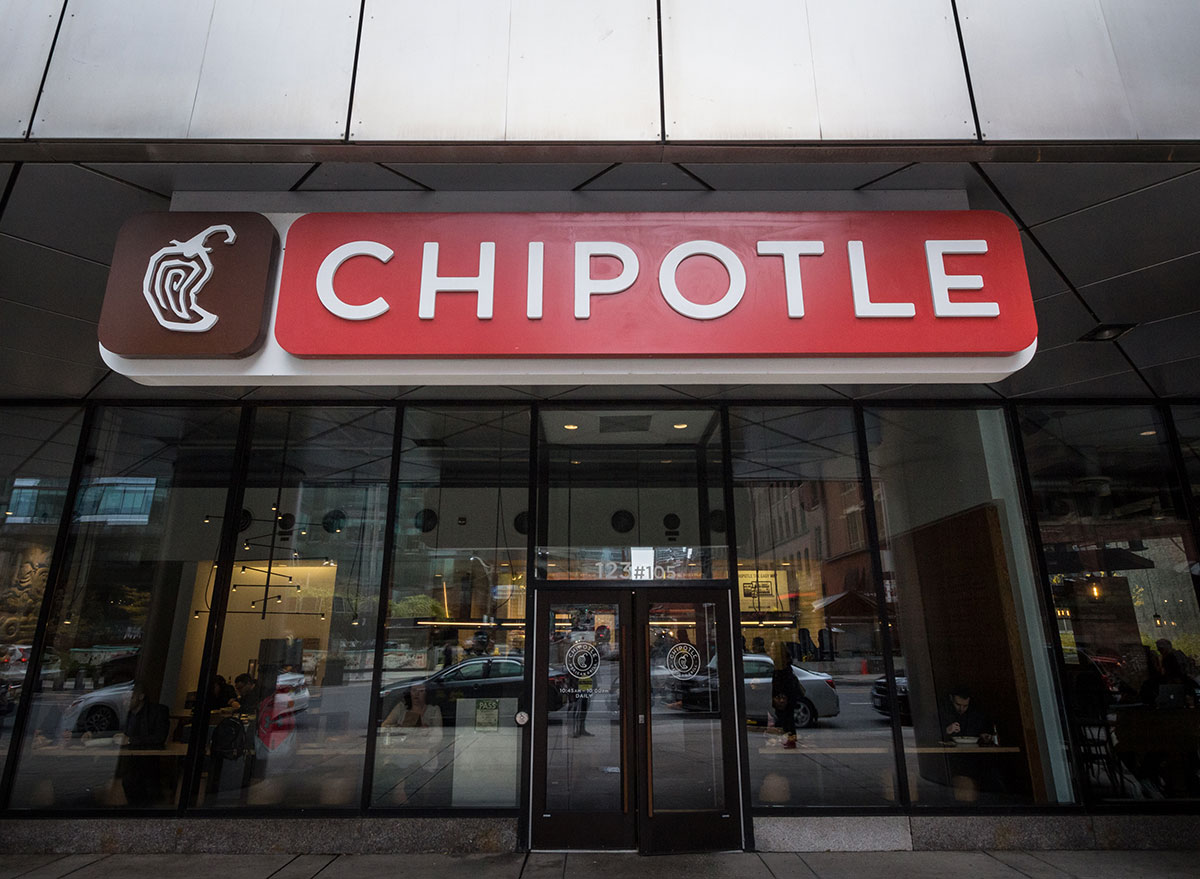 Chipotle is currently the second-largest Mexican-themed restaurant chain in America with some 2,500 locations. It is second in size only to Taco Bell, which operates more than 7,000 units. But for a time, the chain experienced such a dramatic decline in popularity that it was in doubt whether it would survive.
In a matter of months starting in the fall of 2015, the company's stock price plummeted from a high of $750 to around $400 per share. By mid-2018, it was down to about $250, an absolute catastrophe for the chain. This decline in value was largely prompted by a number of multi-state foodborne illness outbreaks tied to its locations, which subsequently ruined its reputation with customers.
But with new food safety measures in place and some effective national advertising, Chipotle was able to turn things around and is now doing better than ever. Currently, shares of the company's stock are trading at a stunning $1,912, according to Google Finance.
For more, check out the 108 Most Popular Sodas Ranked By How Toxic They Are.
Steven John
Steven John is a freelancer writer for
Eat This, Not That!
based just outside New York City.
Read more about Steven