This Once-Troubled Fast-Casual Chain Is Now a Customer Favorite
The brand has risen from the ashes of the big 2015 fallout.
When Chipotle experienced a string of food poisoning incidents back in 2015—and suffered a $600 million loss of sales the following year—investors almost immediately began speculating about "the next Chipotle." They didn't have to look far: there was already a running list of potential successors, fast-growing restaurant chains beloved by customers and already on Wall Street's radar. They included Zoe's Kitchen, Potbelly, El Pollo Loco, and, most recently, Noodle Company.
Following its food-poisoning troubles, however, Chipotle hunkered down and has since reclaimed and surpassed its annual sales levels, reaching just under $6 billion in revenue in 2020. Wall Street, meanwhile, has welcomed the brand back with open arms, with Chipotle's stock reaching an all-time high this past Thursday after its second-quarter earnings report beat stock exchange forecasts, according to CNBC.
How did Chipotle right itself? Beset by public health scandals (which didn't end in 2015, but cropped up again in 2017 and 2018), restaurant closures, and a sudden loss of more than half a billion dollars in revenue, the chain could very easily have lost its position as a fast-casual darling and become stuck in a lower industry tier—the fate of so many of the restaurants driven into bankruptcy by the pandemic. Instead, it is now punching above its weight, not only leading its own segment of the restaurant industry but ranking among the top ten highest-grossing chains across all segments.
Here's a look at what exactly happened to Chipotle in 2015, and how it managed to bounce back in the following years. For more, check out This Once-Popular Chicken Restaurant Chain Is Falling Out of Favor With Customers.
A string of food poisoning incidents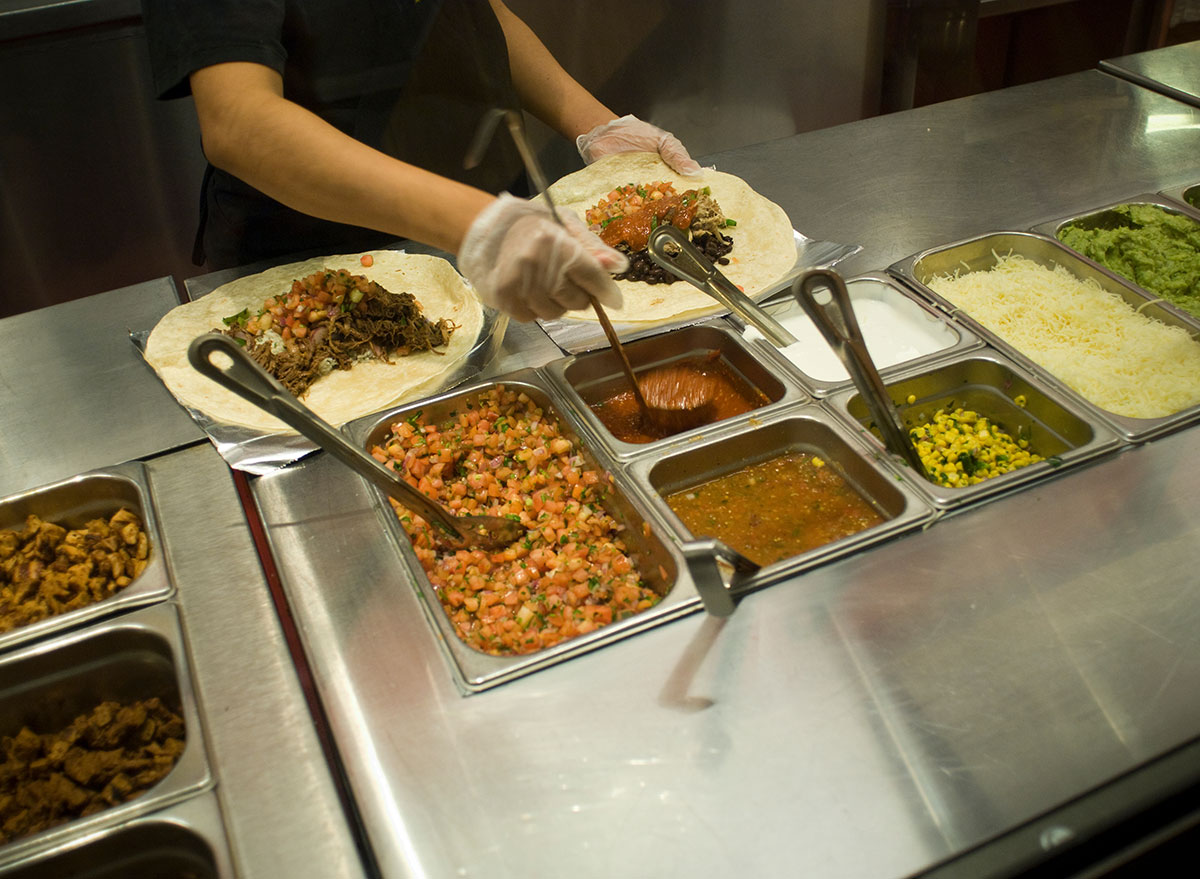 Chipotle had experienced public health issues as early as 2008, when some of its restaurants were linked with outbreaks of hepatitis and norovirus, in California and Ohio respectively. Nothing could have prepared it for 2015, though, when between the months of July and November, the chain was implicated in no fewer than six food poisoning incidents, involving E. Coli, salmonella, and norovirus.
An outbreak of norovirus at a Simi Valley, Calif. location that August led to a joint investigation by the U.S. Attorney's Office of California and the CDC, as well as a class-action lawsuit. The chain made national headlines again in October when E. Coli outbreaks in Washington and Oregon made 22 people ill and forced the temporary closure of 40 restaurants. The CDC launched a four-month investigation into the matter, and Chipotle's stock price quickly dipped 12% as customers were completely put off.
RELATED: Don't forget to sign up for our newsletter to get the latest restaurant news delivered straight to your inbox.
As Restaurant Business pointed out in a recent article on the topic, the real damage of the food poisoning scandal wasn't to Chipotle's year-over-year sales growth, but to its very business model. Up until late 2015, Chipotle's claim to fame in the restaurant industry was the speed with which its new units reached high levels of profitability—about two years, on average, to see margins of 28%. In the months following the E. Coli and norovirus scandals, with sale losses that would reach $600 million, Chipotle's average profits sank to 15%—solid, to be sure, but well below the rate at which it had, until then, sustained its growth.
Pivoting to off-premise, on time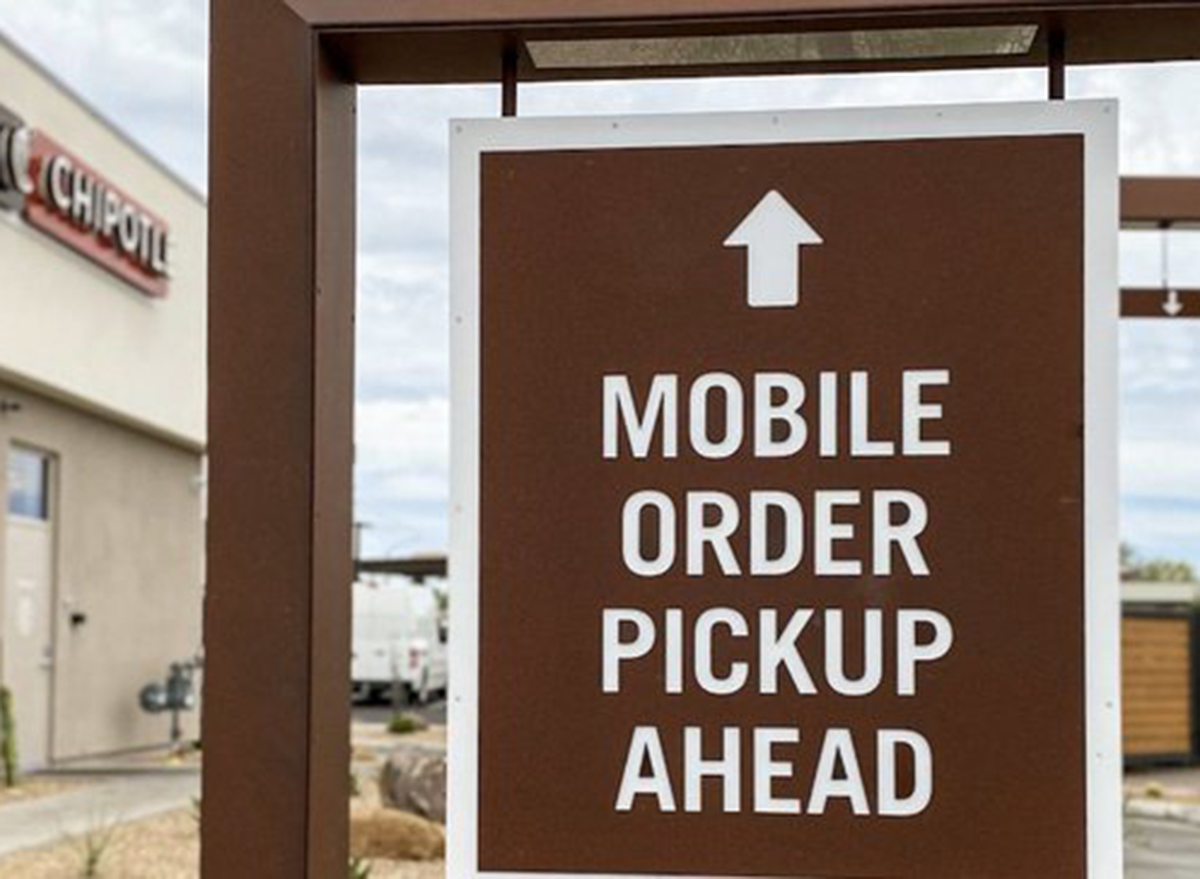 Following the 2015 outbreaks, and a media-wide pile-on targeting its "Food with Integrity" slogan, Chipotle quickly course-corrected, shoring up its annual U.S. sales by the end of 2017 and then launching into 2018 with a new CEO and company headquarters.
In a move that immediately increased their stock price by over 12%, the fast-casual brand brought on Brian Niccols, formerly the CEO of Taco Bell, to help regain their industry footing. Under Niccol's leadership, the Denver-based company relocated to Newport Beach, Calif., and as early as 2019 began investing heavily in mobile-ordering and off-premise expansion, with close to 2,000 locations outfitted with "digital makelines"—computer-assisted assembly lines dedicated to off-premise orders.
Things are looking up, way up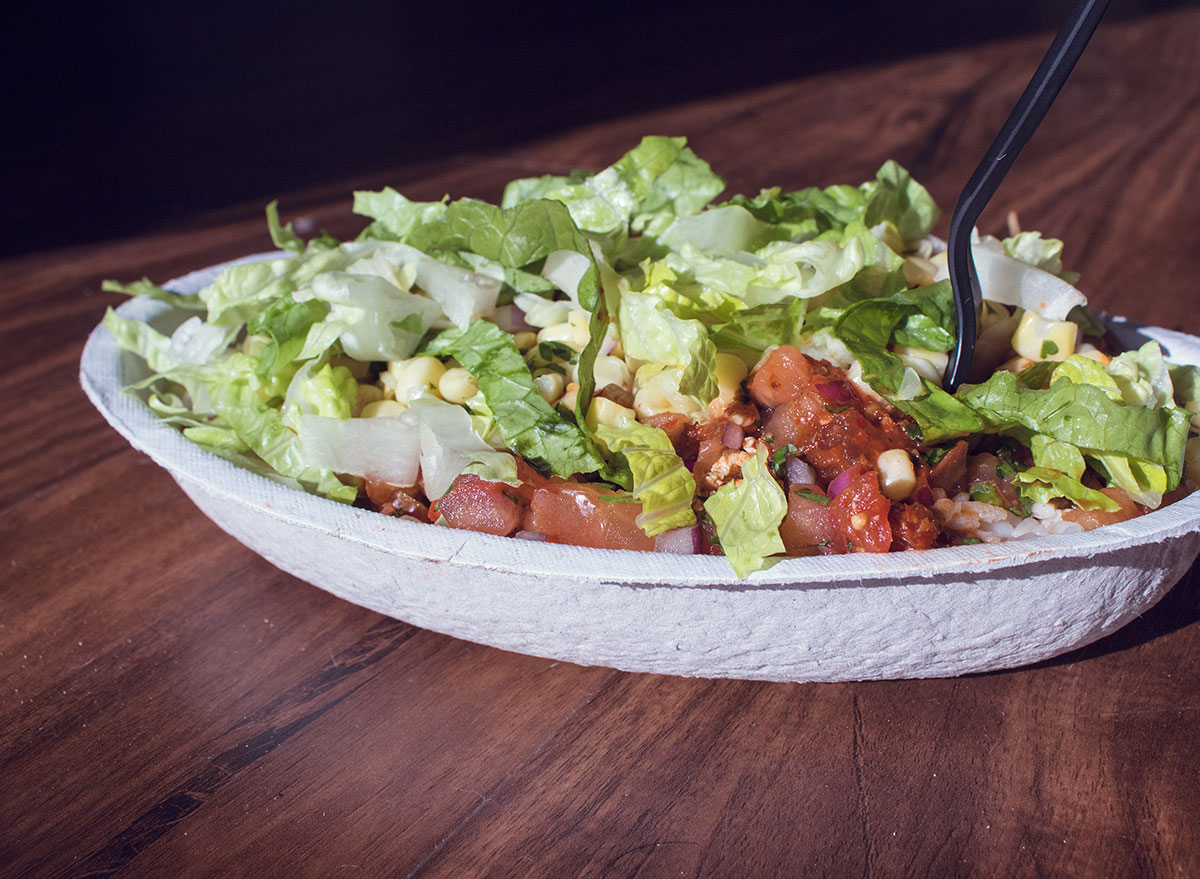 In other words, Chipotle was becoming off-premise before "off-premise" was a thing. By mid-2020, as other major chains were scrambling to adapt to greatly increased demand for mobile ordering, takeout, and delivery services, the chain found itself well-equipped to meet those needs.
Chipotle's preparation had paid off and in July of 2020, the forward-thinking brand reported average annual sales of $1 million among its digital make-lines. Benefiting as well from its ground-breaking "Chipotlanes" (drive-thru lanes dedicated to mobile orders), Chipotle outperformed all of its competition during the pandemic, and finished 2020 as the tenth highest-earning restaurant chain in the U.S. Not to mention, the company continues to lead the way in issues like sustainability and minimum-wage increases, winning its favors with a new generation of customers.
For more, check out the 108 Most Popular Sodas Ranked By How Toxic They Are.
Owen Duff is a freelance journalist based in Vermont, home of Ben & Jerry's.
Read more