One Surprising Health Effect of Not Eating Meat, New Study Says
You may want to skip the sirloin.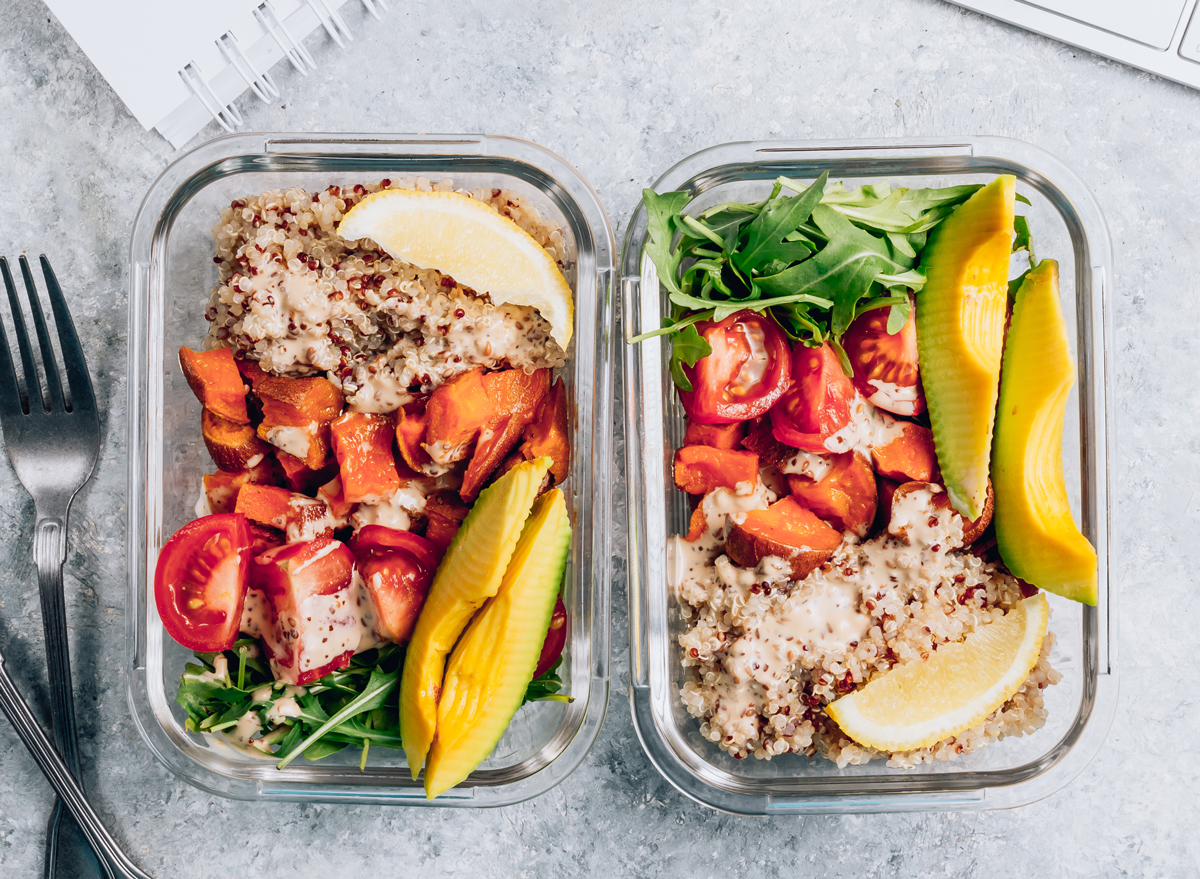 Perhaps Meatless Monday meals should occur a few more days a week. According to research that was presented at the annual European Congress on Obesity (ECO), vegetarians are likely to have healthier biomarkers—measurements that offer a clinical assessment—compared to meat lovers.
Study authors from the University of Glasgow examined the self-reported diet habits of healthy adults (ages 37 to 73) in the United Kingdom. After dividing the men and women into two groups—vegetarians (4,111 of the volunteers) and meat-eaters (a total of 166,516 people)—the investigators observed 19 blood and urine biomarkers associated with various chronic conditions and diseases.
And here's what these tests revealed: Regardless of common risk factors (age, sex, education, ethnicity, obesity, smoking, and alcohol intake), vegetarians displayed "significantly lower" levels of 13 biomarkers, including total cholesterol, LDL (bad) cholesterol, apolipoprotein A (linked to cardiovascular disease), and apolipoprotein B (linked to cardiovascular disease), as well as markers connected to liver function, kidney function, and cancer cells.6254a4d1642c605c54bf1cab17d50f1e
Related: Side Effects of Giving Up Red Meat, According to Science
The lead researcher of this observational study believes these promising results most likely derive from following an eating pattern that focuses on fruits, vegetables, whole grains, and nuts while leaving burgers and rib-eye steaks off the plate. It's not surprising that a number of the biomarkers are linked to heart health, Lyssie Lakatos, RDN, CDN, CFT and Tammy Lakatos Shames, RDN, CDN, CFT—The Nutrition Twins—and authors of "Nutrition Twins' Veggie Cure" said to Eat This, Not That! in an interview.
"Previous research shows meat that's particularly high in saturated fat can negatively impact these values and is associated with greater risk of cardiovascular disease, while research has also shown that a diet rich in produce, whole grains, nuts, and seeds helps to prevent cardiovascular disease," they state.
"Likewise, prior research also consistently shows that processed meat [salami, sausage, bacon, hot dogs] and red meat can contribute to inflammation in the body and damage cells that lead to cancer and disease while eating fresh produce, nuts, seeds, legumes, and whole grains has the opposite effect."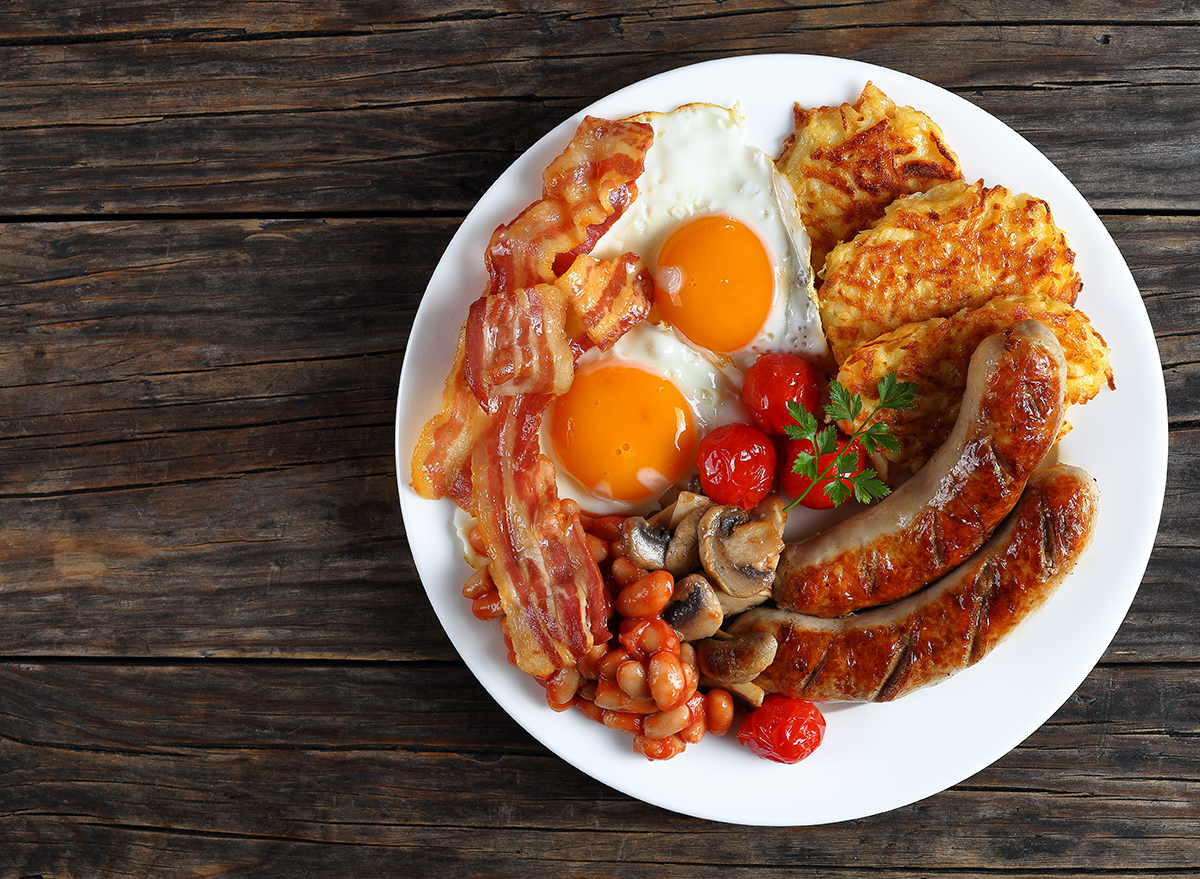 Related: Eating Bacon Could Cause This Type of Liver Disease, New Study Reveals
Yet the current University of Glasgow study also found that the vegetarians had a few undesirable test results, as well. This group showed low in some key biomarkers, including HDL (good) cholesterol, vitamin D, and calcium—while also having higher levels of triglycerides, and cystatin-C (an indicator of poor kidney function) compared to the meat crew.
The Nutrition Twins say one possible explanation for the low vitamin D and calcium numbers would have to do with the absence of certain foods, such as milk and cheese (which contain calcium and may not be a staple in a vegetarian's diet) and eggs, liver, and oily fish like salmon, herring, and sardines (vitamin-D-rich foods that are also not likely part of a vegetarian's meal plan). But poor HDL and triglyceride numbers are typically connected to obesity, sedentary lifestyle, smoking, drinking too much alcohol, inflammation, and type 2 diabetes, which is believed to be uncommon factors among vegetarians.
"However, some vegetarians eat unhealthy non-meat products for most of their meals—think chips, pretzels, pastries, simple sugars, pasta, baked goods, and refined grains," say the twins.
Opting for high-carb, low-fiber foods could result in inflammation, along with low HDL and triglycerides. As for the higher levels of cystatin-C in vegetarians, The Nutrition Twins believe an abundance of these processed foods may also be the cause of any possible kidney issues.
Overall, lead study author Dr. Carlos Celis-Morales from the United Kingdom notes the multitude of health benefits that appear to come from following a vegetarian diet.
"Our findings offer real food for thought," he said in a press release.
Now, be sure to check out Surprising Side Effects of Going Vegan.
Amy Capetta
Amy Capetta has been writing articles on healthy living for more than two decades.
Read more about Amy