For the First Time Ever, This Major Pizza Chain Reveals Its Secret Menu Items
From sliders to la-za-gna.
Some secrets are made to be told—and that is especially true when it comes to fast food. Fast-food chains have long benefitted from the rumor mill surrounding their respective "secret menus." Off-menu items that only insiders would know about are a sure sign of an enthusiastic fanbase, and everyone from In-N-Out to Popeyes dabbles in the phenomenon. Rarely, though, does a brand publicly acknowledge their secret menu.
But the cat's out of the bag with Pizza Hut—the chain has actually proudly announced its first-ever official secret menu, one its fans have been DIYing for years. After an impressive year of serving up new and old fan-favorites like the Edge and the Detroit-style pie, The Hut is getting sacrilegious in the best way possible: openly encouraging secret-menu ordering.
Turns out, even a pizza chain's menu can be highly customizable, although the items do require a bit of at-home finessing. Read on to uncover the no-longer-secret concoctions you can get from The Hut. For more, check out The Best Secret Menu Options at Your Favorite Fast-Food Chains.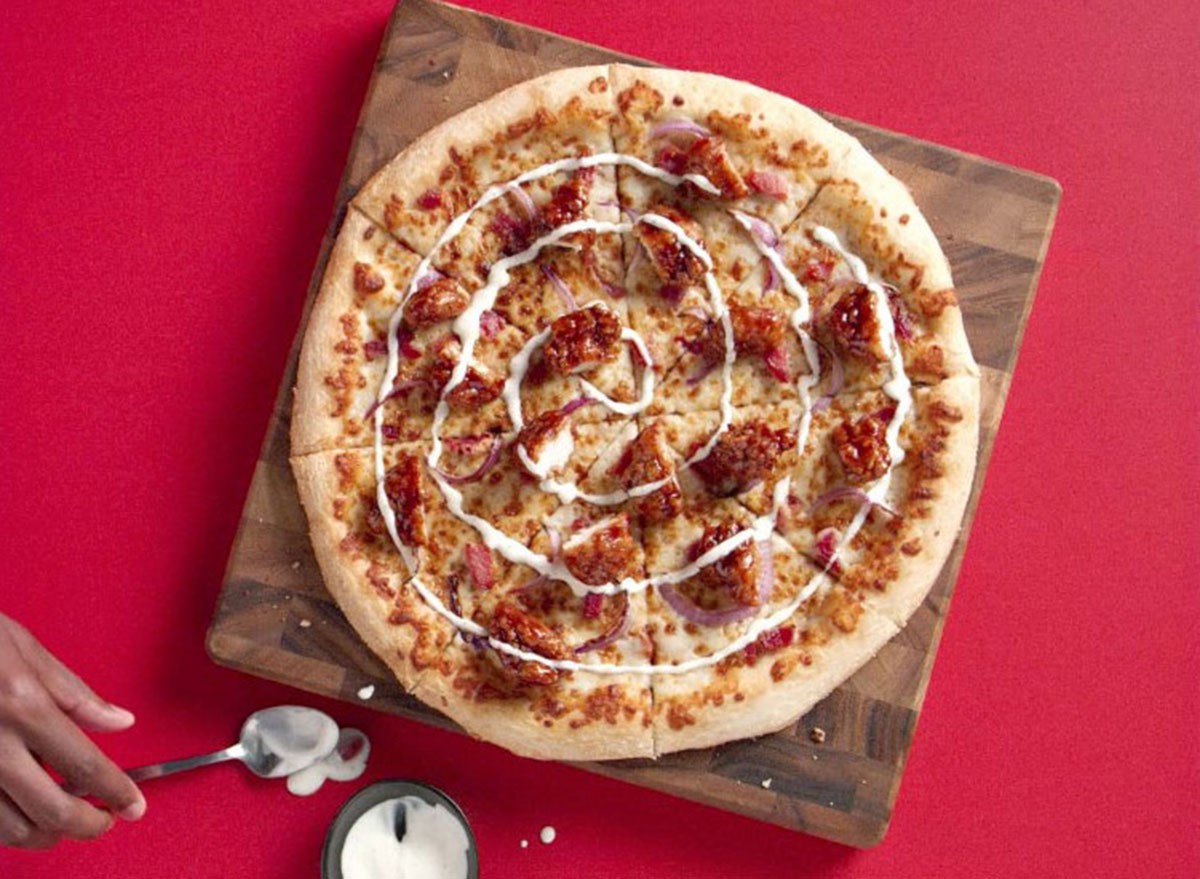 This secret menu item is exactly as promising as it sounds: a glorious pie stacked with flavorful chicken and topped with ranch. To get in on the sweet-and-savory action, start by ordering a BBQ Chicken Pizza without chicken, an order of Honey BBQ Boneless Wings, and a side of ranch (hot take from our perspective, maybe grab a couple of sides of ranch). Once at home, top the pizza with the wings, drizzle on that ranch, and dig in.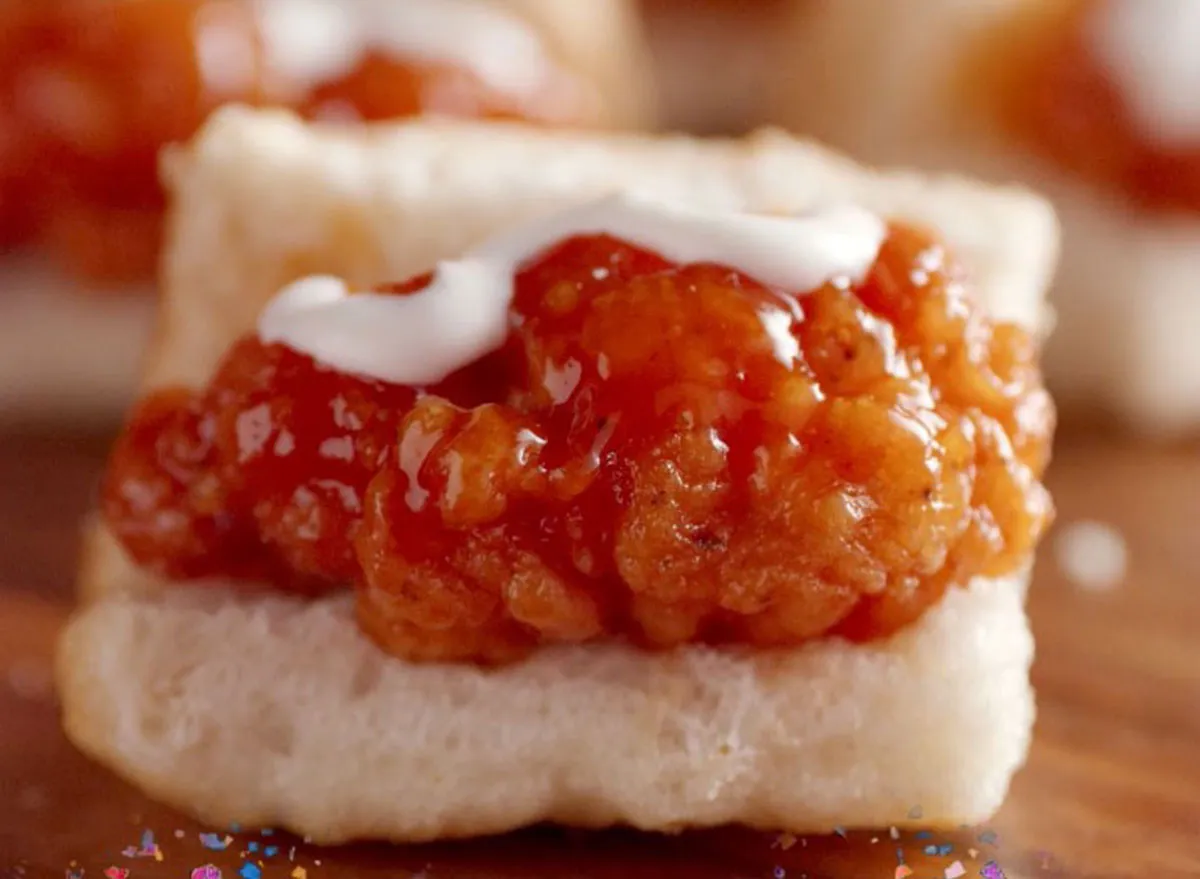 We may have never thought to stick these three things together—garlic, buffalo, and sliders—but Pizza Hut's fans have combined them in a way that makes for a perfect appetizer. To make, order breadsticks, Buffalo Boneless Wings, and a side of blue cheese. At home, you'll need to make tiny rolls for the chicken: first, halve the breadsticks lengthwise, then slice each stick again into smaller squares. Finally, with your mini roll secured, insert a boneless wing and slather with blue cheese.
Yet another buffalo-flavored secret menu item from The Hut, which begs the question: are fans headed there for the pizza, or for the apparently-perfect buffalo sauce? You can be the judge when you order this secret menu item, which requires Cheese Sticks, the grilled chicken topping, a side of buffalo sauce, and a side of ranch. At home, break out 1/2 cup of shredded mozzarella and 1/2 cup of shredded cheddar, and get to concocting. Start by topping the breadsticks with the chicken and both kinds of cheese. Then throw them in the oven (at 350℉) for 3–4 minutes, and finally, top with the buffalo and ranch sauces.6254a4d1642c605c54bf1cab17d50f1e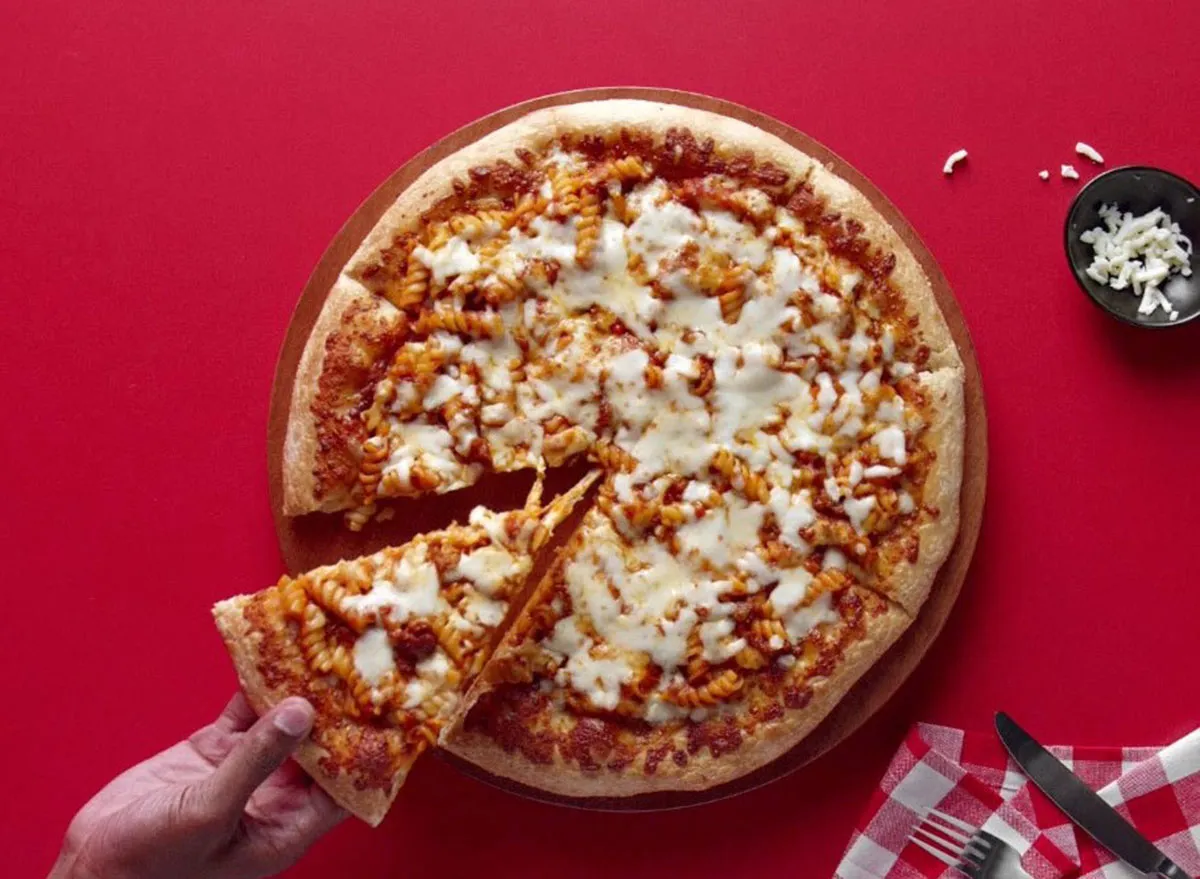 This not-to-secret menu item gets points off the bat for its name—it's very clever, even though we would really just call this a pasta-topped pizza. To create, order a cheese pizza, an order of Meaty Marinara Pasta, and then add 1/2 cup of shredded mozzarella. Start by popping the pasta atop the pizza, and then finishing with a layer of cheese. Simply bake at 350℉ for 3–4 minutes, and voila! You have yourself the greatest-named secret menu item there ever was.
For more, check out the 108 Most Popular Sodas Ranked By How Toxic They Are.