Selena Gomez Has Her Own Ice Cream & I Tried It
Everything she touches turns to gold, and her collab with Serendipity ice cream is no exception.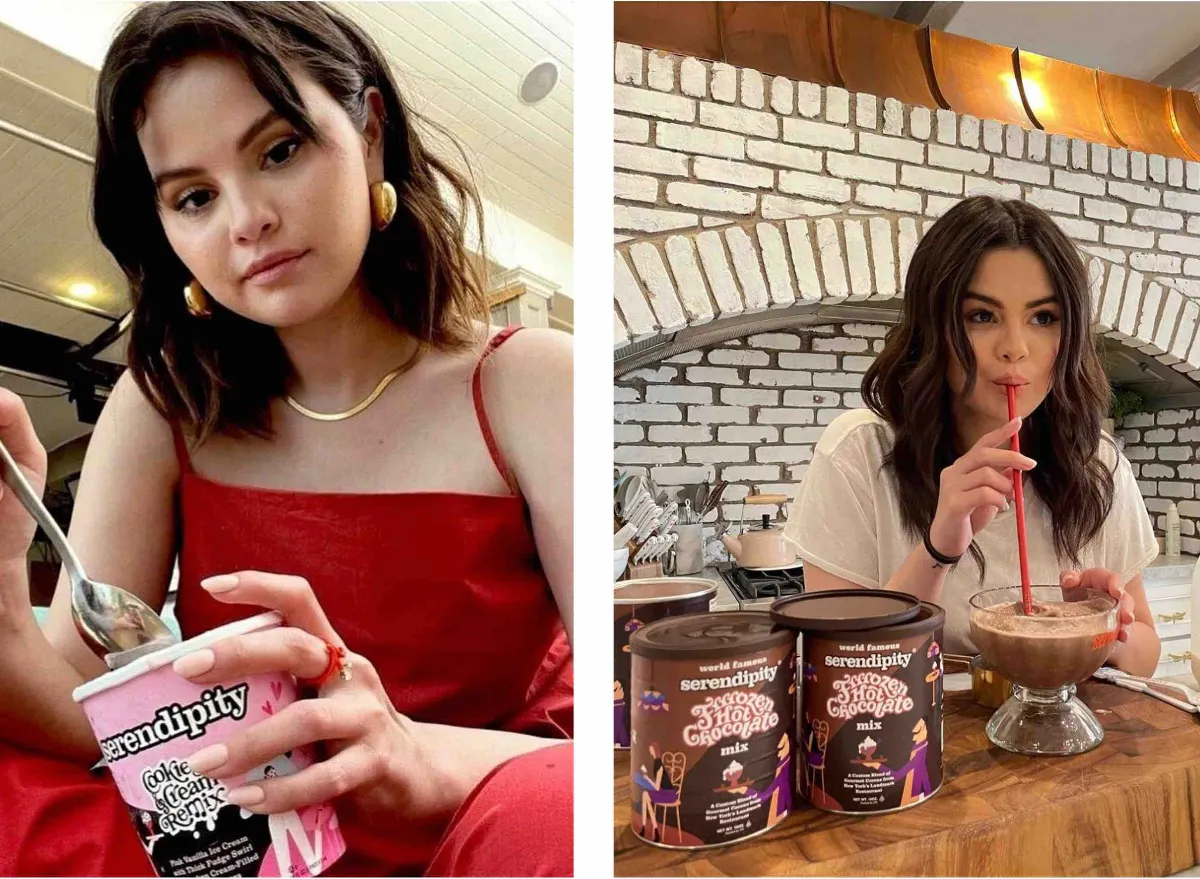 You may know Selena Gomez for her pop music, acting, or executive producing, but did you know she's also in the ice cream business? That's right—the former Disney Channel star has been an investor and co-owner of the iconic Serendipity Ice Cream since 2020. And while Gomez, who famously received a kidney transplant from her best friend in 2017, follows a healthy lifestyle, she also leaves room for sweet treats. And we're not just talking about her collaboration on BLACKPINK's song "Ice Cream."
As if her resume wasn't impressive enough—did we mention she has her own beauty line, Rare Beauty?—Gomez is also a strong and vocal advocate for mental health. Now, she's teamed up with Serendipity to donate 1% of every ice cream purchased to the Rare Impact Fund to support mental health resources.
"Bringing awareness to mental health is something very personal to me," Gomez said in a press release. "I am so proud that Serendipity Brands has committed to supporting the Rare Impact Fund and helping people gain much-needed access to mental health resources."
And so, in celebration of both National Ice Cream Month and a good cause, I tried out Selena Gomez's ice cream for myself. Already familiar with Serendipity's famous desserts, which have made it a bona fide New York City institution since 1954, I had high expectations. And these flavor-packed pints exceeded all of them.
RELATED: This Is Lizzo's Exact Breakfast, Lunch, and Dinner
There's a variety of flavors.
Serendipity is anything but your typical chocolate soft serve spot. From Forbidden Broadway Sundae to Unicorn Bliss Sundae, the flavors are just plain fun, and each bite was new and delicious. It turns out, that's quite deliberate. "Each Serendipity ice cream flavor was inspired by the iconic desserts and sundaes served at Serendipity3 since 1954," Serendipity3's Head Chef Joe Calderone told Eat This, Not That! exclusively. "[We're] known as a place that doesn't play it safe when it comes to recipes, which is why we decided to turn the fun we like to have with food into ice cream flavors."
So what's Gomez's favorite? Well, we have to assume it's her very own flavor, the Cookies & Cream Remix. But Calderone says she's also a big fan of the Frrrozen Hot Chocolate (for which the restaurant is quite famous) and Birthday Cake flavors. And with her 30th birthday coming up on July 22, we wonder if she'll be sticking a spoon into the latter this weekend.
As for my favorite flavor, I'd have to go with Friends Central Perk Coffee Almond Fudge. With thick fudge swirls and dark chocolate-covered almonds, I may or may not have eaten the entire pint at once. (I did.)
It's loaded with toppings.
As already noted, Serendipity is known for going big when it comes to desserts, and its ice cream follows suit. Gomez was drawn to the NYC brand for its grandeur in sweets, according to Calderone. "Selena grew up loving the iconic Serendipity3 restaurant, known for its over-the-top desserts," he tells us.
Maybe that's why eating spoonfuls of this ice cream in my living room didn't feel all that different from ordering a sundae at the NYC restaurant. "Serendipity ice cream is unique in that it's a sundae in a pint. The super-premium, ultra-creamy ice cream contains pieces, chunks, and swirls of incredible add-ins that make it stand out from the competition," said Calderone. "Our Birthday Cake Ice Cream flavor, for example, isn't just cake flavored, but includes chunks of cake pieces and icing swirls, making it a true experience for dessert-lovers."
You can order it whenever, wherever.
Can't make it to NYC tomorrow? No worries, because Serendipity will ship this stuff anywhere in the U.S. The ice cream was sent to me in a cooler with dry ice that kept it cold. At a cost of $40 for a four-pack of pints, is it cheap? Nope. Is it worth it? Big time.
These pints make a difference.
Yes, the ice cream is yummy, but Gomez and Serendipity also made sure that it had an impact. "We believe in our co-owner Selena's mission to destigmatize mental health and want to make it a point to support and bring awareness to resources to as many people as possible," Calderone explained. "It's been our goal since day one to bring serendipitous moments to people's daily lives, and through this partnership, we're able to extend this concept into a way that makes a delicious difference with a big impact."6254a4d1642c605c54bf1cab17d50f1e
RELATED: The #1 Eating Habit Steve Martin Has To Look & Feel Great at 76
It's safe to say that I will be stocking up my freezer with Serendipity ice cream, and I highly recommend grabbing a pint for yourself. Try it out during National Ice Cream Month, or anytime—the partnership with the Rare Impact Fund will continue year-round.
Mia Salas
Mia is a freelance writer for several publications and a soon-to-be graduate from Princeton University with a degree in English.
Read more about Mia