The Best Ice Cream Shop in Every State
Is your go-to shop is the most popular in your hometown?
When you're not hitting the bottom of a Halo Top pint in the comfort of your couch, going out for a cone can be a real treat. Your eyes are met with a cornucopia of colorful tubs taunting you behind a glass case while your nostrils overflow with aromas like browned butter and milky cream. At that very moment, your only dilemma is choosing a flavor.
Whether your cravings drive you to the Carvel down the block or the hipstery artisan shop farther in town, we've discovered the closest consensus to which ice cream shop reigns supreme in every state. Is your go-to shop is the most popular in your hometown?
Methodology: This is a list of the best ice cream shops in the United States, according to Yelp. All the businesses on this list are in the "Ice Cream" category on Yelp. "Best" is measured using an algorithm that looks at the number of reviews and star ratings for a business. Read on to discover the winners and then check out the Best Pizza Place in Every State because a cone and a slice go hand-in-hand!
And for more, don't miss these 15 Classic American Desserts That Deserve a Comeback.
ALABAMA: Chocolate Corner & Ice Cream in Gulf Shores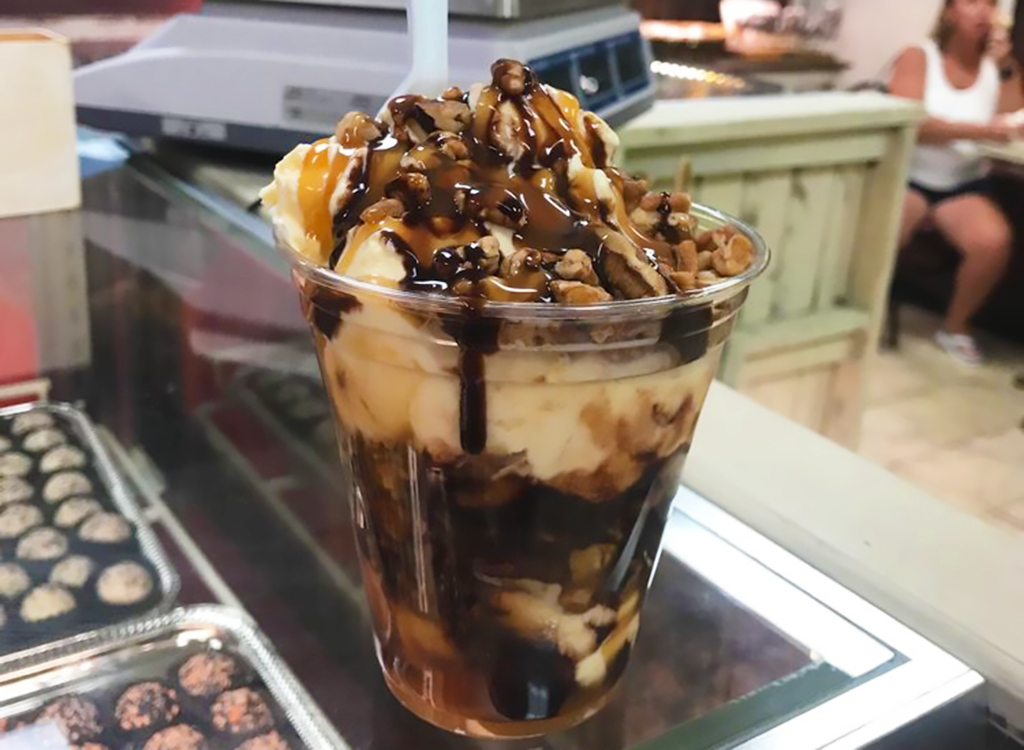 Nestled in a wildlife-bustling shore town on Alabama's Gulf Coast, Chocolate Corner & Ice Cream lures you in with homemade chocolates, fudge cups, and the to-die-for Bluebell ice cream. Go for the gooey Gulf S'mores in a cup or opt for the ultra-indulgent Buttered & Covered in a sugar cone.
ALASKA: Wild Scoops in Anchorage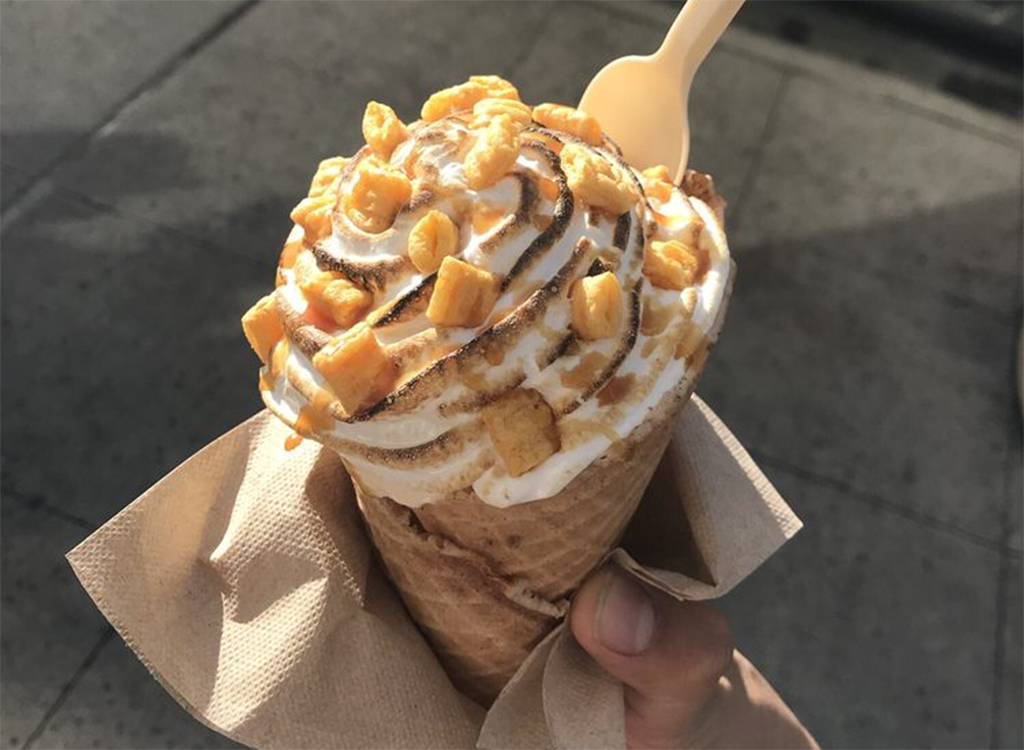 This small-town micro creamery crafts its treats in small batches in its dedicated test kitchen using local ingredients and lots of love. During the short summer months, seasonal picks at Wild Scoops include the floral Fireweed and Rhubarb Crumble with ribbons of Anchorage-born jam, and comforting classics are available all year round. Locals can agree that it's never too cold for a cone.
ARIZONA: Novel Ice Cream in Phoenix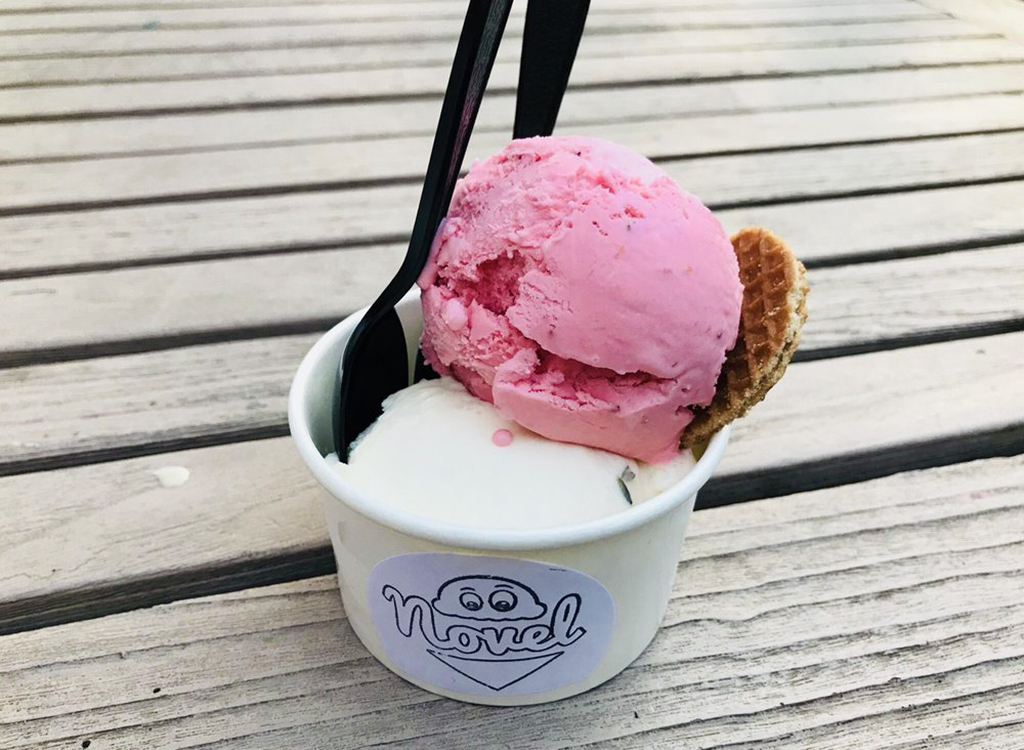 Whether we choose to consult our virtual oracle or take a trip to the Grand Canyon State, this five-star-rated shop is as novel as its name implies. Novel Ice Cream shop, a true hidden gem, jam-packs European-style waffles and glazed doughnuts with its artisanal scoops ranging from Butterbeer to Chai Tea.
ARKANSAS: Tacker's Shake Shack in Marion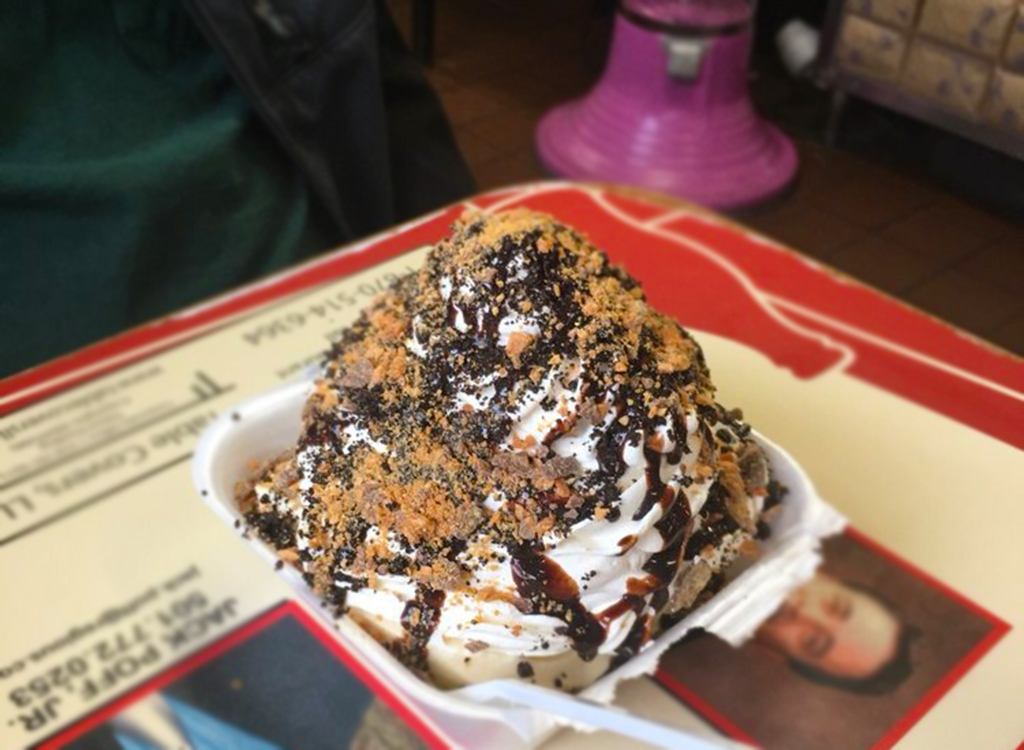 After you've scarfed down one of Tacker's Shake Shack stacked burgers and a side of fried pickles with ranch, round out your meal with a melt-in-your-mouth milkshake. The family-owned diner has been serving the classic American combo for more than 40 years and is continuing to drive in adventurous visitors and Marion locals alike.
CALIFORNIA: Paradis Sherman Oaks in Los Angeles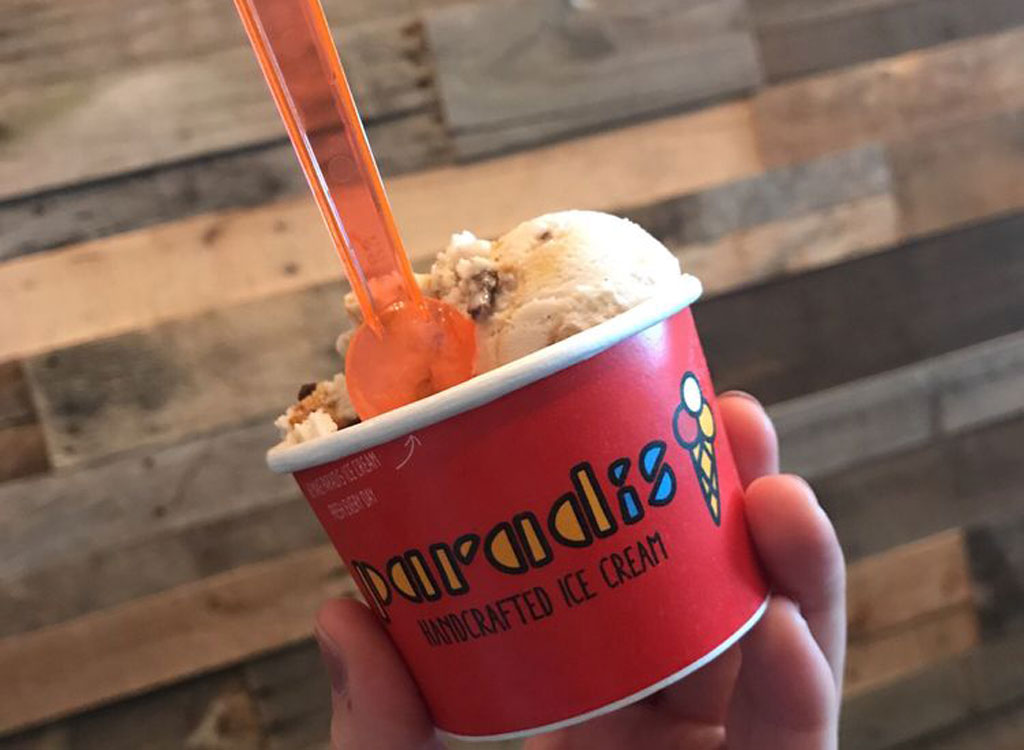 Paradis traces its lineage back to Denmark, where it began crafting fresh ice cream in 2000. All of their flavors contain zero artificial ingredients, and the vegan picks are just as indulgent as the dairy-full scoops. Grab a checkerboard and spoon into marshmallow ice cream in this rustic, wood-paneled shop.
COLORADO: Louie's Ice Cream Shoppe in Buena Vista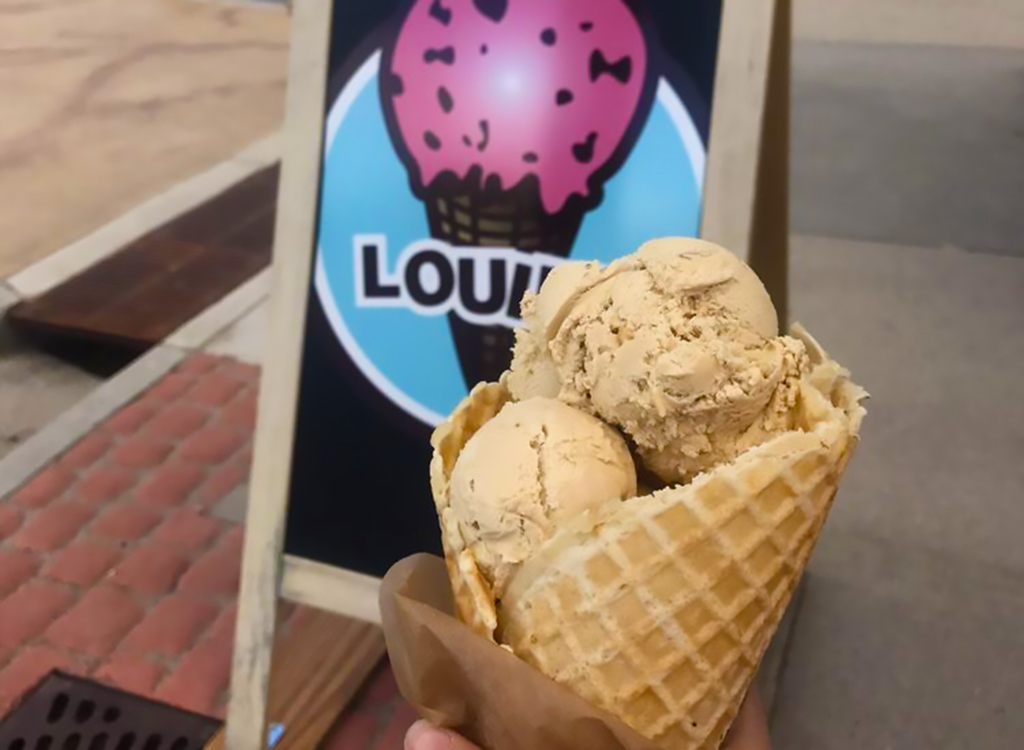 Whether you're bringing Fido along or just want to enjoy Colorado's crisp air, grab a seat outdoors in Louie's Ice Cream Shoppe's charming backyard oasis. After you've tested your decisiveness against 20 gourmet ice cream flavors, channel your inner child by enjoying your cone on a swing or taking a seat in the sandbox while the sugar rush hits.
CONNECTICUT: UConn Dairy Bar in Storrs Mansfield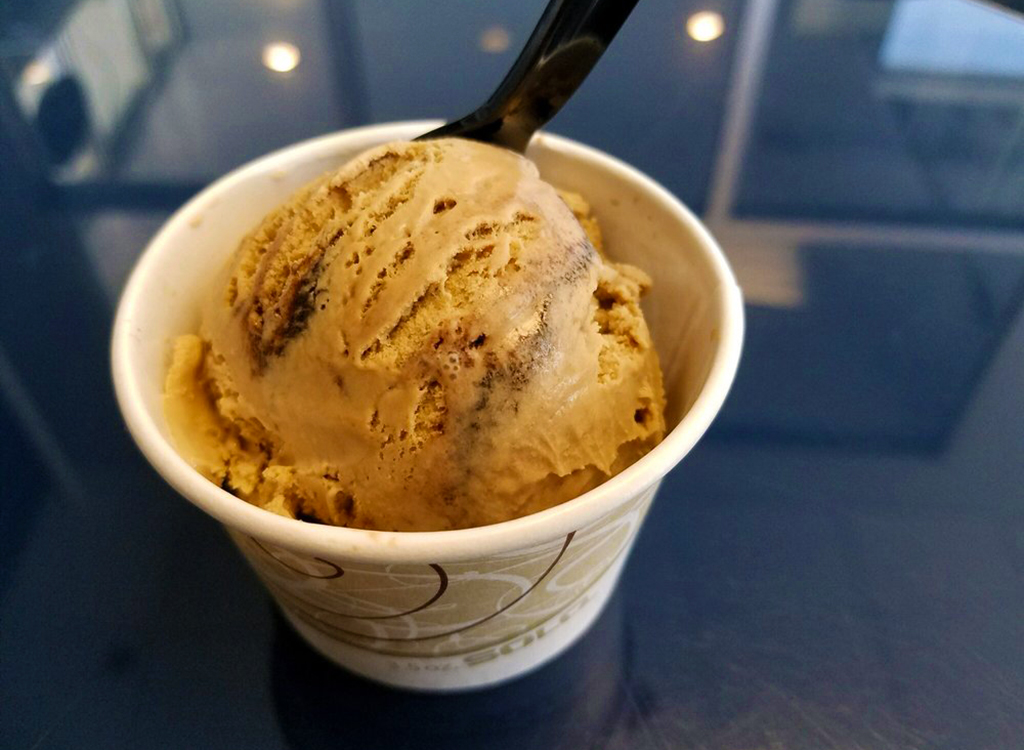 You know an ice cream shop will blow its competition out of the park if it originated out of an old-school creamery. UConn Dairy Bar bottled its homemade milk for almost a century and opened in 1953 to sell its dairy goodies. Fast forward to the 21st century, and the factory has been churning out ice cream by the masses—a sweet process visitors can watch via the observation window. You'll want to save a few licks for the show.
DELAWARE: Vanderwende's in Bridgeville
If you're en route to Ocean City or Dewey beach, a Vanderwende's pit stop is a must. Every flavor from the Cappuccino Crunch to Annie's Apple Pie is hand-crafted in their dairy farm. If you've got a few minutes to spare, grab a seat on the bench a la mode and watch the grazing cows out front.
FLORIDA: The Magic Cow in Davie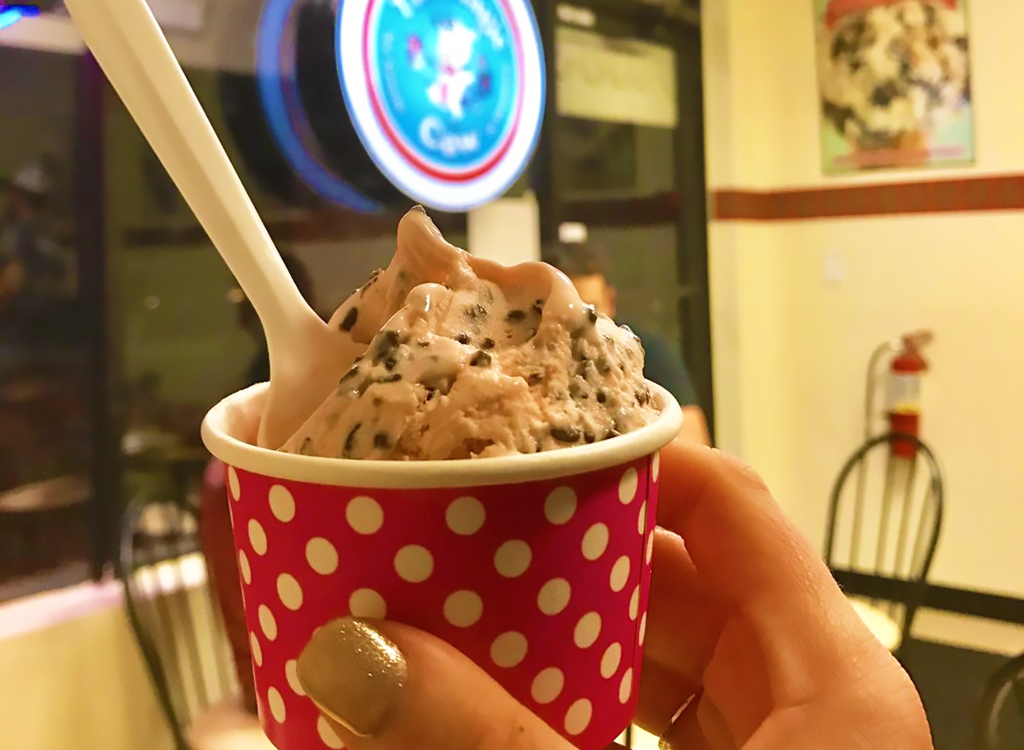 The former home of the Museum of Ice Cream pop-up also houses one of the best ice cream shops in the nation. "I came here for the first time two years ago and have been coming back with friends and family ever since," Yelper Victoria F. raves about The Magic Cow. "They have so many flavors and all of them are amazing! This little mom-and-pop shop is way better than any of the ice cream chains nearby."
GEORGIA: Scream'n Nuts in Alpharetta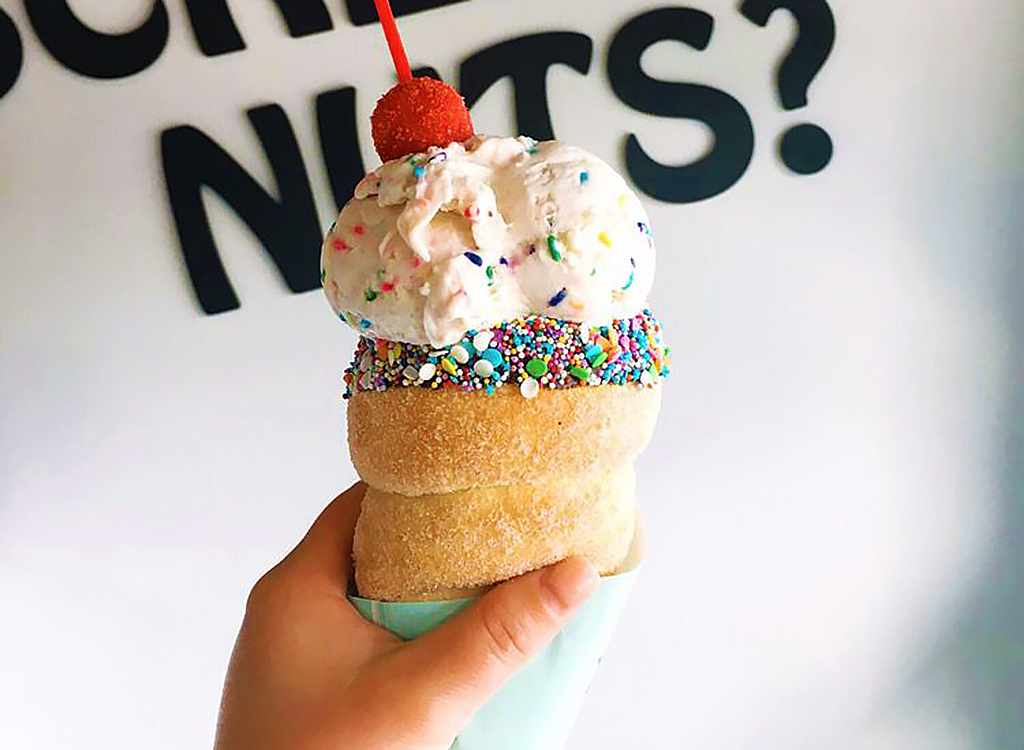 Whether your primary source of energy is caffeine or sugar, Scream'n Nuts has you covered with affogato and a plethora of both frozen and piping hot treats. Grab a fresh-out-the-oven doughnut cone topped with your go-to flavor, or recharge with a doughnut pudding drizzled with salted caramel and adorned with a refreshing scoop.
HAWAII: One Aloha Shave Ice in Kailua-Kona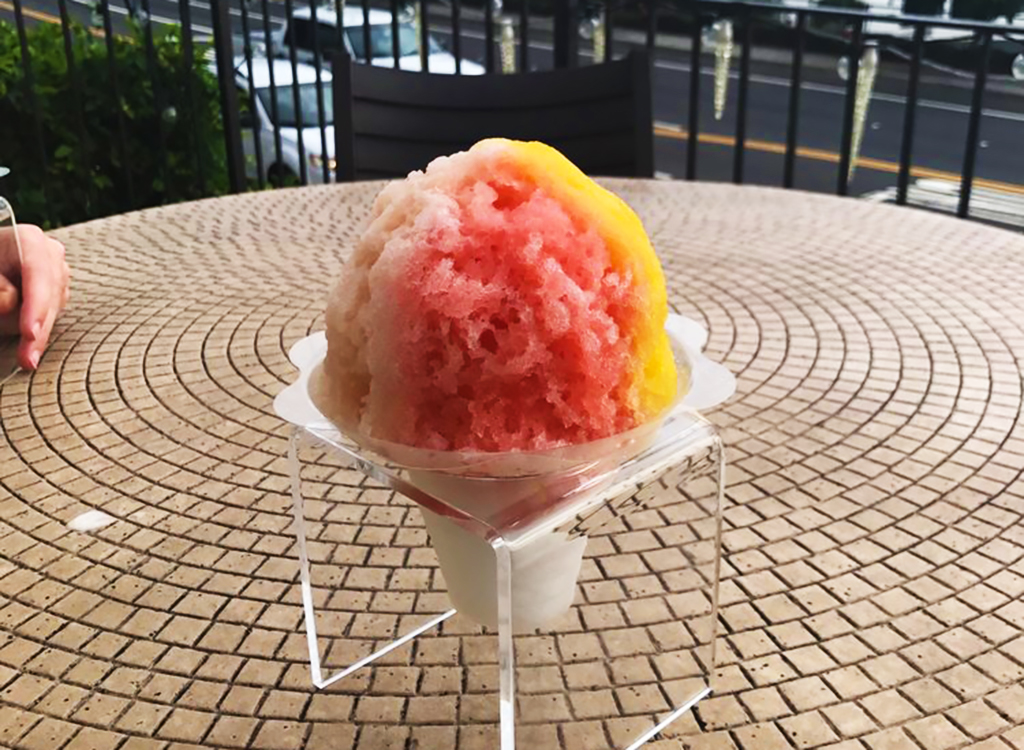 Beat the heat on the Big Island and stop by One Aloha Shave Ice for a sweet frozen treat that's lighter than the traditional scoop. Try the refreshing coconut shaved ice, which features real fruity flakes throughout, or go for the exotic lychee.
IDAHO: Panhandle Cone & Coffee in Sandpoint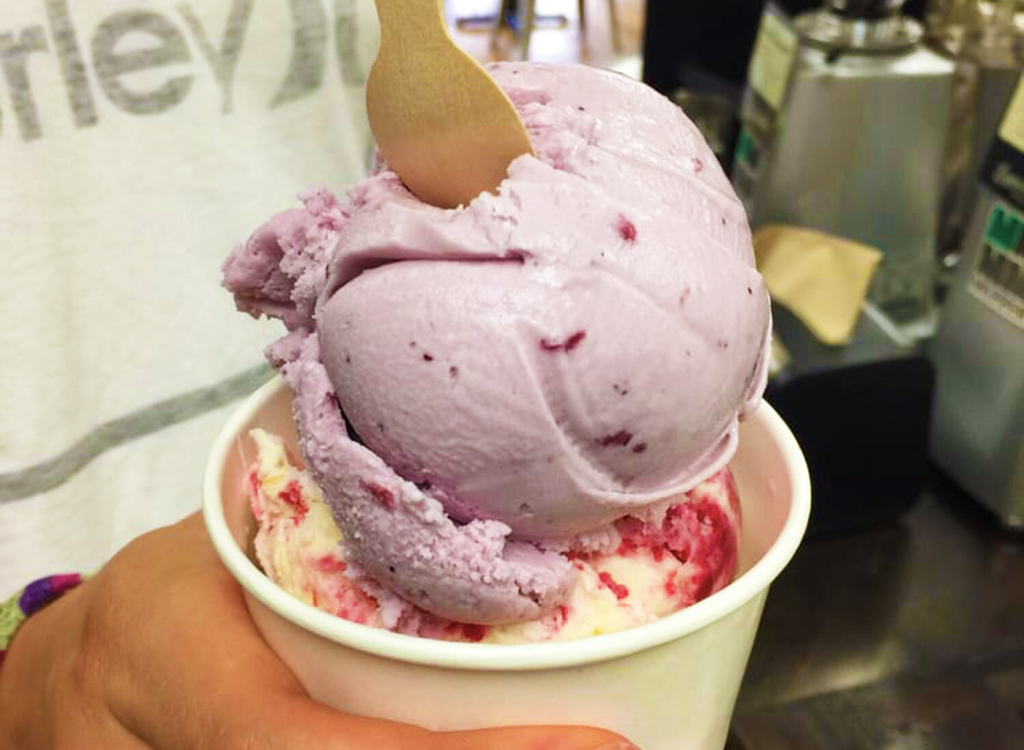 Why not pair a cup of Joe with a cup of Mill Town Vanilla? Panhandle Cone & Coffee uses locally-distilled light rum from Mill Town Distillery to create a one-of-a-kind vanilla extract that lends the blend an unforgettable flavor. If you're more of a cocoa guy or gal, go for the single-origin chocolate ice cream that hails from tropical Tanzania.
ILLINOIS: Covered Bridge Creamery in Long Grove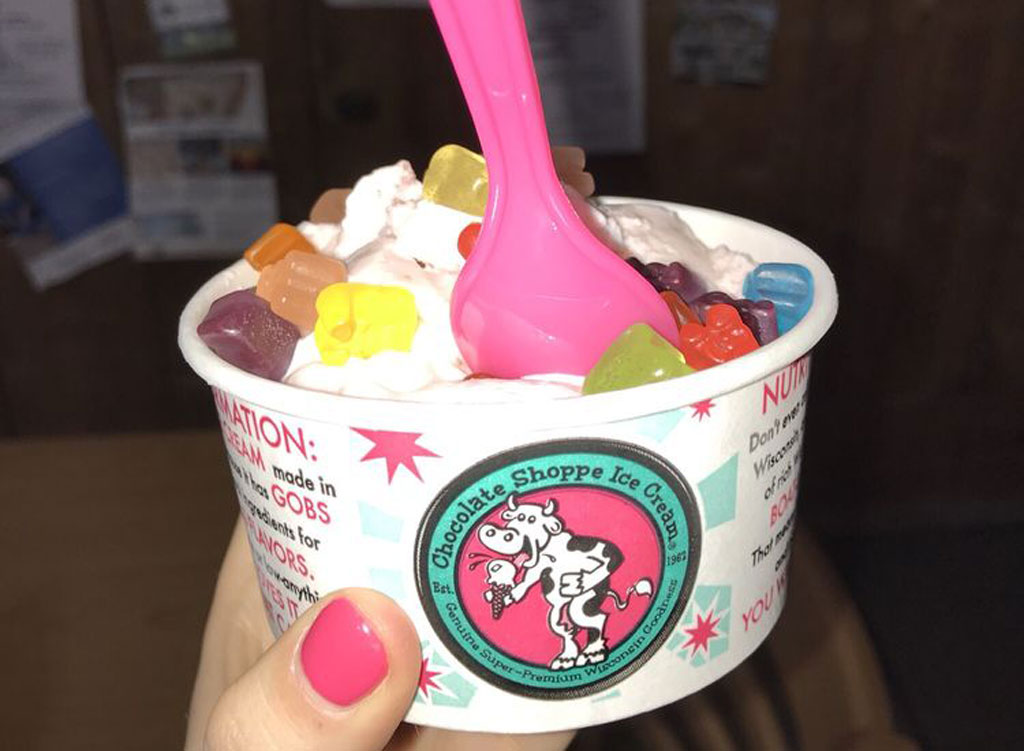 Pregame a deep dish with Covered Bridge Creamery's renowned frozen desserts in flavors like Toasted Coconut not too far from Chi-town. Planning a party? Try the shop's build-your-own sundae catering bar that allows you to customize your cup or cone to your liking.
INDIANA: Sundae's Ice Cream & Coffee in Indianapolis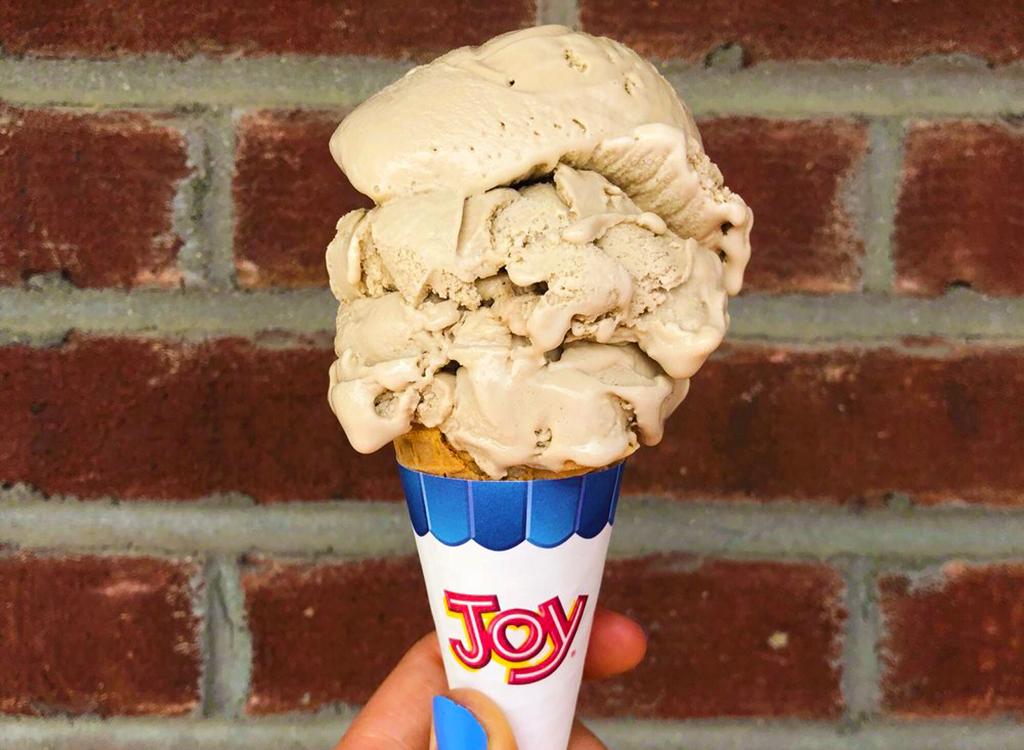 Regardless of your craving for crunch, candy, fruit, or traditionalism, Sundae's Ice Cream & Coffee has a scoop for every hankering. Yelpers rave about the Graham Central Station, a flavor that'll transport you to either the bustling streets of New York or a cozy campfire. If you fancy coffee with your confection, this shop carries 18 different types of coffee beans for brewing galore.
IOWA: The Classic Deli and Ice Cream Shoppe in Brooklyn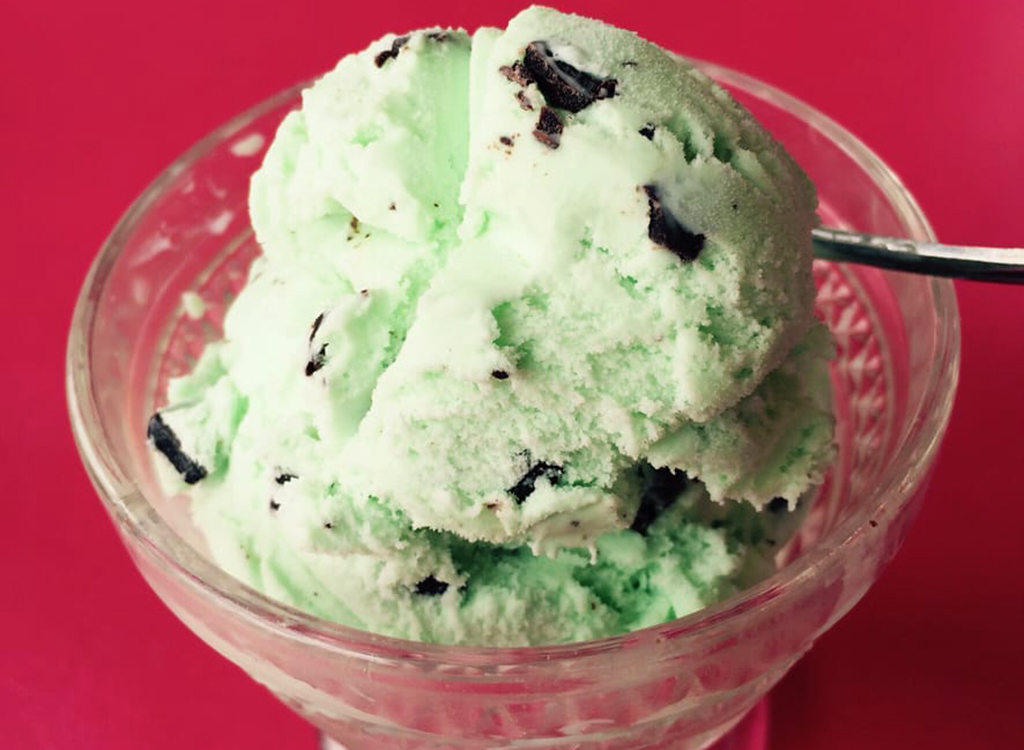 Yelpers pop into this charming deli and dessert stop for roast beef on rye, homemade pies, and a selection of scrumptious 'screams. The Classic Deli and Ice Cream Shoppe is situated in an inviting shopping center—the perfect place for a dessert break.
KANSAS: Sylas & Maddy's Homemade Ice Cream in Olathe
In the heart of the heartland, you'll find rolling plains, majestic rivers, and the tastiest ice cream in the state from Sylas & Maddy's Homemade Ice Cream shop. Pair a sweet or savory flavor—or both—in a freshly-baked waffle cone for maximum indulgence. Pro tip: If you're a student, your student ID can snag you a BOGO deal on Tuesdays.
KENTUCKY: Crank & Boom Ice Cream Lounge in Lexington
After discovering that Thai fare pairs well with coconut ice cream, founders of Crank & Boom Ice Cream Lounge Mike and Toa went on a whim to start churning more flavors and serving them alongside their restaurant's aromatic Asian dishes. After a few successful years of cranking out the cream using fruits and dairy from neighboring farms, the dedicated ice cream shop opened its doors in 2015.
LOUISIANA: Ice Cream 504 in New Orleans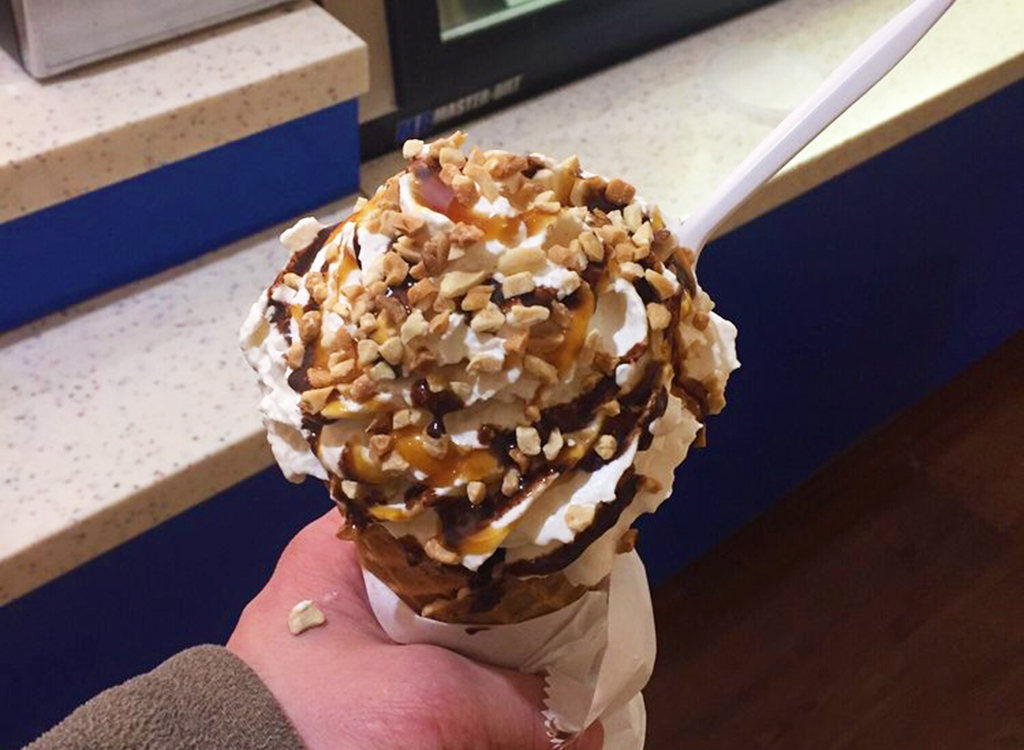 Culture meets cuisine in New Orleans' bustling Freret Street, a true gastronomic dream. While the eight-block walk is studded with live music, an array of shopping stores, and finger-licking food, you'll also find Ice Cream 504. Take a break from strolling and dive into homemade blueberry basil ice cream.
MAINE: Rococo Ice Cream in Kennebunkport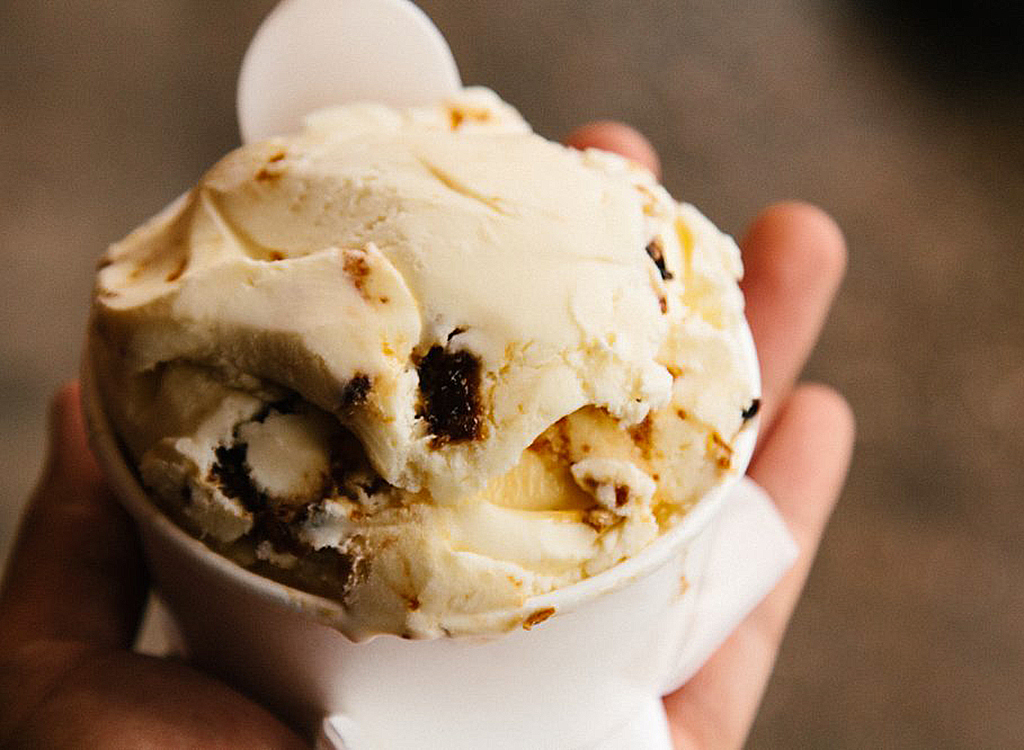 Rococo's has a flavor to suit any taste preference, but you're going to want to crouch out of your comfort zone in this dessert shop. The lighthouse-spotted state's favorite ice cream place is treasured for testing valiant flavor combinations such as woodsy pine, sea salt, and juicy blueberries in its test kitchen. Or perhaps the on-the-menu Goat Cheese with Whiskey & Figs Compote is more up your alley.
MARYLAND: Daily Scoop in Pasadena
Milkshakes, malts, banana splits, sundaes, and single scoops make Daily Scoop the go-to for crushing cravings. "The owner is the mad scientist of the ice cream world," Jessica G. wrote on Yelp. "The staff will urge you to try as many flavors as you want before making a choice. Really, you can't go wrong with whatever you decide, but my favorite is the praline."
MASSACHUSETTS: The Ice Cream Barn in Swansea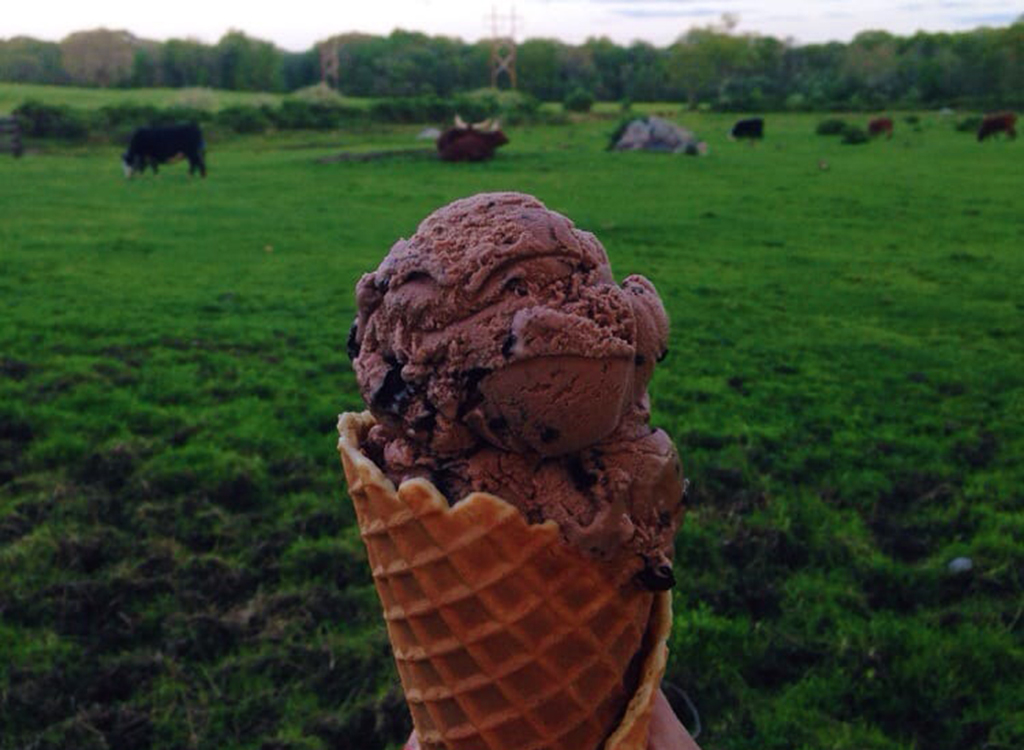 What started out as a family farm is now the home of one of New England's prime dessert shops. Yelpers rave about licking up enormous scoops while viewing the livestock on the farm across. "I got the strawberry and coffee milk flavor. Coffee milk is unique to the region but other people also recommended the berry flavors. The sundaes looked delicious and the waffle cones had a good crunch," Bijou N. states about The Ice Cream Barn.
MICHIGAN: Cindy's Donuts & Ice Cream in Kentwood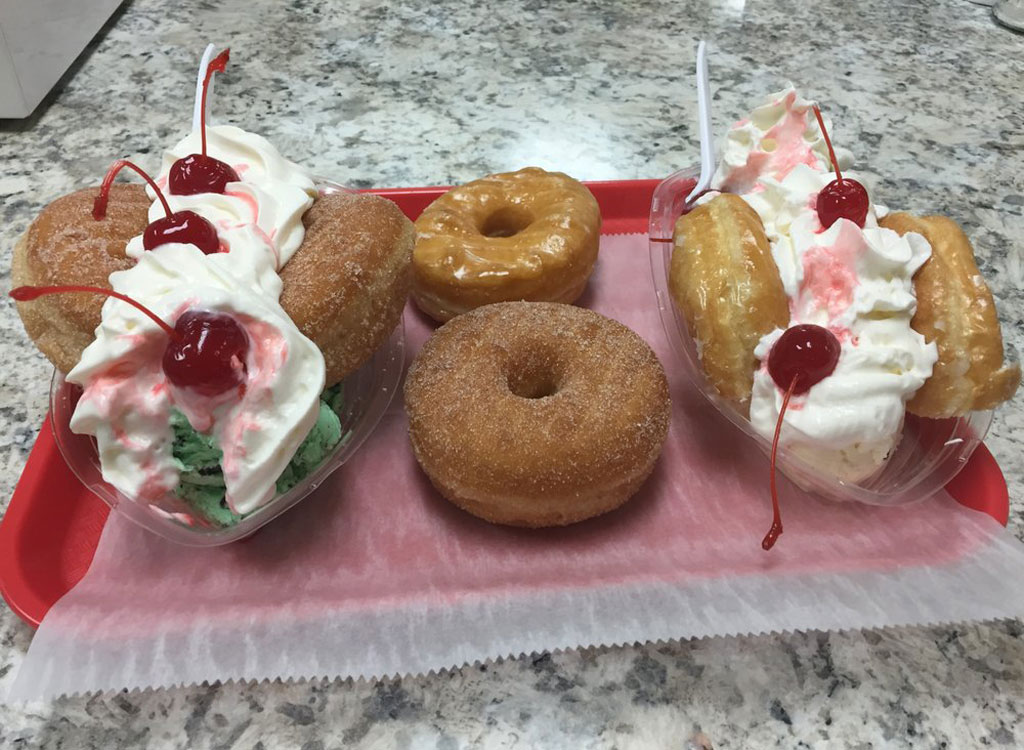 If you're looking to upgrade your dessert, nothing pairs better with a rich doughnut than a refreshing scoop of ice cream. Cindy's Donuts & Ice Cream offers an array of doughy ringlets as well as the creamiest scoops.
MINNESOTA: Flapdoodles Homemade Ice Cream in Rochester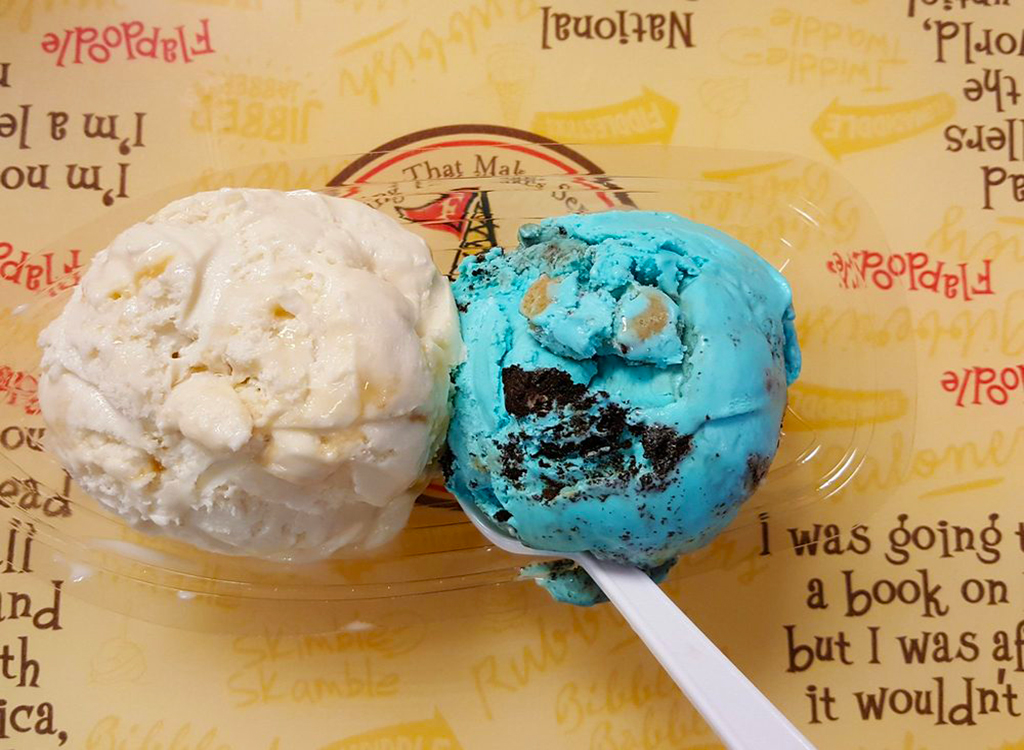 Flapdoodles' quaint shop clad with quirky wall quotes and rows of homemade flavors will lure you in whether you're cruising down Route 52 en route to Wisconsin or staying local. Fun fact: the shop is named after the founder's father's—who was an ice cream aficionado—first sailboat.
MISSISSIPPI: Area 51 Ice Cream in Hernando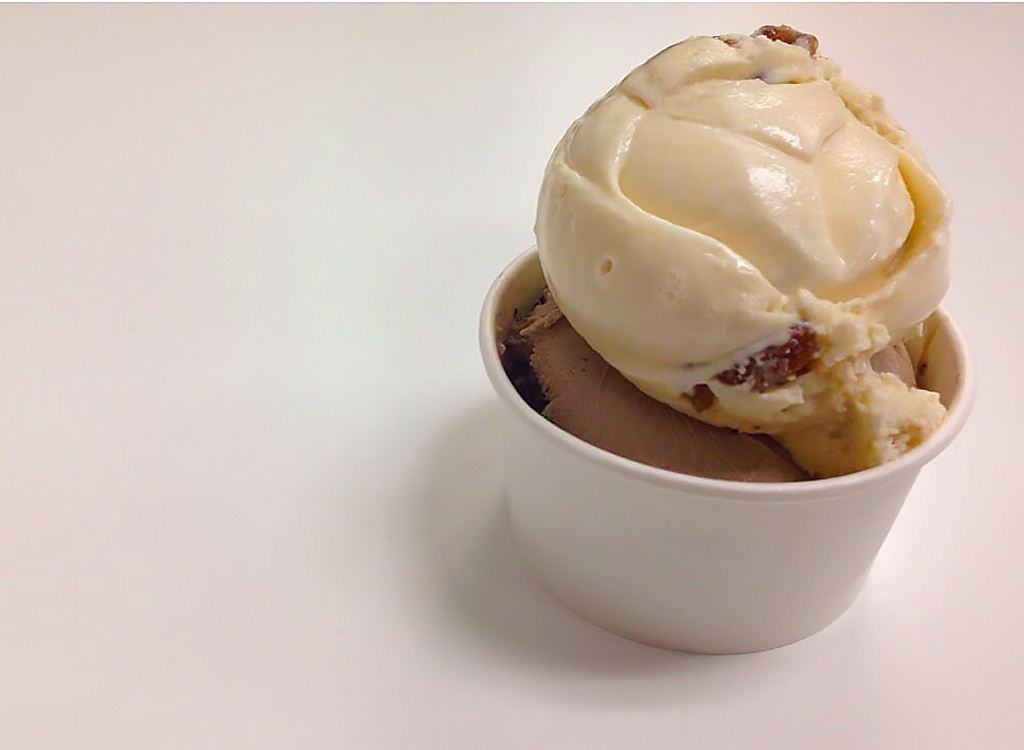 While you won't find any extraterrestrial visitors lurking in this Hernando-based parlor, you will get a taste of some out-of-this-world flavors. Test your palate against Area 51 Ice Cream's Saigon Cinnamon Snickerdoodle or the Bourbon Butter Pecan.
MISSOURI: Betty Rae's Ice Cream in Kansas City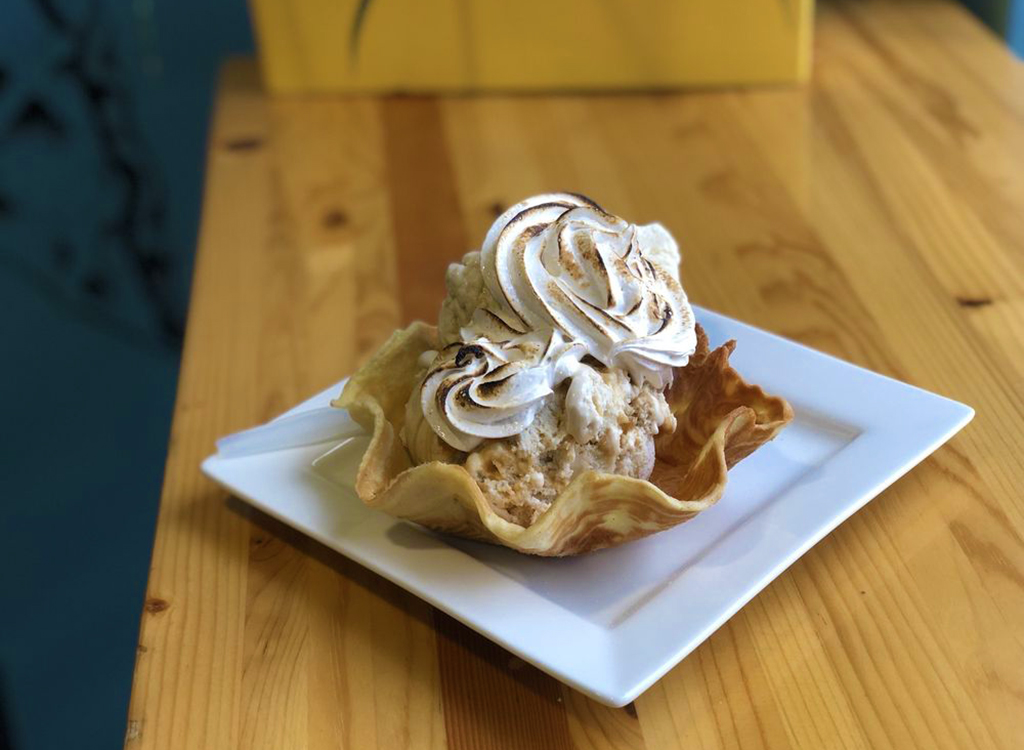 "I had a double scoop in a homemade waffle cone," Yelper Bobby N. recounts his experience at Betty Rae's Ice Cream. "Brown butter and toasted pecans and a scoop of goat cheese with apricots and candied walnuts. Hands down, some of the best ice cream I've ever had. Very rich. Nice mouthfeel. Very well-balanced." OK, we're sold.
MONTANA: Sweet Peaks in Whitefish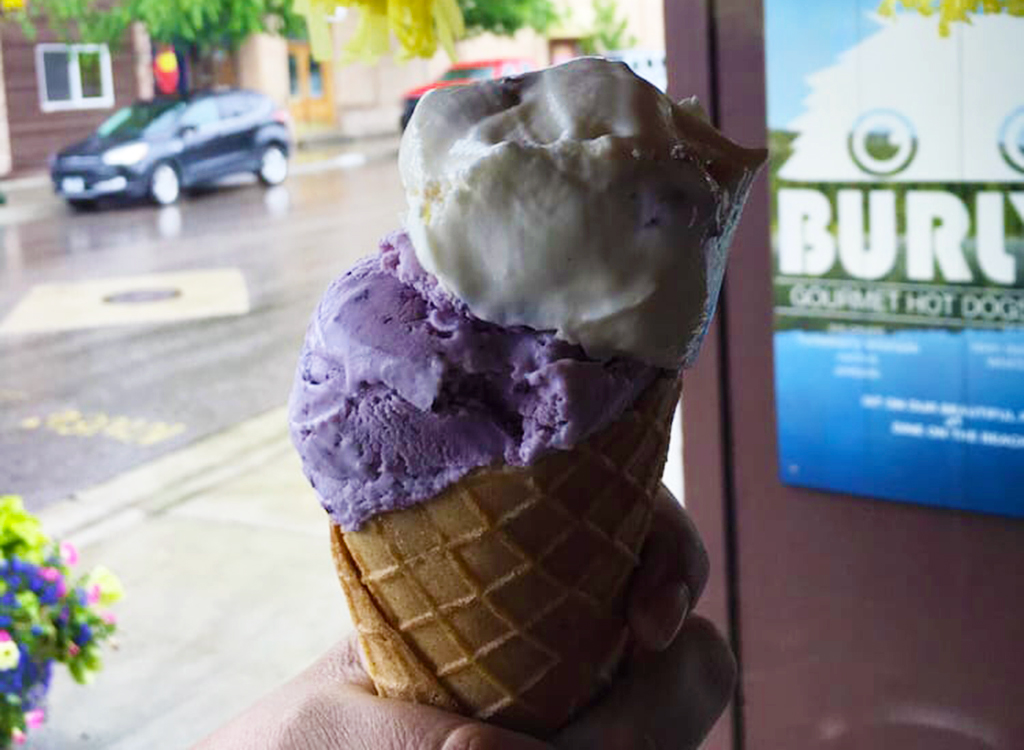 Treat yourself to Sweet Peaks' seasonal Montana Christmas with pine-soaked cream and huckleberries or spoon into time-honored Lafaza Madagascar Vanilla. The parlor's been committed to quality ingredients and outlandish flavors since the debut of its first location in Whitefish in 2010.
NEBRASKA: Coneflower Creamery in Omaha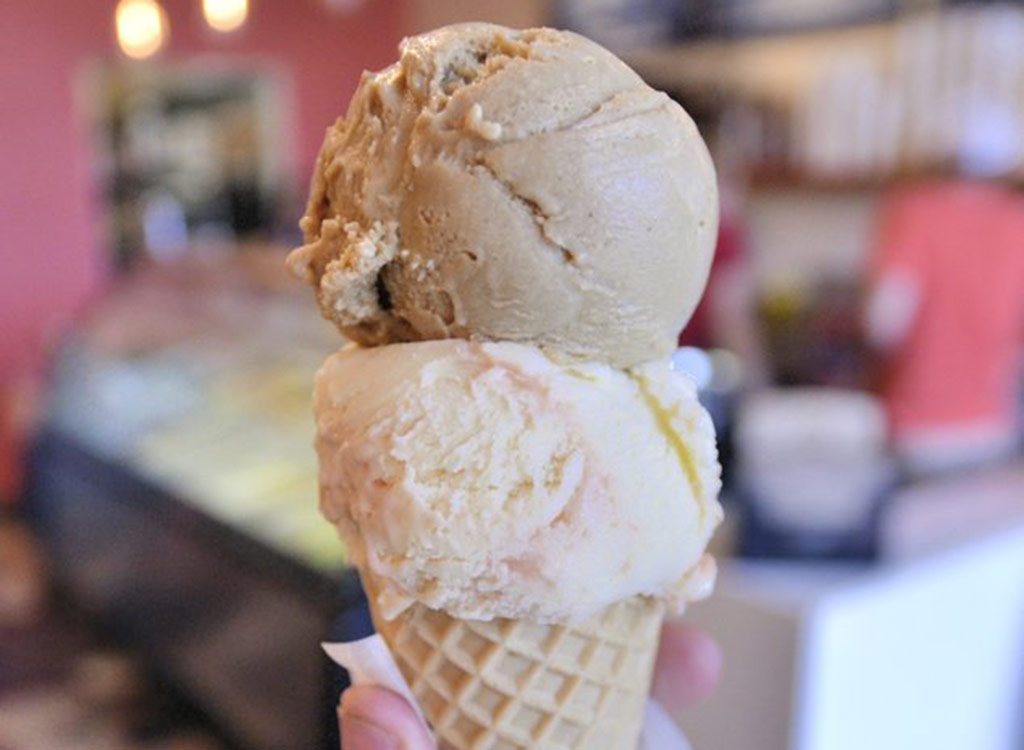 Omaha's farm-to-cone Coneflower Creamery serves up both traditional, seasonal, and local scoops crafted with the freshest ingredients. Their Salted Caramel flavor features ingredients from a coffee shop across the street. And the rainbow sprinkles? Baked in-house! You're in for a real treat.
NEVADA: Steve's Homemade Ice Cream in Fernley
Don't drive out of the desert state without indulging in Steve's Homemade Ice Cream's famous desserts. Beat Nevada's temperamental temperatures with a double scoop, a nostalgia-piquing float, or a classic sundae.
NEW HAMPSHIRE: Bailey's Bubble in Wolfeboro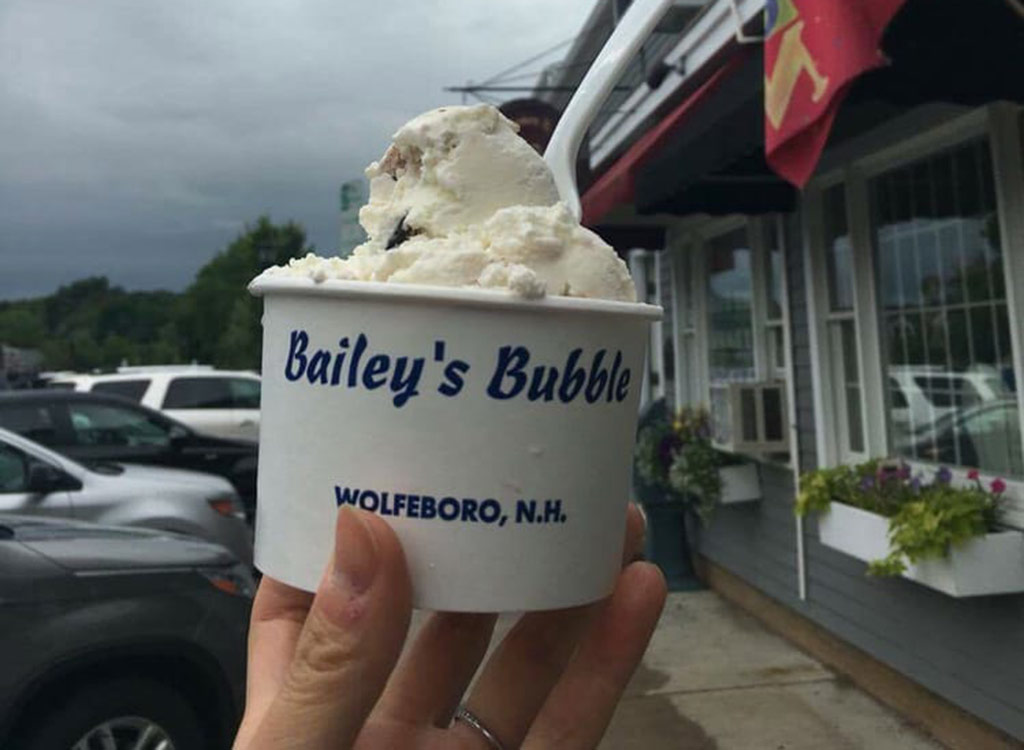 "We had German chocolate cake (the best of what we had. If in doubt, have this!), Moose Tracks, and a Kahlua coffee option," Yelper Tom H. recommends at Bailey's Bubble. "All totally delicious and nice to have overlooking the lake in the sunshine (or even in winter, I would eat this ice-cream!)."
NEW JERSEY: Halo Farm in Marlton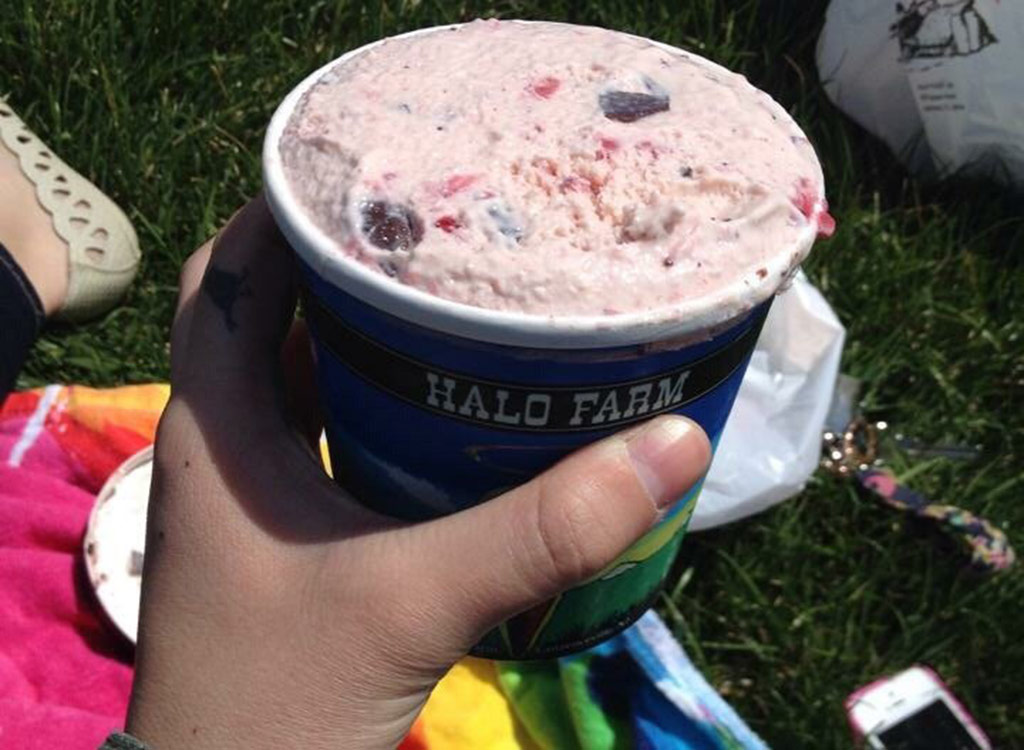 Ice cream doesn't get more farm-to-table than this. Based in Lawrenceville, Princeton, and Hamilton Square, NJ, Halo Farm serves up antibiotic-free, hormone-free scoops with taste-tempting flavors like Amaretto with Toasted Almond, M&Ms and Peanuts and Strawberry chocolate chunk. We'll take two scoops, please!
NEW MEXICO: I Scream Ice Cream in Albuquerque
"I suggest that anyone who hasn't been here yet go check it out right now!" Amber F. says about I Scream Ice Cream. "The shop is nice and clean and decorated with a ton of cool memorabilia. There are games and toys to keep everyone occupied. There's a ton of flavors and toppings. I used to get Superman ice cream with my mom as a kid and this is the only place that has it in town. The owner is very kind and generous. I went there with my sister and her kids and we had 3 dogs in tow. The owner came outside and gave the dogs ice cream too!"
NEW YORK: Alleyway Ice Cream in Saugerties
Handmade in the Catskill mountains, Alleyway is definitely worth the pit stop whenever you're heading up north. Their delicious assortment of ice cream includes vegan options, too. From sweet potato ice cream with maple glazed walnuts to honeycomb ice cream with a chocolate swirl, you can't go wrong with any of the choices.
NORTH CAROLINA: Surfin' Spoon in Nags Head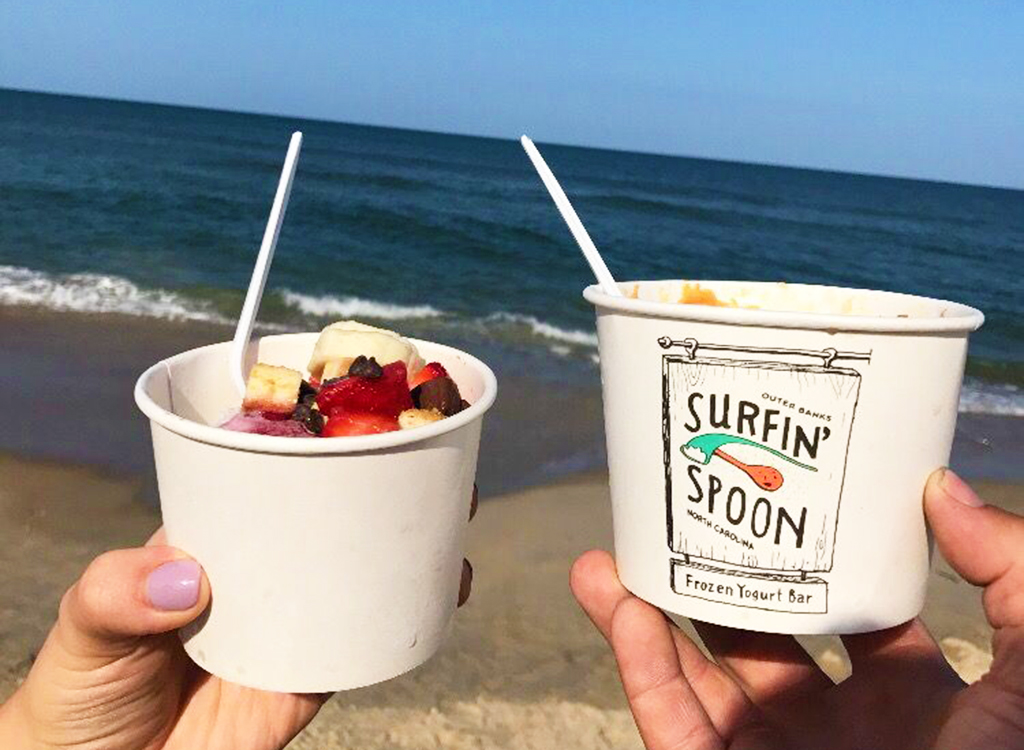 Wrap up a surfing sesh with a visit to Nags Head's most popular ice cream parlor, which is a stone's throw away from the shore. Surfin' Spoon keeps it light with frozen yogurt and sorbet, and steps up the decadence with gelato.
NOTE: Surfin' Spoon is closed until April 30, 2021, according to Yelp.
NORTH DAKOTA: Scoop N Dough Candy Co in Fargo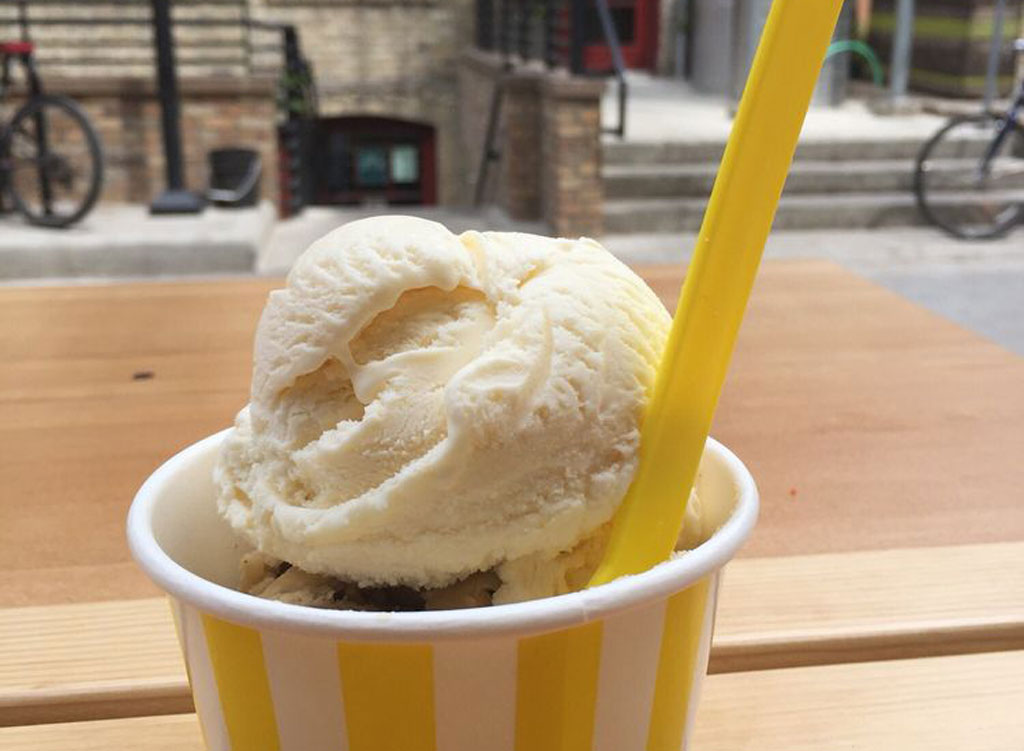 As the name suggests, Scoop N Dough Candy Co serves up huge hard-serve ice cream cones, edible cookie dough (including vegan flavors!), and milkshakes that combine your favorite ice cream and cookie dough picks. Craving something salty with your sweet treat? The shop serves up popcorn in flavors like cheddar and caramel that are popped fresh daily.
OHIO: Mitchell's Homemade Ice Cream in Cleveland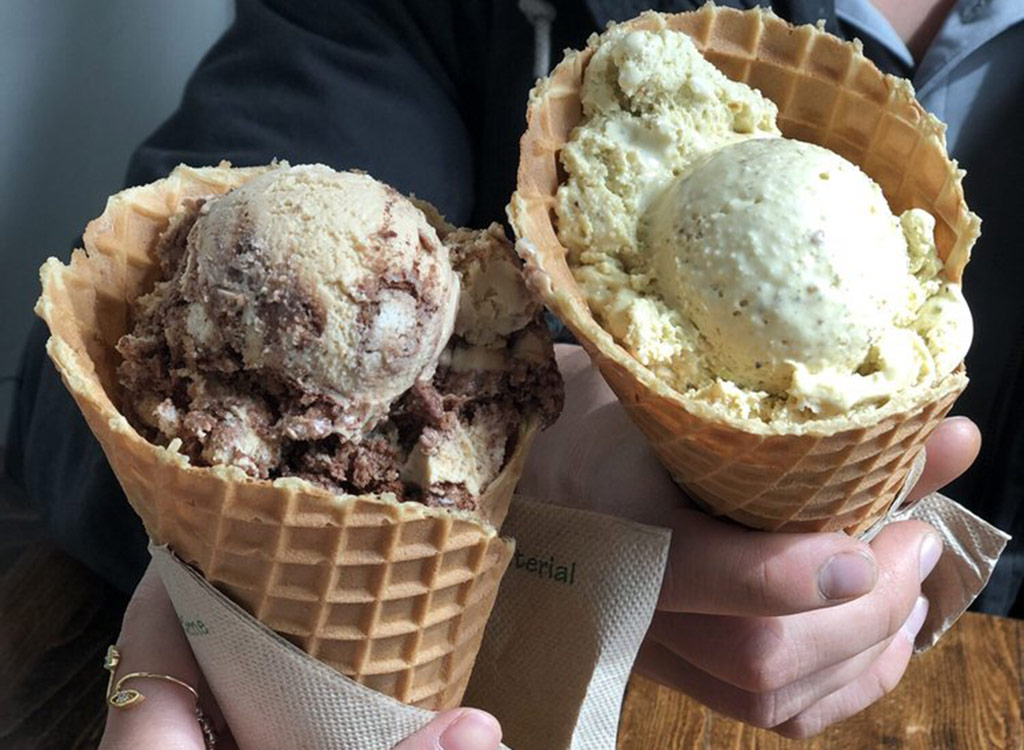 With its theater-esque awning and bright, welcoming logo, you can't miss Mitchell's Homemade Ice Cream. The shop prides itself in sourcing ingredients from around the globe and even discloses each pick's origin on their website. While the berries and rhubarb are organic and local, the coffee beans hail from Indonesia and South America, and the cocoa's from the Ivory Coast and Ghana.
OKLAHOMA: Rose Rock Microcreamery in Tulsa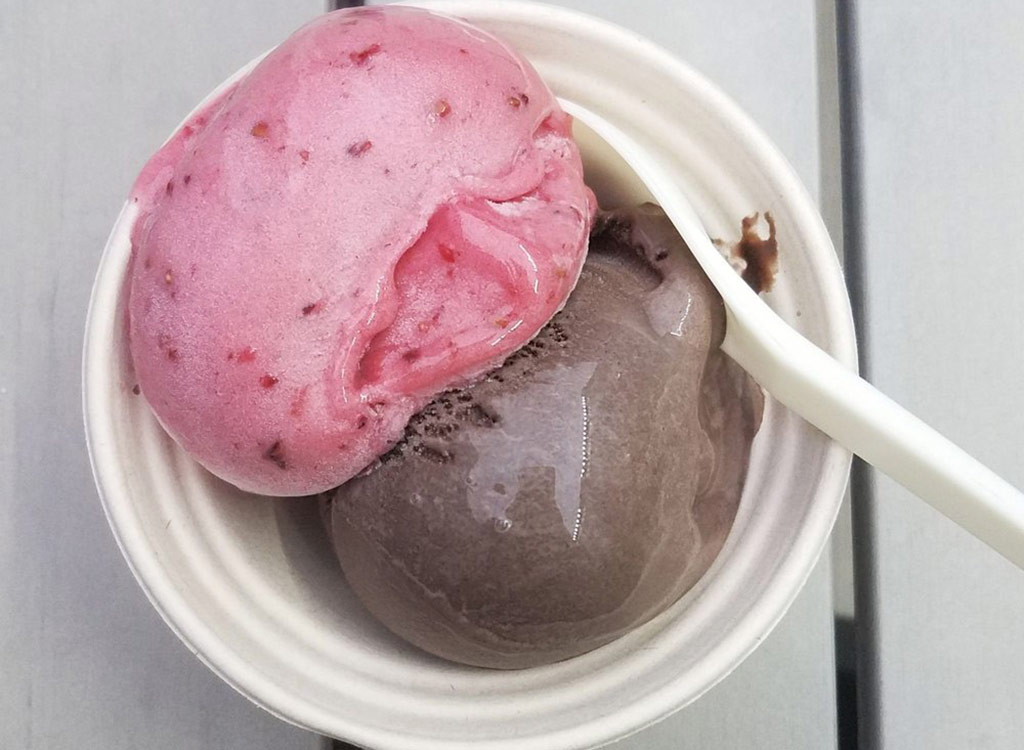 6254a4d1642c605c54bf1cab17d50f1e
Rose Rock Microcreamery creates small batches of ice cream with some of Tulsa's finest local ingredients. If you ever pay them a visit, you'll find unique flavors like lavender honey, chamomile peach, and strawberry candied pecans. Stop by for a cone, and you'll walk out not wanting store-bought tubs again.
OREGON: Hurry Back Ice Cream in Portland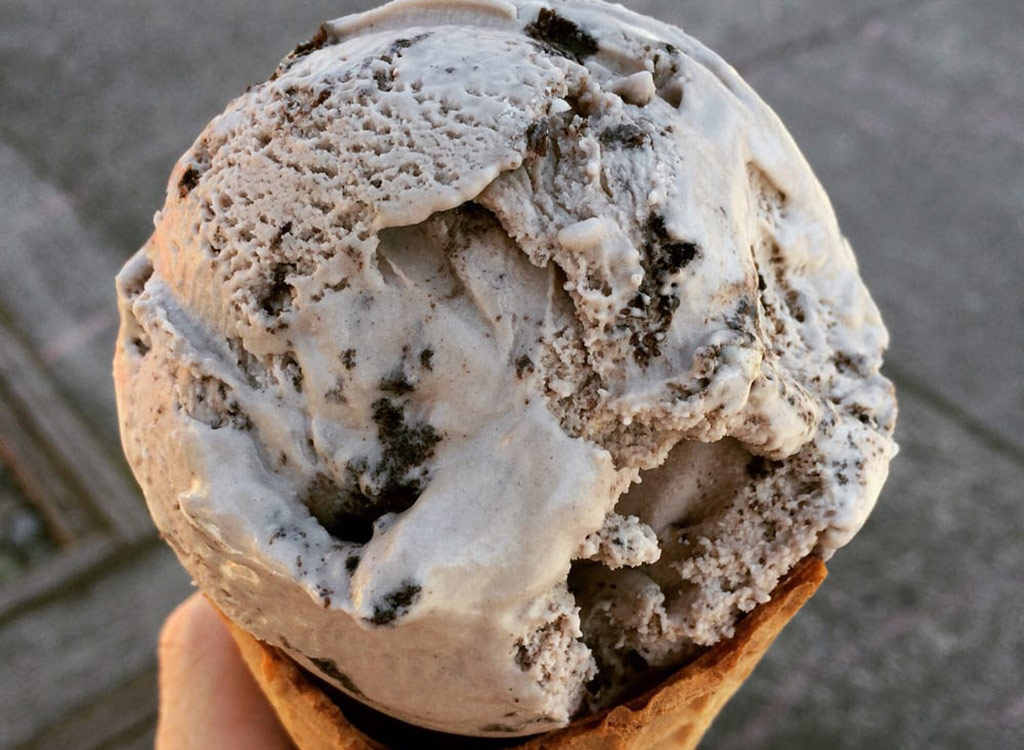 Hurry Back Ice Cream isn't afraid to be bold with its flavors. You'll find everything from bourbon-flavored ice cream to mandarin chocolate and lingonberry. Don't think your cone is extra enough? Choose from their amazing selection of chocolate or rainbow sprinkles, whipped cream, and chocolate or caramel sauce.
PENNSYLVANIA: Arctic Scoop in Philadelphia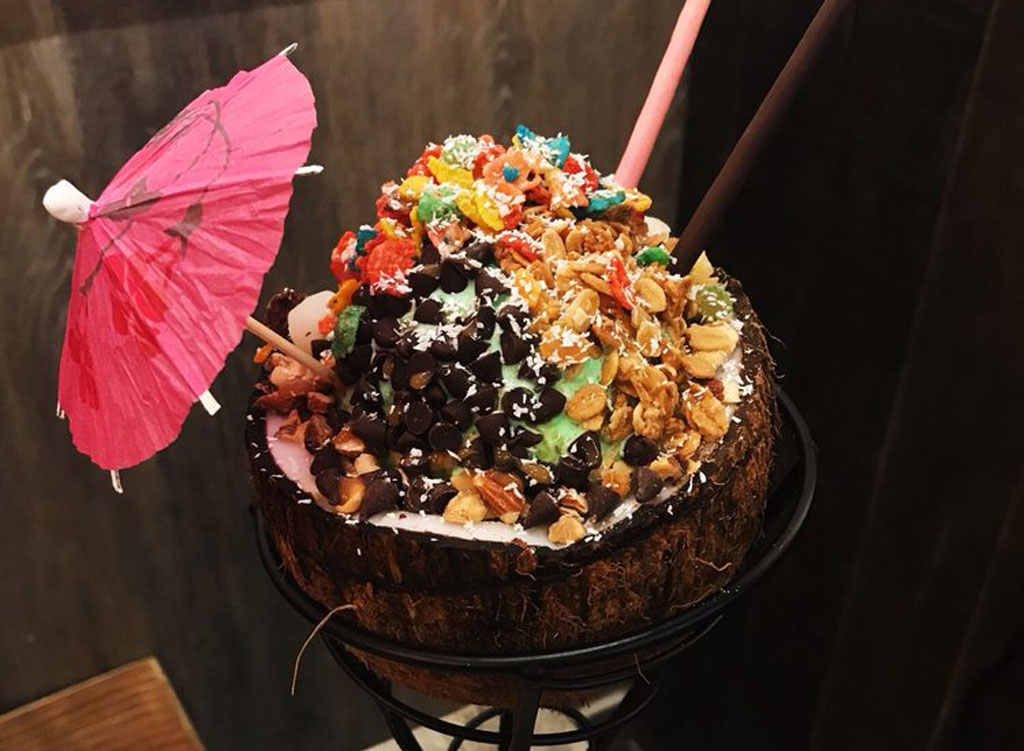 In addition to boasting an array of ultra-creamy scoops, Arctic Scoop also serves up unique waffle cones in different flavors such as Midnight Vanilla and Lavender. Not into cones? You can get some artfully-topped scoops in a half coconut shell. Talk about a great Instagram photo opp!
RHODE ISLAND: Tricycle Ice Cream in North Providence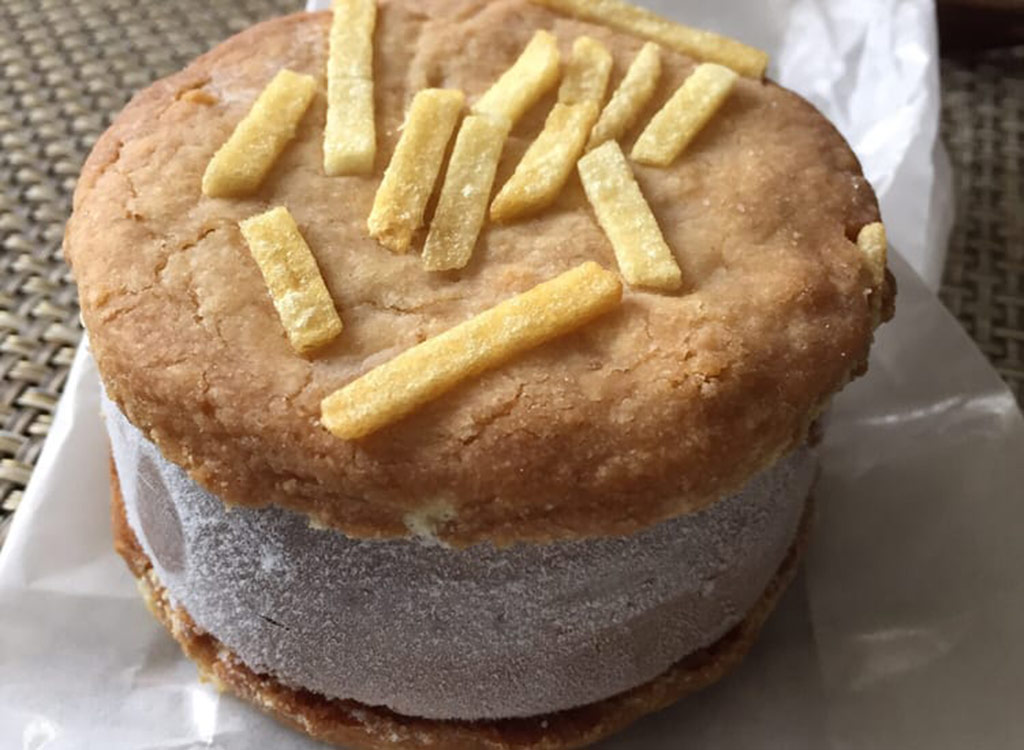 Since 2014, Tricycle Ice Cream has been popular in Providence, thanks to its ice cream sandwiches, tacos (yes, really), and push-up pops. Whether you're a fan of rich, decadent chocolate flavors or prefer something light and fruity, Tricycle has something for everyone.
SOUTH CAROLINA: Melt in North Myrtle Beach
If you're vacationing in Myrtle Beach anytime soon, swing by Melt to cool off and devour one of their mouth-watering cones. Strawberry cheesecake, salted bananas foster, orange blossom, and cherry vanilla are some of the unique and robust flavors you'll find at Melt.
SOUTH DAKOTA: Leone's Creamery in Spearfish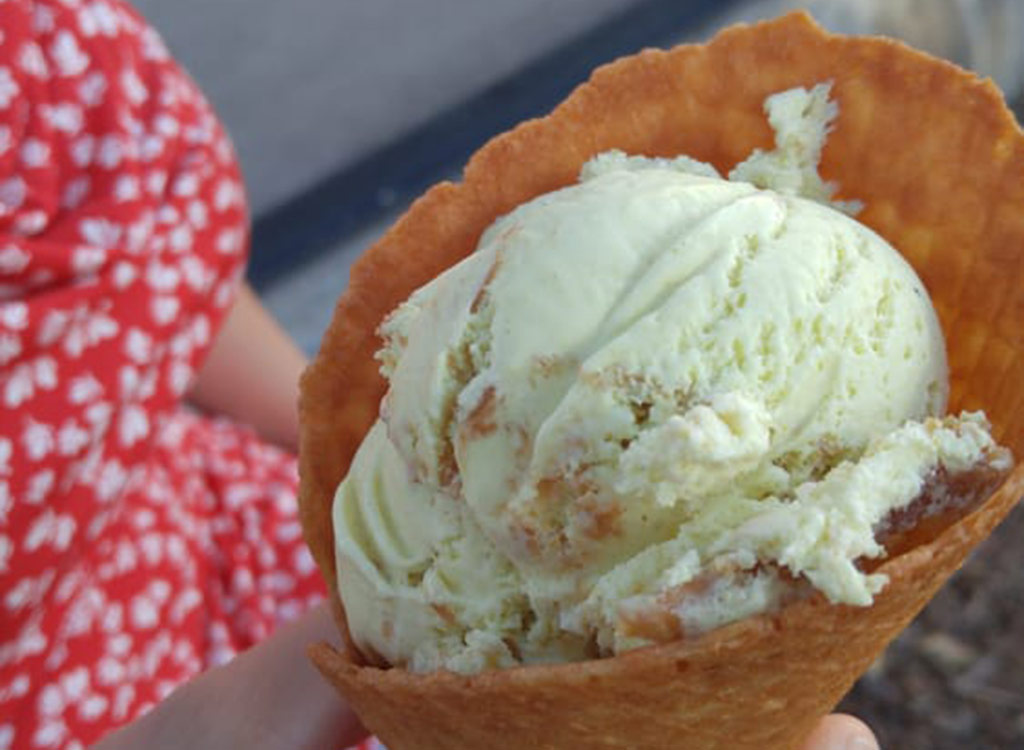 Leone's Creamery prides itself on using fresh, local ingredients in its ice cream. You'll find Crow Peak Brewing's porter and Sunrise Hive's honey in their delectable frozen desserts. Just like the ice cream, their cones are also made in-house and are GMO- and gluten-free. Enjoy scoops of the peanut butter and jelly, cinnamon oat graham, and blackberry basil.
TENNESSEE: Jeni's Splendid Ice Cream in Cookeville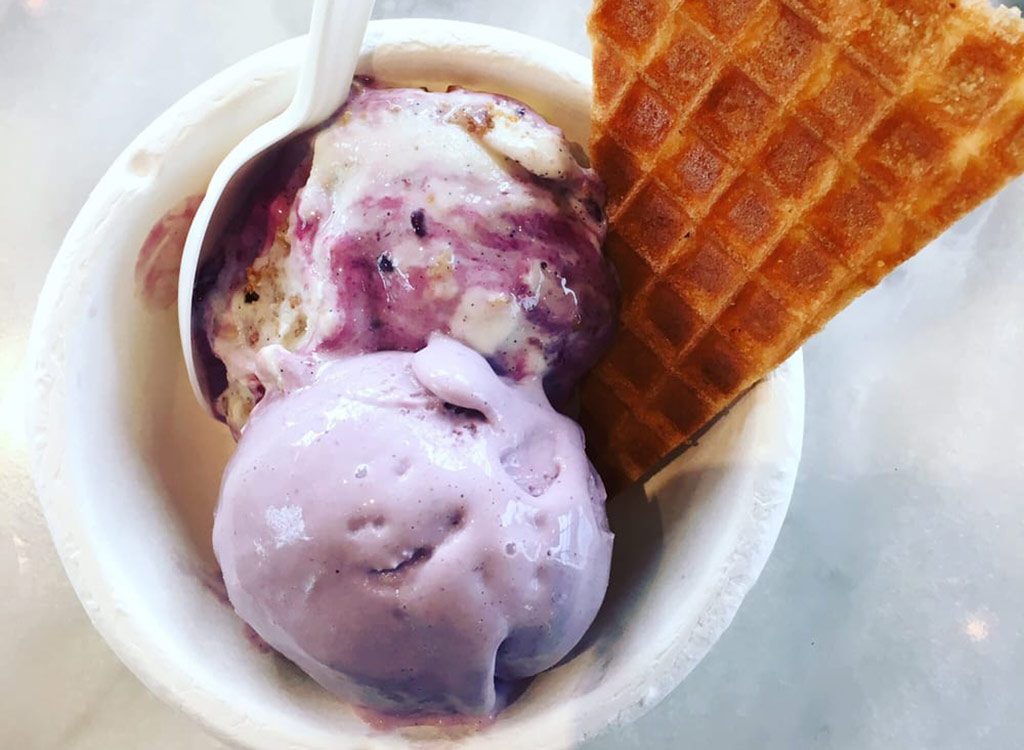 You've probably seen pints of Jeni's Splendid Ice Cream at the grocery store, but lucky for Nashville, they have a shop of her award-winning ice cream. Before the trend of using wholesome ingredients, Jeni pioneered the way of using dairy from grass-fed cows and nixed synthetic flavorings.
TEXAS: Manolis Ice Cream, Pastries & Cake in Austin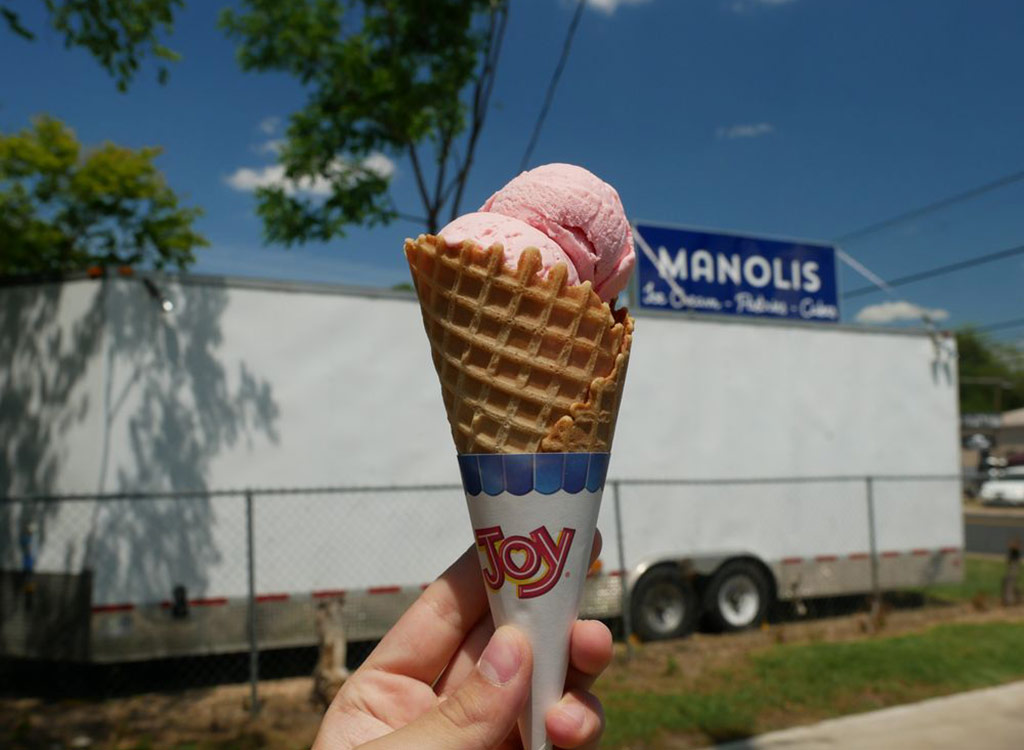 If you've got a sweet tooth, Manolis is definitely where you want to be. From ice cream to pops, to cakes, all of your sugar needs will be met. But their ice cream is unmatched. Dulce de leche is both sweet and salty while the mint chocolate chip is refreshing yet chocolatey. Grab a spoon—or your own cone—because it's something you might not want to share!
UTAH: Moab Garage in Saint George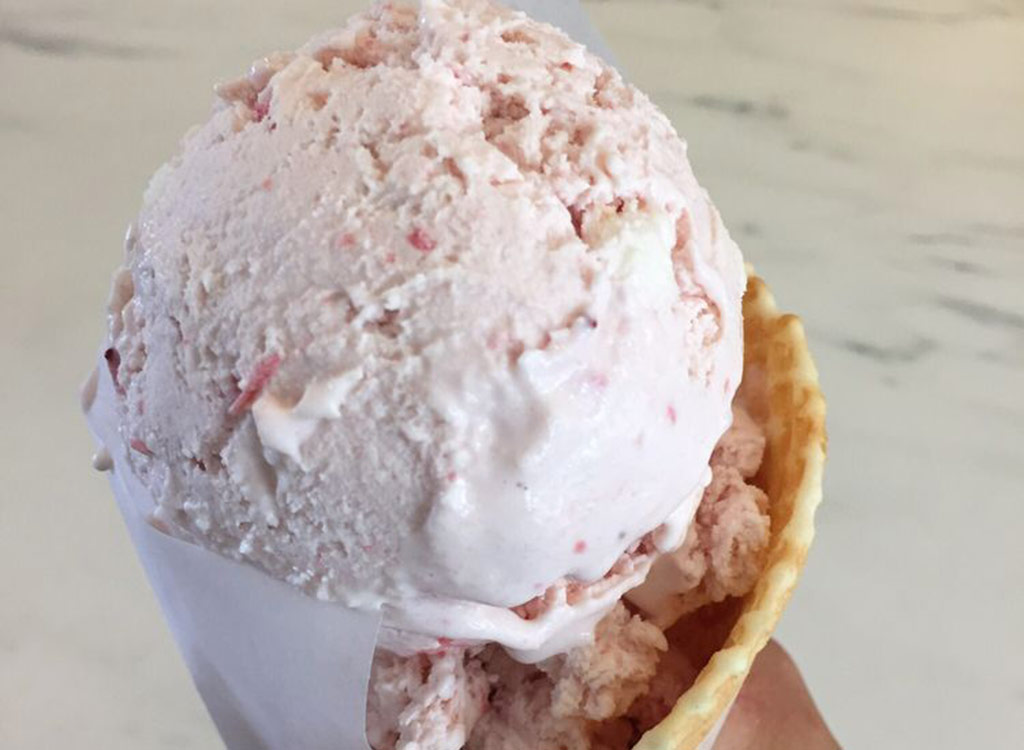 Once you're done hiking through the breathtaking mountaintops in Moab, pop in for a cone at Moab Garage. You'll find delicious flavors like chocolate peanut butter pretzel, cake batter, honey lavender, and espresso chip. Not in the mood for ice cream? They also have pastries, sandwiches, and salads.
VERMONT: Ben & Jerry's in Burlington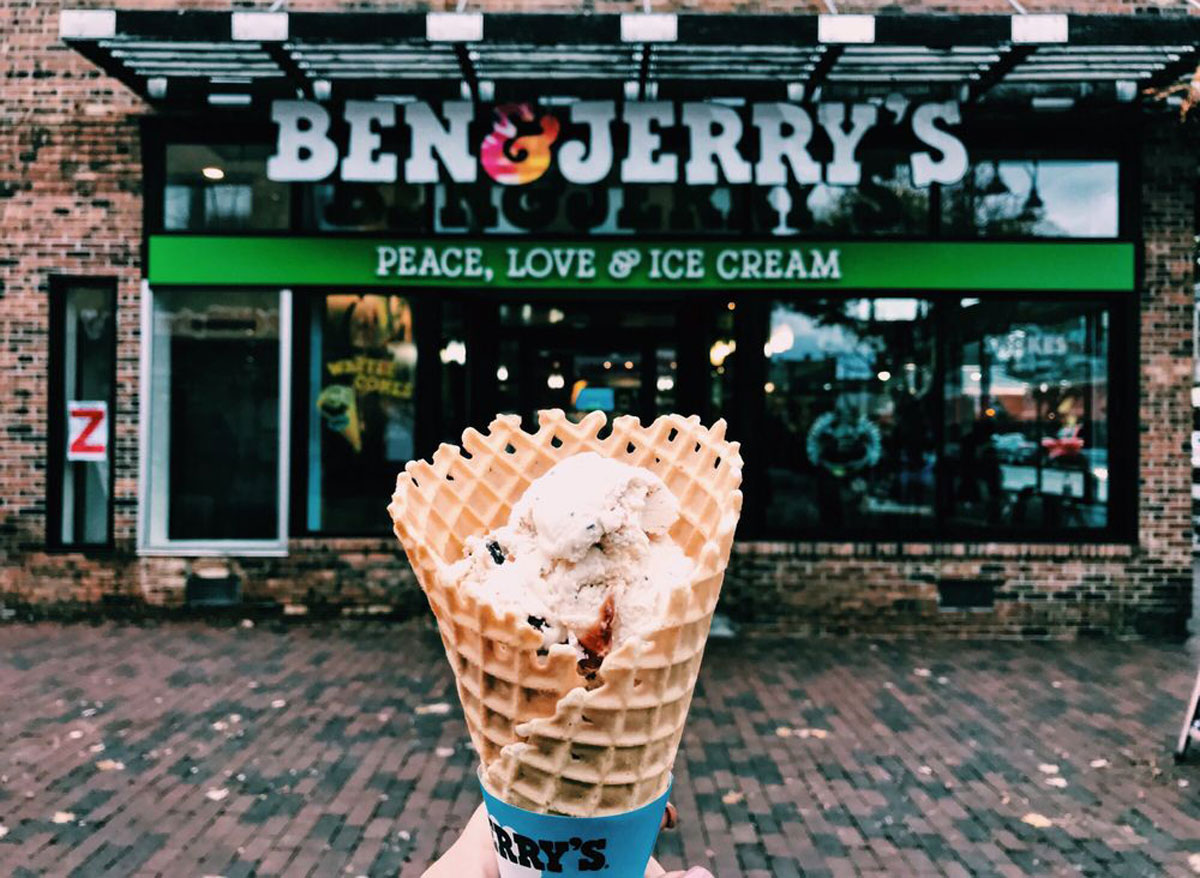 It turns out that Vermont's own Ben & Jerry's is the best place to grab a cone in the Green Mountain State. Here, you can get a scoop of the Tonight Dough or Half Baked in B&J's signature cups.
VIRGINIA: Island Creamery in Chincoteague Island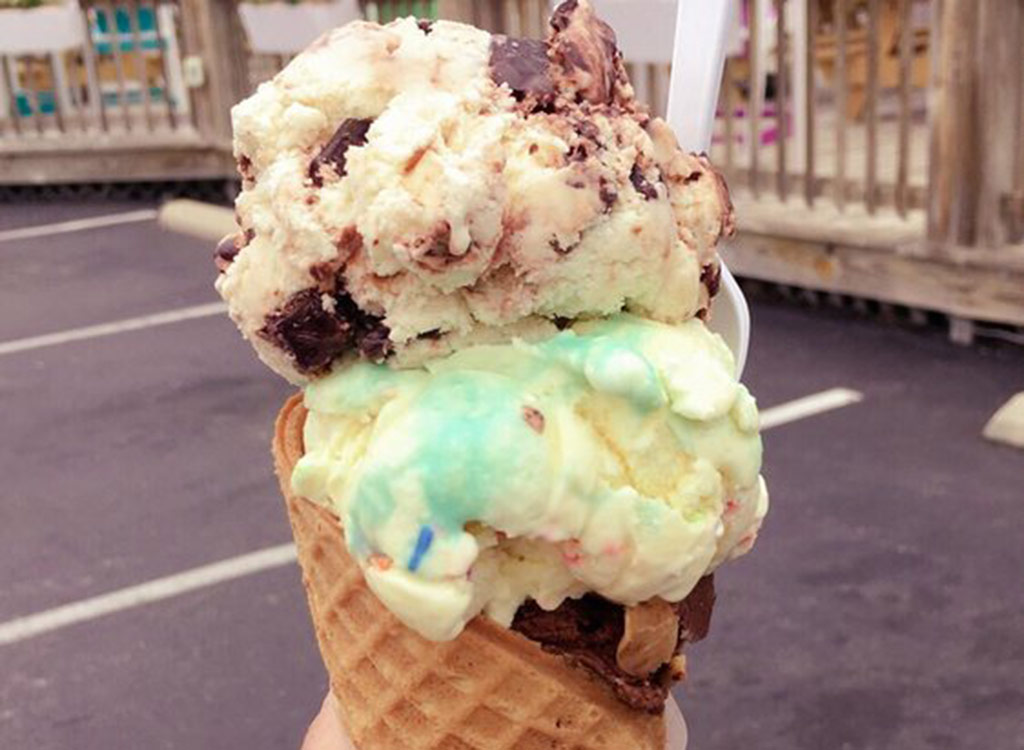 All of Island Creamery's ice cream is homemade in small batches and is made with milk from Lancaster County's cows, so you know it's fresh. Their delicious scoops include birthday cake, vanilla butterscotch, java jolt, and pumpkin pie. If you're hosting a birthday party, they also have ice cream cakes.
WASHINGTON: Sweet Necessities in Yakima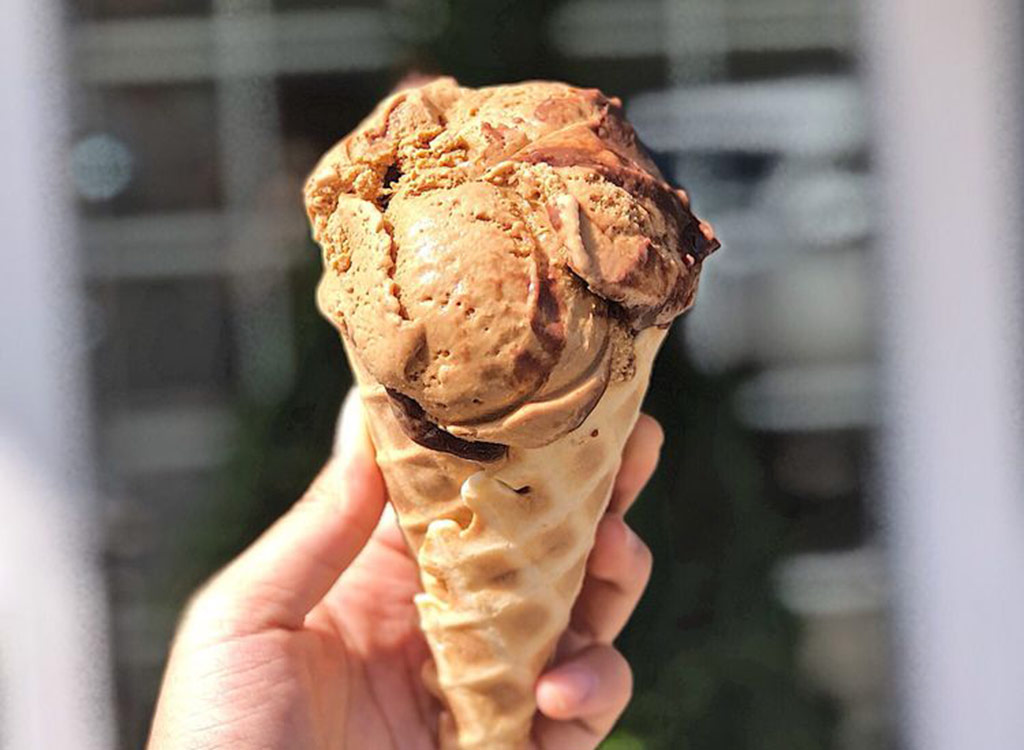 Whether you're craving chocolate, cake, or ice cream, Sweet Necessities has it all. Lick a split of the Kahlua almond fudge and huckleberry ice creams—you won't regret it!
WEST VIRGINIA: Dairy Creme Corner in Fairmont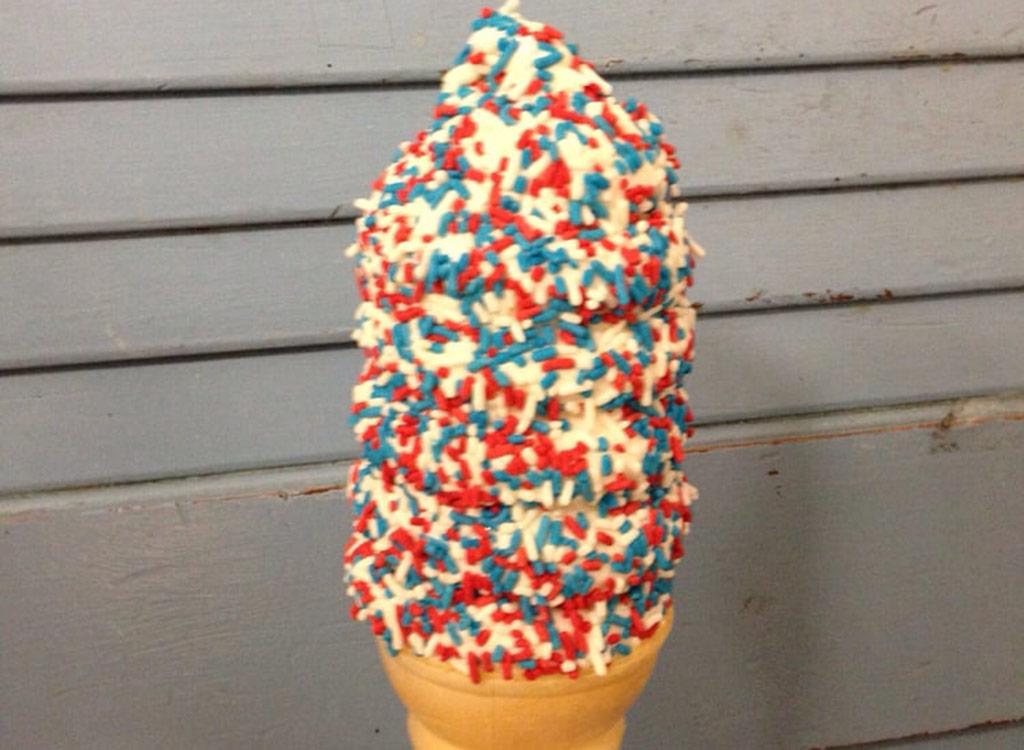 The next time you're in Fairmont, stop by the Dairy Creme Corner for a cone, milkshake, malt, float, or lemonade. Enjoy flavors like banana split, birthday cake, and chocolate cherry.
WISCONSIN: La Michoacana in Madison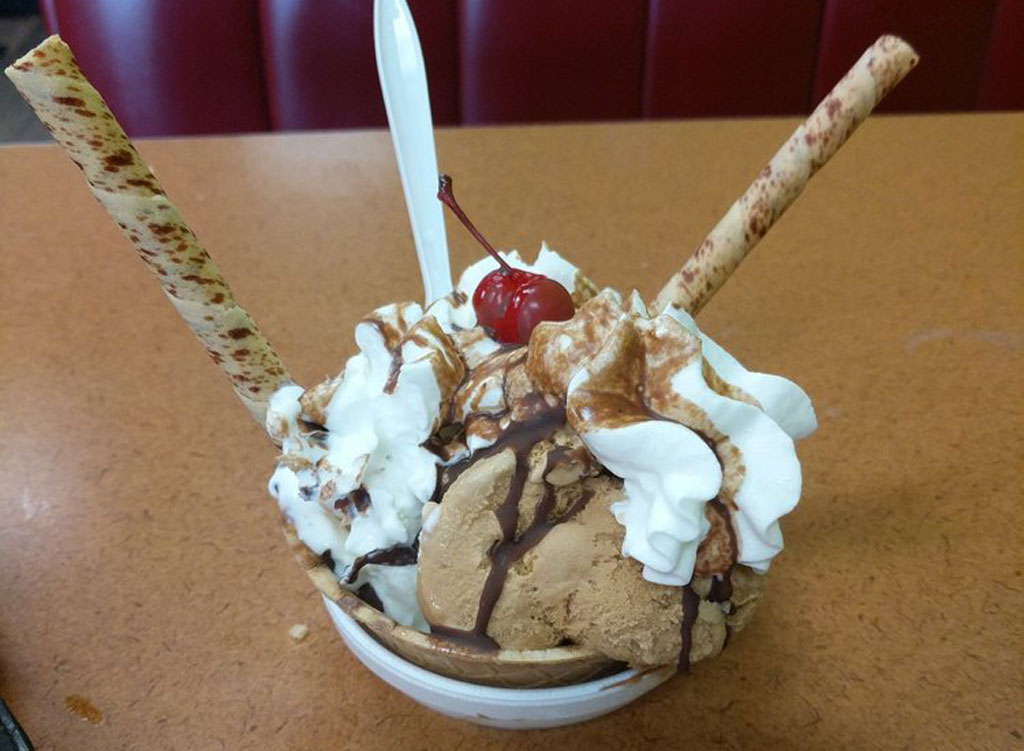 Wisconsin is the unofficial dairy capital of the country and La Michoacana definitely doesn't disappoint. Try out their queso ice cream (yes, it's made out of cheese!) or the 3 Marias sundae that's fit for sharing (or not…)!
WYOMING: Big Dipper Ice Cream in Laramie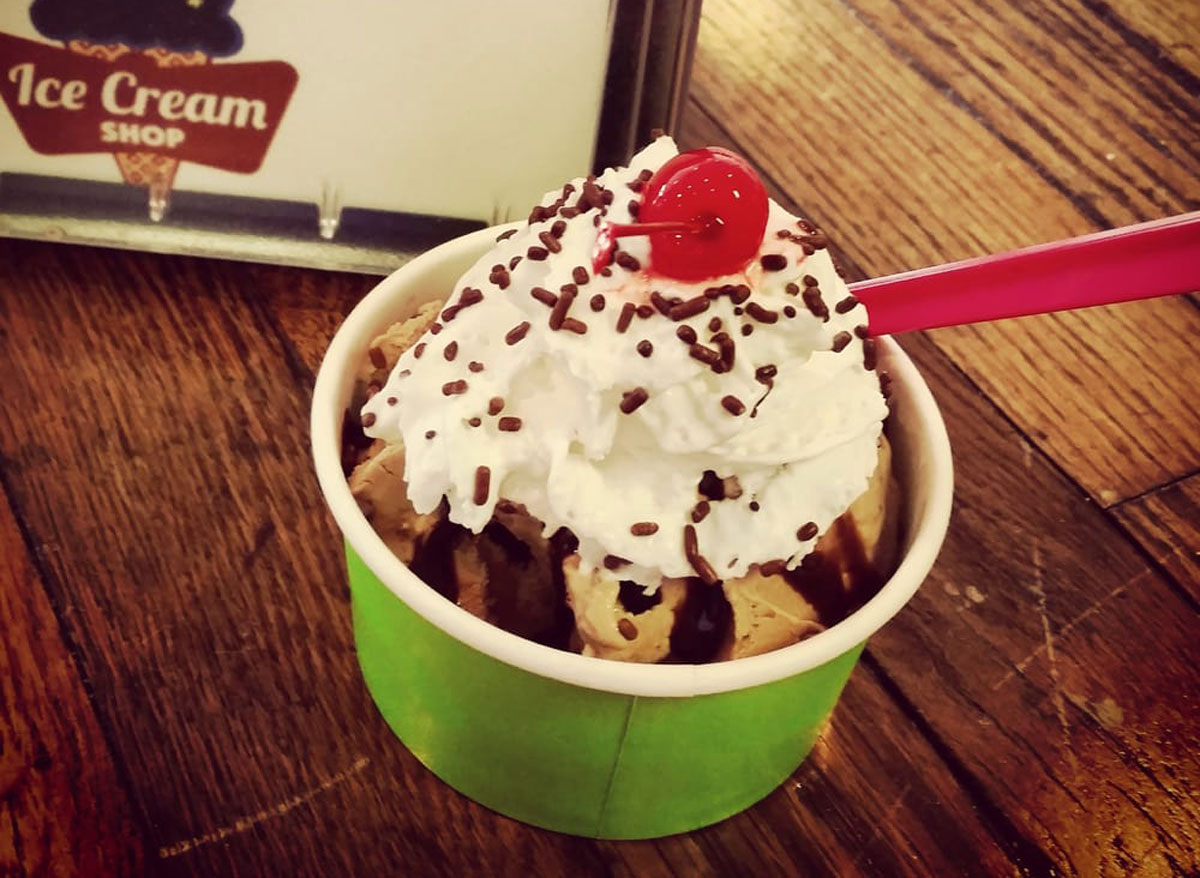 Big Dipper is as fresh as it gets. The Wyoming shop hand-makes its desserts daily and offers ice cream as well as gelato, sorbetto, milkshakes, sundaes, splits, and ices made of locally sourced ingredients. Fun fact: the shop uses a rich 14 percent butterfat milk that's churned at a high speed, lending the frozen treat a fluffier texture. Definitely worth the brain freeze!
Read more:
April Benshosan
April is a born-and-raised Brooklynite who has a passion for all things health, wellness, and tastebud-related.
Read more about April