Go old school with these classic dishes!
When we come across vintage recipes, our minds immediately conjure up scenes of checkerboard floor kitchens, warm summer picnics, and, more often than not, Jello molds. What we love most about retro dishes is that they not only deliver bold flavors, but they also evoke visions of days spent long ago—they allow us to travel back in time without ever leaving our kitchens.
If you're looking to recreate some tried and true dishes of yesteryear, then look no further. From a delicious cookie recipe borrowed from a classic Hollywood star to a dish that got its start at the 1964 New York's World Fair, these are 25 of the best vintage recipes that are a total blast from the past.
And for more, check out 22 Meals to Melt Belly Fat in 2022.
Cheese Fondue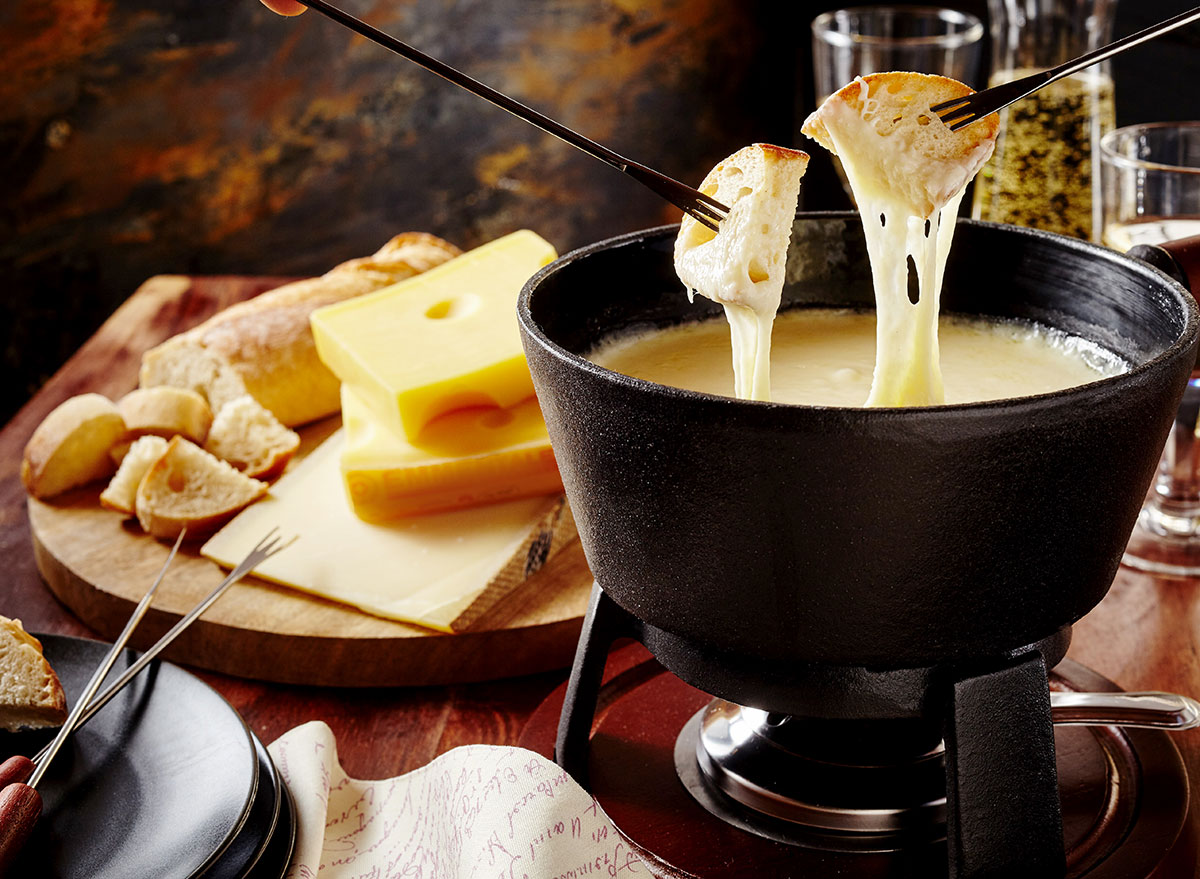 Although the first known recipe for cheese fondue dates all the way back to the 1880s, it wasn't until the 1930s that it became a big hit in Switzerland, after it was heavily promoted by the Swiss Cheese Union to help up cheese intake. Fondue remains a fan favorite in the States to this day after it was shared with American audiences at the 1964 World's Fair in New York.
Get the recipe from Bartleby.
Chicken Ala King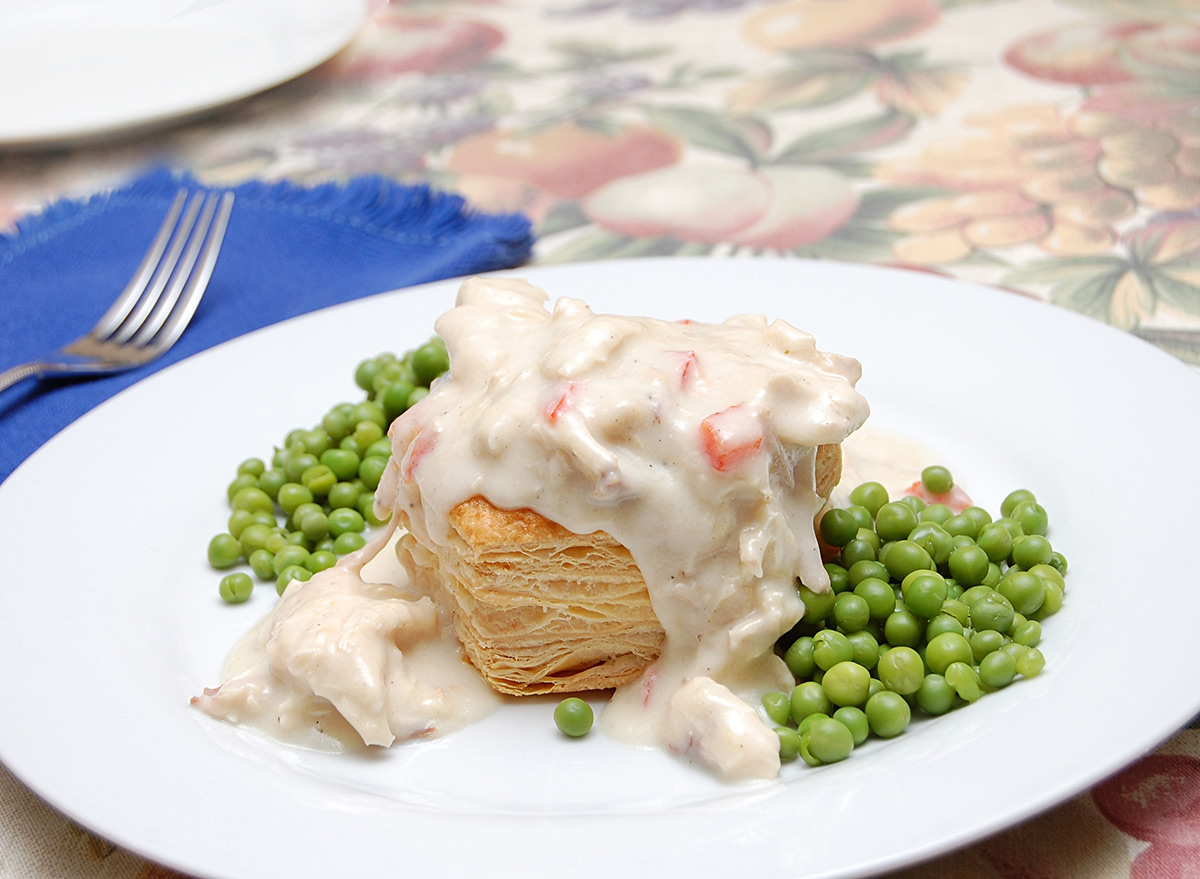 Although there are many different variations about how Chicken Ala King came about—some claim it started at Delmonico's in New York City, while others believe it originated at Claridge's in London—one thing is for sure: It is incredibly delicious. This particular recipe for the tasty dish, dating back to 1951, uses cream of mushroom soup, canned pimiento, and sherry to achieve its signature taste.
Get the recipe from The Henry Ford.
Lemonade Chiffon Pie with Lemonade Crust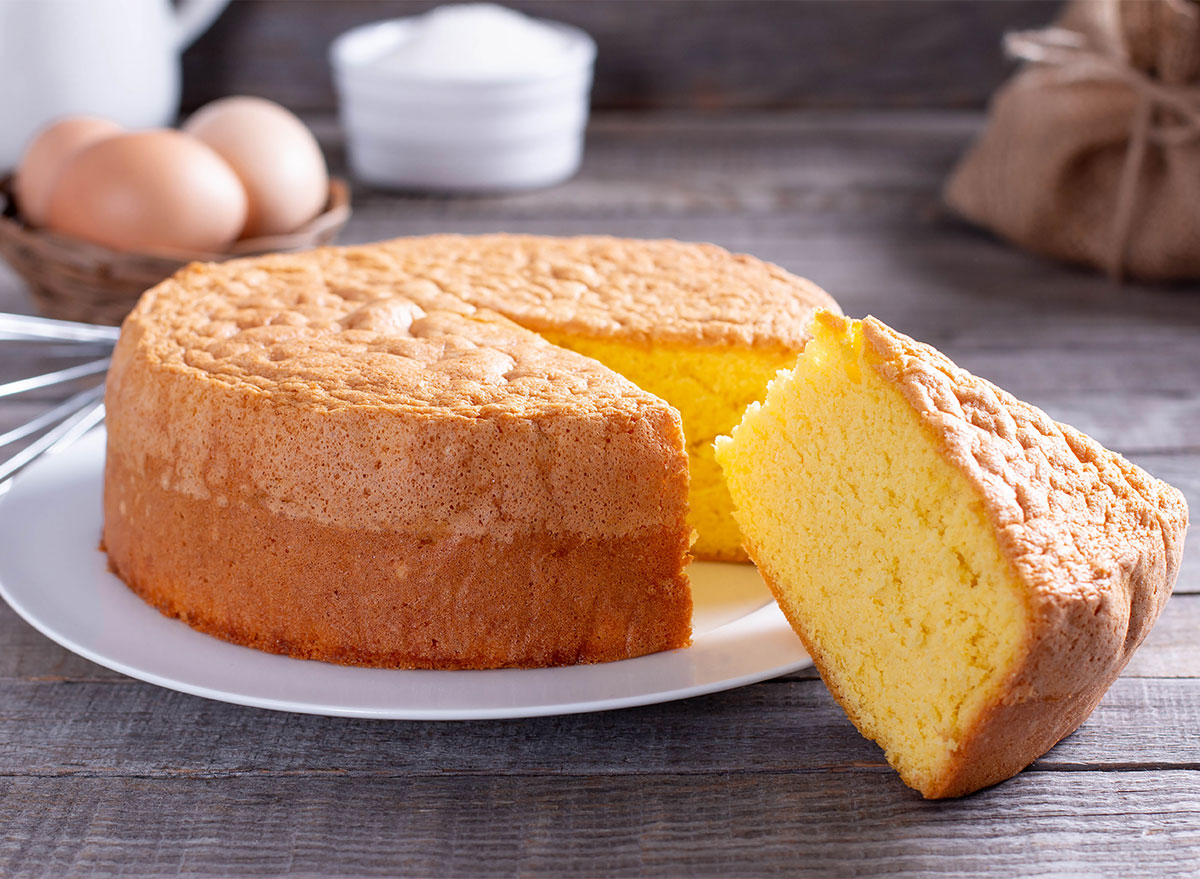 The next time you are looking to whip up a sweet treat for your family or friends, why not try this Lemonade Chiffon Pie recipe? This specialty dessert, which graced many kitchen tables in the 1950s, uses frozen lemonade, sugar, and heavy cream to achieve the perfect balance of sweet and tart. Be sure to dress the pie up with fresh strawberries and shredded coconut before serving for the full retro effect.
Get the recipe from Click Americana.
Old Fashioned Corn Pudding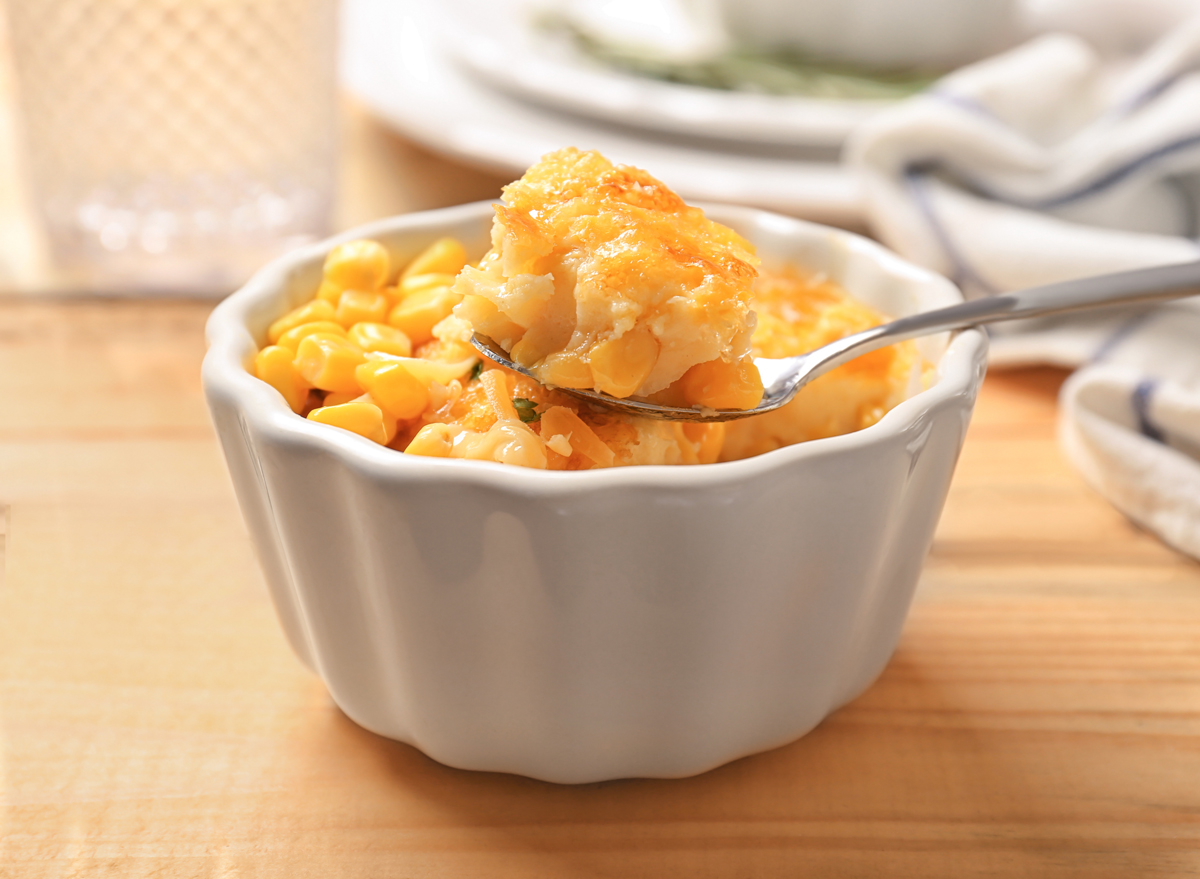 You may already be familiar with tapioca and rice pudding, but many years ago, corn pudding stole the show. Made using ingredients such as milk, canned creamed corn, sugar, and nutmeg, this dish is said to have originated with Native Americans and is still popular today among the Southern states and Appalachia.
Get the recipe from Vintage Recipes.
'50s Frosted Sandwich Loaf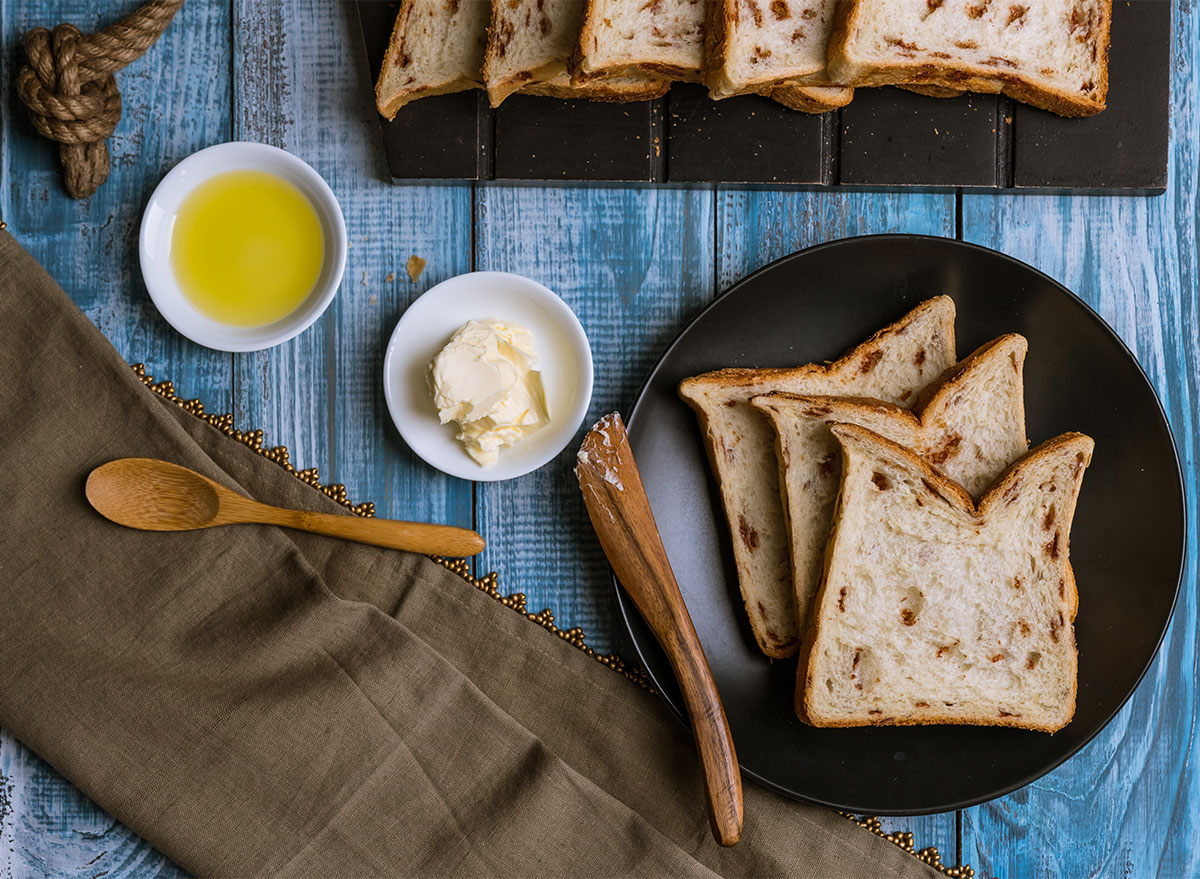 If you went to a party in the 1940s or '50s, chances are you would have seen a version of the frosted sandwich loaf on full display. Featuring layers of bread stacked between meats, chopped vegetables, and other fillings, this centerpiece dish was slathered in whipped cream cheese and topped with garnish. Not going to lie, this kind of sounds like a dream.
Get the recipe from Lost Recipes Found.
Welsh Rabbit
Contrary to what its name may sound like, this recipe does not have any rabbit in it. Instead, it is a thick cheese sauce made from ingredients such as milk, butter, cheese, and Tabasco sauce, served over toast or crackers. This traditional dish, which dates all the way back to 1931, can easily be altered to spice it up a bit, too. For instance, the plain toast can be swapped out for ciabatta bread or you could also whip up a vegan version.
Get the recipe from The Henry Ford.
All-American Potato Salad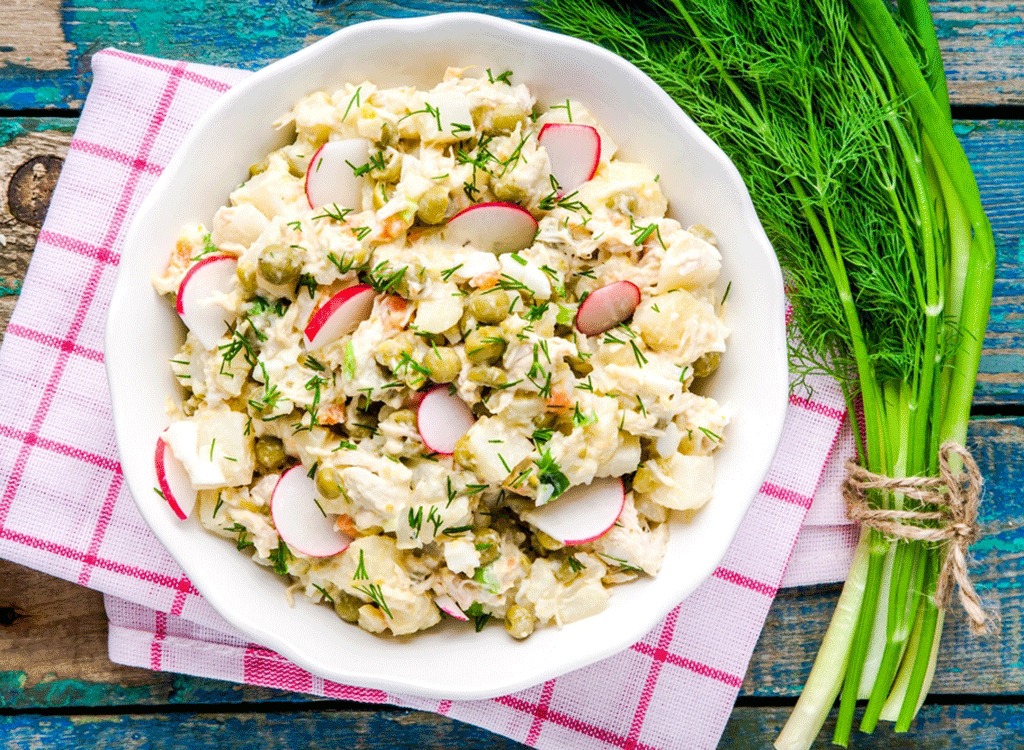 It seems as if no picnic or barbecue feels complete without potato salad. The American version of this common dish has its roots in German cooking and made its way over to the United States via European settlers many years ago. We love how this recipe, which was featured in the Milwaukee Journal in 1963, includes bleu cheese, lemon juice, and chopped celery to give even more oomph to an already delicious side.
Get the recipe from the Milwaukee Journal via the Historic Recipe File.
Vintage Pecan Icebox Cookies
Icebox cookies, which are made from dough that is made ahead and kept on-hand in the refrigerator, became increasingly widespread starting in the 1920s. Easy to prepare and even easier to store, this slice and bake cookie is teeming with both taste and convenience. This particular recipe, found in an Imperial Sugar cookbook from the 1930s, uses chopped pecans and brown sugar to help create this delicious treat.
Get the recipe from Imperial Sugar. 
New England Meat Pie
The New England Meat Pie, which is packed with ground beef, mixed vegetables, and hash browns, has been a longtime favorite of people living across Canada and in the New England states. Also known as a tourtiere, this pie was often served during holidays, such as Christmas.
Get the recipe from Dinner Is Served 1972. 
Katharine Hepburn's Lace Cookies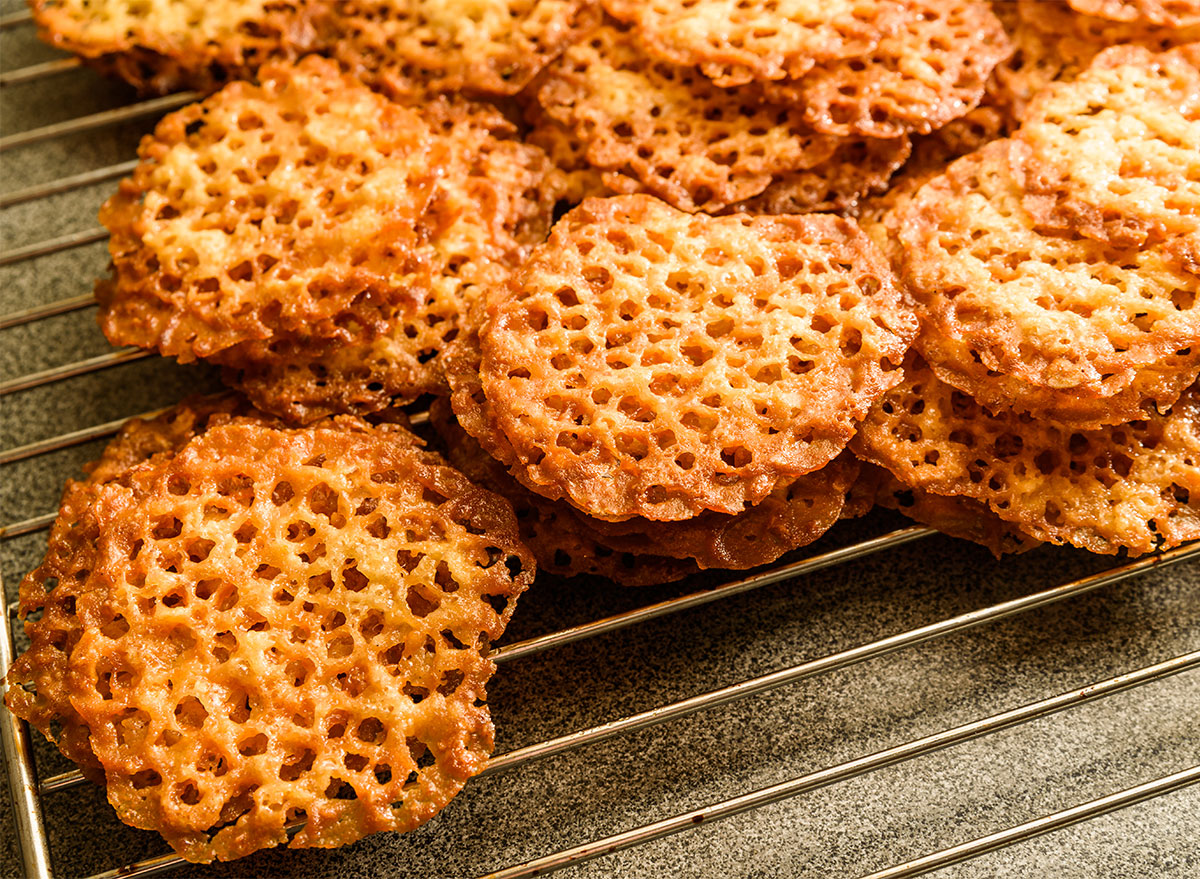 Katharine Hepburn, the iconic silver screen starlet that acted in Hollywood films for over 60 years, baked her own version of lace cookies often with this timeless recipe. Made from ingredients such as butter, sugar, flour, and pecans, this delicate dessert is perfect to serve with a hot cup of tea or crumbled atop a bowl of vanilla ice cream.
Get the recipe from In The Vintage Kitchen. 
Coq Au Vin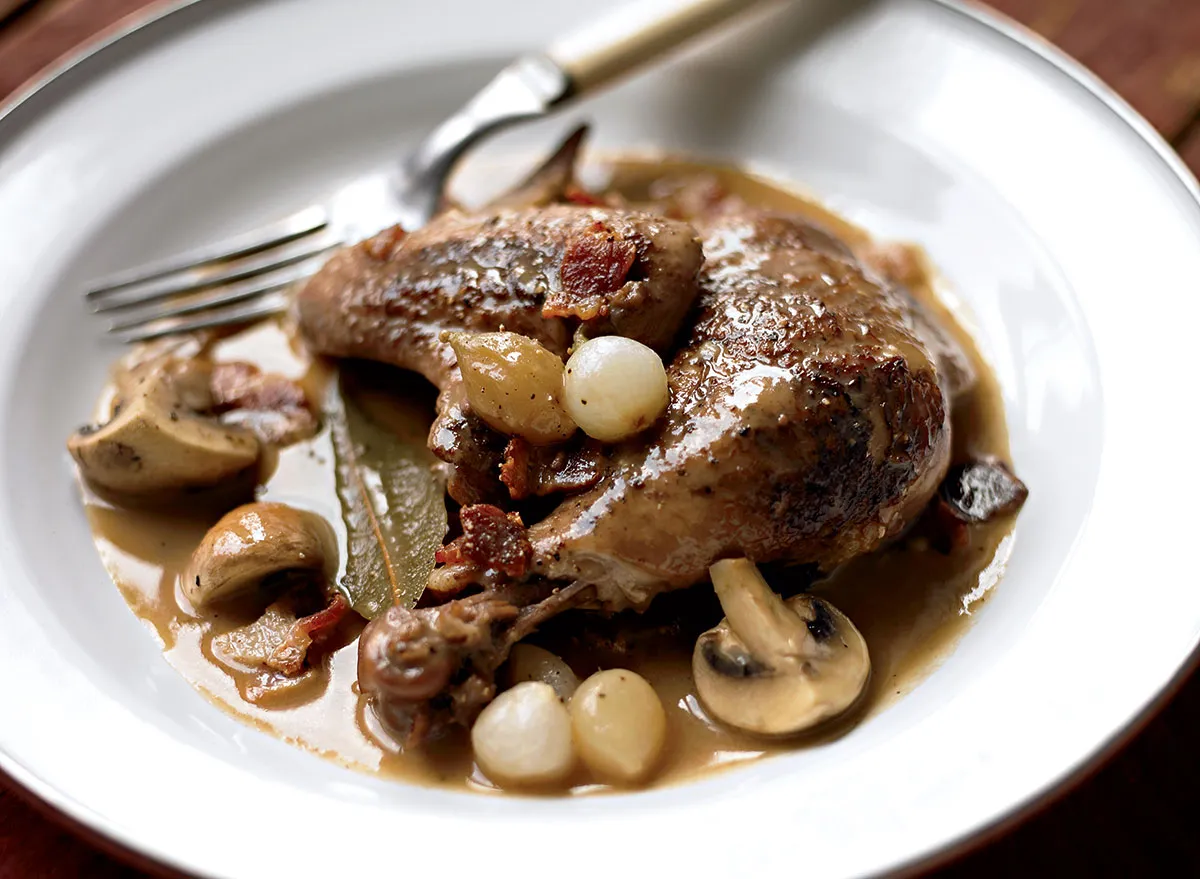 Coq au Vin, which can be directly translated from French to English as meaning "rooster in wine", has roots going all the way back to Julius Caesar and ancient times. However, it was not until Julia Child prepared the recipe on a 1961 PBS cooking show that people began to take notice of this mouth-watering dish. Made with chicken slow-cooked in red wine, mushrooms, and white onions, we can see why it is still a hit among many.
Get the recipe at Vintage Recipes. 
Creamy Cottage Cheese Dip
Although yogurt is popular among many people now, back in the 1970s, cottage cheese was in everyone's refrigerators. In fact, it has been reported that back then the average person ate around five pounds of cottage cheese per year. This retro creamy cottage dip recipe, which calls for Lipton Beef Flavor Mushroom Mix, cottage cheese, sour cream, and chopped tomatoes, tastes great served with chopped raw vegetables and toasted crackers.
Get the recipe from Click Americana. 
Herbed Meatloaf
Meatloaf seems to be one of those dinner dishes that never go out of style. This particular recipe, which comes from The New York Times' 1961 cookbook, calls for three different types of ground meat and a medley of herbs to create this culinary classic.
Get the recipe from The Henry Ford. 
Coca-Cola Cake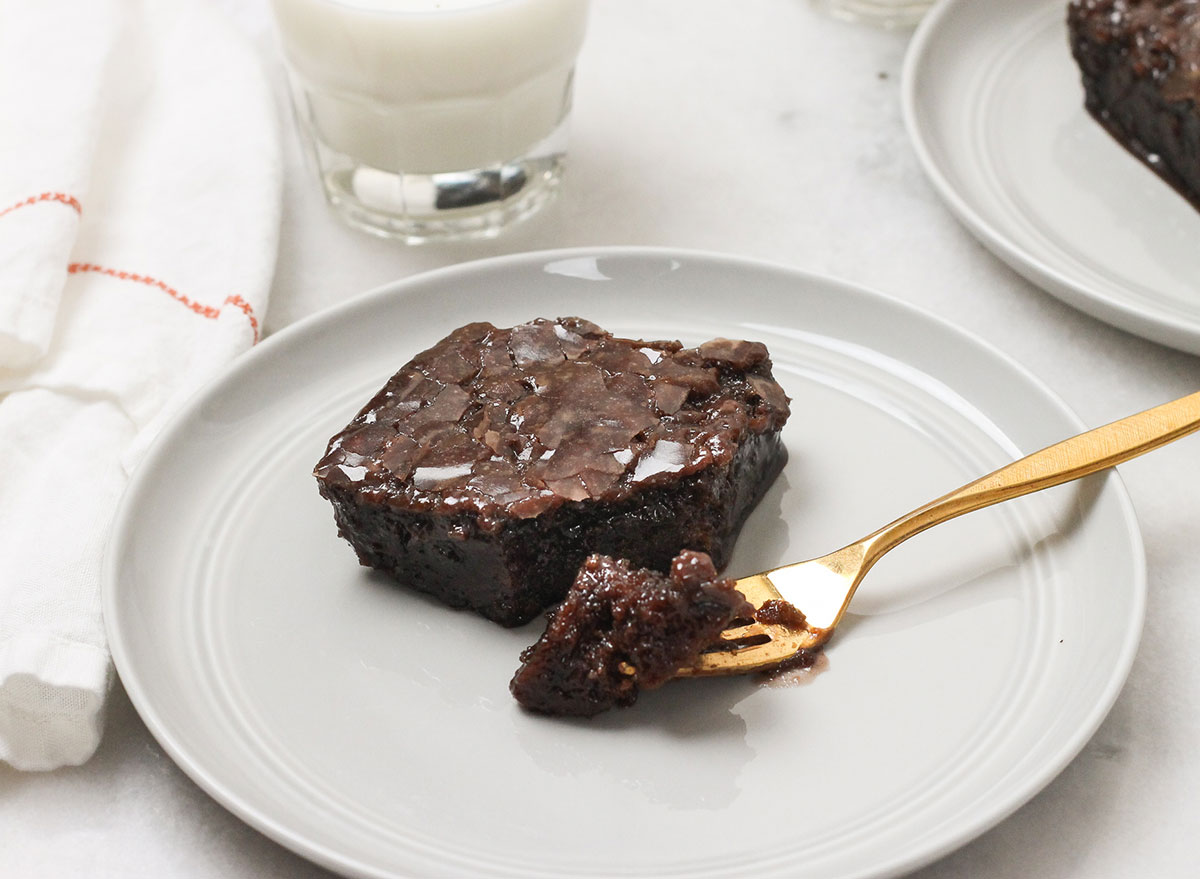 Back in the 1960s and '70s people weren't just drinking soda, but they were baking with it, too. The Coca-Cola cake, which has roots in the deep South, was made using unexpected ingredients such as Coca-Cola, mini marshmallows, and buttermilk. If you decide to whip one up, be sure to frost the cake with chocolate fudge and top it with chopped pecans to wow your guests.
Get the recipe from Vintage Confections. 
Lime Jello Salad
If you never expected to hear the words "jello" and "salad" together then we have a surprise for you. Jello salads date all the way back to the early 1900s and were often a go-to dish to bring to family picnics and potluck parties. In this specific recipe, lime and lemon jello is combined with cottage cheese, crushed pineapple, and, perhaps most surprisingly, mayonnaise.
Get the recipe from Vintage Recipes. 
Brownie Baked Alaska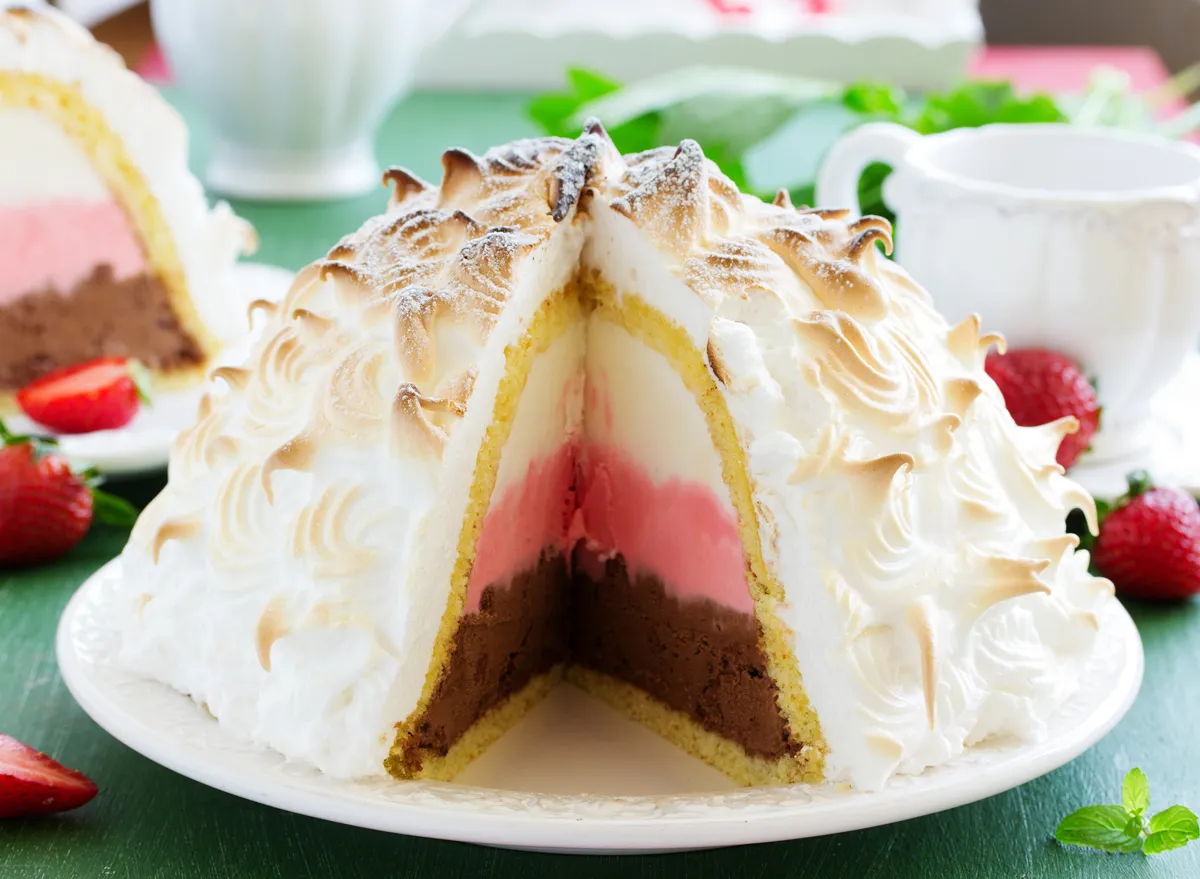 If you haven't had a baked Alaska yet, you're missing out. The confectionary, which features ice cream, browned meringue, and cake or brownies (aka all good things), is a must-have dessert to serve for your next dinner get-together. Although there are many variations as to how baked Alaska came about, it is said that it got its iconic name from New Orleans chef Antoine Alciatore in 1867.
Get the recipe from Imperial Sugar. 
Beef Bourguignon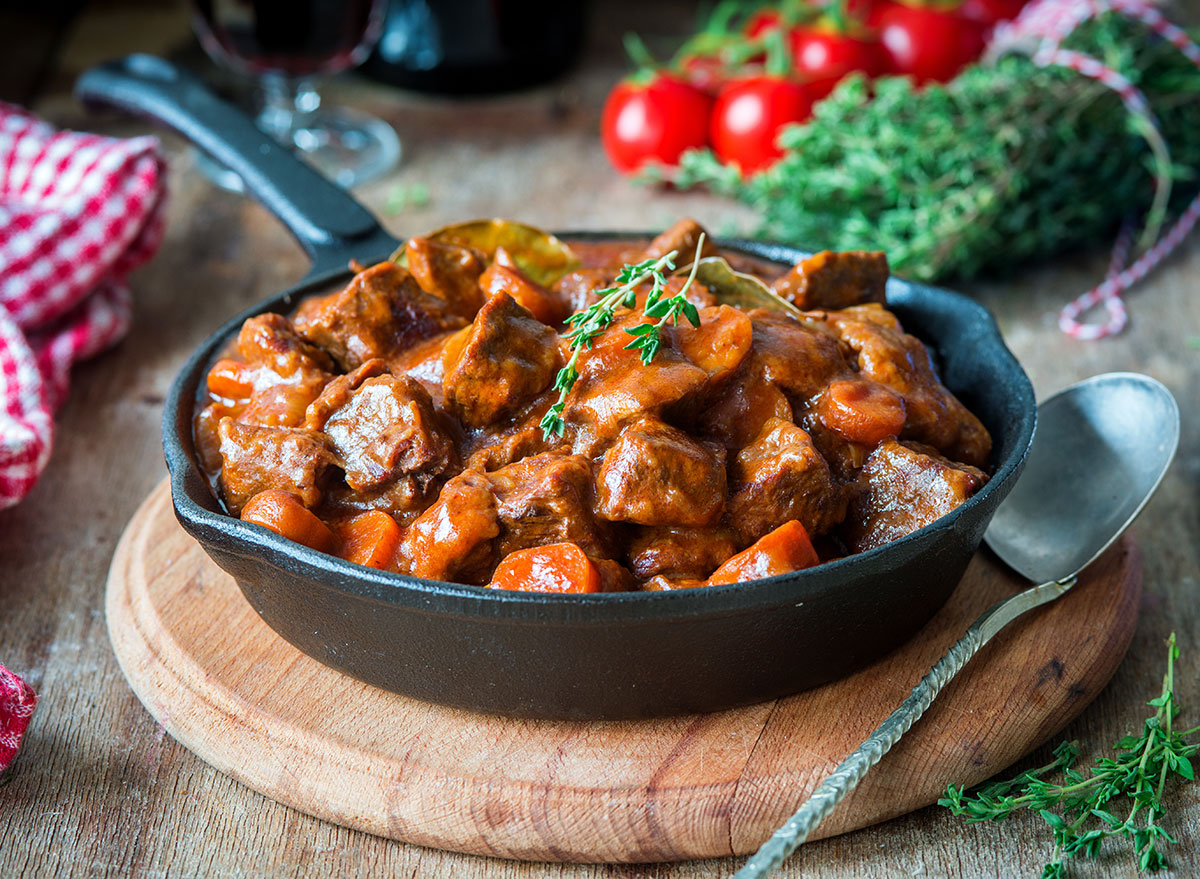 If you are looking for a new beef stew dish to add to your recipe rotation, then you have just hit the jackpot. Beef Bourguignon, which is a thick stew recipe made from cubes of tender meat, chopped vegetables, and red wine, first came onto the scene in 1952 when a recipe for it was published in the NYC morning newspaper The Trib.
Get the recipe from Lost Recipes Found. 
Chicken Salad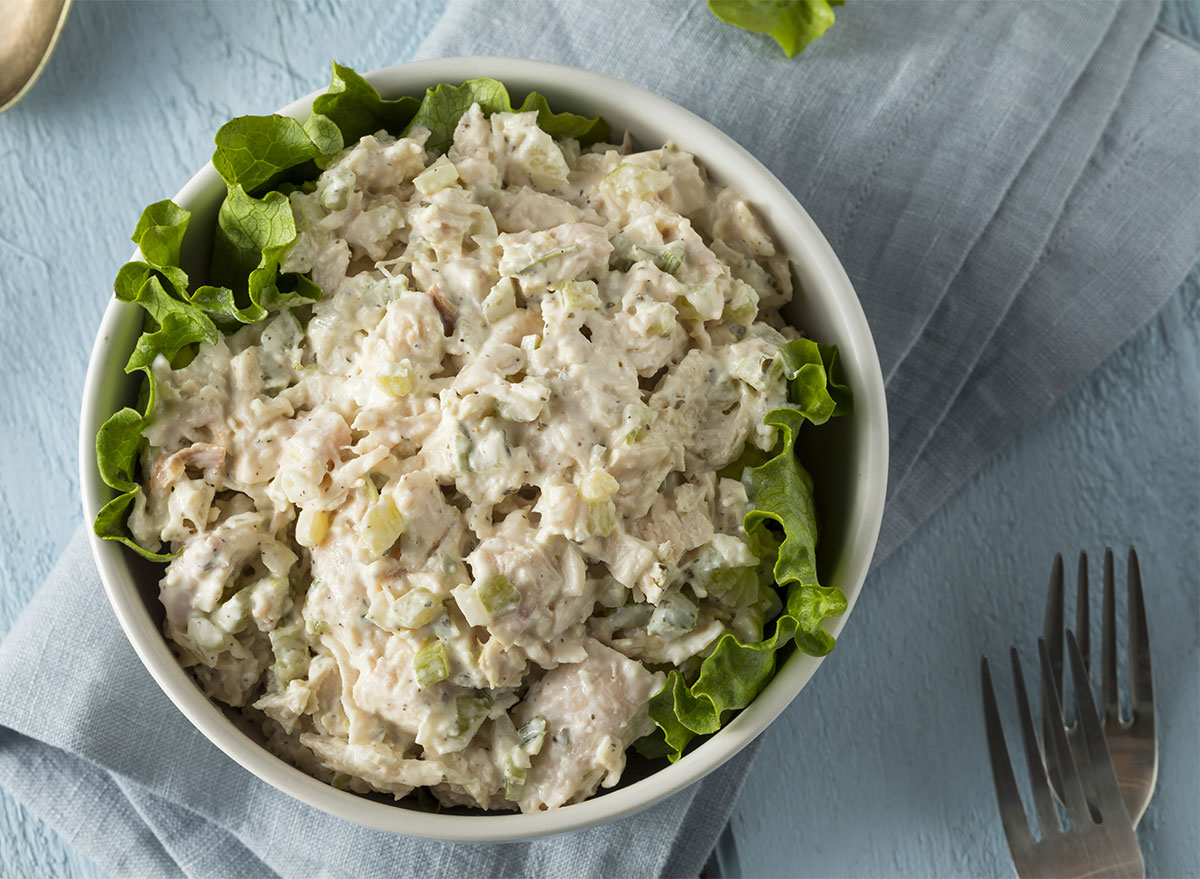 Enjoyed between two pieces of ciabatta bread or spread over crispy crackers, chicken salad is one of those meal options that just seems to always hit the spot. Not to mention, it is incredibly easy to make. This recipe, which appeared in a 1932 edition of the Macy's cookbook, adds some unexpected, but flavorful, ingredients to it, including cut pineapple, capers, and stuffed olives.6254a4d1642c605c54bf1cab17d50f1e
Get the recipe from The Henry Ford. 
Carnival Ice Cream Cake
Next time you need a birthday cake, why not forego Carvel and Baskin-Robbins and instead give this retro Carnival Ice Cream Cake recipe a try? First published in the 1975 edition of Betty Crocker's Recipe Card File, this colorful cake is not only delicious but also fun to make. The secret to its vibrant colors and undeniable sweetness? Powdered soft drink mixes!
Get the recipe from Betty Crocker. 
Celery and Cabbage Salad
This simple crispy celery and cabbage salad recipe, which features chopped cabbage, diced celery, and a creamy dressing, was first published in an early 20th-century cookbook by Fannie Farmer. Farmer, who was a culinary expert based in Boston in the late 1800s and early 1900s, published many cookbooks throughout her illustrious career and is still well-known among cooks today.
Get the recipe from the Farmer's Cookbook via Bartleby. 
Pineapple Upside-Down Cake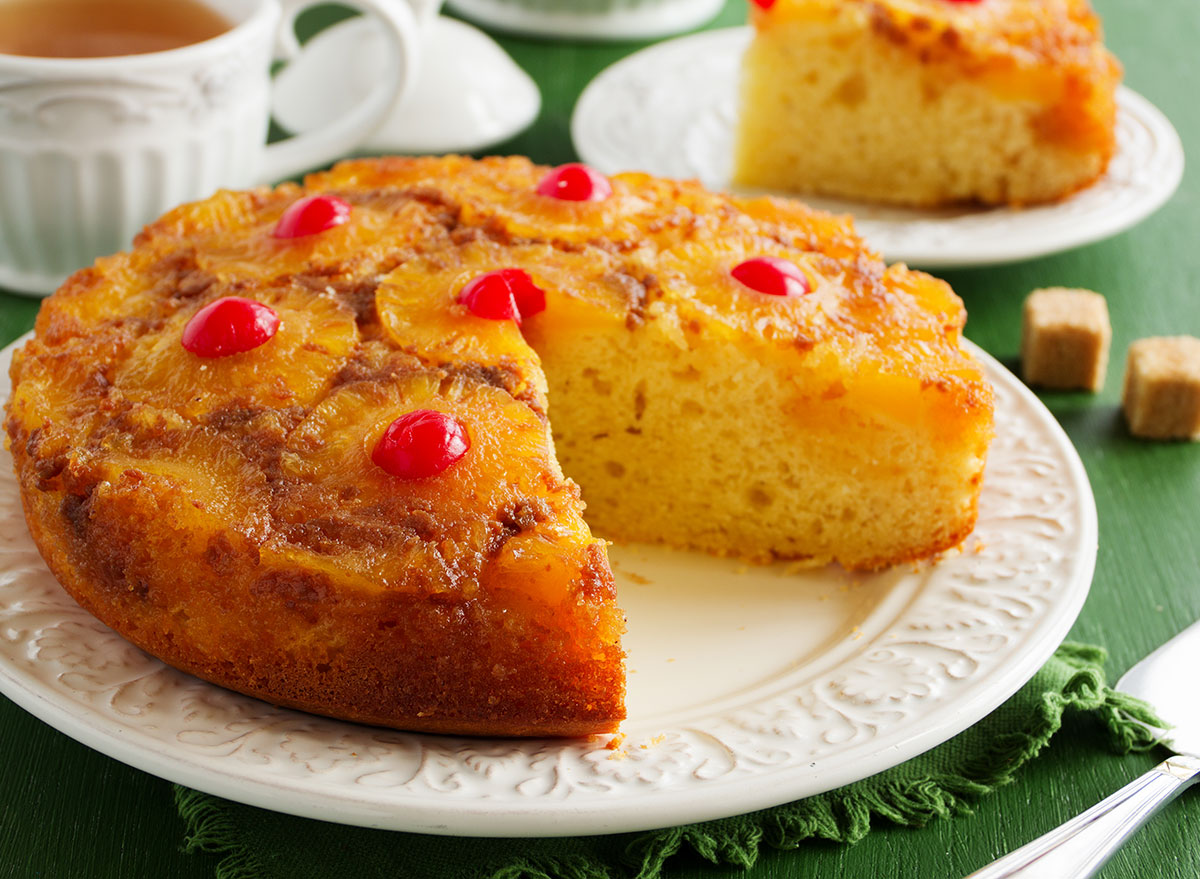 Pineapple Upside-Down Cake, the tasty dessert that keeps you coming back for more, first received a wave of popularity in 1925 when the Hawaiian Pineapple Company (which is now Dole) sponsored a pineapple recipe contest—and we can see why. This recipe, which calls for brown sugar, maraschino cherries, and canned pineapple, is hard to say "no" to.
Get the recipe from the Vintage Housewife. 
Yankee Doodle Pizza Pie
This Yankee Doodle Pizza Pie, which appeared in an old Life magazine years ago, is a unique spin on more ho-hum pizza recipes. For starters, it is topped with baked beans, green pepper rings, and anchovies.
Get the recipe from Retro Recipe. 
Spaghetti Pie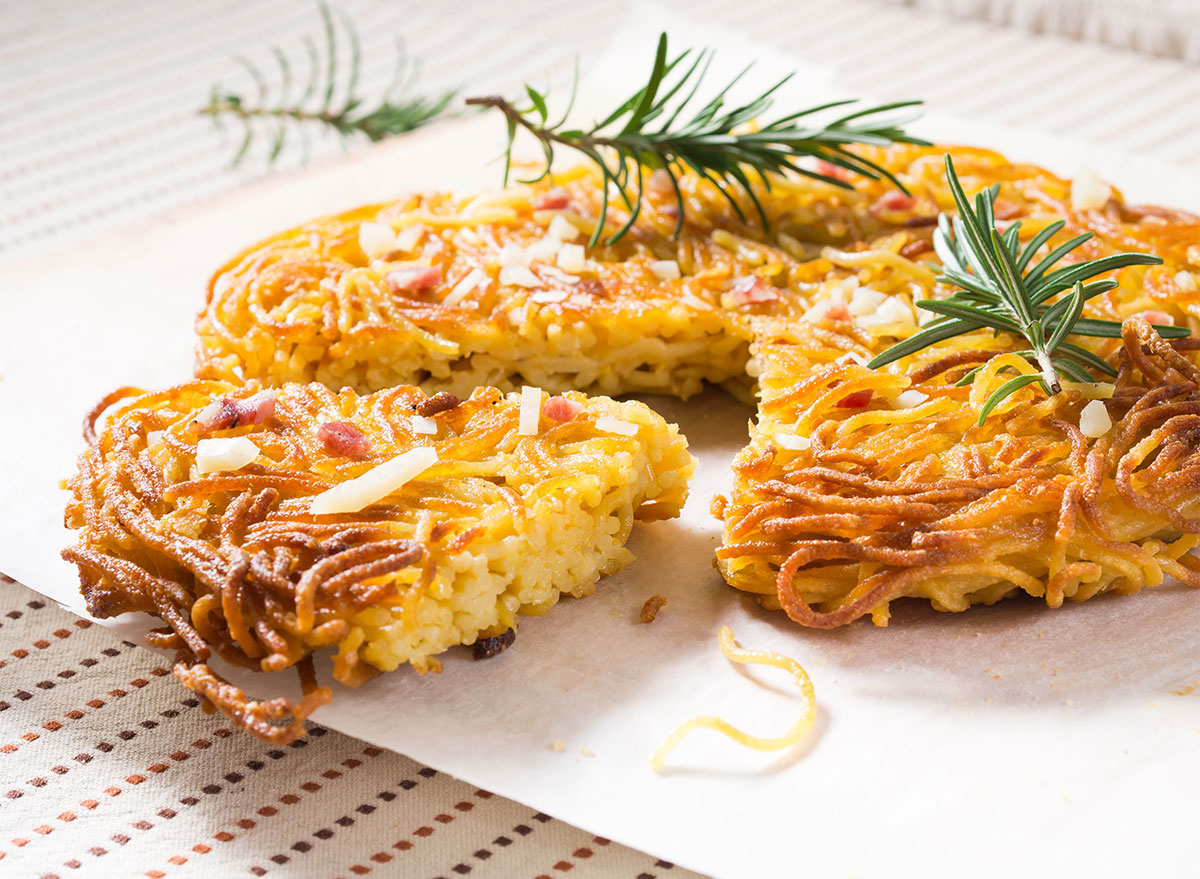 If you are looking for an inventive way to prepare your next pasta dish, look no further than this vintage Spaghetti Pie recipe, which appeared in cookbooks in the mid-1970s. Made from comforting ingredients such as spaghetti, parmesan cheese, butter, and ground meat, this pie is assembled and baked to perfection in the oven. Our favorite part? The spaghetti "crust."
Get the recipe from Click Americana.
Green Bean Casserole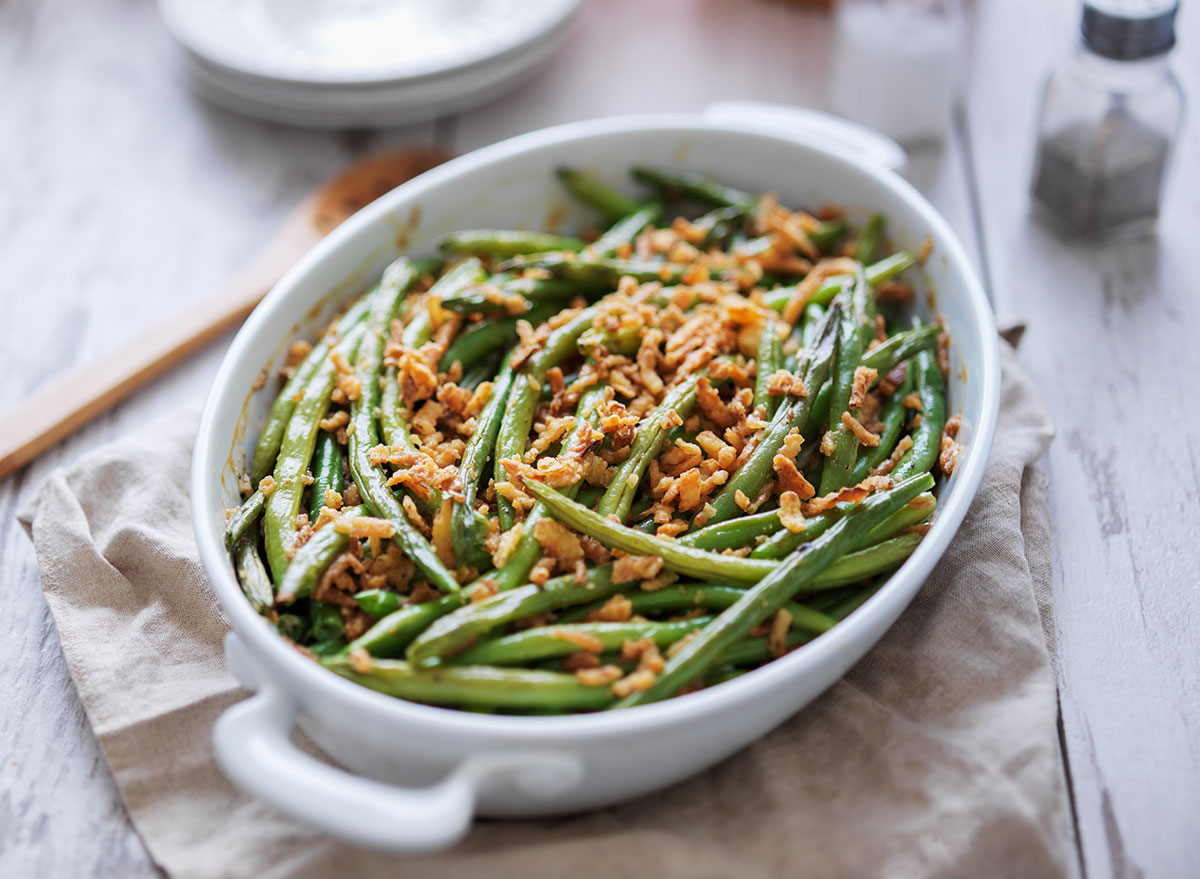 We love how just the mere mention of "green bean casserole" brings back memories of holiday get-togethers and family gatherings. The creamy dish, which was created by Campbell Test Kitchen Manager Dorcas Reilly in 1955, is not only tasty but also timeless.
Get the recipe from Campbell's. 
18th Century Trifle
Trifles are not only wonderful to enjoy, but they are also nice to look at. This 18th Century Trifle recipe, which is from an ancient cookbook dating back centuries, calls for boudoir biscuits, double cream custard, rose water, and fresh fruit. We could easily enjoy this with a cup of tea while binge-watching Bridgerton.
Get the recipe from Retro Food Modern Times.