Snow Sports Can Affect Your Mental Health More Than You Thought, New Research Says
Grab your snow boots, and embrace the positive aspects of some wintertime fun.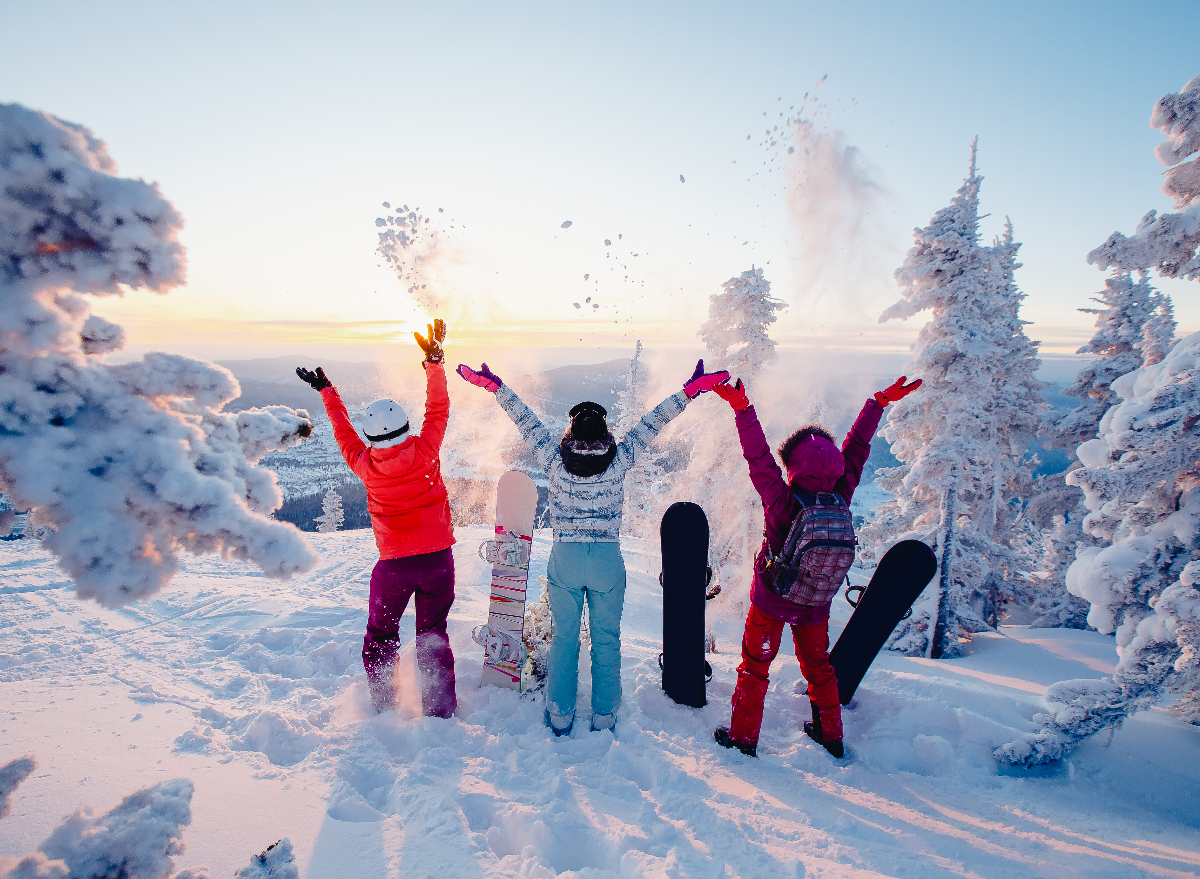 Let's not underestimate the effect a beautiful white winter can have on your overall well-being. It's easy to associate this season with bundling up in more layers than you'd like to, battling miserably cold temps, and having a love-hate relationship with your snowblower. But new research by Snow+Rock reveals that there are some major mental health benefits of snow sports that people really enjoy experiencing, and previous research backs it up.
So, don't stress over the season. Instead, put on your cozy winter parka and favorite pair of snow boots, and embrace the truly positive aspects of some wintertime fun! Read on to learn more, and next up, check out The 6 Best Exercises for Strong and Toned Arms in 2022, Trainer Says.
This new research indicates just how much people are missing the mental health benefits of snow sports, as the world continues to navigate COVID
In the name of their annual British Snowsports Poll, Snow+Rock initiated a survey that reached out to more than 2,000 British winter sports fanatics. They researched how the participants feel about missing snow sports—more specifically, how winter sports fans miss the mental health benefits of participating in snow activities, as our world continues to cope with the ongoing affects of COVID. This poll reveals people are invigorated and feel alive when being active and getting social on the slopes. It's evident that snow sports feed the body and the mind in more ways than one.
Related: Popular Foods That Are Supporting Your Mental Health, Says Expert
Those who are pro-snow sports make a seriously good argument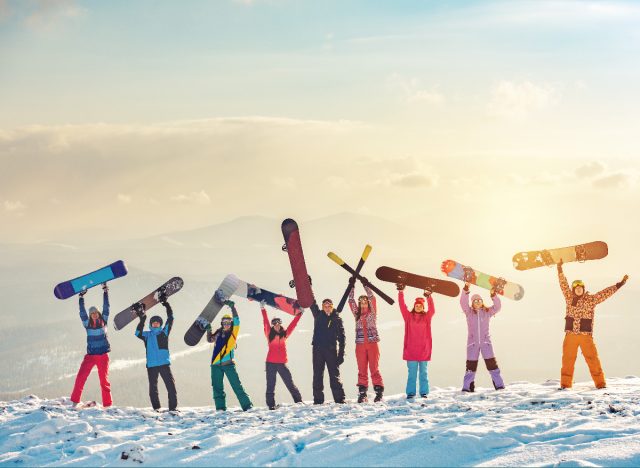 Skiing and snowboarding are just two of the many snow activities you can get involved in. They involve focus, challenge, and skill. It's not uncommon to push outside of your comfort zone when you're shredding it on the slopes.
In the Snow+Rock survey, 38% of those who are proudly pro-winter indicate they've missed the positive ways that snow sports enhance their mental health when they could not get out there and play in the snow during the ongoing coronavirus pandemic.
Interestingly enough, 91% of those surveyed agree that winter-themed getaways make for better bonding time with their family and significant other than basking in the sun on a beach. An impressive 81% expressed they miss shredding the gnar and snowy peaks in general more than they would miss summer excursions, and 94% of those surveyed reveal they've developed a newfound appreciation of winter escapes throughout the COVID-19 pandemic.
Snow fanatics also miss the unparalleled mountain views, and of course, après-ski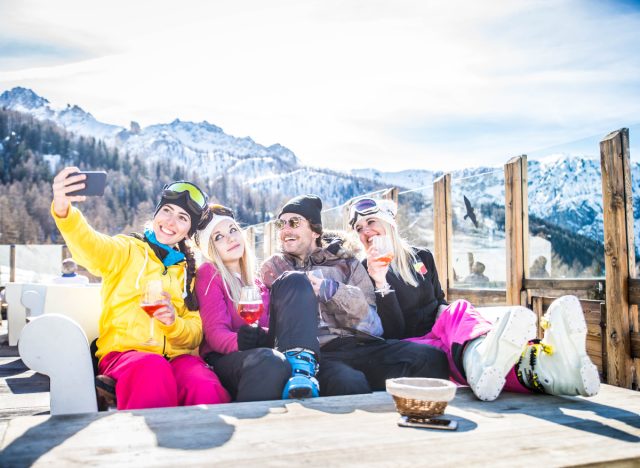 Of the special winter moments, those surveyed miss the scenic mountain views and feeling so alive when taking on the slopes. Not surprisingly, 59% feel après-ski time and dining are both crucial parts of their overall snowy experience. Working from home is a big plus in extending winter relaxing time, although over 50% of those asked indicate ski resort restrictions and the pandemic have caused much concern.
And then, there's that undeniable rush of adrenaline. Of those surveyed, 20% indicate gliding down a picturesque trail and racing loved ones on the way down is truly missed.
According to Jose Finch, Managing Director of Snow+Rock, "As enthusiasts ourselves, we understand there are so many benefits of a visit to the slopes. Being in nature, spending time in the alpine air, and getting away from the daily grind all provide an unbeatable feeling and we hope that there is still the chance to travel this season." Finch described time in the snow as "a tonic for the soul."
Related: How Shoveling Snow Affects Your Body May Be Cause For Concern
Research has proven that winter exercises offer a wealth of health benefits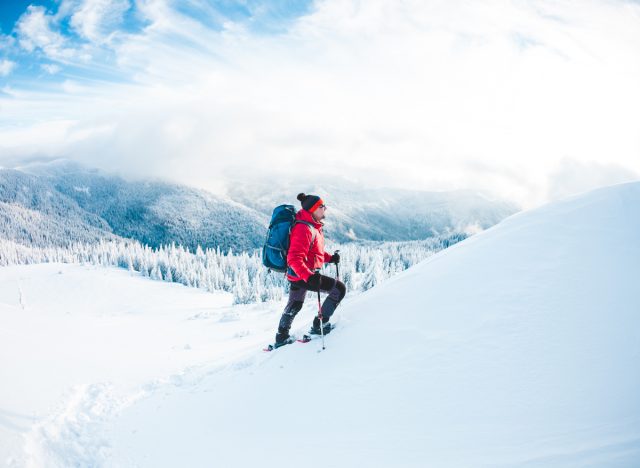 Exercising, in general, is one of the most natural boosts you can give to your mind and body. According to Franciscan Health, intense exercises and activities will trigger the release of endorphins in your body, which are the chemicals that make your brain feel great all over. Furthermore, exercise has been proven to be a natural stress and tension reliever.  It can also lead to a better night's sleep, sharpened cognitive skills, and an overall higher sense of self-esteem.6254a4d1642c605c54bf1cab17d50f1e
When you head outside in the winter to enjoy snow sport activities like skiing, snowboarding, and snowshoeing, you will benefit greatly from cardio, as well as absorbing some natural vitamin D. Soaking up a bit of sunshine will give your body the extra nutrients it needs to kick germs to the curb. Science also indicates that cold weather exercises will really help your body pump your blood harder and eliminate bacteria from your airways and lungs (via Franciscan Health). This can decrease your risk of getting colds or the flu. Facts prove that when you're feeling good physically, you're in a better frame of mind.
Most important, when you're out playing in the snow with friends and family, chances are, you're going to laugh, smile, and be happy all around. So give yourself a positive mental health break outside in the snow today!
Alexa Mellardo
Alexa is the Mind + Body Deputy Editor of Eat This, Not That!, overseeing the M+B channel and delivering compelling fitness, wellness, and self-care topics to readers.
Read more about Alexa