A Look Inside The "Self-Care Socializing" Club Celebs Can't Get Enough Of
Take a peek at the hot social wellness trend you'll want in on.
There's a cool social place in town that celebs are obsessed with—and it has an entirely new, creative concept of gathering, so spread the word. "Self-care socializing" at Remedy Place is changing the game when it comes to socializing and wellness. It's a fresh, modern, and healthy take on connecting with friends, coworkers, and new relationships, and it's catching on real quick.
Remedy Place in West Hollywood, California is actually the very first social wellness club in the world. The self-care socializing idea is simple yet genius: "Remedy Place is the solution to life's daily stresses: symptom struggles, lingering ailments, and mental burnout that compound and accumulate over time. At Remedy Place, we rebalance your stresses through our highly-educated team of experienced doctors and wellness experts to provide optimal holistic healing and lifestyle support."
Read on to learn more about the self-care socializing gathering place your favorite celebs are going to for date nights or just because, and how you can sign up for your own membership. Self-care socializing is such an advanced way to get together and incorporate necessary wellness into your regular routine. And next, be sure to check out The 6 Best Exercises for Strong and Toned Arms in 2022, Trainer Says.
The club's mission is to foster and strengthen social connections, which are key for general health and well-being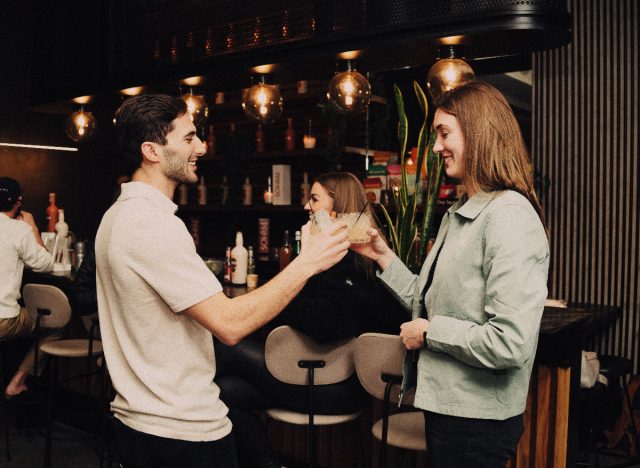 Remedy Place, located on Sunset Boulevard in West Hollywood, is totally unique. This creative model was developed by Dr. Jonathan Leary as a place to embrace and enjoy with others therapeutic services for your mind and body. It's a way to destress and enhance, both physically and mentally, and experience deeper levels of achievement, joy, relationships, and overall well-being. Leary's mission with this innovative idea is to foster and strengthen social connections, which he believes to be essential for general health and well-being.
We spoke with Leary, who tells us, "At Remedy Place, we know that self-care does not have to mean choosing between an active social life and your wellness practices. Instead, it's all about achieving a sense of harmony between the two. Social self-care is the act of deepening human connection while simultaneously improving your overall health through meaningful experiences with others. Practicing healing treatments together offers a fun socializing alternative that has a positive correlation with enhancing various service benefits and your general well-being."
Leary also explains that, at Remedy Place, members are immersed in an environment of like-minded individuals who are aiming for the same goals of consistent progression and self-growth. "This sense of community will amplify your potential, push your health and capabilities further, provide a deeper sense of purpose, and finally, give you that positive social environment you have been looking for."
Related: Does Your Body Need A Sound Bath? An Expert Explains Why It Does
Select from a well-rounded menu of "remedies," including sound baths, cupping, vitamin drips, and cryotherapy
The name "Remedy Place" is quite descriptive of what you will find at this gathering place: cures for any stress life throws at you. You can select from a well-rounded menu of "remedies," including group classes (like breathwork, sound bath, and restorative flow), treatments with a practitioner (like acupuncture and cupping), vitamin drips, vitamin injections at the shot bar (where you can get social), and the latest in holistic technologies (like infrared sauna, cryotherapy, and hyperbaric oxygen chamber). There are remedies for stress, medical symptoms, and so much more, provided by a stellar team of top alternative medicine doctors and experts.
Leary tells us the most popular features of Remedy club include the doctors, the design, and the social self-care practices. "I am proud to have curated an incredible team of doctors and practitioners that are leading the alternative medicine industry. Our team is well-spoken, personable, highly qualified, and on a mission to change the standard of healthcare," he says, adding, "I like to say, 'We are designed to heal.' Every single detail and aspect of the club targets every one of your senses to intentionally put your body in the optimal state to do what it does best… heal." For example, when you walk into Remedy Place, you'll feel totally at ease with the club's soothing color palette, calming sounds, and aromas, in addition to the welcoming team.
This social, stress-free atmosphere is an incredible replacement for what may be considered mundane plans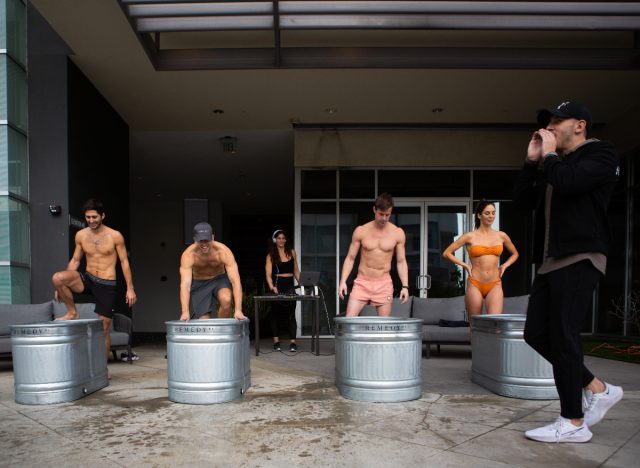 This social, stress-free vibe is intended to replace what may be considered mundane plans that individuals normally make. Instead of planning a wine and cheese night or latte date with the girlfriends, how about considering a "Health Date" at Remedy Place, as Rita Ora recently did with Vas Morgan? How does a hyberbaric oxygen chamber sound, where your body will be infused with oxygen, a process that increases healing and promotes longevity? Or, immerse yourself in a one-hour lymphatic compression suit session, where you will wear a compression suit while being cleansed from water weight and toxins. Perhaps experiencing an infrared sauna is more your style, where your body will be detoxified, burn calories, and relax in the comfort of your own suite. If an ice bath studio is calling your name, you can experience adaption training with guided breathwork and submersion in a 38-degree bath.6254a4d1642c605c54bf1cab17d50f1e
As far as the "social self-care" philosophy is concerned, Leary tells us, "We are proud to be leading this movement, providing our guests and members alike with a one-of-a-kind destination offering these unique experiences, state-of-the-art treatments, educational resources, and top alternative medicine doctors all in one place, designed to heal with others."
Related: The Best Self-Care Habits That Improve Your Immunity, Experts Say
Celebs can't get enough of this social wellness club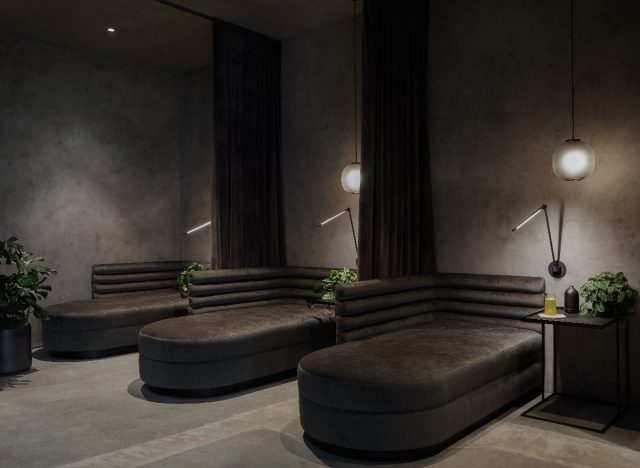 The new social, health-filled concept is catching on and has gained the attention of many A-listers as a go-to for plans, including Kourtney Kardashian, Rita Ora, Shaun White, Nicole Scherzinger, Lucy Hale, Lana Condor, Kacey Musgraves, Nina Dobrev, and more. There are two more locations opening in New York, New York and Venice, California scheduled to open in 2022, so gear up!
When signing up for a membership, there are two options to choose from that will give you special access to the remedies, holistic practitioners, and members-only events. The monthly membership is $495 per month and includes 4 tech-remedies, 1 multi-vitamin IV drip, unlimited cryotherapy, and more. The all-access membership is $2,500 per month and includes an unlimited amount of tech-remedies, 4 practitioner visits, and more.
Alexa Mellardo
Alexa is the Mind + Body Deputy Editor of Eat This, Not That!, overseeing the M+B channel and delivering compelling fitness, wellness, and self-care topics to readers.
Read more about Alexa