The 5 Best Winter Wellness Tips To Live By, Celebrity Trainer Says
Here's how you can boost your mental and physical health during the colder months.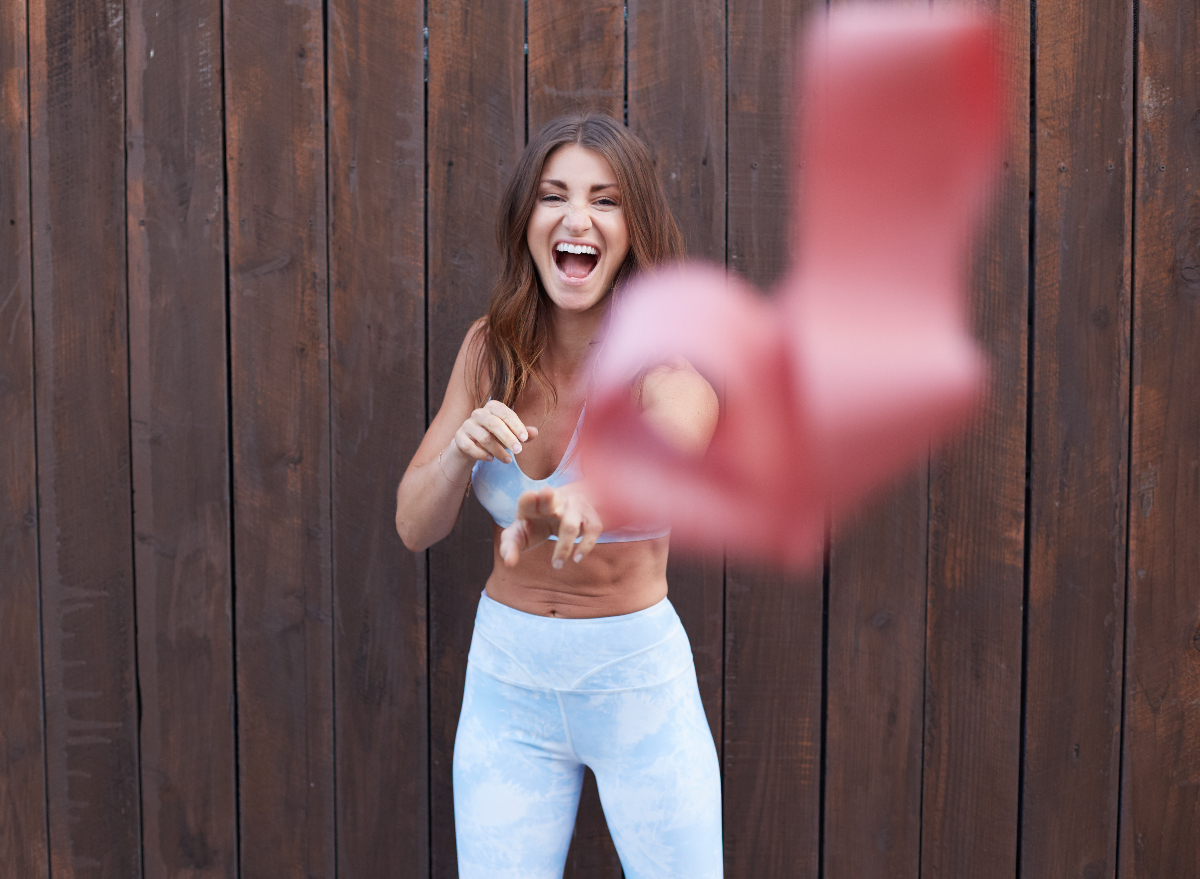 Winter can be one of the most difficult times of the year. Sunlight is more limited. The days get shorter. The temperature drops. And, we're likely spending more time cooped up inside. Cue the flu season and winter blues.
While winter conditions can have a negative impact on our physical and mental health, there are several easy ways to stay healthy throughout the cold weather season. To get a rundown on the best winter wellness tips, we spoke with California-based celebrity fitness trainer Jenna Willis.
With a "complete mind-body approach to wellness," Willis is dedicated to creating a personalized and effective lifestyle for her each of her clients, with her roster including pop singer and songwriter Camila Cabello, YouTuber and actress Liza Koshy, and reality TV star Lala Kent. Read on to discover Willis' go-to tips for getting through the winter.
For more on how to boost your health this season, don't forget to check out The 6 Best Exercises for Strong and Toned Arms in 2022, Trainer Says.
Eat nutrient-dense foods.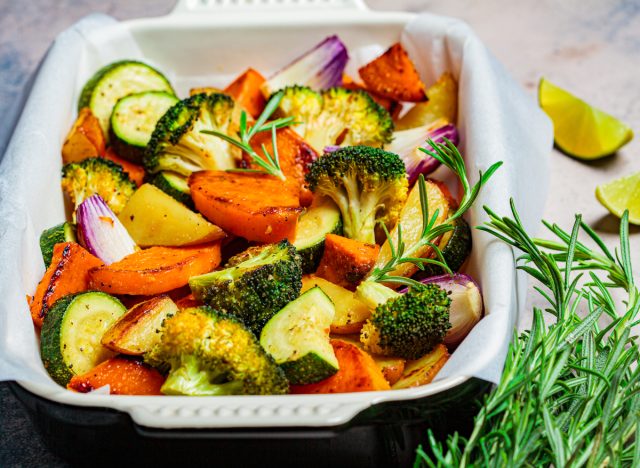 First and foremost, Willis emphasizes the importance of strengthening your immune system with nutrient-dense foods. This includes dark leafy greens, fruits, and vegetables—particularly root vegetables, which are known for being high in fiber and vitamins. They have also been found to help curb sugar cravings, which Willis says are especially prominent during this time of year.
"[In the winter], we want to cuddle up on our couch, have our hot chocolate, and indulge in something sweet," Willis says. "So, when you fill up on those [nutrient-dense] foods, you have less likelihood of actually diving into [sweets]. On top of that, it helps us strengthen our body's defenses to fight off nasty winter bugs and stuff like that."
One way Willis recommends incorporating more nutritious foods into your diet is by keeping a healthy snack on hand for when you get hungry during the day. Currently, one of her go-to snacks is CaPao, a plant-based snack made with upcycled cacao fruit, nuts, and seeds.
Hydrate.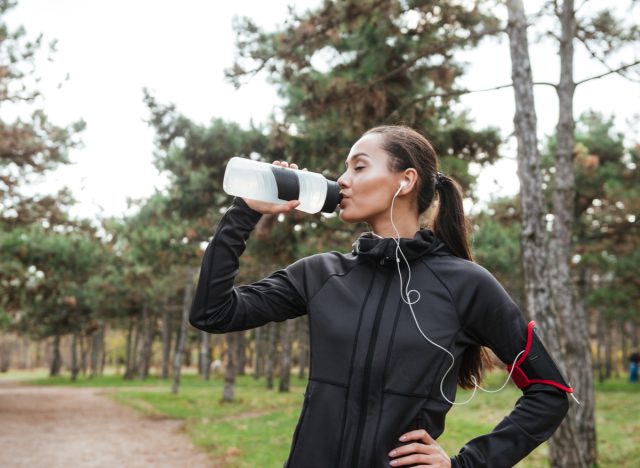 From keeping your joints lubricated to giving you a boost of energy, water plays a major role in just about every bodily process. During the summertime, we have a tendency to drink more water, because the weather is warmer, Willis explains. However, in the wintertime, this is usually the exact opposite, which is why drinking water becomes even more vital.
"Hydration is key… and a lot of times when we think we're hungry, we're really actually just thirsty," Willis says. "…So, our bodies are actually receiving mixed signals when we don't drink enough water."
To get yourself to drink more water during the day, Willis suggests adding lemon to your water and drinking hot tea.
Take vitamin D.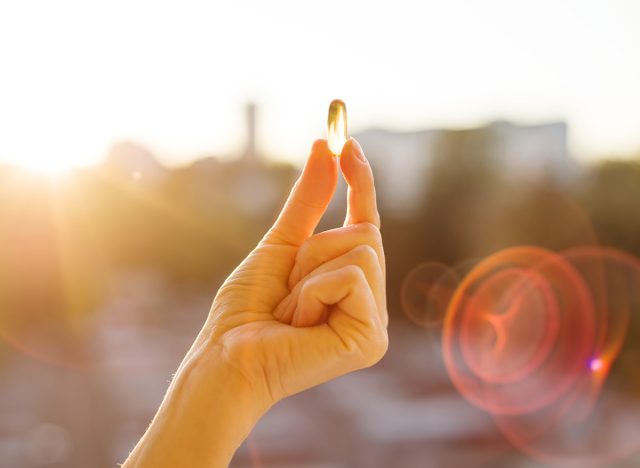 There's a reason why this immunity-boosting vitamin has been nicknamed the "sunshine vitamin." The body needs sunlight to manufacture it—and that's no easy feat this time of year.
"Sunlight is more scarce in winter. Our ability to make vitamin D actually decreases," Willis said. "It's really important that we find that from supplements, as well as our diet."
Mushrooms, salmon, tuna, and egg yolks are just some of the many foods that are rich in vitamin D. However, because you'd have to eat large quantities of these foods to fulfill your recommended daily intake, Willis recommends taking a vitamin D supplement as well.6254a4d1642c605c54bf1cab17d50f1e
Related: The 5 Best Self-Care Habits to Feel Happy All Winter, Experts Say
Detox, and then reward yourself.
While it's fair to say that showers are the most common bathing method, spending time in a warm bath is something Willis strongly encourages during the winter. From reducing pain and inflammation to alleviating stress and muscle tension, taking a bath—even once in a while—has been shown to have numerous health benefits.
"All you need, ladies and gentlemen, is 15 minutes to soak in a warm bath," Willis said. "And I totally recommend upping the game by adding in some Epsom salt or aroma bath therapy, because you literally feel like you're at the spa without spa prices."
In addition to prioritizing a relaxing body "detox," Willis is a major proponent of rewarding yourself with items that will motivate you to attain the life you want to live.
"Treat yourself to that new fuzzy fleece knowing that it will keep you warm and motivate you to actually want to work out," she says. "There really is something to be said about purchasing something new and wanting to show it off and feel confident knowing that you're prepared to rock that winter workout and sport the new jacket."
Related: The Best Ways To Beat "Cabin Fever" This Winter, Says Doctor
Set intentions.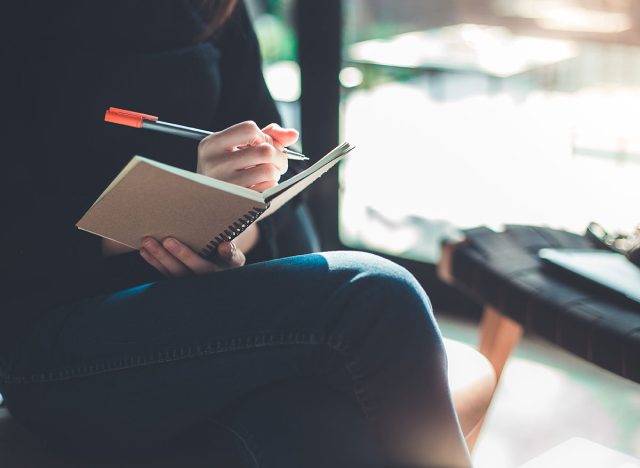 One of Willis' major tips, particularly when it comes to fitness, is adjusting your approach to achieving goals. The best part is, this habit can really be set into action any time of year, but right now during the cold weather months is a prime time to start.
"The new year hits, and people are setting these goals and intentions," she says. "I think it is so important—and this is really what I teach my clients—set intentions instead of goal-obsessing."
One way to successfully reach your goals, Willis says, is to say them out loud, write them down, and be specific in what you're trying to accomplish.
Brianna Ruback
Brianna is a staff writer at Eat This, Not That! She attended Ithaca College, where she graduated with a degree in Journalism and a minor in Communication Studies.
Read more about Brianna