Subway Has a New Healthy Bread—Here's What Our Nutritionists Say About It
The new Hero bread is a "revolutionary" item, the company says.
After the rollout of the biggest menu revamp in brand history this summer, you might think Subway is likely done with menu innovations for a while. But it turns out, the chain continues to build on the Eat Fresh Refresh campaign and has just come out with a new bread that's unique across the fast-food industry.
America's largest sandwich chain just announced it will be testing a new Hero bread that sounds impossibly healthy. The one-net-carb, zero-sugar bread is Subway's latest attempt at providing low-carb and low-calorie options for health- and weight-conscious customers. Provided in partnership with Hero Labs, a food tech company specializing in better bread and baked goods, the new loaf contains 0 grams of sugar, 1 net carb, 12 grams of protein, and 26 grams of fiber in a 6-inch sandwich—and is touted as something even Tom Brady would eat in the chain's new ad campaign.
RELATED: Subway Couldn't Even Give Its Sandwiches Away for Free In Latest Revamp Move, Insider Says6254a4d1642c605c54bf1cab17d50f1e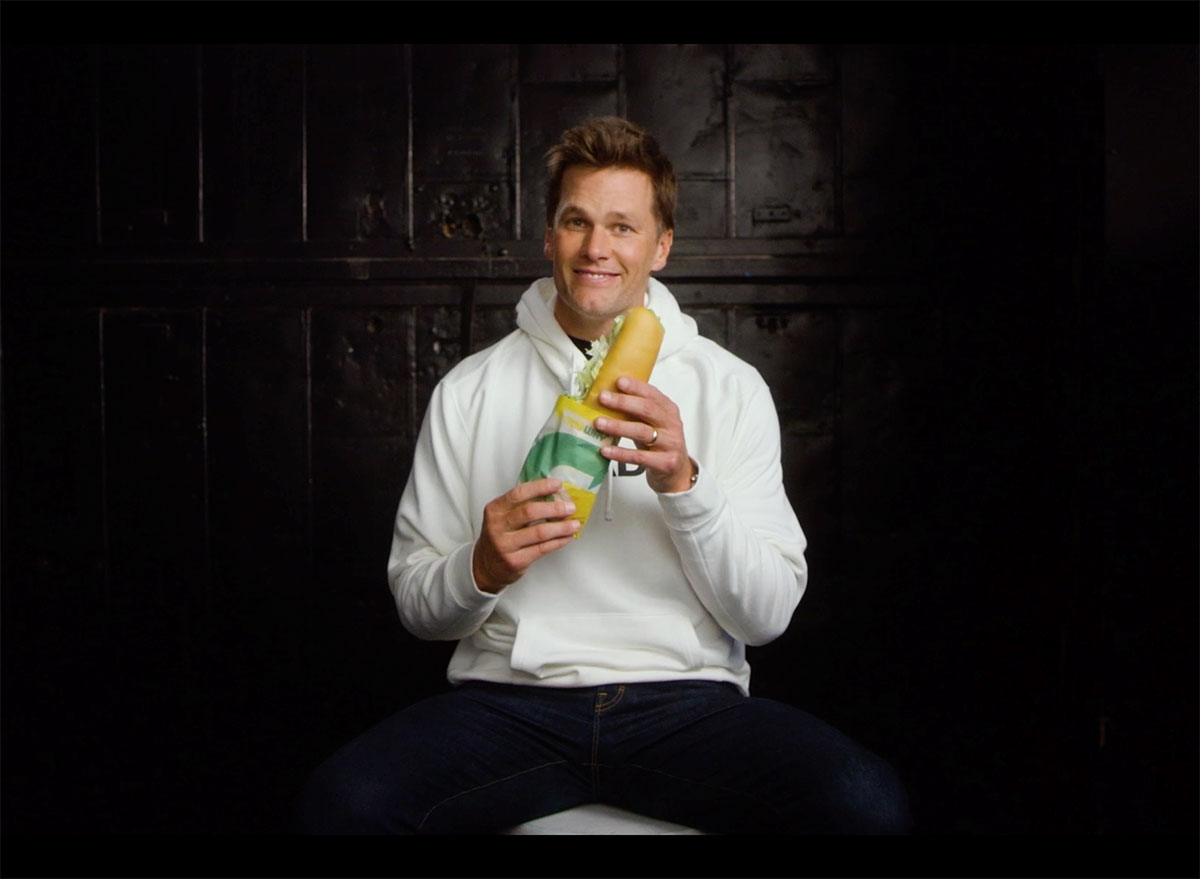 Subway's Artisan Italian bread is the first one to come out in Hero form, and you can currently find it at select locations in Savannah, Ga., Des Moines, Iowa, Colorado Springs, Colo., and Boise, Idaho for a limited time.
And while Tom Brady, a notoriously clean eater, is endorsing this bread and has even bitten into the sandwich in the latest promo video, we reached out to nutrition experts to find out just how healthy it really is.
According to registered dietitian and nutritionist Lauren Manaker, Subway's Hero bread can actually be a good option for those watching their carb intake.
"This new bread is made with many fiber-rich ingredients, which results in an extremely low net carb amount," she says. "For those who follow a low-carb diet, this could be a nice addition." Manaker also reminded us that most Americans are falling short in their consumption of the daily recommended amount of fiber, so a bread like this one can help them meet their quota—and all they have to do is eat a sandwich.
Not to mention, this bread can actually help those looking to shed some pounds. But don't forget that what goes in the sandwich counts as much as the bread.
"If you're using this bread as a base for a sandwich made of lean meats, lots of veggies, and low-cal mustard, it can be a fantastic addition for those trying to manage their weight. But if you're loading it up with things like bacon, heavier condiments like mayonnaise, and pairing it with fried chips and sugary drinks, choosing this bread may not make a world of difference," Manaker warns.
But what about the bread's ingredients? Any unpleasant surprises there? Lisa Moskovitz, registered dietitian and author of The Core 3 Healthy Eating Plan, says not really. "According to the label, most of the ingredients are relatively harmless, especially when consumed in smaller doses." However, she does caution that as with any product that contains more than 5 grams of fiber, the bread can be harder on your digestion. Her verdict on whether the substitution of regular bread with this "healthy" one is worth it?
"Ultimately any low- or zero-carb substitute to your favorite foods can certainly add more variety to an already carb-restricted diet, but without that satisfaction, these foods might not feel like a worthy substitute at all."
For more, check out:
And don't forget to sign up for our newsletter to get the latest restaurant news delivered straight to your inbox.
Mura Dominko
Mura is ETNT's Executive Editor, leading the coverage of America's favorite restaurant chains, grocery stores, and viral food moments.
Read more about Mura