Subway Just Announced Its Biggest Menu Update In History
The chain is improving several core ingredients and adding new subs.
Amid rising controversy around the quality of its food, its battle with franchisees, and even its choice of spokesperson, Subway is attempting to reclaim its public image. The chain just announced a major menu overhaul—one they're calling the biggest update in the history of the brand—as well as the beginning of a multi-year journey toward building a better brand.
From individual ingredients and menu items to aspects of its guest experience, there's a lot of novelty taking place at Subway. The Eat Fresh Refresh upgrades will be unveiled on July 13, and the chain said it will close up its stores at 6 p.m. the day before to prepare for the big new launch.
Here's what to expect from Subway's major menu refresh. For more, check out Subway's Newest Sandwiches Are a Safety Hazard, Operators Say.
Two new bread recipes
The chain's bread has seen its fair share of controversy when the Irish Supreme Court ruled last year that the loaves baked at Subway don't even qualify as bread, thanks to their high sugar content.
Now, the chain is updating two of its most popular breads: the Artisan Italian and Hearty Multigrain. According to the press release, the new bread recipes were developed by a panel of world-class bakers and will feature an "enhanced flavor and heartier texture."
The Italian loaf is promised to have a crispy crust with a soft center while the Multigran will be made with "Amber soft grain and three types of seeds, showcasing its naturally sweet flavor."
New and improved proteins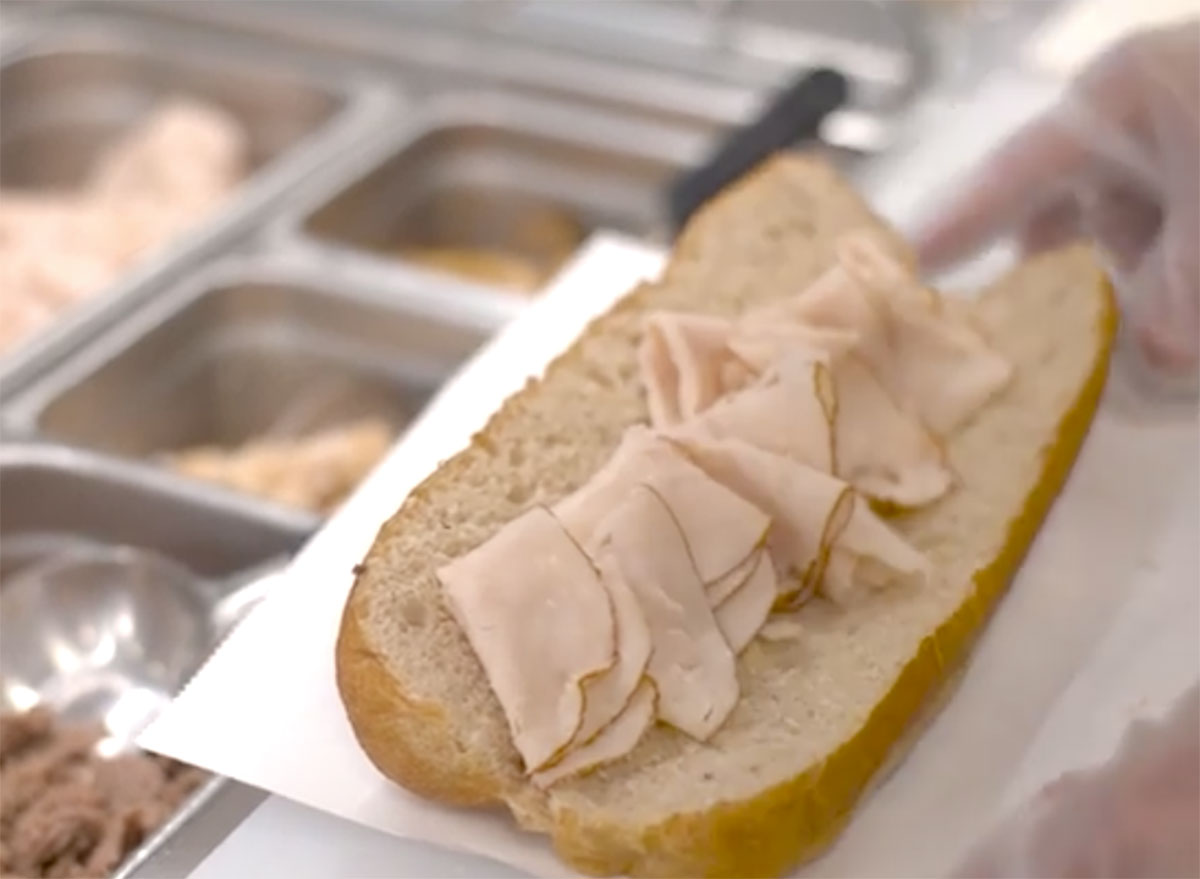 The chain will debut new crispier bacon, new Black Forest ham and oven-roasted turkey which will be sliced more thinly, and new thicker and juicier steak. Old favorites rotisserie chicken and roast beef will be returning to the menus nationwide.
While so many of its core proteins are undergoing an upgrade, the ingredient recently receiving the most scrutiny—Subway's tuna—will not be changed in any way, according to the press release. "One ingredient that doesn't need an upgrade is the Subway high-quality, premium tuna," the chain states. "Subway sources tuna from leading global food suppliers that have a reputation for working diligently with food safety and quality experts and suppliers to ensure consistent, high-quality products at every stage of the supply chain."
Four new sandwiches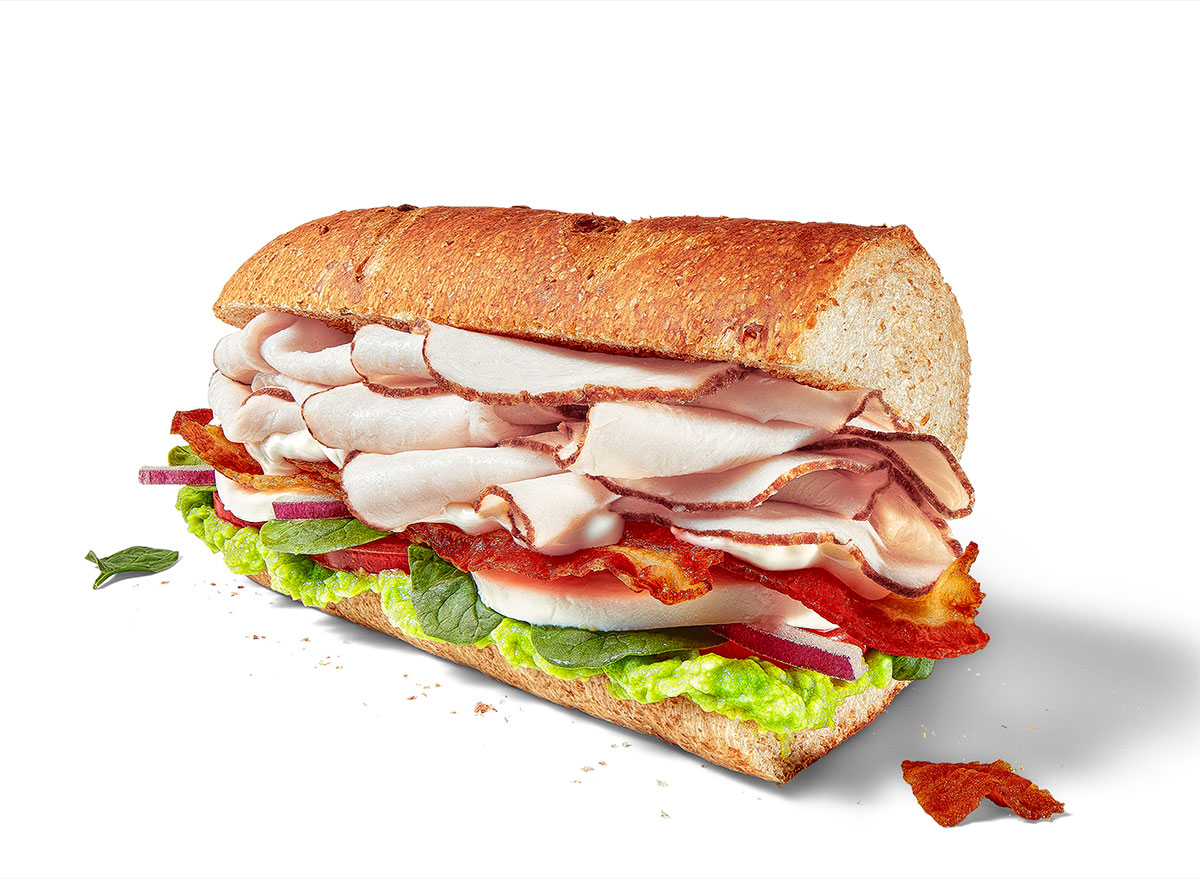 While many of its sandwiches will feature new and improved ingredients, the chain is also debuting four brand new subs:
Turkey Cali Fresh: Oven roasted turkey, hickory-smoked bacon, smashed avocado, fresh mozzarella, mayo, spinach, red onion, and tomatoes on freshly baked Hearty Multigrain bread.
Steak Cali Fresh: Steak, hickory-smoked back, smashed avocado, fresh mozzarella topped with spinach, red onion, tomatoes, and mayo on freshly baked Hearty Multigrain bread.
Subway Club: Oven roasted turkey, black forest ham, roast beef, lettuce, tomato, and red onions on hearty multigrain bread, back by popular demand.
All-American Club: Oven roasted turkey, black forest ham and hickory-smoked bacon, with American cheese, lettuce, tomatoes, and red onions on toasted Artisan Italian bread.
New toppings
Customers will now be able to top their subs with three new ingredients. A new BelGioioso fresh mozzarella which comes from award-winning artisan cheesemakers in Wisconsin, a new smashed avocado topping made only with avocados and salt, and a new tangy MVP Parmesan vinaigrette.6254a4d1642c605c54bf1cab17d50f1e
Updates to the digital experience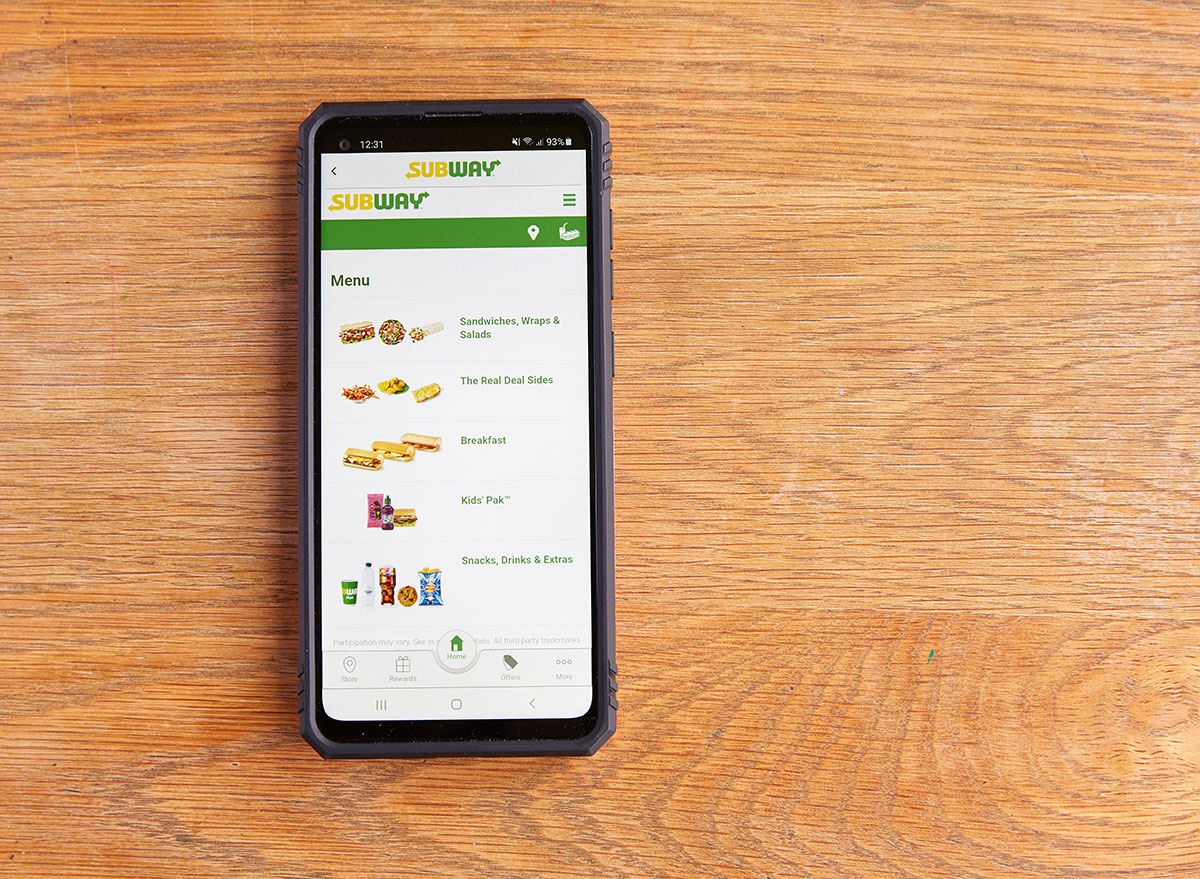 The chain will roll out a better digital ordering experience through their app and website, which will feature a new dashboard, improved ordering flow, and insight into out-of-stock items. Moreover, customers will now be able to order delivery directly through the app and website, which will provide the same prices as in-store ordering as opposed to the more expensive third-party options.
1 Million Subs Giveaway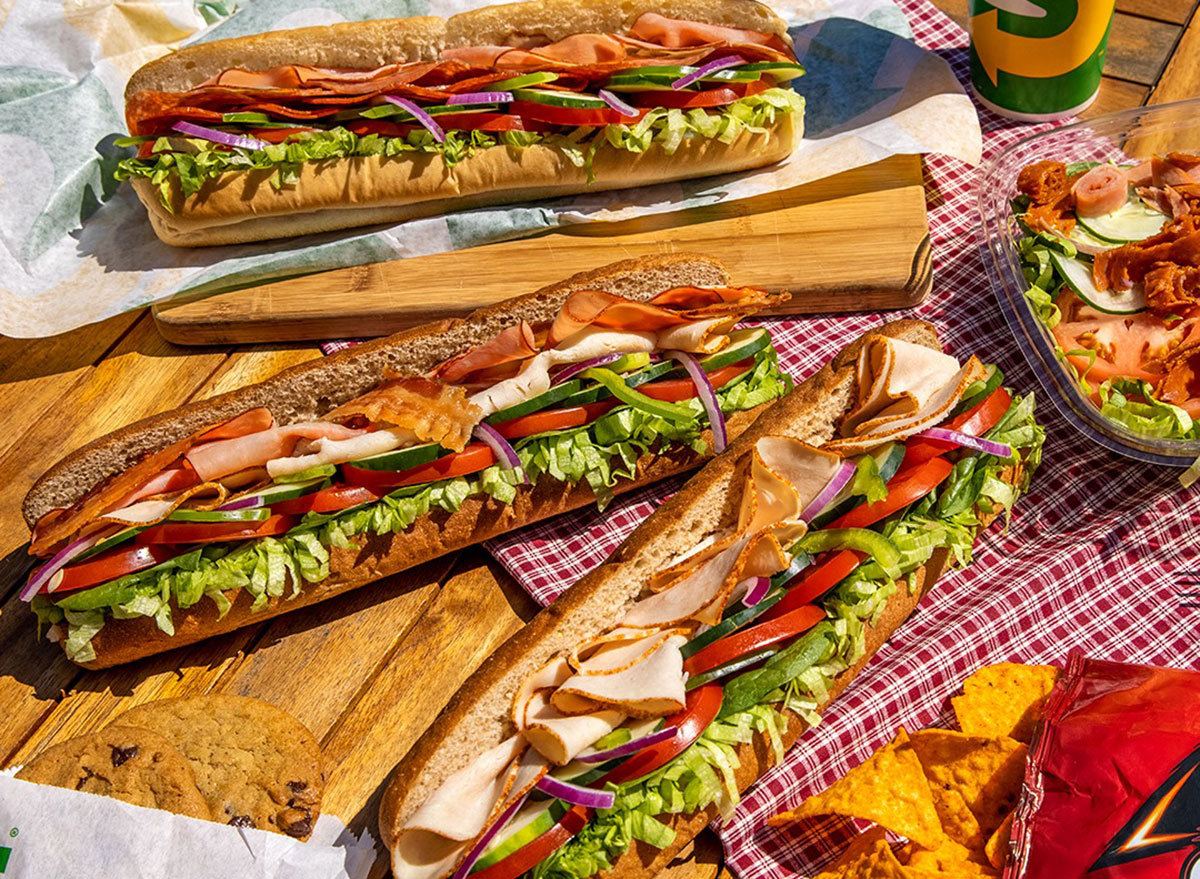 To celebrate the Eat Fresh Refresh campaign, the chain will be giving away up to one million free subs on July 13 from 10 a.m. to 12 p.m. local time. You'll be able to nab a free 6-inch Turkey Cali Fresh at any of the 11,000 participating locations nationwide, as long as you're one of the first 50 people to ask for the freebie at your local restaurant.
For more, check out the 108 Most Popular Sodas Ranked By How Toxic They Are.
Mura Dominko
Mura is ETNT's Executive Editor, leading the coverage of America's favorite restaurant chains, grocery stores, and viral food moments.
Read more about Mura