The #1 Worst Sandwich at Subway, Says a Dietitian
This footlong isn't worth the cash.
Subways are everywhere. After all, it has the most locations of any fast-food chain in the world. So whether you're traveling or just out and about, there's probably one close by for you to grab a bite at. And while they don't serve up greasy burgers and fries, some of their sandwiches are just as unhealthy (or even worse.)
So what's the worst sandwich you can order at Subway?
"Sandwiches stuffed with lunch meat (providing more fat and sodium than you'd want in one meal), slathering in mayo (adding more fat) and white bread would be the kind of dish I'd steer clear of," says Bonnie Taub-Dix, RDN, creator of BetterThanDieting.com and author of Read It Before You Eat It – Taking You from Label to Table. "So a cold cut sandwich of ham, salami, bologna trifecta would be one I'd take a pass on."
Specifically, that's the Cold Cut Combo at Subway.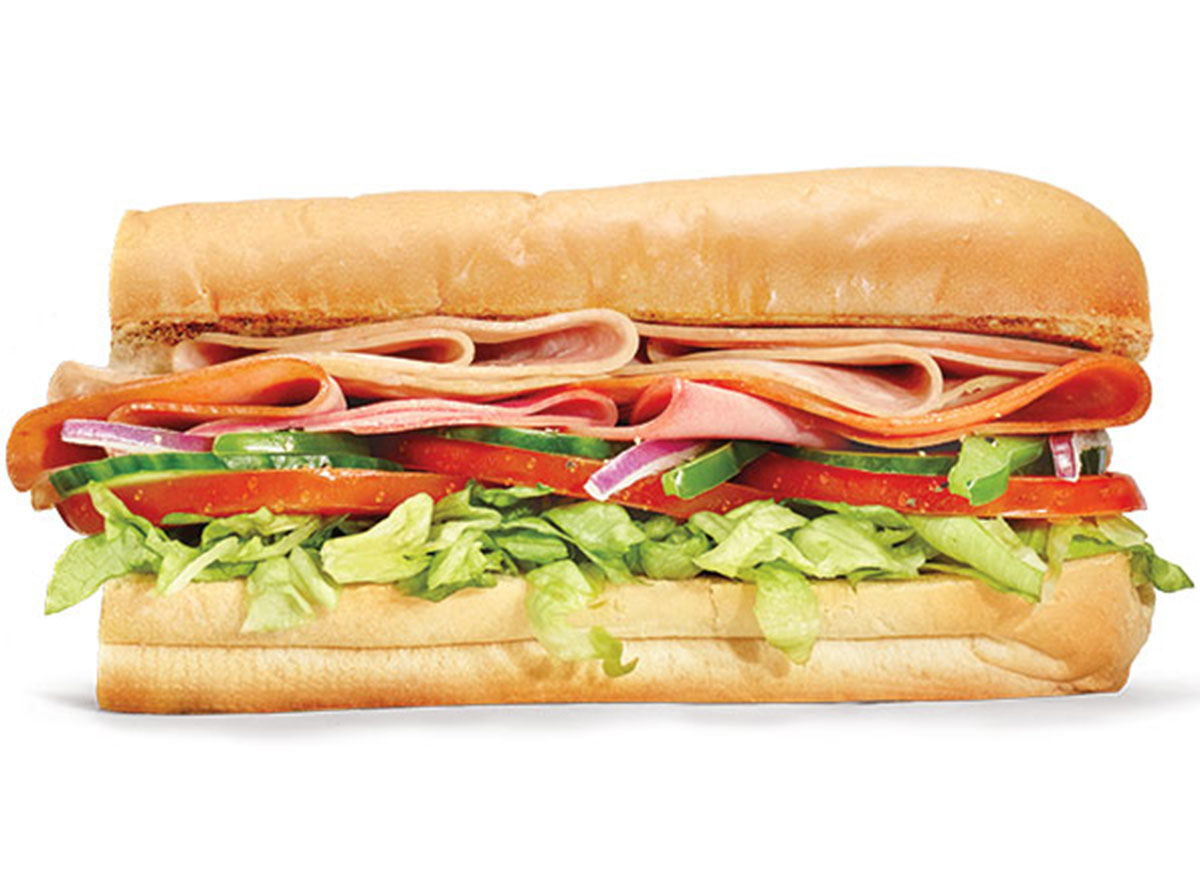 "Even the addition of lettuce and tomato wouldn't entice me for this one unless it was a sometimes thing," adds Taub-Dix.
For a 6" Cold Cut Combo on Italian bread with American Cheese, lettuce, tomato, and mayo, the nutrition is not very impressive.
Nutrition:
440 calories
25 grams fat (6 grams saturated fat)
1,210 milligrams sodium
38 grams carbs
2 grams fiber
5 grams sugar
18 grams protein
Instead, she suggests you go with a Turkey Breast sandwich.
"Probably no shockers there! Not only is turkey a lean protein that provides few calories and lots of nutritional value, but this turkey sandwich is also accompanied by lettuce, cucumbers, tomatoes, and other veggies, along with whole wheat bread, unless you request otherwise," says Taub-Dix.
"You can add mustard, some mayo, or a splash of your favorite dressing to jazz this sandwich up. If you're looking for lean…this is your pick."
In general, if you're looking to make your Subway order even healthier, Taub-Dix says don't be afraid to make modifications.6254a4d1642c605c54bf1cab17d50f1e
"Asking to 'hold the mayo' could save you lots of unwanted calories from fat," she says. "You can strengthen the value of your sandwich by swapping in whole-grain bread and asking them to 'pile on the veggies' could be just what your body needs!"
For more healthy eating news, make sure to sign up for our newsletter!
Read these next: