5 Major Changes You'll See on Taco Bell's Menu
The chain is busy upgrading its menu!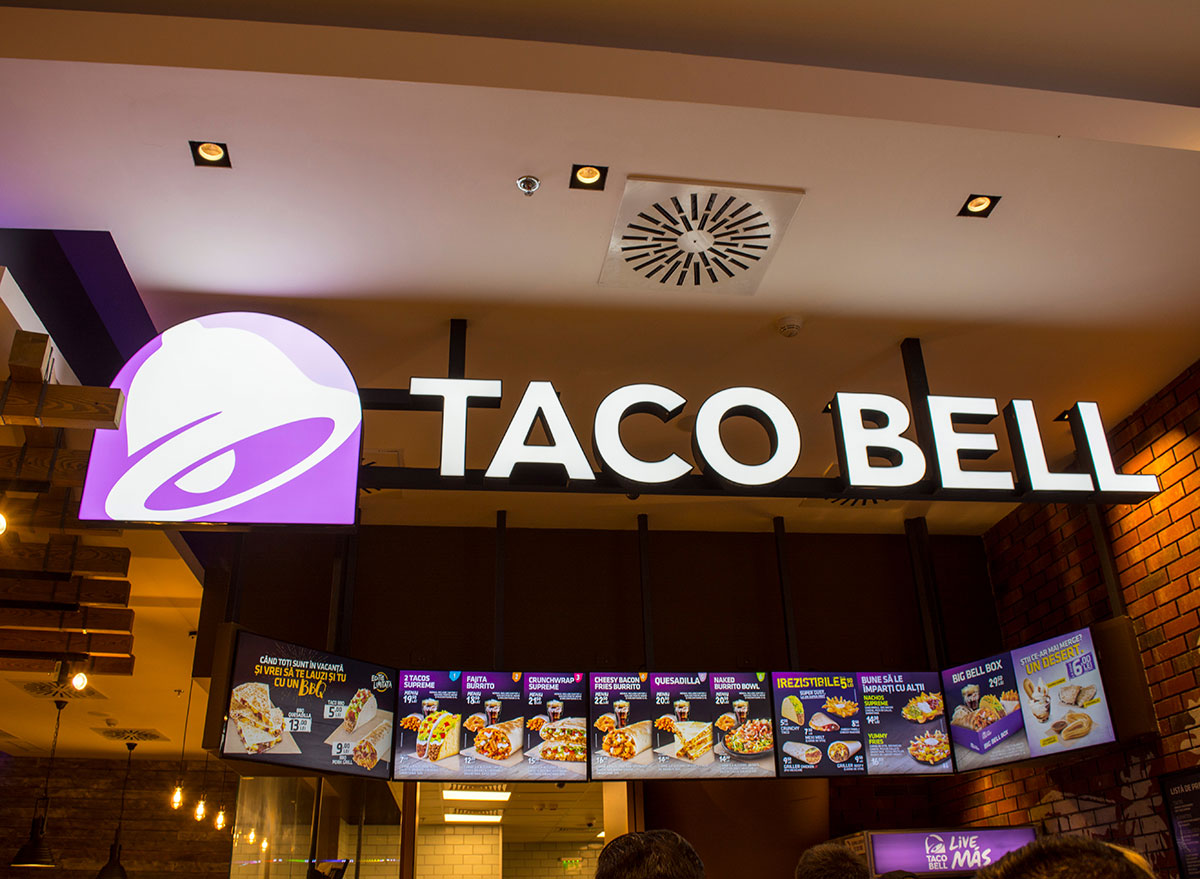 Given all of the headlines about Taco Bell in recent weeks, 2021 promises to be a big year for the chain. The company came out swinging in January with major upgrades to its beloved menu. From fan-favorites making a comeback to hints about new chicken and alternative protein items, there's a lot on the horizon from Taco Bell.
Here are the menu changes that have already attracted a lot of attention for Taco Bell this year. And for more on the latest fast-food trends, check out 6 Most Anticipated Fast-Food Menu Items Launching This Year.
Chicken Sandwich Taco and other chicken novelties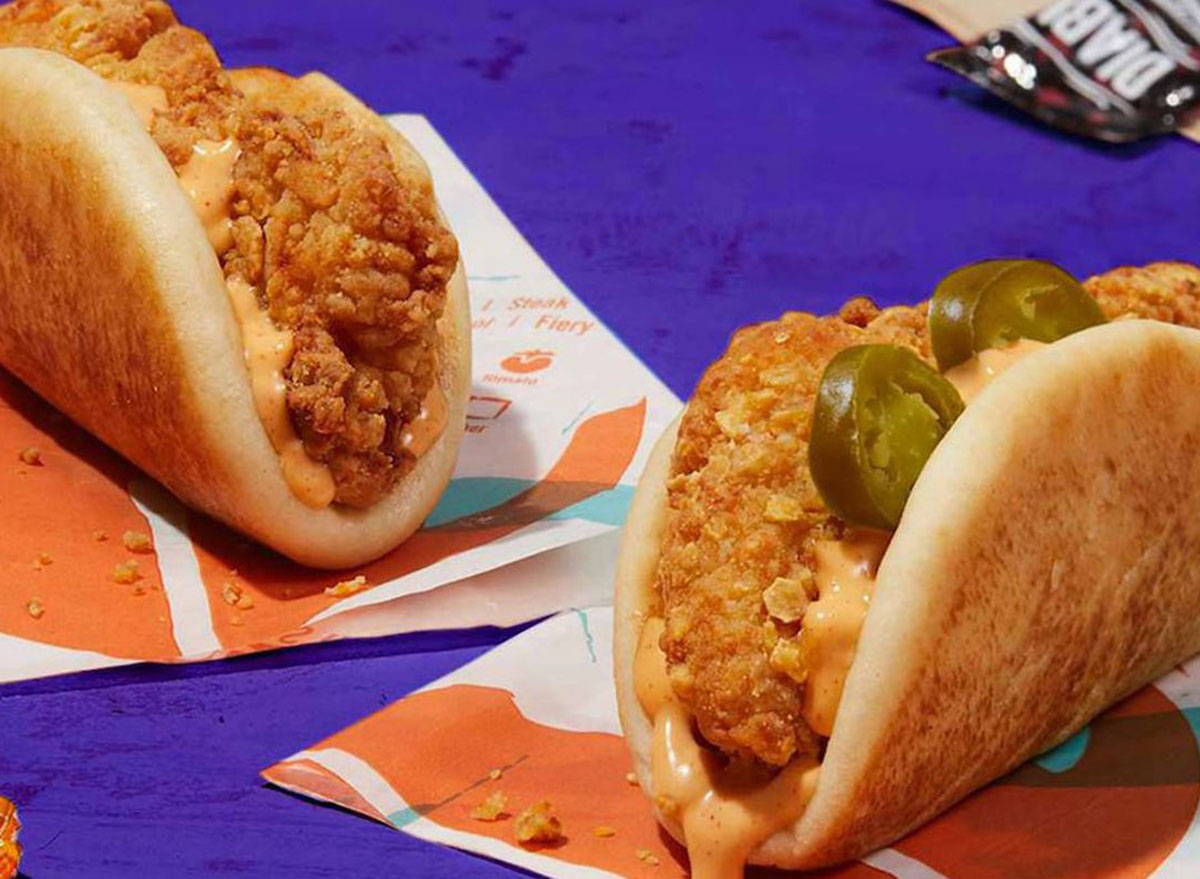 When Taco Bell revealed its plans to "interrupt" the chicken sandwich wars this year, we had a feeling that the chain's entry into the category would be truly one-of-a-kind. Enter the Crispy Chicken Sandwich Taco, a hybrid that checks two boxes: craveability and innovation.
This new menu item features an all-white-meat crispy chicken filet marinated in jalapeño buttermilk, seasoned with bold Mexican spices, and rolled in a crunchy tortilla chip coating. Instead of a straight-forward sandwich bun, the chicken is nestled in puffy bread that's shaped like a taco and slathered with creamy chipotle sauce. (FYI: The spicy version includes jalapeño slices for added heat.)
Officially slated for March 11, the release is limited to several test markets for now. The rest of the nation will get to enjoy the new menu item later this year. Though the design of the taco sandwich has invited critiques and trolls from competitors and media outlets alike, Taco Bell is already plotting several more fried chicken items for 2021.
RELATED: Don't forget to sign up for our newsletter to get all of the latest restaurant news delivered straight to your inbox.6254a4d1642c605c54bf1cab17d50f1e
Cheese curds, two different ways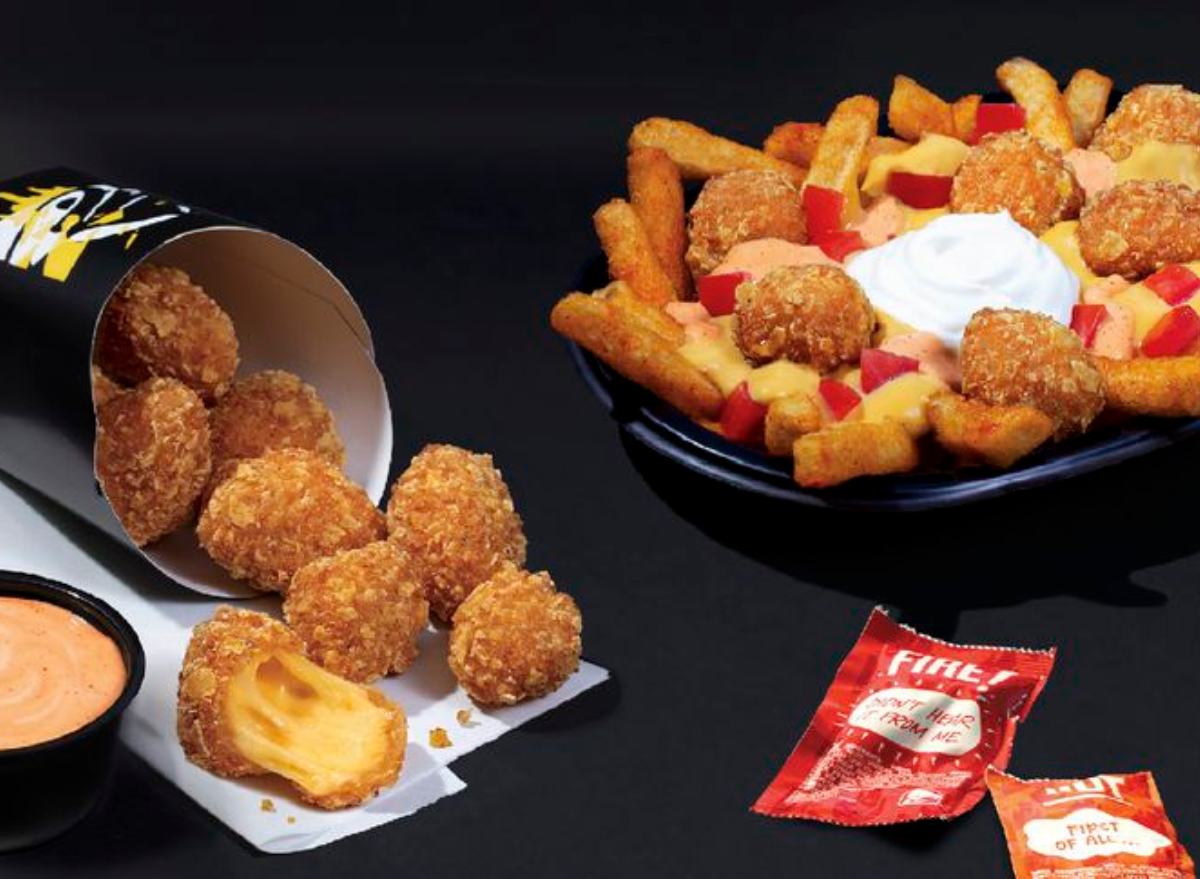 In a limited but exciting new test, Taco Bell has rolled out two items featuring its latest ingredient: cheese curds.
The Crispy Cheese Dippers and Crispy Cheese Nacho Fries both feature fried cheese curds in a tortilla chip coating, which is the same breading used on Taco Bell's fried chicken. A nine-piece order of the Crispy Cheese Dippers comes with a side of chipotle dipping sauce. If you order the Crispy Nacho Fries, your dippers come atop Taco Bell's popular loaded fries.
The two new items are only being offered at one Taco Bell location—131 E. Orangethorpe Ave. in Fullerton, Calif.—through March 10. But we're willing to bet they'll eventually make their way to Taco Bell menus nationwide.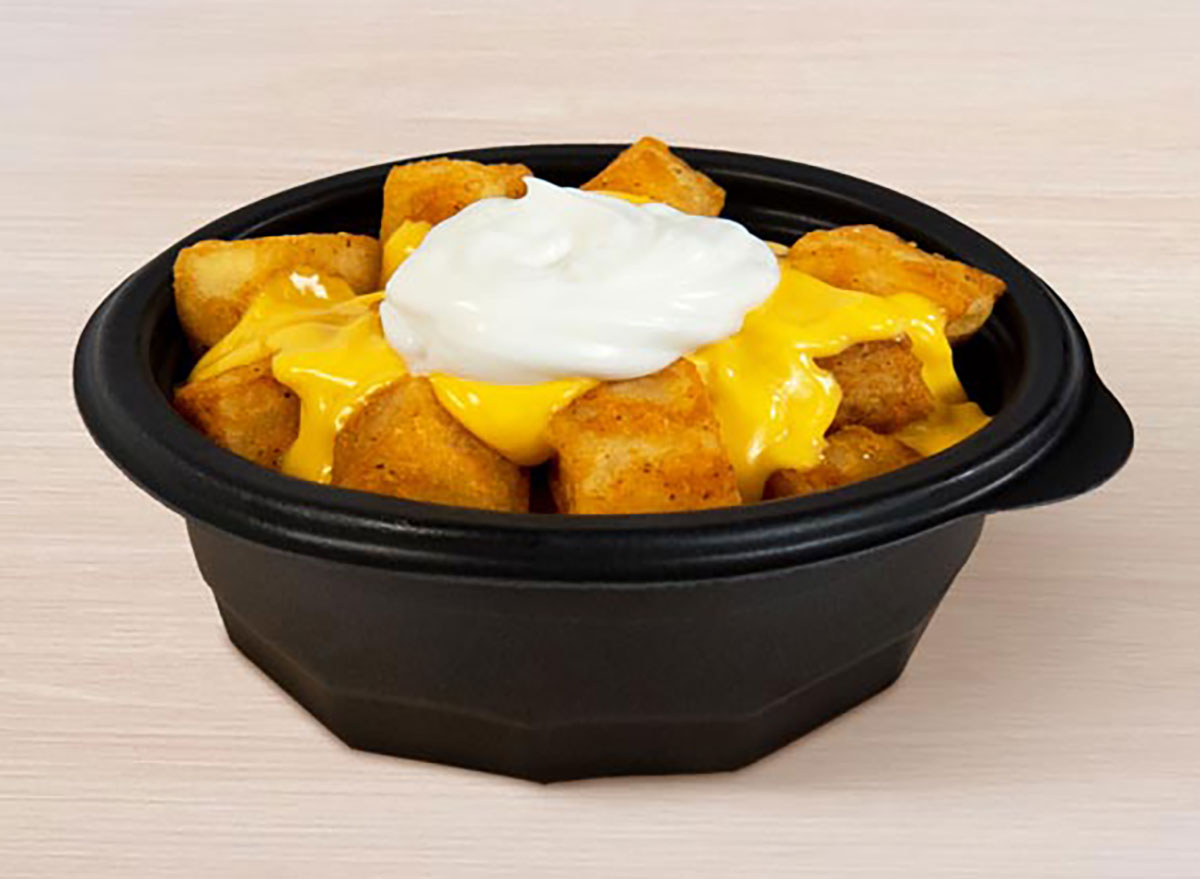 Taco Bell unveiled the return of potatoes earlier this year, and the move may have been the biggest piece of fast-food news to kick off 2021. Why was the announcement such a big deal? While the potato items were beloved by all, they provided more options for the chain's vegetarian fans, who already had limited choices in the world of fast food.
After months of fervent complaints on social media over the discontinued menu item (and some pretty wacky moves to get the chain's attention), Taco Bell finally heard you. Cheesy Fiesta Potatoes and Spicy Potato Soft Tacos will officially be added to the chain's permanent menu on March 11.
A new plant-based protein
Taco Bell's parent company Yum Brands recently inked a major deal with Beyond Meat, which means we can expect the chain to go all in on experimenting with plant-based menu items.
The company revealed that it's looking to create an "innovative new plant-based protein that will be tested in the next year." Unfortunately, there aren't additional details on when customers can expect to try the new meatless options at this time.
The most customizable value deal in fast food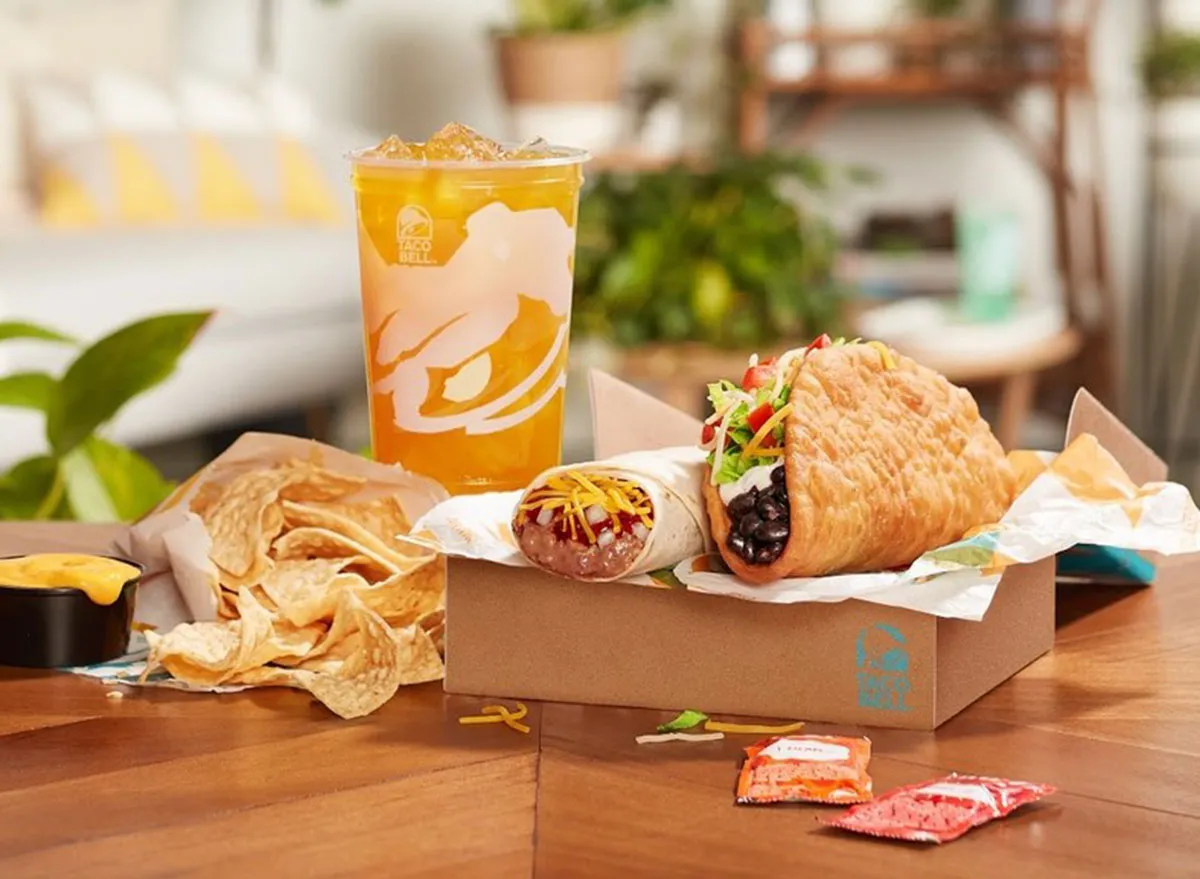 If you don't already love Taco Bell for the low prices, you may just fall head over heels for its newest value deal. Dubbed the "ultimate Taco Bell eating experience," the chain has launched a $5 box with choices from four menu categories that can be customized 18 different ways.
If you opt for the Build Your Own Cravings Box, you'll get to pick one specialty item like the Crunchwrap, Cheesy Gordita Crunch, or Chalupa Supreme; one starter, like a Soft Taco, Crunchy Taco, Beefy 5-Layer Burrito, or Bean and Cheese Burrito; one side dish; and one medium fountain drink.
This option makes it easy to swap out proteins or even make your meal vegetarian. For more, check out 108 Most Popular Sodas Ranked By How Toxic They Are.
Mura Dominko
Mura is ETNT's Executive Editor, leading the coverage of America's favorite restaurant chains, grocery stores, and viral food moments.
Read more about Mura