6 Most Anticipated Fast-Food Menu Items Launching This Year
These new releases will shake up the industry (and your taste buds, too)!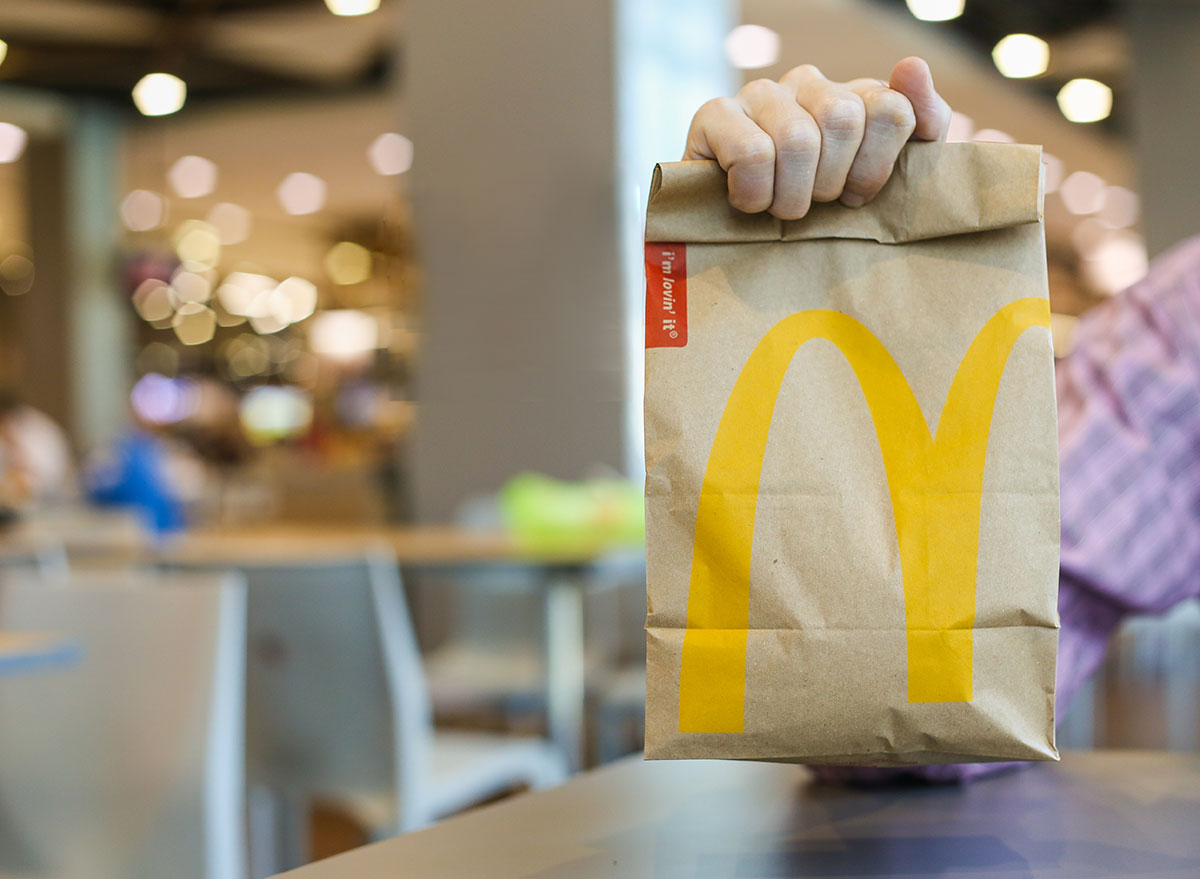 Fast food was decreasing in popularity prior to 2020, but it's currently experiencing a renaissance amid the COVID-19 pandemic. With independent restaurants shutting down en masse all over the country, fast-food chains seem to provide the most reliably available food options, especially when it comes to safe, contactless transactions and value.
Since fast food here to stay, restaurant chains are battling for their place under the sun now more than ever. The best way to try and outdo the competition? Innovation. Several quick-service giants have already put their plans on our radar, building up the hype surrounding their biggest and most important releases of the year.
Here are the fast-food launches that we expect will shake up the industry (and your taste buds!) this year. And don't miss McDonald's Is Making These 8 Major Upgrades.
McDonald's Major New Chicken Sandwiches
We're only a few days away from what could be McDonald's biggest release of the year. The chain will add not one but three new chicken sandwiches to its menu on Feb. 24, and expectations are high as it bets on a major success.
Despite the popularity of McNuggets, McDonald's has been tragically lagging behind the competition when it comes to a top-notch chicken sandwich. While there have been several iterations of a chicken sandwich on the chain's menu over the years, none of them garnered the kind of popularity that Popeyes chicken sandwich was able to achieve overnight.
In 2019, McDonald's hastily tried to innovate without really offering anything new. In one attempt, the chain took its existing buttermilk chicken sandwich and basically swapped the white roll for a "buttery" potato bun. In another, it created a spicy barbecue chicken sandwich by slathering McRib sauce on it. For a premium product, both efforts missed the mark.
Is the third time the charm? The new sandwiches—The Crispy Chicken and its Deluxe and Spicy versions—will offer a brand-new chicken filet that promises to be thicker and juicier. We're eager to see if this adds up to a standout chicken sandwich in a super-crowded market.
Burger King's New and Improved Chicken Sandwich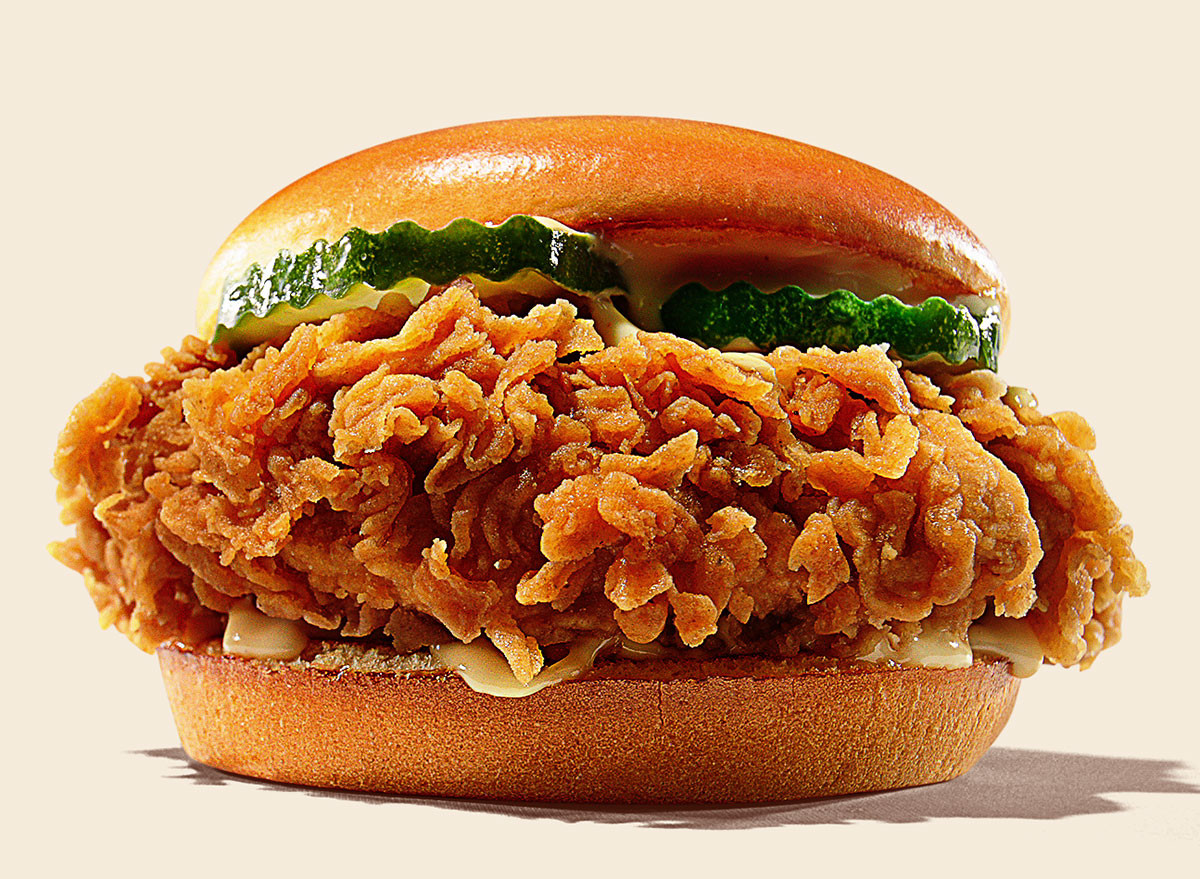 And speaking of new chicken filets, Burger King just announced that it would be releasing one later this year. An upgrade to the Crispy Chicken Sandwich had been in the works since 2019, and the chain promises its hand-breaded filet will be worth the wait.
"What if hand-breading were to chicken what flame-grilling is to burgers?" Ellie Doty, the brand's chief marketing officer, asked in a news release. "That's been our guiding filter to bring a delicious chicken sandwich to guests in a way only BK can."
While the chain hasn't confirmed a release date yet, some speculate the new sandwich will be on the menu this May.
KFC's Thicker Chicken Filet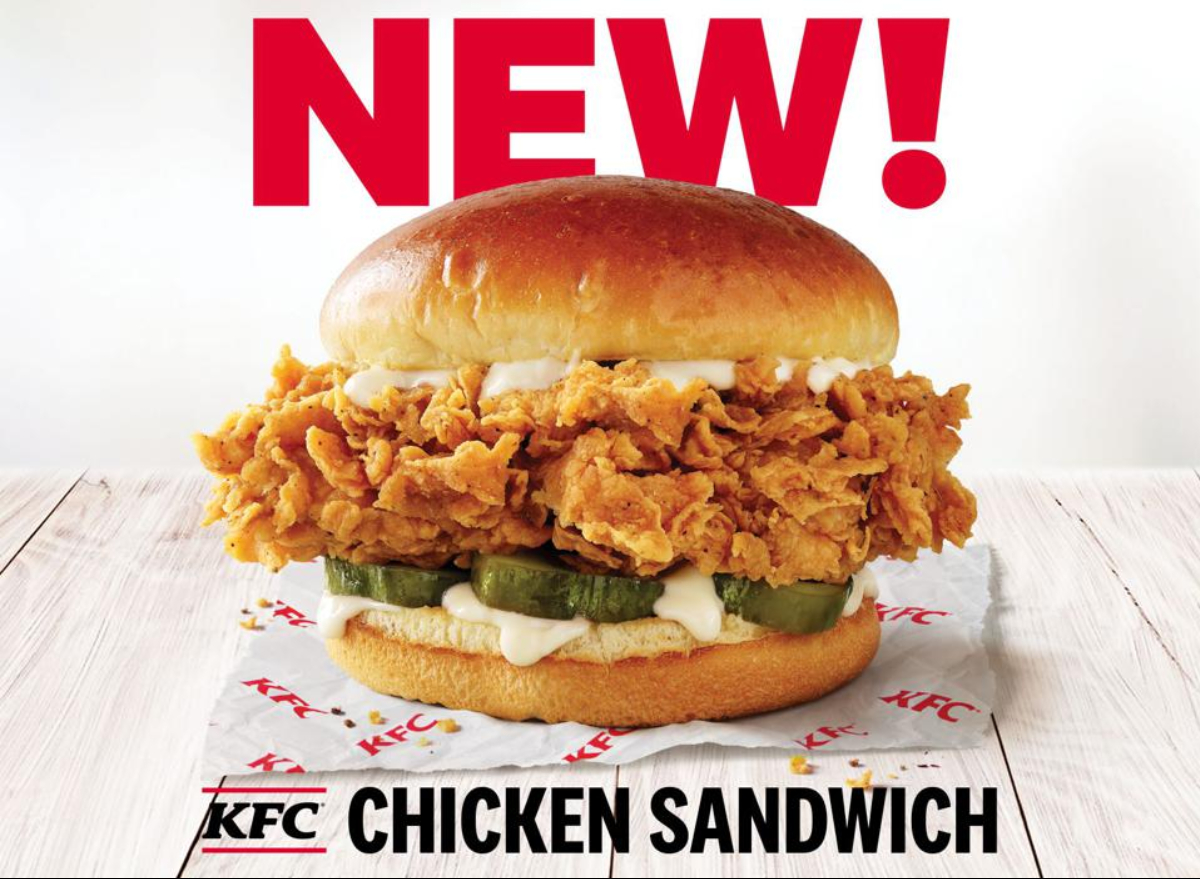 KFC is another chain that believes a chicken sandwich is only as good as its filet. The fried chicken experts announced last year that they'd be replacing the classic Crispy Colonel Sandwich with a new version more aligned with their chicken oracle legacy.
The simply named KFC Chicken Sandwich will feature a heftier double-breaded chicken filet—it's 25% larger than in the old sandwich—served on a new, buttered brioche bun with thicker, crinkle-cut pickles and mayo or spicy sauce.
The new sandwich has been available since last year in test markets, including Chicago, Kansas City, Louisville, Portland, St. Louis, Sacramento, San Francisco, and Seattle. It will roll out rest at remaining KFC locations by the end of February.
Taco Bell's First Chicken Sandwich
The beloved Tex-Mex chain is planning something big with chicken this year, and fans are holding their breath in anticipation. The company enigmatically announced last month that it would be adding a contender of its own to the Chicken Sandwich Wars, but it remained tight-lipped about the details.6254a4d1642c605c54bf1cab17d50f1e
If that wasn't enough to have our imaginations run wild with all the chicken-y possibilities, this statement by the chain's global chief food innovation officer Liz Matthews sure added fuel to the fire: "I love watching the competitors. I think a lot of players out there are doing a great job, but what I will say is that we will interrupt that with what we're going to do on chicken."
As if to wipe the slate clean for the new arrival, Taco Bell removed several chicken items from its menu last year. Because we know the chain can deliver, we're expecting a bold, out-of-the-box take on a chicken sandwich. Spice will likely be involved, perhaps even some Doritos dust? Who knows!
Wendy's Spiced-Up Breakfast
Experts agree that Wendy's is the reigning champion of fast-food breakfast, having successfully launched this daypart during the pandemic when breakfast sales were suffering at other chains. We could venture many guesses as to why Wendy's is doing so well with its morning offerings: freshly cracked eggs in everything, burger-for-breakfast vibes with their Breakfast Baconator, actually tasty sausage, etc.
But the chain isn't ready to just sit back and enjoy its newfound breakfast glory—they're looking to add to it. Carl Loredo, the chain's chief marketing officer, hinted during a live webcast in January that customers could expect something spicy to hit the morning menu.
"We'll continue to find ways to spice up our menu when it comes to breakfast," he said, suggesting that the chain had taken note of the popularity of its Spicy Chicken Sandwich and Spicy Chicken Nuggets. "We love the storyline that is from our spicy chicken sandwich to the spicy nugz that folks love, and so, we'll continue to lean in there."
Wendy's just announced a new spicy chicken sandwich yesterday, and its breakfast counterpart may be next.
McDonald's First Plant-Based Burger
Another area where McDonald's has been lagging? Offering a plant-based burger option. That's about to change later this year with the launch of the McPlant—a sandwich that will feature an original meatless patty created in collaboration with Beyond Meat.
Ian Borden, McDonald's international president, hinted that the McPlant was likely only the beginning of a whole line of plant-based options. "In the future, McPlant could extend across a line of plant-based products including burgers, chicken-substitutes, and breakfast sandwiches," he said following the announcement.
How will it stack up against Burger King's Impossible Whopper or White Castle's Impossible Sliders? We can't wait to find out!
For more, check out 108 Most Popular Sodas Ranked By How Toxic They Are.
Mura Dominko
Mura is ETNT's Executive Editor, leading the coverage of America's favorite restaurant chains, grocery stores, and viral food moments.
Read more about Mura