I Tried These 6 New Trader Joe's Products And Here's What Is Worth It
One of these is like nothing you've tasted before.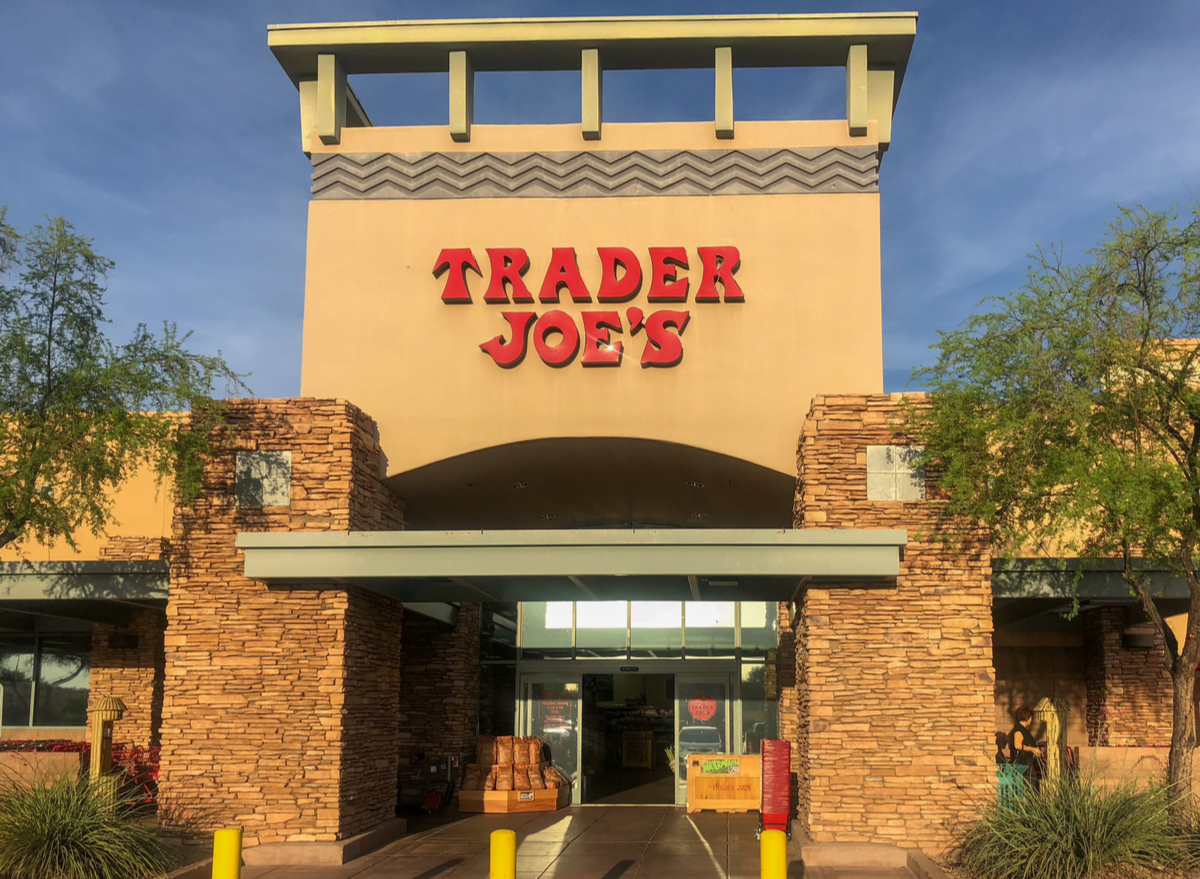 Grocery shopping can get pretty mundane when you're following the same old routine from week to week, but it's still one of the necessary activities of adult life—so why not make it fun?
Trader Joe's does just that, with their seasonal goodies and creative new products turning heads on a regular basis. And we put some of the newest ones to the test!
Trader Joe's just announced over 10 new Spring items are coming soon.
Just this past month, the company introduced brand-new products to its customers for spring, and like a true Trader Joe's fan, I couldn't wait to get my hands on them. Some of them are only here for the season, while some are taking up permanent residences in the aisles. When I browsed my neighborhood grocery store, I wanted to try a balanced mix of springtime specials and potential pantry necessities. I ended up with six products – Non-Dairy Oat Creamer with Brown Sugar, Decaf French Roast Instant Coffee, When Life Gives You Lemons, Make Ice Cream, Sour Cream & Onion Flavored Rings, Candy Coated Dark Chocolate Covered Almonds, and Dark Chocolate Almond Butter Pretzel Nuggets.
However, the question stands: which of these items are worth the money and, let's be real, worth the calories? Out of the six new arrivals I picked up, here are the ones you should stash in your cart. (Like, immediately.)
Decaf French Roast Instant Coffee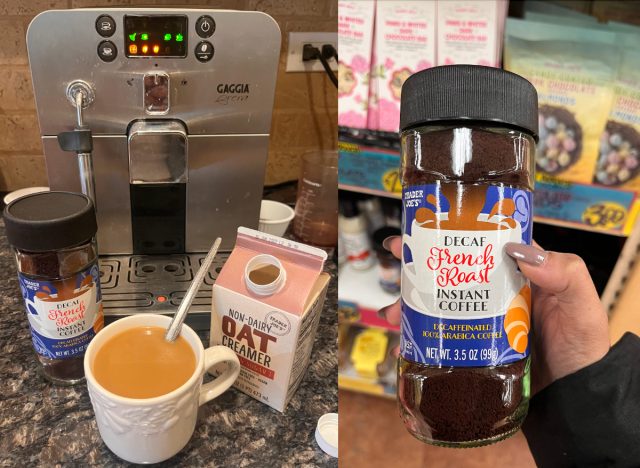 While I am a coffee lover at heart, and there are numerous well-known benefits that come with your daily cup of coffee, I've come to learn that caffeine doesn't necessarily love me back. Like those who are more sensitive to the stimulant, I get jitters, heart palpitations, and the occasional headache. I tend to stick to non-caffeinated teas with a splash of creamer to satisfy that craving for a warm, comforting drink on a cold morning.
Still, there's nothing quite like the smell of coffee, so it's nice to find a low-caffeine way to get my fix once in a while. That's what made me excited for this TJ's item: a decaffeinated French Roast that I can make in less than a minute – no coffee maker, filter, or French press needed.
After months of tea-drinking, I fixed up a small cup of this dark roast before work, excited to be reunited with my cup of joe. I don't normally take my coffee black, so I, of course, had to add something to make it a little more indulgent. I tried this coffee over two days, alternating between the Trader Joe's Brown Sugar Oat Creamer and the Coconut & Almond Vanilla Creamer to avoid any creamer-specific biases, splashing about a tablespoon or so, until the dark roast became a deep medium-caramel. The results?
This mix makes for a very satisfying cup of coffee, with that signature smoky-with-a-touch-of-sweet richness that you expect from your French Roast. It had a surprisingly great flavor for a decaffeinated grind. I particularly liked that it was instant so I could portion it out the way I wanted to, instead of making a whole pot and worrying about having the extra go to waste. It hit the spot – the perfect drink to sip on as I worked through the morning.
Because it's generally tough to find a good decaf with quality taste, this is a standout item on the shelves. Turn that winning combo into an instant mix, and you've got an easy go-to, anxiety-free coffee option at the ready in your pantry. One 12-ounce serving takes a teaspoon of the instant powder, and for $4.99, the entire jar is already cheaper than your favorite Starbucks order. You can't lose by adding this to your next grocery run.
Sour Cream & Onion Flavored Lentil & Rice Snacks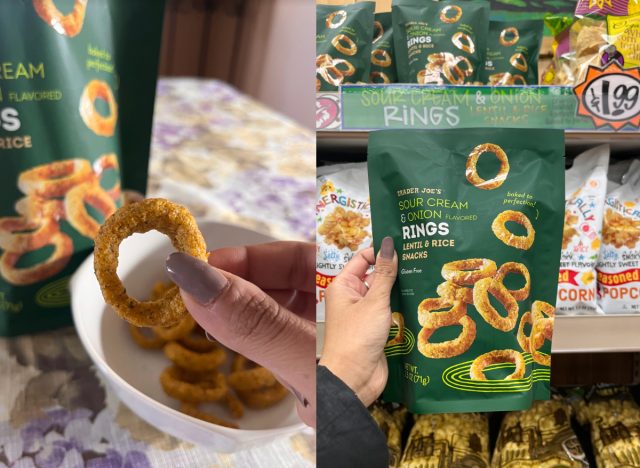 Even though I saw a lot of hype around this release, I still didn't expect to devour these sour-cream-and-onion-flavored rings as quickly as I did. For some context, I've never had Funyuns. I've always worried the flavor would be too onion-y for my liking, and, as a habit, I try to avoid buying fried snacks. The Trader Joe's version is baked, and they're probably healthier.  Red lentils and rice meal are the first two ingredients listed, with only 6 g of fat, 180 mg of sodium, and 4 g protein per 24 pieces. And if you're gluten intolerant or sensitive, this snack is gluten-free!
Everything about these snack rings is fun. The packaging is sleek, with a shiny depiction of the rings raining down from the sky and a choice display of lettering almost embossed into the bag.  Upon opening, I noticed the package isn't resealable, almost as if they expected the entire 2.5 servings to disappear in one sitting – and they wouldn't be wrong.
As someone who enjoys the taste of sour cream and onion chips, these were highly snackable. For something with this much crunch, it's hard to believe that the creamy flavor would be noticeable, but it definitely is. The seasoning makes this fairly addictive, riding a delicate balance that makes you crave just one more until there are none left. I found myself compulsively reaching for the rings again and again, whittling down the contents of the bag over the course of the day. It's also light and airy, which means it hardly felt like I'd eaten much at all, when in fact I'd consumed most of it single-handedly.
For just $1.99, it's low-stakes to pick up a bag and give it a try. The worst thing that could happen is that you accidentally finish the whole package yourself, like I did. In which case, maybe just buy another one to stash away for later.
When Life Gives You Lemons, Make Ice Cream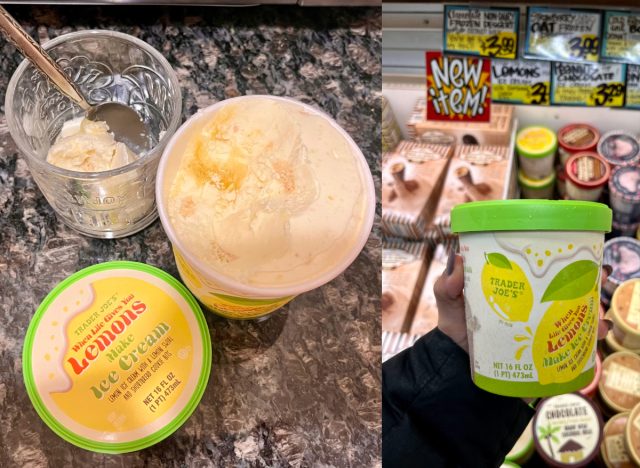 Trader Joe's latest invention, a bold take on lemon ice cream, grants a starring role to a flavor usually reserved for sorbet. This was the most intriguing item on my list. I'd heard a lot about it from Trader Joe's fan accounts, like @traderjoeslist – and this one definitely exceeded my expectations.6254a4d1642c605c54bf1cab17d50f1e
The texture was the first thing I noticed. Its consistency is almost plush, giving way easily to my spoon as I scooped from the carton into my glass. You can see the mixture of ice cream on top, pockets of bright yellow lemon curd-esque "swirls" scattered throughout, and bits of shortbread cookie sitting just beneath the surface.
After much anticipation – the taste test. I was prepared to pucker, but the tartness of the first spoonful still took me by surprise. It was quite sour, like lemonade without the sugar. But as I dug further in, I discovered a true masterpiece.
From the tangy lemon swirl to the sugary, velvety middle to the chewy bites of buttery shortbread, this ice cream never got boring. On its own, a mouthful of the jammy lemon would be too sour, but the sweetness of the base creates the perfect balance of flavors.
And as a personal fan of cookie dough ice cream, I really enjoyed the hidden chunks of shortbread. While the cookie isn't front and center, it wasn't hard to find. Sometimes companies make these mix-ins sparse, but not Trader Joe's. They made sure you could come across a ball of shortbread every few bites without having to search for it, which I very much appreciated.
This pint is $3.49, and it's only around for a limited time, so I'd recommend getting it while you can. Is this the healthiest ice cream? No, and it's not meant to be. It's designed to be creamy and delicious, so it has your average amount of dairy and sugar. But the ice cream mingled with lemon swirl and cookie pieces creates a novel dessert experience that you'll want to try at least once.
These three aren't the only items getting taste tests lately. Costco members listen up—I Tried These Two Popular Costco Snacks—Here's The One You Should Buy and The One to Skip.
Sarah Wong
Sarah studied at Northwestern University, where she received a bachelor's degree in computer science and experimented with mixing tech and journalism.
Read more about Sarah