I Tried These Two Popular Costco Snacks—Here's The One You Should Buy and The One to Skip
These two chocolatey treats were put to the test.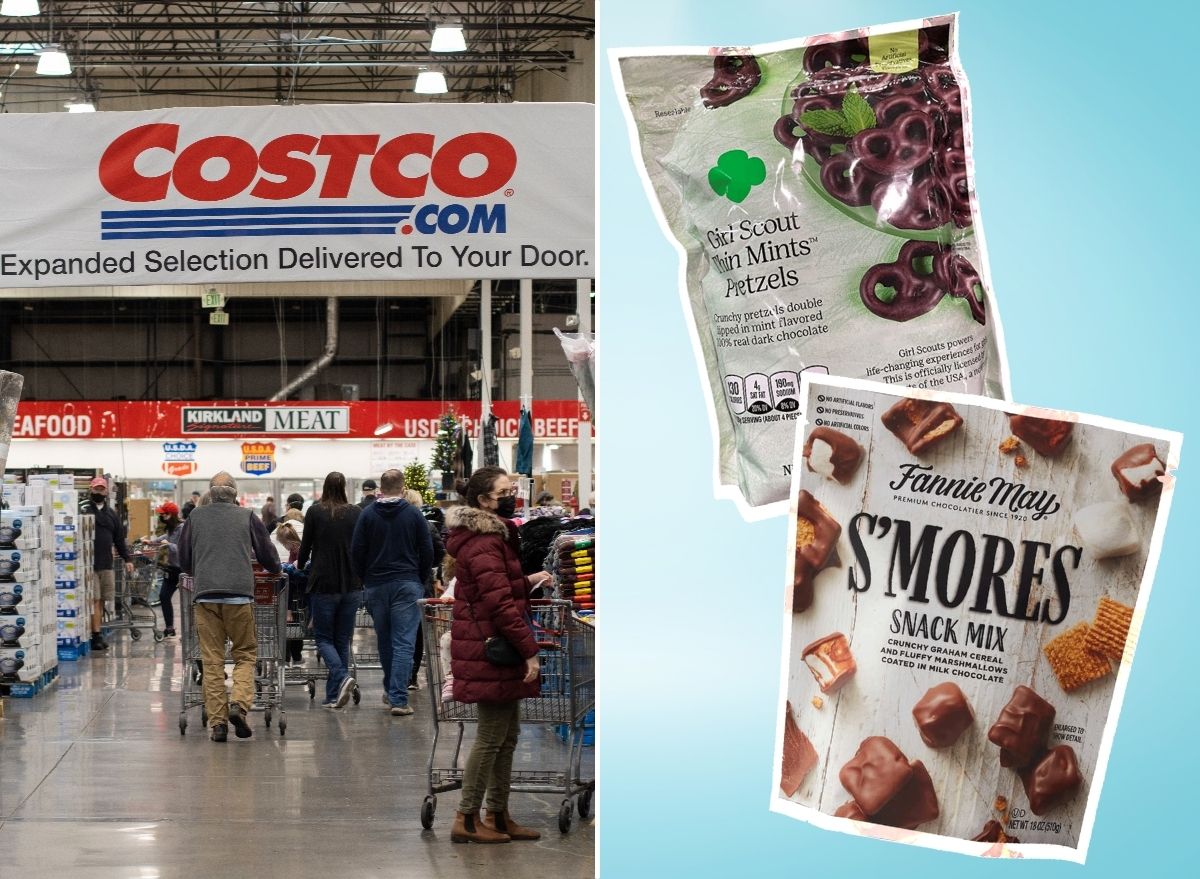 Among the 4,000+ items in each Costco warehouse are some member favorites that end up in lots of carts—including mine! After browsing all the popular frozen pizzas, Chick-fil-A chicken dupes, and bakery items, I recently decided my trip to Costco wasn't complete without two beloved snacks.
Several have reappeared at the warehouse lately—including the Milk Chocolate Salted Caramel Macadamia Clusters and the Lemoncello Chocolate Almonds—but this time I had my eye on two other chocolate pickings.
We're currently smack dab in the middle of Girl Scout Cookie season, and lucky enough, the Girl Scout Thin Mints Pretzels at Costco are available in warehouses for those members who are fans of crunchy pretzels double dipped in mint-flavored dark chocolate.
With it being Spring the air still has a chill to it—and if this makes you crave s'mores but you don't have access to a bonfire, then Costco is also offering a snack that can satisfy. The Fannie May S'Mores Snack Mix features crunchy graham cereal and fluffy marshmallows coated in milk chocolate.
I bought and tried both of these—but will only buy one a second time.
Which snack should you skip?
Every spring there are multiple boxes of Thin Mints in my kitchen (and freezer!). However, like some other members, I am not super impressed by this snack.
My issues with it are because of a few things. The first is the size of the pretzels. Most of the time when I am snacking I want something I can quickly pop into my mouth. These Thin Mints Pretzels are a little too big for my liking.
The second thing I don't love is the taste. OG Thin Mints are perfectly chocolatey with the perfect hint of sweetness and peppermint. Like some others, I think these are too minty. I won't go as far as some and say they taste like "brushing your teeth with pretzels," but the flavor is a lot stronger and lingers after you're done chewing and swallowing.
The final problem with these that I have is the serving size. Many members on Reddit say that this snack is great for grabbing a small handful and enjoying. I love small handfuls of snacks, but according to the bag, this one has just four pretzels in one serving. This amount has 130 calories, 6 grams of fat, 4 grams of saturated fat, 2 grams of monounsaturated fat, 190 milligrams of salt, 18 grams of carbohydrates, 8 grams of sugar, and 2 grams of protein. Many more than that fit into my hand.
I tried these on their own but did enjoy them a little better mixed into some Greek yogurt. That's probably the method I'll use to eat the rest of the 26-ounce bag I got for $8.99, but I also think they could taste great in brownies or on top of chocolate ice cream. Otherwise, this Girl Scout season I'll be sticking to the real thing.
This is the Costco snack that deserves a trip home with you.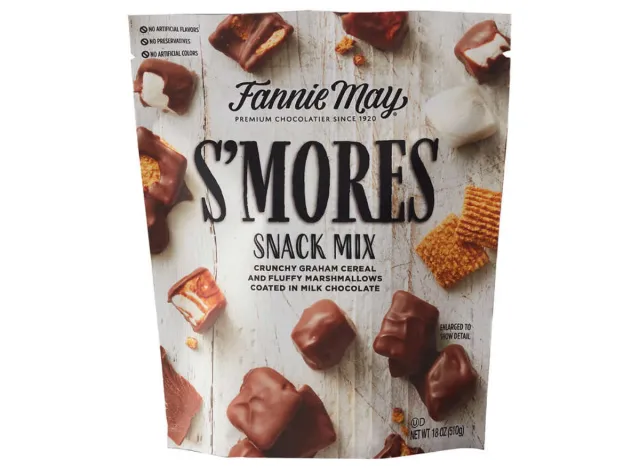 I first tried the Peppermint S'Mores this past holiday season and fell in love. When I saw this version in the warehouse recently, I was pretty sure I would love it—and I was right! I got the 18-ounce bag for $9.69 and ripped it open in the parking lot. I shared some with my sister, who immediately smiled and admitted how good it is. Later on, my mom tried some and was a little hesitant to say the same, but a few days later she accused me of stealing all the marshmallows in the bag (which I did not!).6254a4d1642c605c54bf1cab17d50f1e
What I love about this snack is getting the perfect ratio of chocolate-covered marshmallows to graham crackers. This involves one marshmallow and about three graham crackers. Unlike the Thin Mints Pretzels, one handful is a great size and usually satisfies my sweet tooth.
One serving of this snack is about 1/4 cup worth, which I measured is about the size of my typical handful. It contains 140 calories, 8 grams of fat, 4.5 grams of saturated fat, 40 milligrams of sodium, 20 grams of carbohydrates, 16 grams of sugar, and 1.5 grams of protein.
Even though the S'Mores Snack Mix has more sugar, I never found myself going back and forth to the bag to get more as I did with the Thin Mints Pretzels, and thus consume less. Plus, this option tastes sweeter, so I know I'm eating more sugar.
In the end, the pantry tells the whole story…because the Thin Mints Pretzels are still in there while the S'Mores Snack Mix was finished off by me and my family pretty soon after it was purchased. But that won't be the case for long because the next time I see a bag, I'm definitely picking it up!
For more Costco shipping tips, here are The Healthiest Snacks to Buy at Costco Right Now, Says Nutritionist.
Amanda McDonald
Amanda has a master's degree in journalism from Northwestern University and a bachelor's degree in digital journalism from Loyola University Chicago.
Read more about Amanda