This Workout Is Three Times Better For Your Health Than Walking, New Study Says
Getting in your daily steps is a good start, but this workout is even better for your health.
There's no denying that walking is a great form of exercise. It's easy, you can do it anywhere, and there's no expensive equipment or membership required to get started. And for many people, reaching a specific daily goal, be it 7,000 or 10,000 steps, is enough to keep them feeling energized and healthy.
However, new research suggests that there's a workout that's not only more effective than those daily strolls but is three times as beneficial as walking for your health.
A 2021 study published in the European Heart Journal followed 2,070 adults who participated in the Framingham Heart Study, measuring the amount of exercise they performed using accelerometers.
What the researchers found was that moderate or vigorous exercise—defined as taking 100 to 129 steps per minute or over 130 steps per minute, respectively—was ideal for study subjects' overall health and wellbeing, and actually three times more beneficial than casual walking (defined as a pace of between 60 and 99 steps per minute).
"We expected to find that higher amounts of moderate-vigorous physical activity, like exercise, would lead to better peak exercise performance, but we were surprised to see that higher-intensity activity was also more efficient than walking in improving the body's ability to start and sustain lower levels of exertion," explained Matthew Nayor, MD, MPH, a cardiologist at Boston Medical Center, assistant professor of medicine at Boston University and the study's lead author.
"If your goal is to improve your fitness level, or to slow down the inescapable decline in fitness that occurs with aging, performing at least a moderate level of exertion [through intentional exercise] is over three times more efficient than just walking at a relatively low cadence," Nayor added.
What's more, Nayor's team found that more vigorous activity may actually combat some of the health issues associated with a sedentary lifestyle.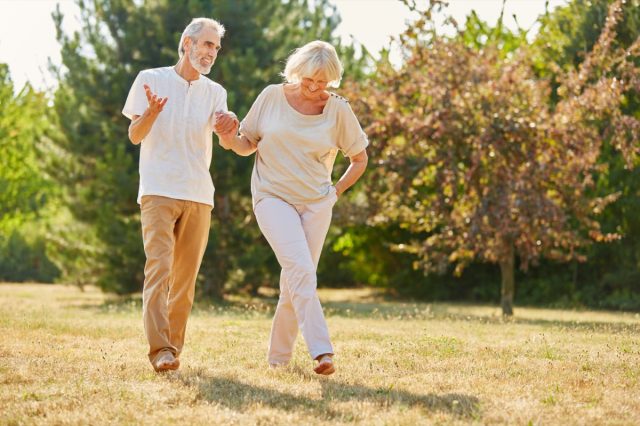 "We observed that individuals with higher-than-average steps per day, or moderate-vigorous physical activity, had higher-than-average fitness levels, regardless of how much time they spent sedentary. So, it seems that much of the negative effect that being sedentary has on fitness may be offset by also having higher levels of activity and exercise," explained Nayor.6254a4d1642c605c54bf1cab17d50f1e
So, if you're looking to improve your overall health and fitness level, you don't have to trade in those daily walks for a hardcore exercise routine—you might just want to pick up the pace a bit.
For more incentive to lace up those sneakers, check out What a Daily Walking Habit Does to Your Body After 60, Says Science, and for the latest health and fitness news delivered to your inbox, sign up for our newsletter!
Read this next:
Sarah Crow
Sarah Crow is a senior editor at Eat This, Not That!, where she focuses on celebrity news and health coverage.
Read more about Sarah