This Chain's New Chicken Sandwich Comes In 50 Flavors
The brand is giving the chicken sandwich its wing treatment with spicy, sweet, and savory sauces.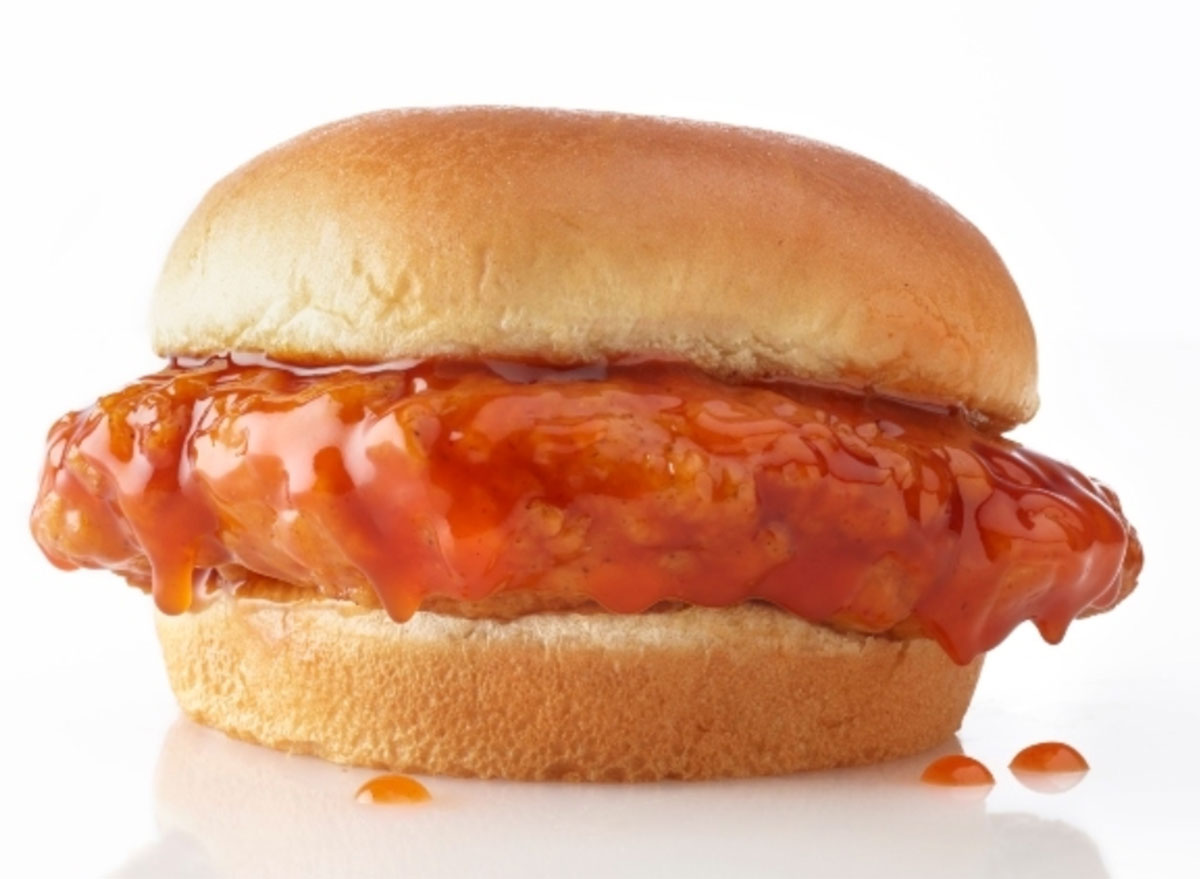 In the current chicken craze of 2021, the only thing that may be more popular than chicken wings is chicken sandwiches. As chicken wings proliferate through virtual offshoots of popular brands, the sandwiches have become a sort of rite of passage for America's fast-food chains of all sizes and menu styles. From burger joints to dine-in restaurants—everyone's got their take on a chicken sammie.
Wing Experience, a virtual wing-focused brand operated by Smokey Bones, has just launched a crispy chicken sandwich of their own, but the chain will stand out from the competition with one major advantage—the sandwich is customizable with 50 different flavors.
RELATED: These Popular Fast-Food Chains Are Struggling With Unexpected Shortages
While the biggest fast-food chicken sandwich contenders like McDonald's, Popeyes, and Chick-fil-A, offer their items in two, maybe three versions (Classic, Spicy, and sometimes Deluxe), Wing Experience is using 50 flavors of their chicken wings to add some pizzazz to their chicken sammie. When customers place an order, they'll get to pick a sauce that will be used to toss their chicken patty before it's nestled into a brioche bun. The sauce options seem endless: Maple Bacon, Bourbon Peach, Honey Sriracha, Chipotle Ranch, Scorpion Buffalo, and so many more.
The sandwich is retailing for $7.99 on its own, or $11.99 as part of a meal, which comes with a side and a drink.
"Chicken sandwiches are one of the hottest items hitting menus right now, and as Masters of Meat, we knew we could make ours more craveable than anyone else's," says CEO James O'Reilly. "By offering our Crispy Chicken Sandwich in 50 different flavors, we are offering our guests more flavor variety and customization potential than any other brand."
Smokey Bones' other virtual concept, Burger Experience, will carry a version of the Crispy Chicken Sandwich topped with mayo and pickles.
For more, check out some of the most exciting chicken sandwiches that came out this year.
Hardee's and Carl's Jr Hand-Breaded Chicken Sandwich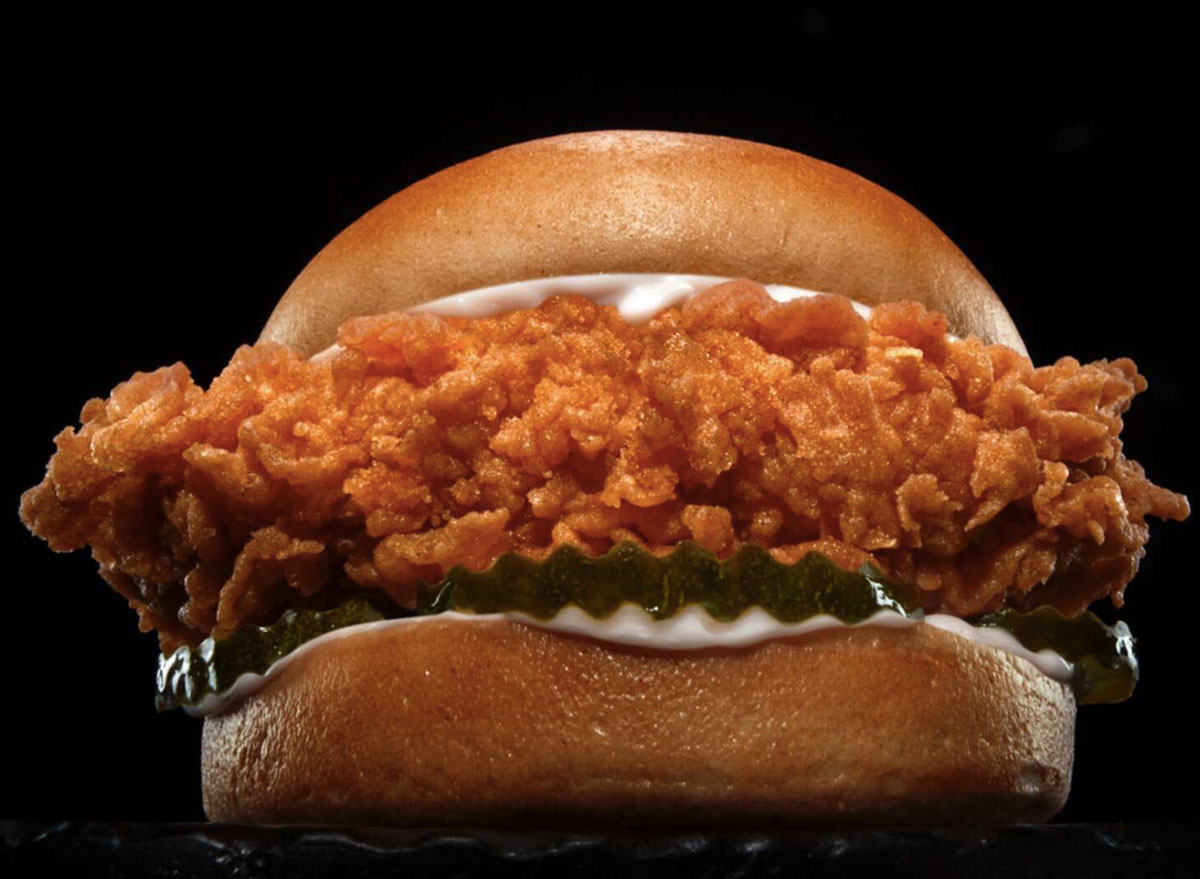 The two brands know hand-breaded chicken well. Their chicken tenders, which were launched 10 years ago, are a prominent fixture on the menu. The sister chains have now taken their chicken technique expertise and applied it to a trio of new items, including a Hand-Breaded Chicken Sandwich, which launched on May 17. At a glance, the new item seems like a clone of every single chicken sandwich currently on the market, potato bun, pickles, mayo, and all.
But according to this fast-food critic, it's a surprisingly strong contender for the top spot in the chicken sandwich wars. "The first bite left me silently stunned: succulent, flavorful, and, despite the fact that I had gotten it delivered, crunchy to the point that it rang in my ears," she wrote in her review for The Takeout. Could this be the dark horse we didn't see coming?
Don't forget to sign up for our newsletter to get the latest restaurant news delivered straight to your inbox.
Burger King's Spicy Ch'King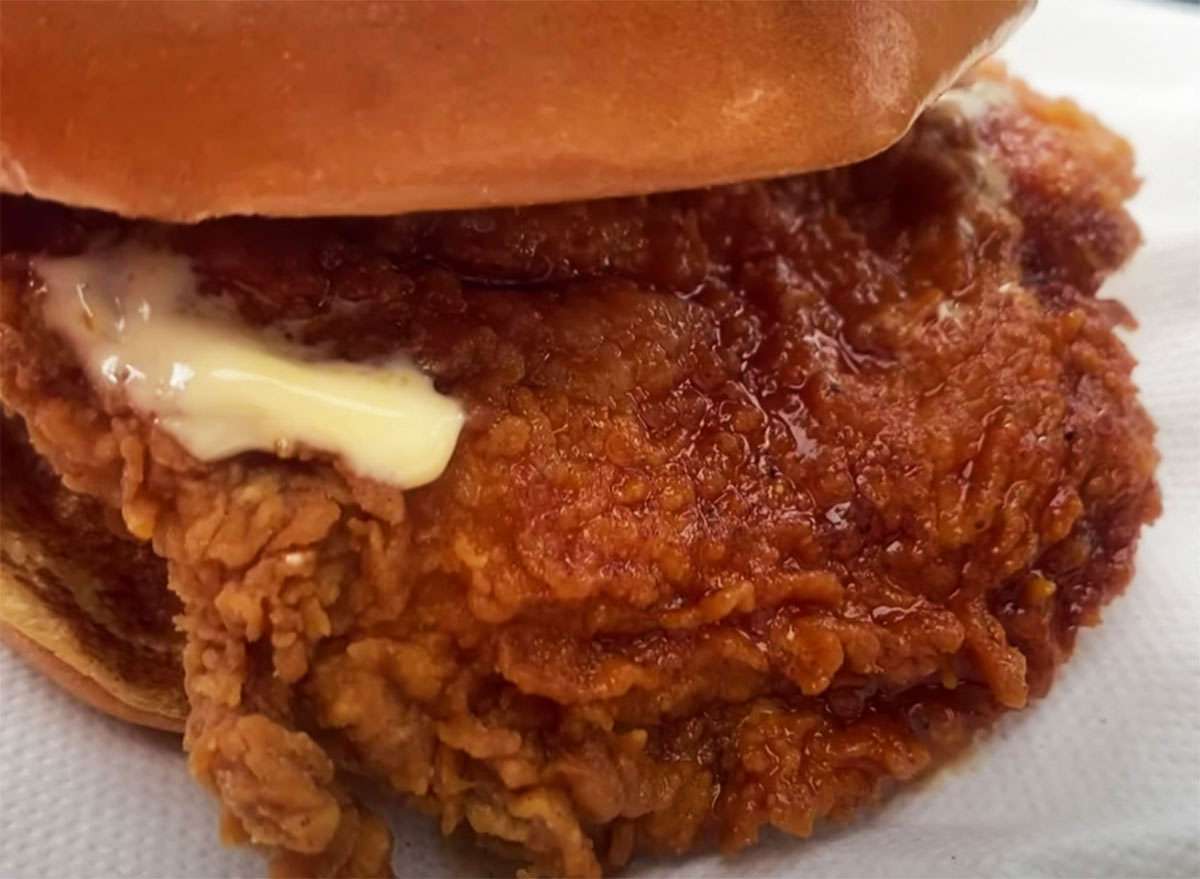 This long-awaited sandwich officially rolled out across the country on June 3, and in two versions: regular and spicy. Burger King had been tinkering with improvements to their existing chicken sandwich since 2019, and started testing out this new version in select stores several months ago. While most agree that the regular version is rather unspectacular, some say the spicy sandwich is better than those from Chick-fil-A's and McDonald's.
The Spicy Ch'King comes with a sweet-and-spicy sauce slathered all over the crispy chicken filet and has been described as "near perfection" and "a colossal achievement" by fast-food critics.
Taco Bell's Naked Chicken Chalupa
Taco Bell wants to be different, so bun begone! The chain's returning Naked Chicken Chalupa isn't exactly a chicken sandwich, but it's one of the most interesting items currently on the fast-food chicken scene.6254a4d1642c605c54bf1cab17d50f1e
First introduced in 2017, the item was so popular the first time around that it spawned a new era of fried chicken at Taco Bell. With its piece of crispy chicken used as a shell for all the fillings, it's no wonder the Naked Chalupa has been called the chain's "most controversial chalupa ever." But can its bunless existence compare to a sandwich? The jury is still out!
Smashburger's Scorchin' Hot Crispy Chicken Sandwich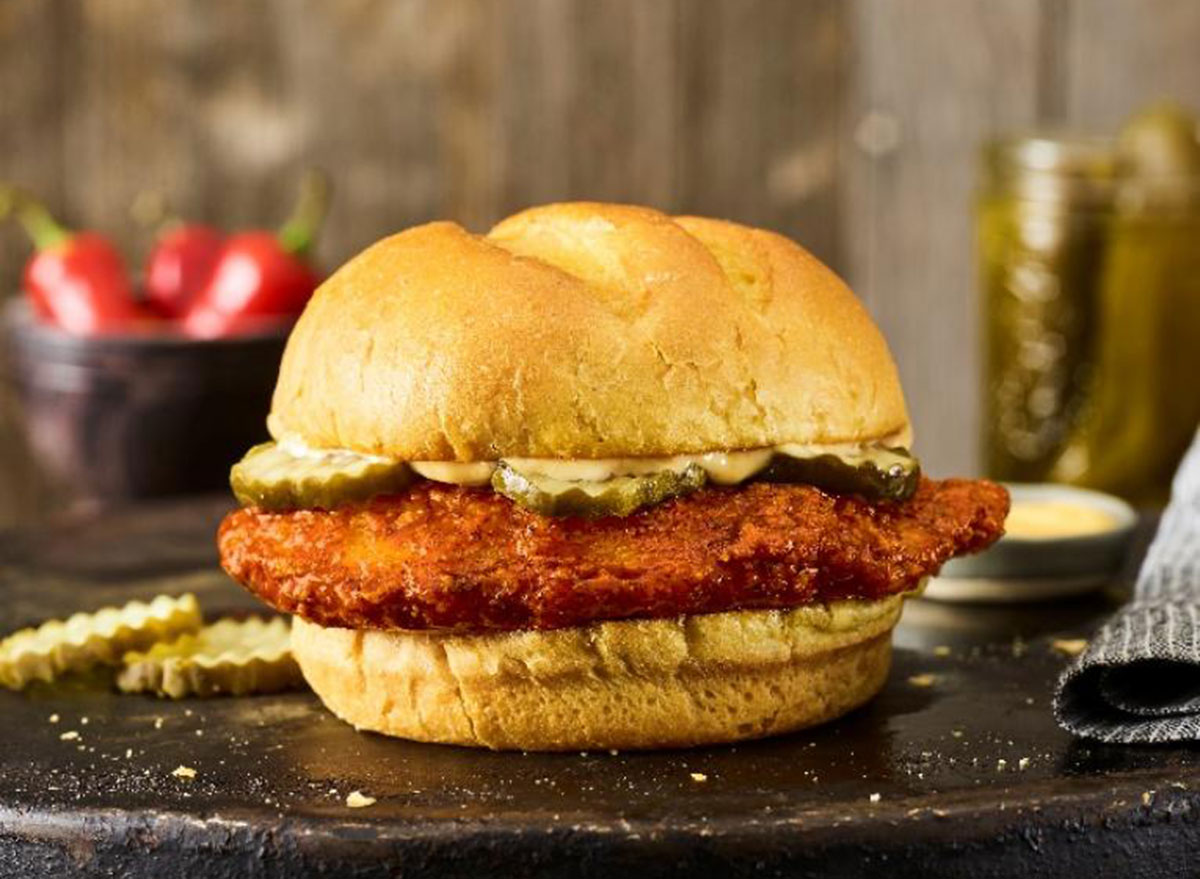 This spicy sandwich was launched back in April and by early May, dozens of Smashburger locations were already sold out of their supplies. Actually, it wouldn't be surprising if the Scorchin' Hot left menus sooner than its planned June 15 departure date. In just over two weeks after it launched, the new item had become Smashburger's second most popular menu offering, a spokesperson confirmed.
This baby is made with Nashville hot crispy chicken, spicy red pepper mayo, and pickles—and is said to set taste buds on fire!
McDonald's Three New Chicken Sandwiches
After several rather half-hearted attempts at competing in the chicken wars in 2019, McDonald's has finally taken the competition seriously. This year, the chain launched not one, not two, but three new chicken sandwiches.
The simplest one of the three, the Crispy Chicken Sandwich, is an exact replica of Chick-fil-A's sandwich, down to the crinkle-cut pickle. However, fans are complaining this most basic version is too dry and doesn't hold a candle to the Spicy and Deluxe version, which come with a slather of creamy spicy sauce and mayo respectively.
While McDonald's has seen a notable bump in foot traffic during launch week, only time will tell how the new sandwiches stack up in the Chicken Sandwich Wars. If the popularity of their spicy chicken nuggets is any indication, the chain is done playing [chicken] games.
KFC's New and Improved Chicken Sandwich
KFC has always been synonymous with fried chicken, but the company has definitely felt the pressure to innovate with the rise in competition. Just a few days after McDonald's announced it would be stepping up its game with three new chicken sandwiches, KFC announced major upgrades to its Crispy Colonel Sandwich.
They've essentially replaced said sandwich with a newer, better version simply called KFC Chicken Sandwich, which was rolled out at all locations by the end of February. According to the company, their old chicken sandwich wasn't "living up to our legacy as experts in fried chicken."
KFC's Chicken Sandwich comes with a heftier chicken filet (25% larger than in the old sandwich), which is double-breaded and served on a new, buttered brioche bun with thicker, crinkle-cut pickles and mayo or spicy sauce.
For more, check out the 108 Most Popular Sodas Ranked By How Toxic They Are.
Mura Dominko
Mura is ETNT's Executive Editor, leading the coverage of America's favorite restaurant chains, grocery stores, and viral food moments.
Read more about Mura