13 Things You'll Never See at McDonald's Again
If the company brings its new experimental social-distancing designs near you, that is.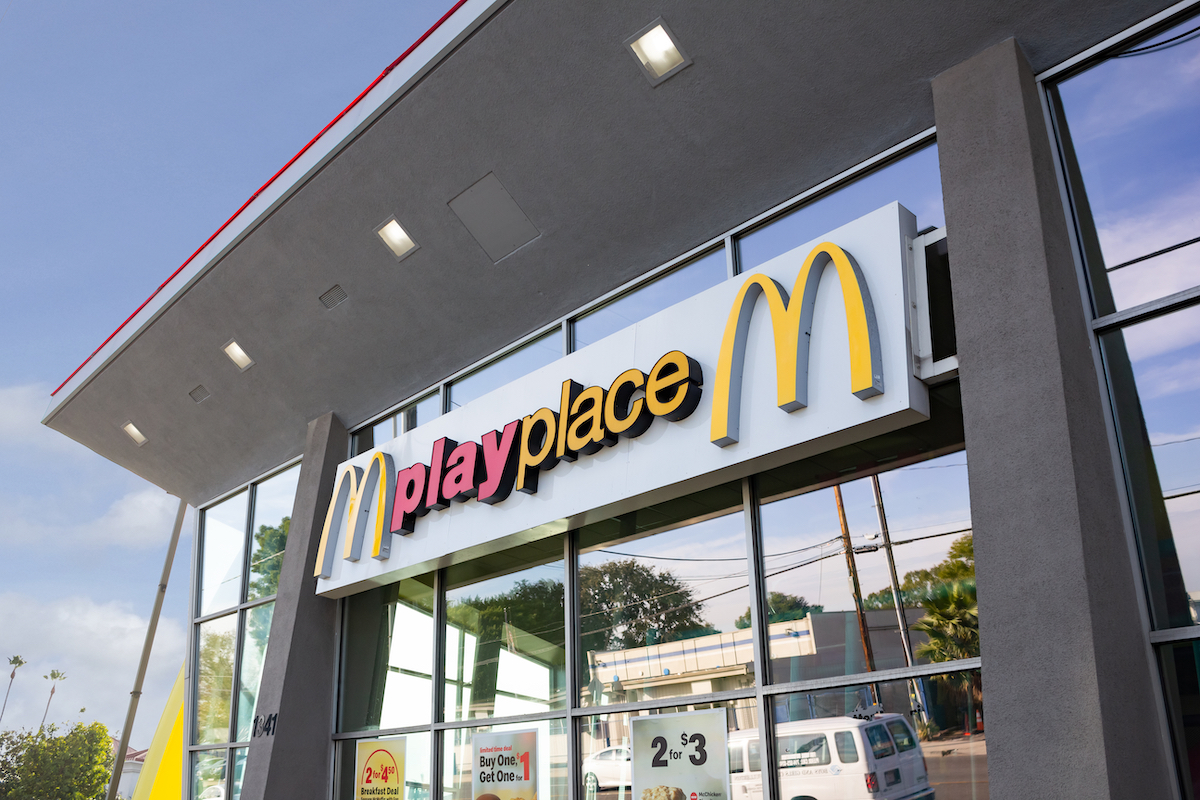 In at least one way, the most recognizable restaurant on earth was financially prepared for the COVID-19 pandemic.
Over the course of the last year, McDonald's had spent hundreds of millions of dollars upgrading its drive-through service, installing advanced new digital menus and even cameras that can read license plate numbers so that the restaurant can offer tailored ordering suggestions for individual customers. Before the virus hit, drive-through service represented 70% of the fast-food chain's revenue. Since then, those window-to-car sales—though still fraught with fear among employees and customers alike—have buoyed the Golden Arches' business.
Suffice it to say, the same can't be said for the restaurant itself. McDonald's has been forced to close its seating areas completely as social-distancing measures have the chain re-thinking the ways it will operate into the future and ensure the safety of its employees and customers.
But if you want to see how McDonald's could be forever altered into the future after the pandemic, you can.
In Arnhem, a city in the Netherlands, the company recently rolled out an all-new anti-virus restaurant design that conforms to the new world of safety and social distancing. It includes several new features while modifying and doing away with others. As McDonald's Netherlands spokesperson Eunice Koekkoek described to Reuters, "These are drastic changes, but we hope to make them in a way that customers don't notice them too much."
Of course, this is a trial run in the Netherlands, and the company has not announced any plans to roll out these changes to all 14,000 restaurants in the U.S. But when you see them, you'll agree that it's not unlikely McDonald's requires them on a much larger scale. Curious to know the McDonald's features you're used to seeing for years that may not survive the coronavirus pandemic? Read on, because we've included them right here.
And for more on how the world of dining out will be forever changed by the pandemic, see this list of Things You'll Never See in Restaurants Again.
Bare floors without designated waiting spots and floor decals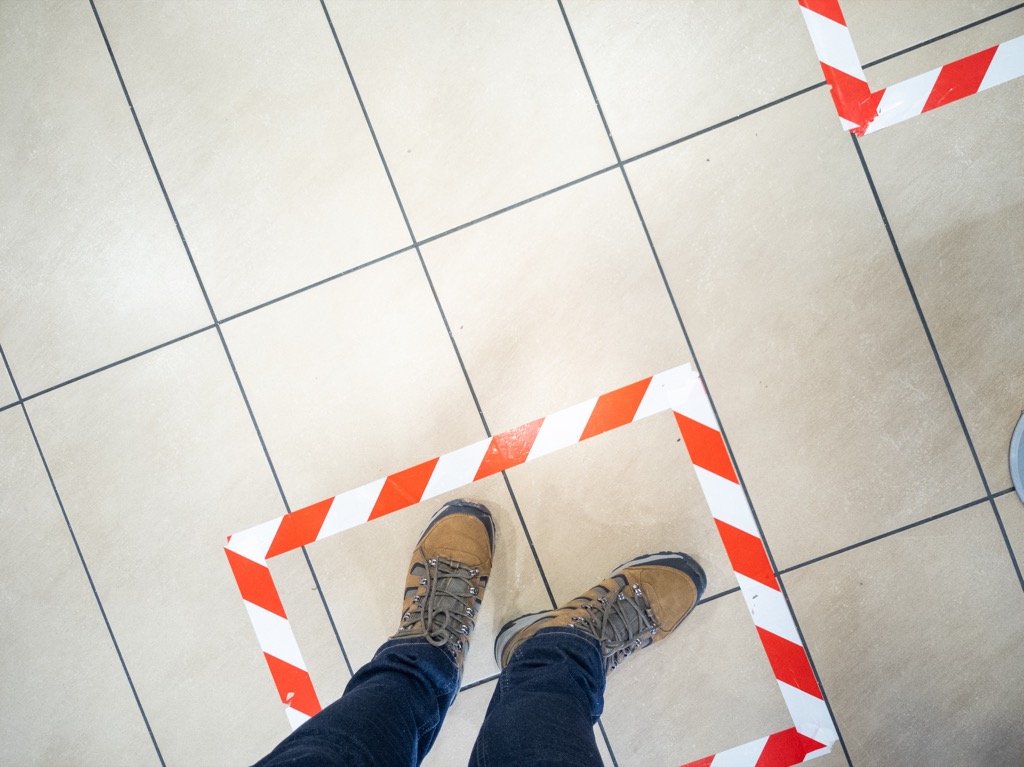 The prototype post-COVID-19 McDonald's includes floor decals and circles that are not only in the restaurant but also extend out into the parking lot. These graphics will direct the flow of traffic and tell customers where to stand, to ensure that proper social-distancing measures are followed.
People bunched together waiting on their food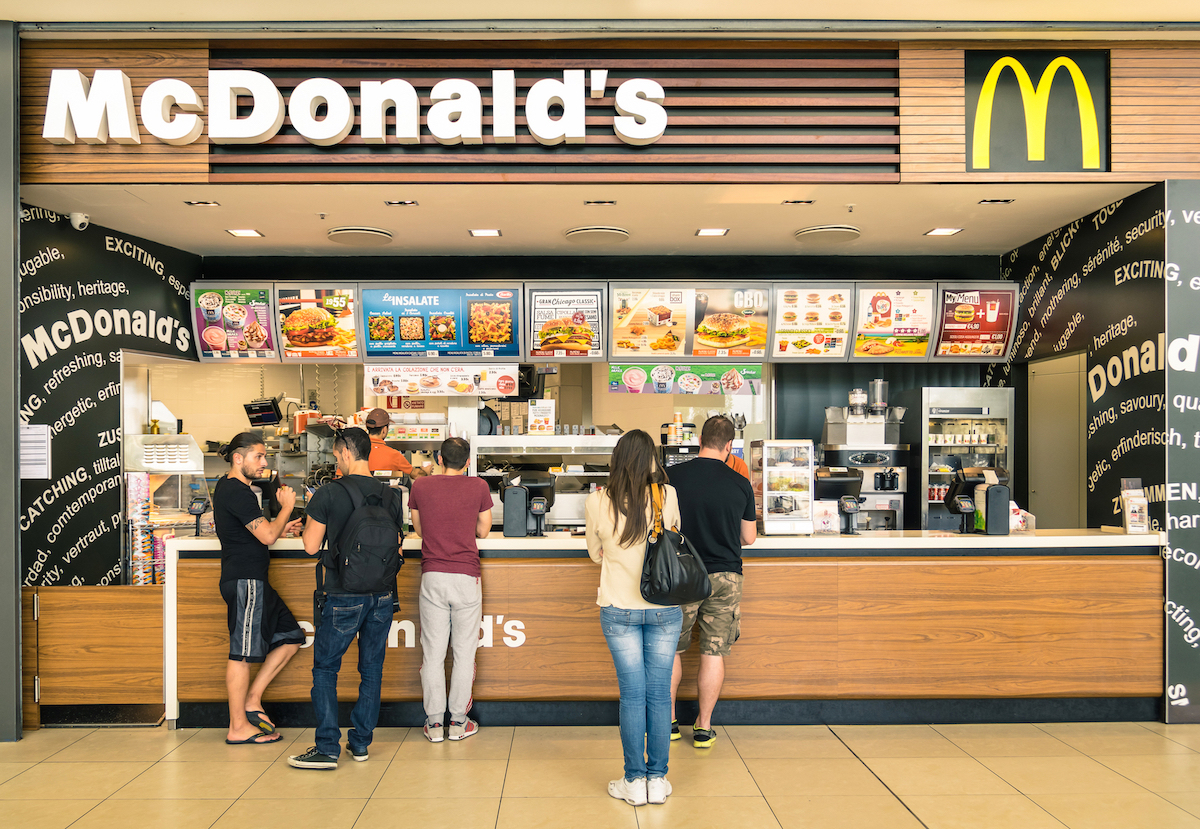 We've all been there before. You've ordered your food and then you jumble together with the other paying customers waiting on the number on your receipt to be called. That may no longer be the case moving forward.
The new McDonald's design utilizes table service in which employees wheel over orders on a trolley to ensure contactless delivery and that customers remain separated. In the U.S., a version of this policy has already been acknowledged, as McDonald's USA stated that table service will be the norm moving forward.
An entrance without hand sanitizer
Expect a jug of bacteria killer to greet you right when you walk into the store.
Tables bunched together without partitions
The new McDonald's design will accommodate 66% fewer patrons than previously, and tables will be separated with clear partitions. The barriers in the Netherlands have stickers with messages on them, including: "Smile at a safe distance."
Employees not wearing gloves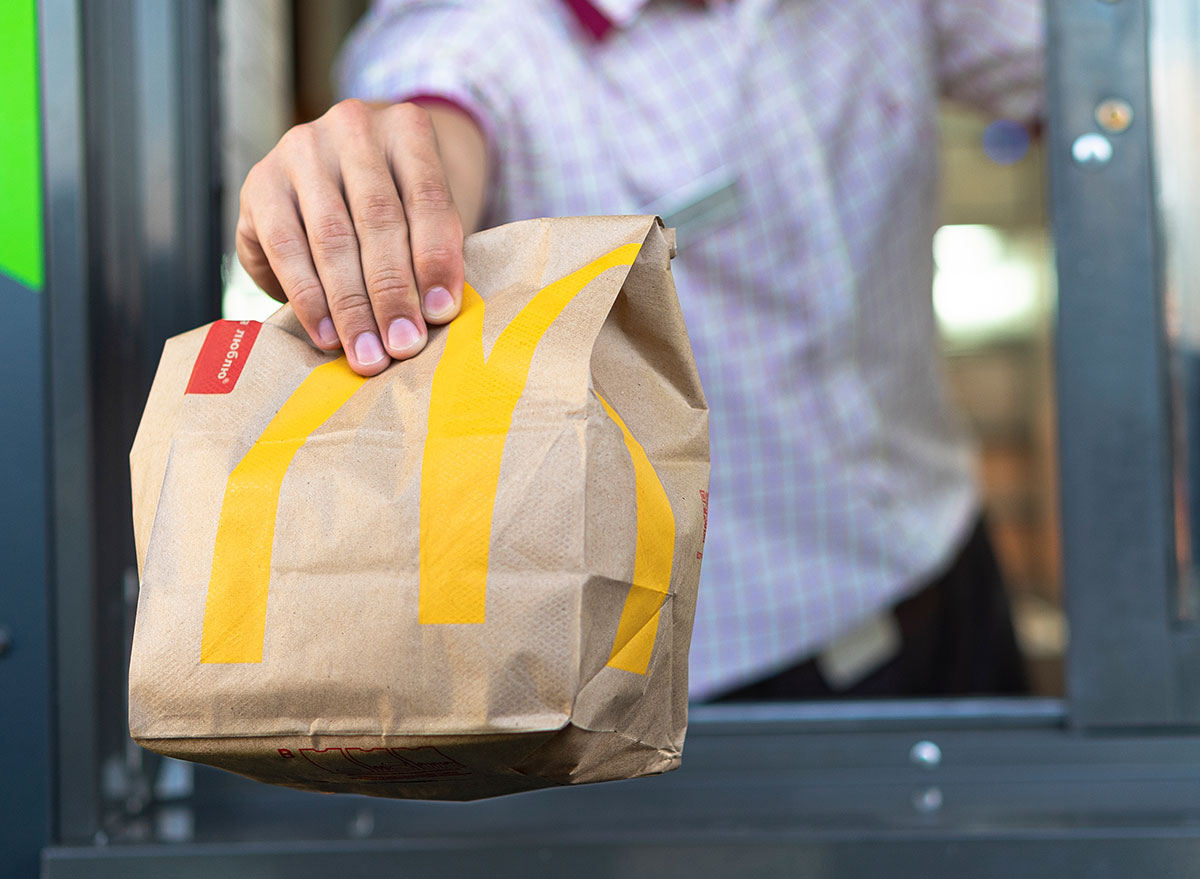 This is one of the many safety measures the restaurant chain has implemented.
PlayPlaces always open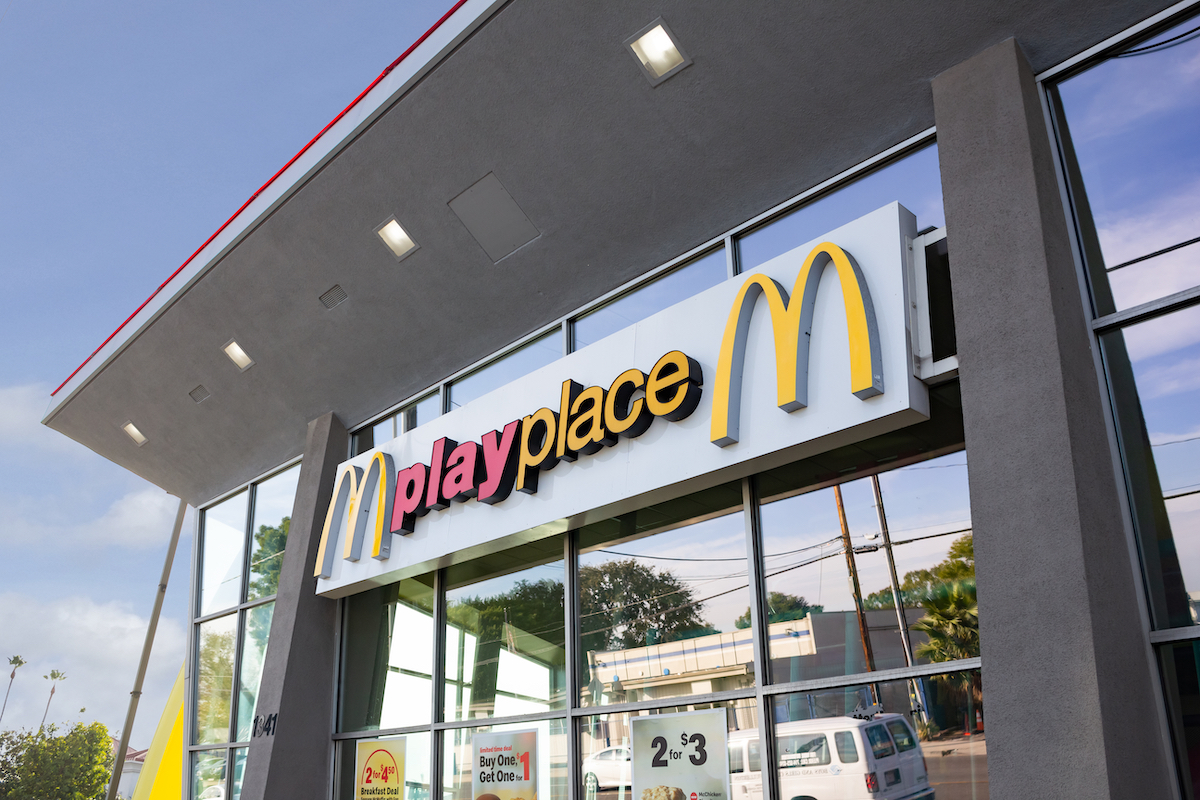 After the pandemic began and safety measures were first introduced, the closing of PlayPlaces and seating areas where among the first things to be prohibited. We can all expect that policy to continue.
Entry points without hand-washing stations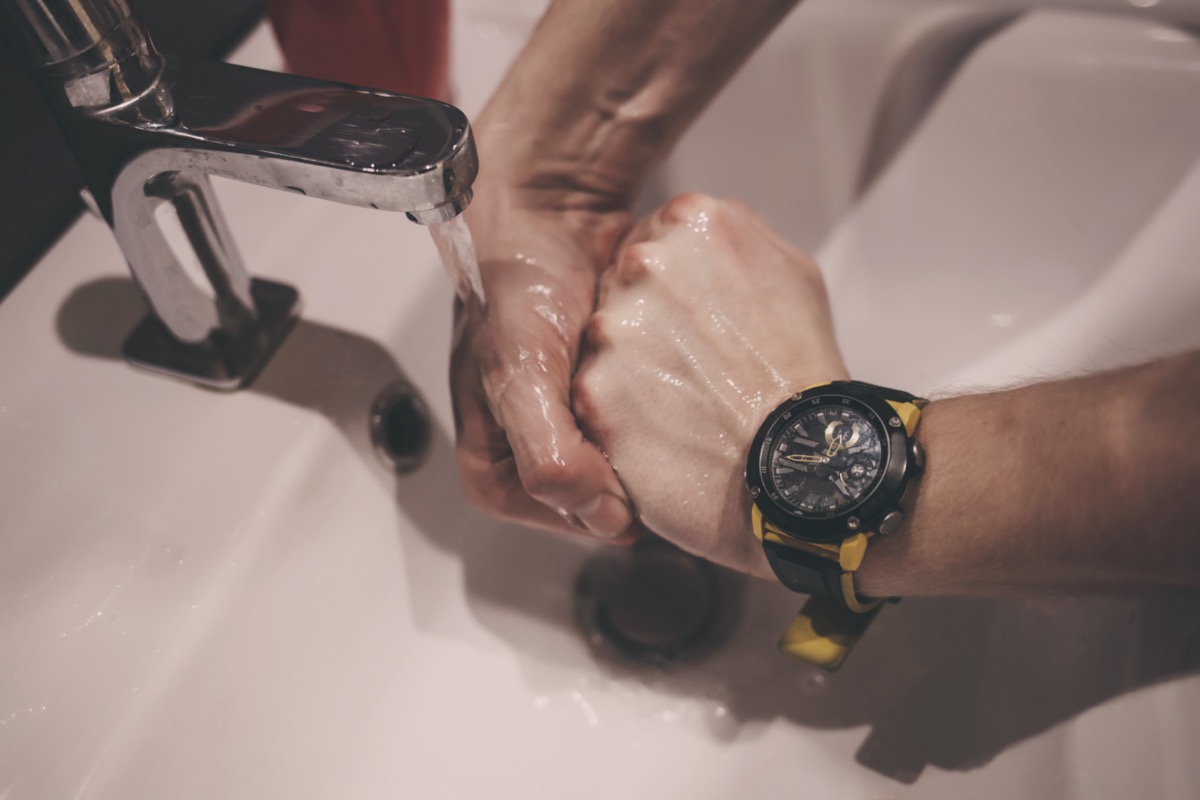 The new design also includes a hand-washing station—with a sink and paper towels—several feet before the hand sanitizer station. Oh, and speaking of hand-washing: For some really great health advice on navigating our COVID-19 world, don't miss the 9 Worst Habits to Have During the Coronavirus.
Self-serve soda fountains
According to recently released McDonald's guidelines, "beverage bars will remain closed or sectioned off and staffed in restaurants" moving forward. The days of serving yourself appear to be ancient history.
Dirty counters
According to McDonald's USA president Joe Erlinger, all McDonald's customers can expect "more frequent cleaning of high touch surfaces, including tables."
Food served openly on a tray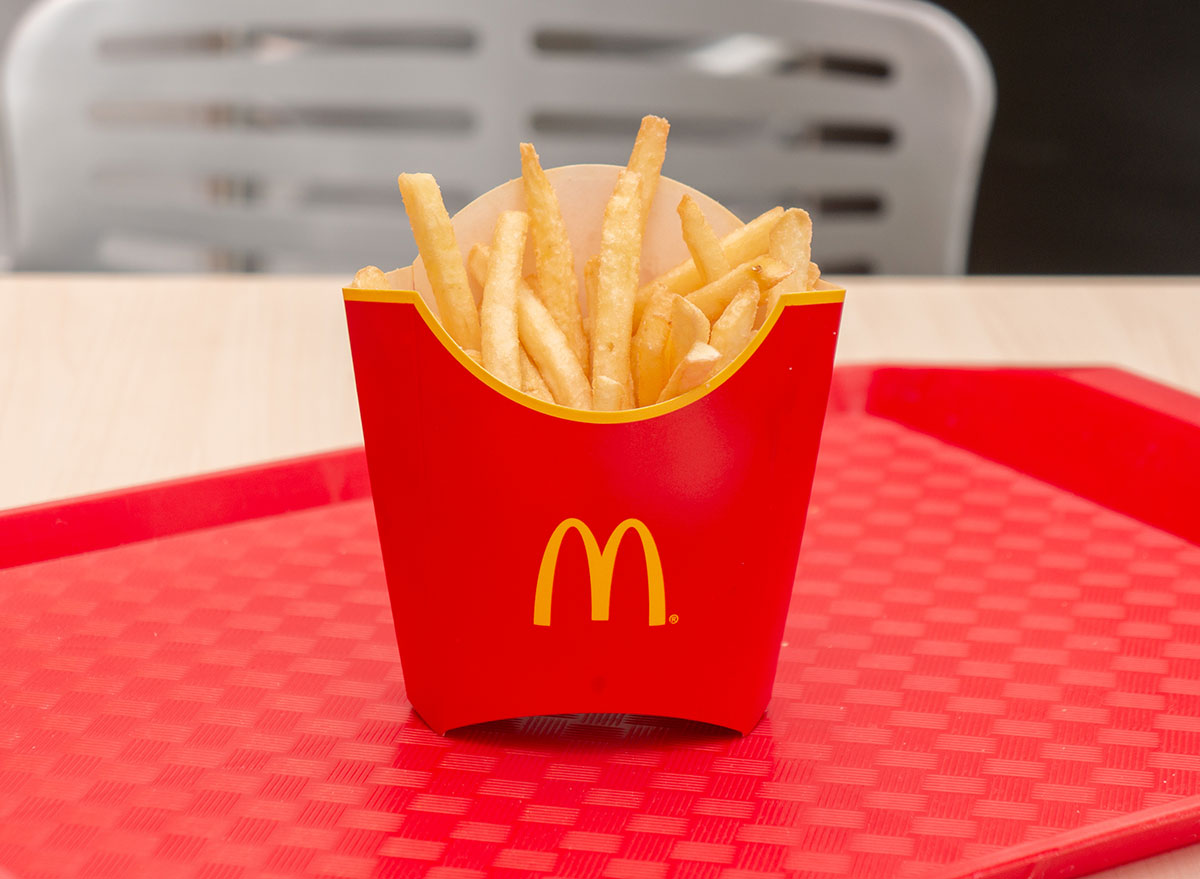 As McDonald's noted in its press release, dine-in customers can all expect to have their food delivered straight to their table "in a double-folded bag, while still ensuring safe social distancing."
All-day breakfast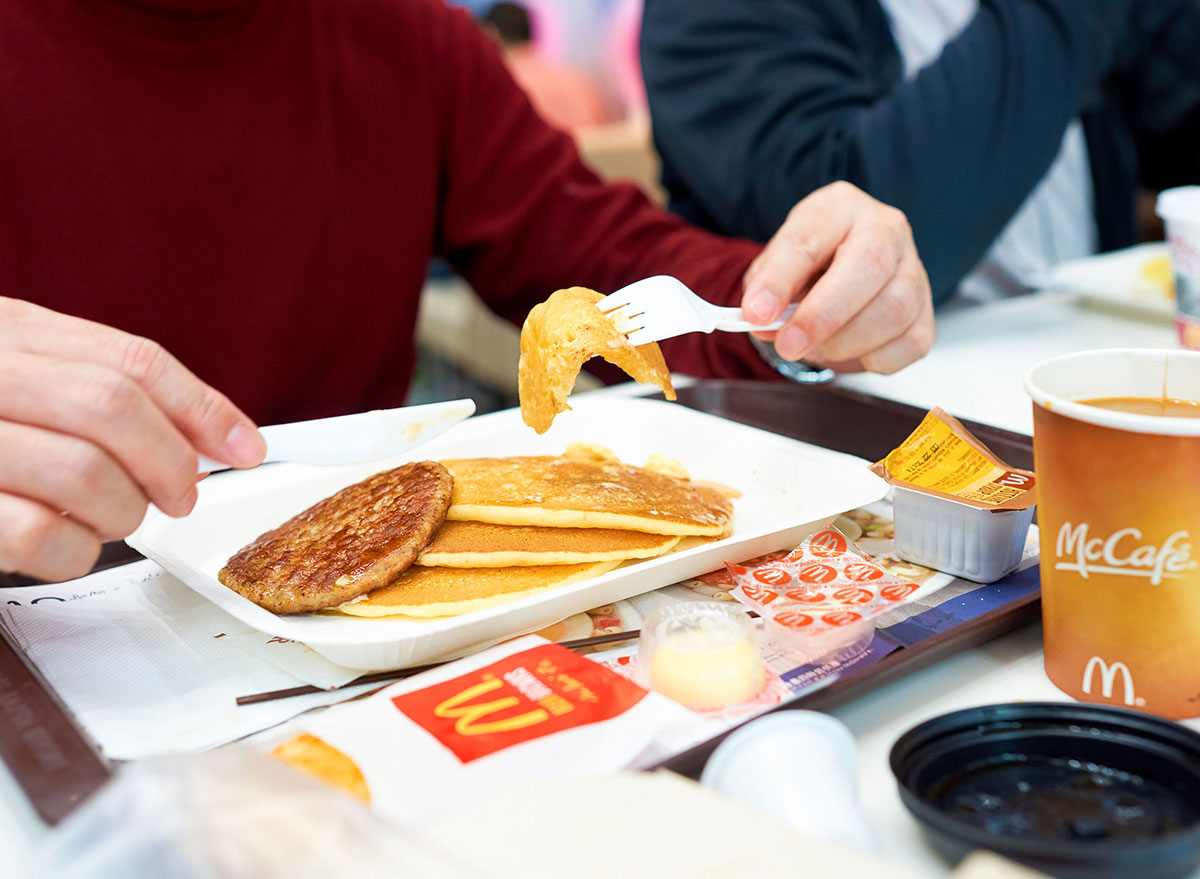 McDonald's has gotten rid of its all-day breakfast offerings during the pandemic, and they may not return when it's over, either. On the plus side, the limited menu means that McDonald's service times are faster than before.
The P.L.T.
The P.L.T., McDonald's plant-based Beyond Meat offering, was available in Canada this spring. But it was discontinued during the pandemic, and it doesn't sound like McDonald's is bringing it back anytime soon.6254a4d1642c605c54bf1cab17d50f1e
Salads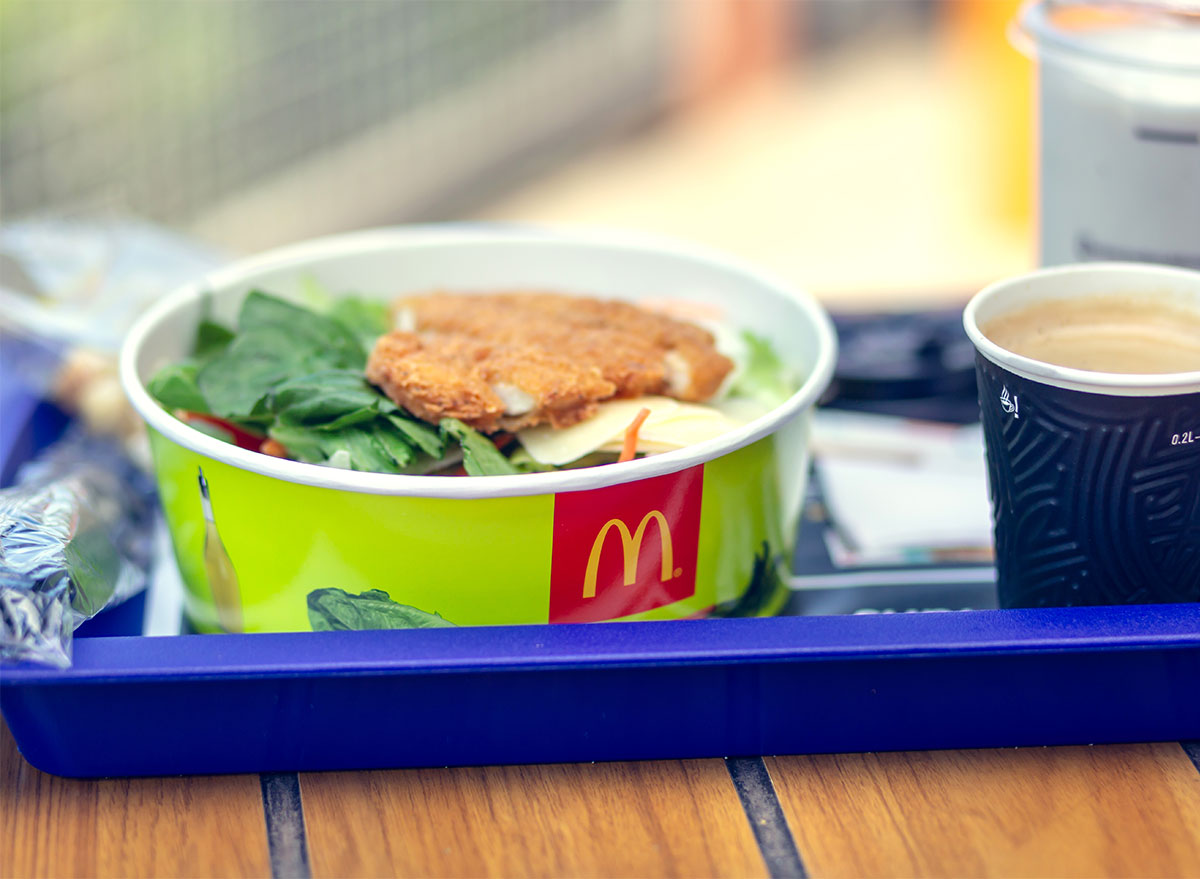 The McDonald's menu simplification didn't just include getting rid of all-day breakfast. The Golden Arches have also stopped serving salads, at least for the time being.
And for when you're cooking at home, don't miss these 52 Life-Changing Kitchen Hacks That'll Make You Enjoy Cooking Again.
Eat This, Not That!
Inspired by The New York Times best-selling book series, Eat This, Not That! is a brand that's comprised of an award-winning team of journalists and board-certified experts, doctors, nutritionists, chefs, personal trainers, and dietitians who work together to bring you accurate, timely, informative, and actionable content on food, nutrition, dieting, weight loss, health, wellness, and more.
Read more about Eat This