The 5 Best-Selling Chicken Sandwiches in America—Revealed
Here's an unbiased look at who's really winning the chicken sandwich wars.
Who's winning the great chicken sandwich wars? Most fans of the #1 sandwich in America can give you their fully formed opinion based on years of taste-testing. Now, we finally have data to provide us with a more concrete answer about who's doing it best.
Chicken sandwich orders grew by 420% in the last two years, according to an analysis from Edison Trends. And the company with by far the greatest market share during that time frame was Chick-fil-A.
Edison's report analyzed more than 100,000 online transactions from eight of the biggest fast-food competitors in the category between Jan. 2019 and Dec. 2020. While the data obviously doesn't capture every single transaction from these chains, it provides a good snapshot of the demand for the hottest menu item in fast food right now.
As of December, here's where things stand in terms of the online chicken sandwich battle. Several brands have announced new products in the category, so 2021 could prove to be a pivotal year in the greater war.
For more on fast-food trends, check out the 6 Most Anticipated Fast-Food Menu Items Launching This Year.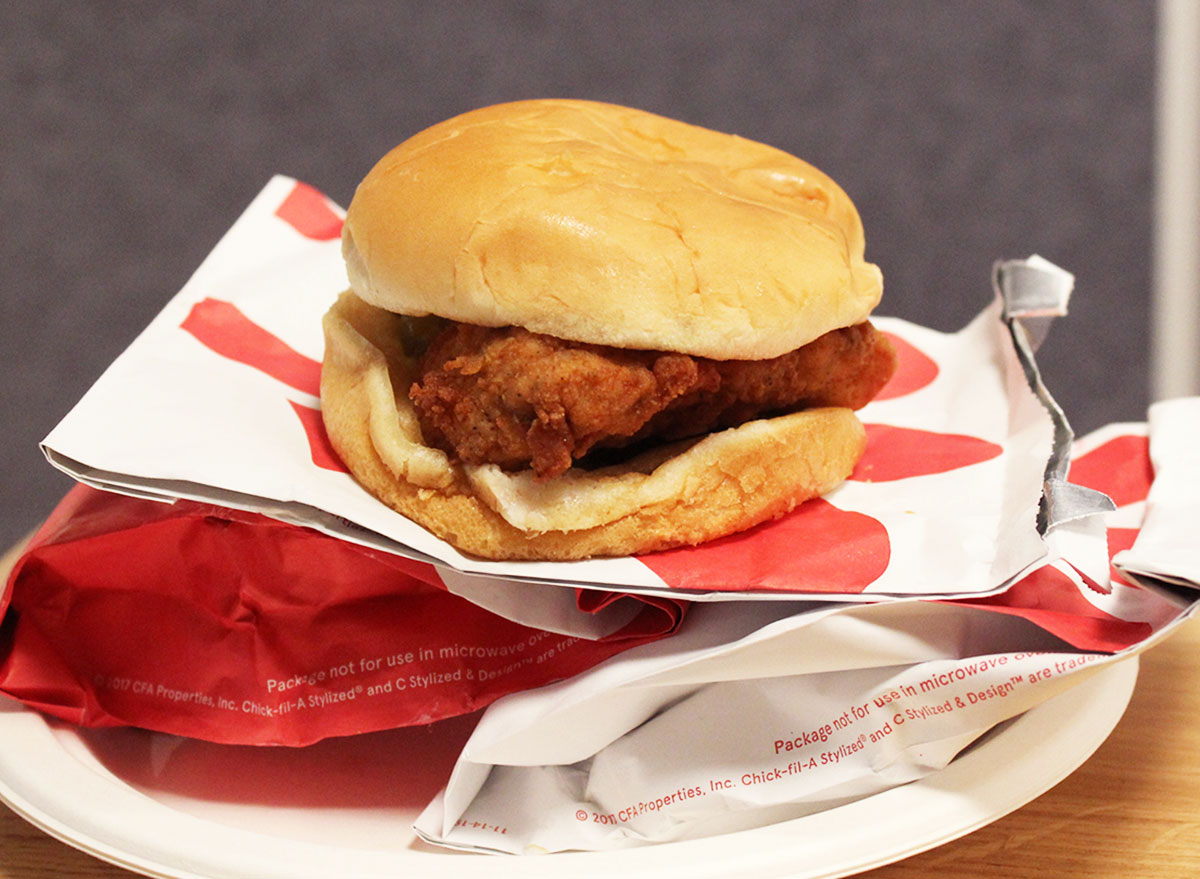 Though Chick-fil-A had anecdotally been proclaimed the winner—or at least a close second—in the chicken sandwich wars, data now makes its ranking official. The Atlanta-based chain has clung to the #1 slot since Jan. 2019, but not without a fight.
When Popeyes' chicken sandwich hype was at its peak, Chick-fil-A briefly fell to second place at the end of 2019. Sales leveled off soon after, and Chick-fil-A has held the top spot ever since. It fulfills about 45% of all online chicken sandwich orders among the top chains.
Generally, Chick-fil-A is a much bigger fish than its footprint would have you think. With a relatively modest 2,500 restaurants in the U.S., it was one of only six fast-food chains to earn more than $10 billion in sales in 2019—and its chicken sandwich had a lot to do with it.
Don't forget to sign up for our newsletter to get the latest restaurant news delivered straight to your inbox.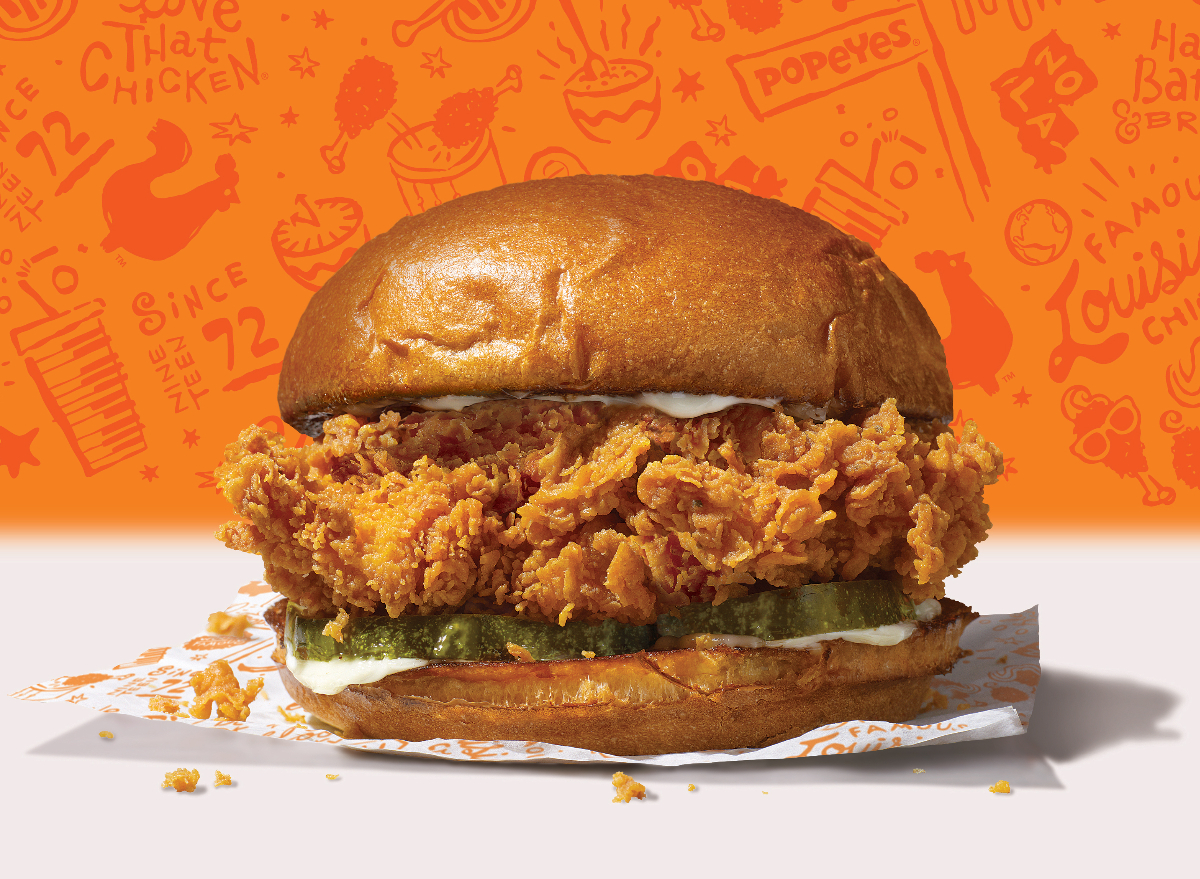 Popeyes achieved no small feat when it briefly overtook the #1 spot on the market with its very first chicken sandwich. Its biggest competitors—Chick-fil-A and McDonald's—briefly took a back seat to the new phenomenon, which came in both classic and spicy versions.
The sandwich promptly sold out when it was introduced in August of 2019, but Popeyes regained its footing. The fast-food chain was back with a vengeance—and a new supply—by November. In January of 2020, Popeyes was earning 33% of all consumer dollars spent on chicken sandwiches among top brands. Currently, it holds 17% of the market, beating out McDonald's by a slim margin.
McDonald's has always been a steady competitor in chicken, but its chicken sandwiches have never propelled it to stardom in the same way that the Big Mac did. Over the last two years, the chain has had the McChicken and several other versions of the crispy chicken sandwich. With those options, it's held onto a pretty significant 16% of the market.
While Popeyes likely managed to purge a lot of Mickey D's chicken sandwich customers, don't forget that the Golden Arches has three new chicken sandwiches coming out this week. Their arrival will mark McDonald's entry into the premium chicken sandwich category. Let's see if they can make a dent in Chick-fil-A's and Popeyes' success!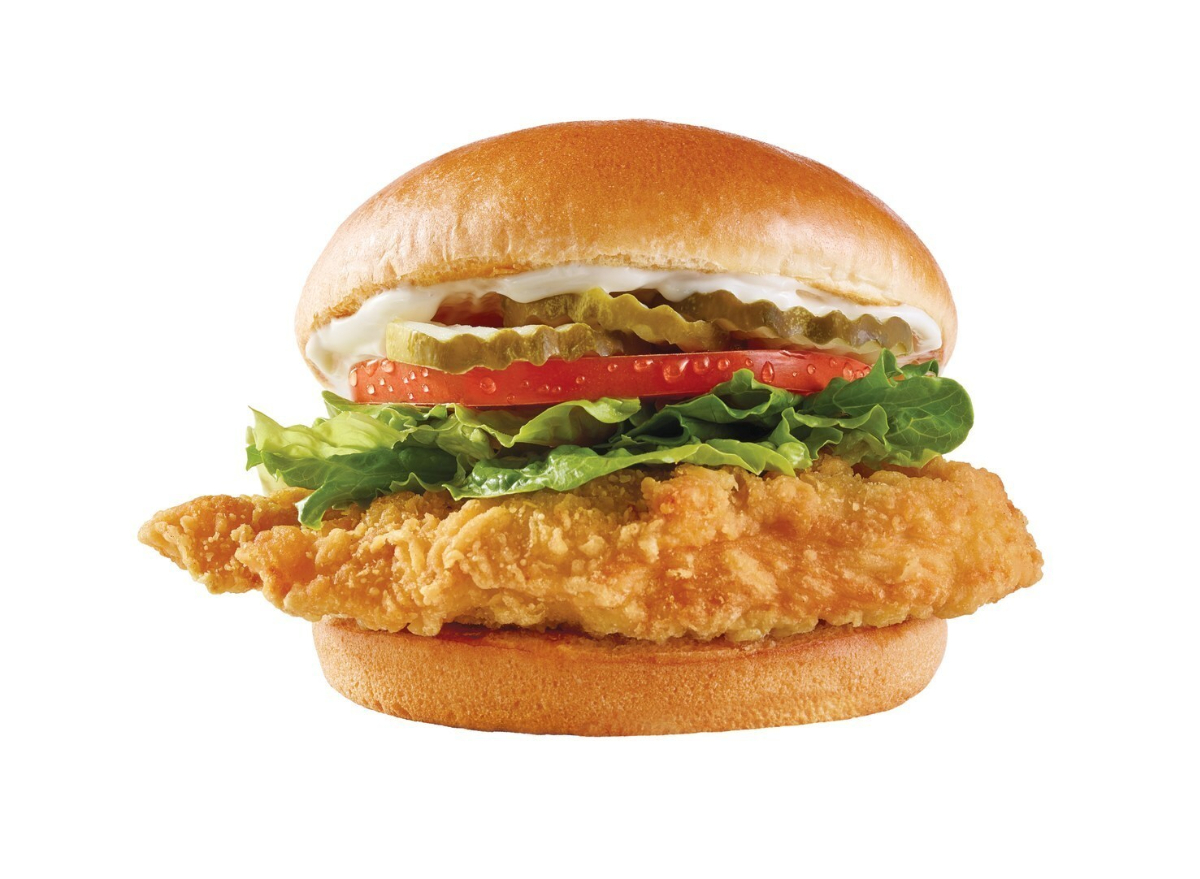 Holding a relatively small share—about 7%—of the chicken sandwich market, Wendy's is definitely still trying to one-up the competition. The chain launched an upgraded version of its chicken patty last year, and it kicked off 2021 with a new jalapeño popper version of its chicken sandwich.6254a4d1642c605c54bf1cab17d50f1e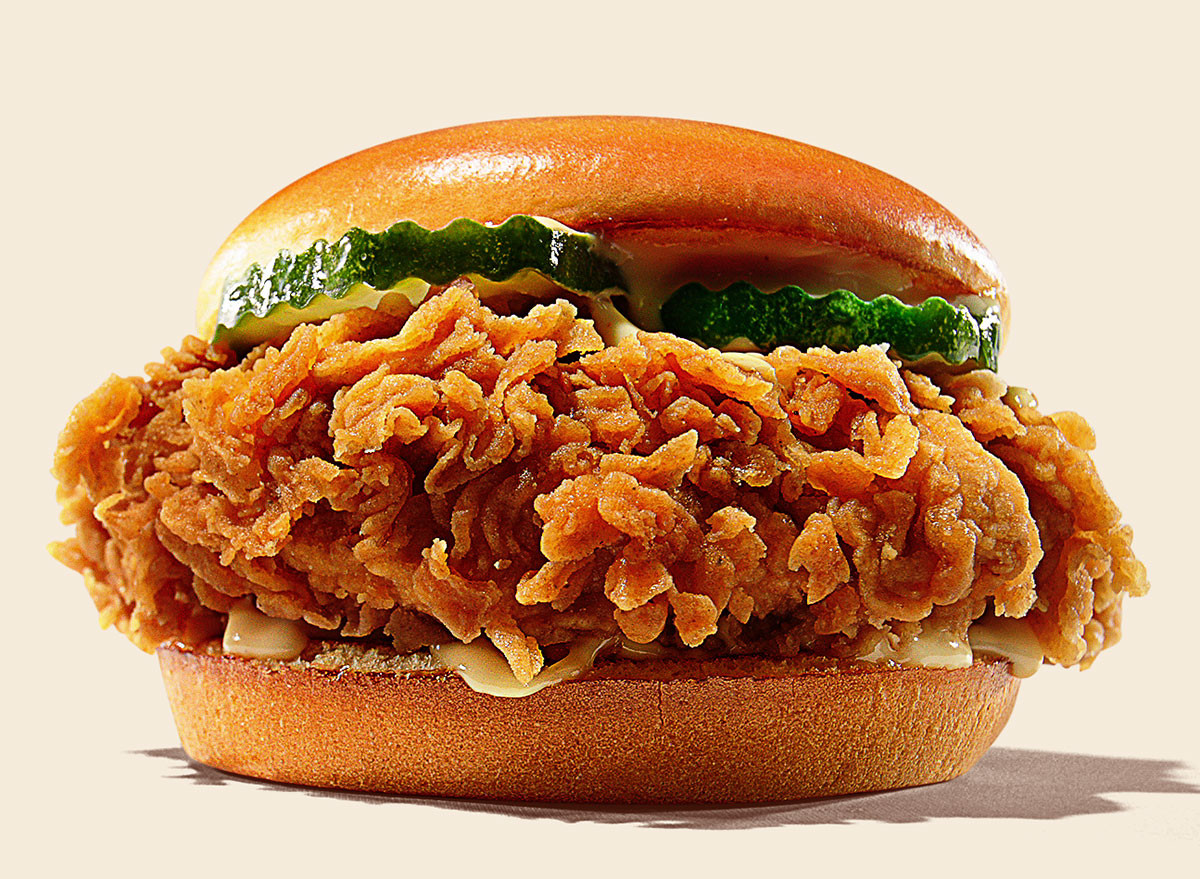 Burger King is small fish in the crispy chicken sandwich game, holding a modest 4% of the market. The brand just announced a major upgrade to its chicken sandwich that's expected to roll out nationwide later this year, so they're very much still in the game.
For more, check out 108 Most Popular Sodas Ranked By How Toxic They Are.
Mura Dominko
Mura is ETNT's Executive Editor, leading the coverage of America's favorite restaurant chains, grocery stores, and viral food moments.
Read more about Mura