The Worst Costco Bakery Items to Buy This Fall
If the Costco bakery section was a pumpkin patch, we wouldn't pick these.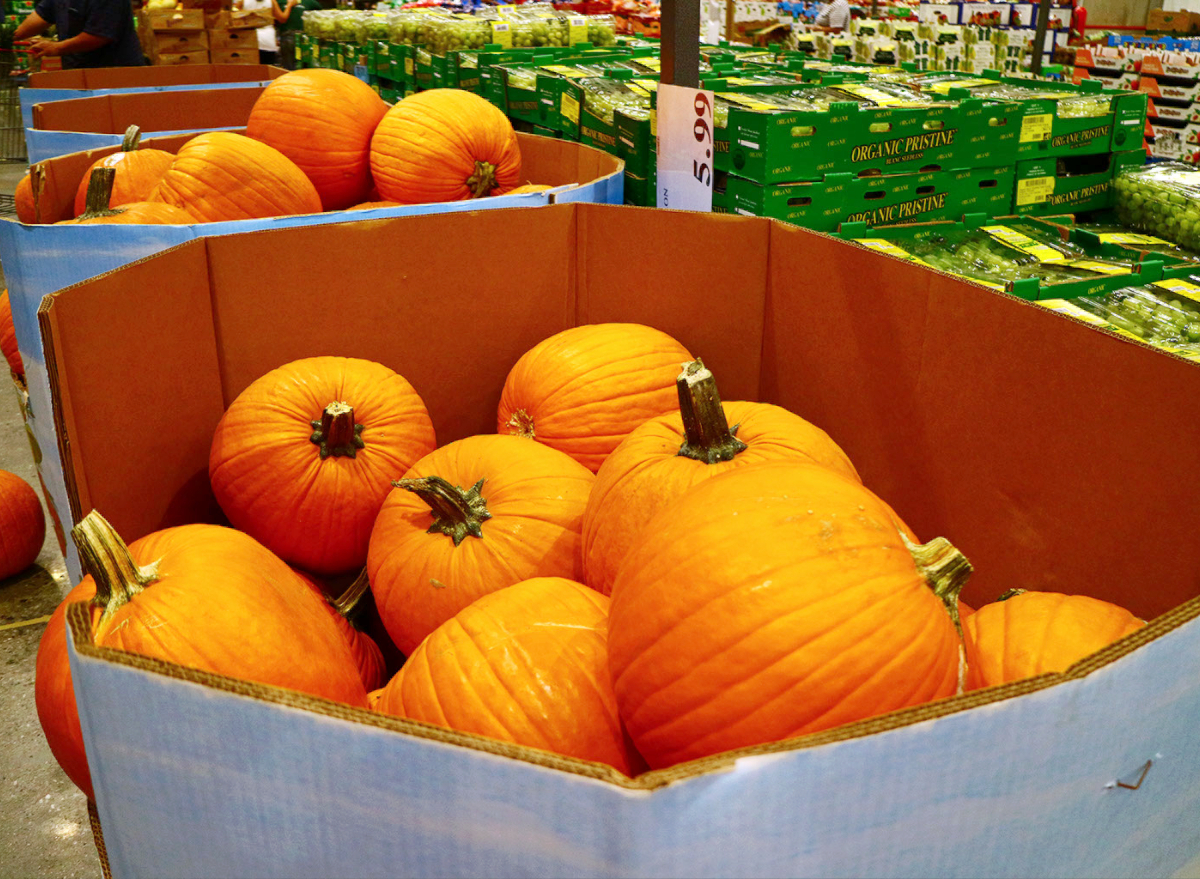 Though Costco's bakery department is laden with sugar and carbs, it doesn't mean that you can't actually enjoy the fall-themed foods the warehouse has rolled out for the season. Because it's Costco, you know the cakes, pies, muffins, and pastries are going to be as big as the largest pumpkin in the patch, which is why the most important thing you can do to healthily enjoy these snacks is to know the nutrition information before diving in.
If you want to be even more cautious of how much you're consuming, you can even cut the standard portion sizes down even more. (Many of Costco's baked goods actually have smaller serving sizes than you may realize—the serving size of a muffin is half, not the whole thing!)
"For pies, rather than cutting a pie into 6 pieces try cutting it into eight or 10," says Trista Best, MPH, RD, LD, of Balance One Nutrition. "This allows you to cut down on the size and calories and still get to enjoy your favorite pie."
Rachel Fine, RDN, supports still enjoying these delicious fall-themed foods, especially because they only come around during certain times of the year and are tied to happy gatherings with friends and family.
"Placing external restrictions upon these more indulgent choices can lead to an overall binge and restrict cycle," she says while recommending people eat the treats they want to eat, just in moderation. In the end, let "dessert be dessert" and enjoy yourself responsibly, she says.
With all that being said, while we're calling these the worst items you can pick up in the Costco bakery this fall, that's only based on the nutrition label. Each of them is a delicious addition to your autumn gatherings, and there's no harm in having a slice of pumpkin pie alongside a healthy meal!
(For more info on what to get and what to skip at the warehouse, here are The Best & Worst Bulk Buys at Costco—Ranked!)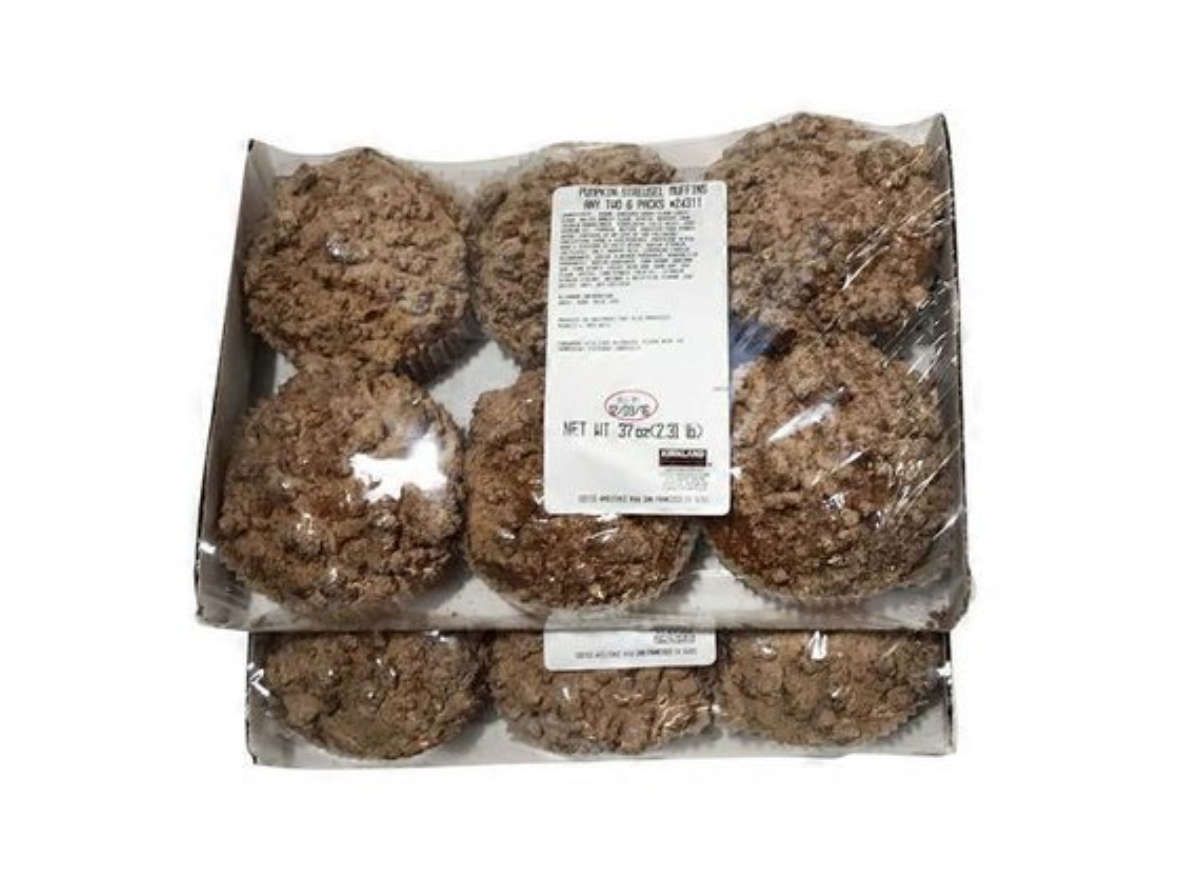 ½ muffin
: 340 calories, 17 g fat (5 g saturated fat), 280 mg sodium, 43 g carbs (1 g fiber, 22 g sugar), 4 g protein
The pumpkin streusel muffins from Costco's bakery are one of the most delicious options you can pick up from the warehouse in the fall. However, according to My Fitness Pal, they have a lot—and we mean a lot—of carbs. The serving size is just half a muffin, so cutting the treat in half before you dig in is the best way to keep an eye on how much you're consuming.
Related: To get all the latest Costco news delivered right to your email inbox every day, sign up for our newsletter!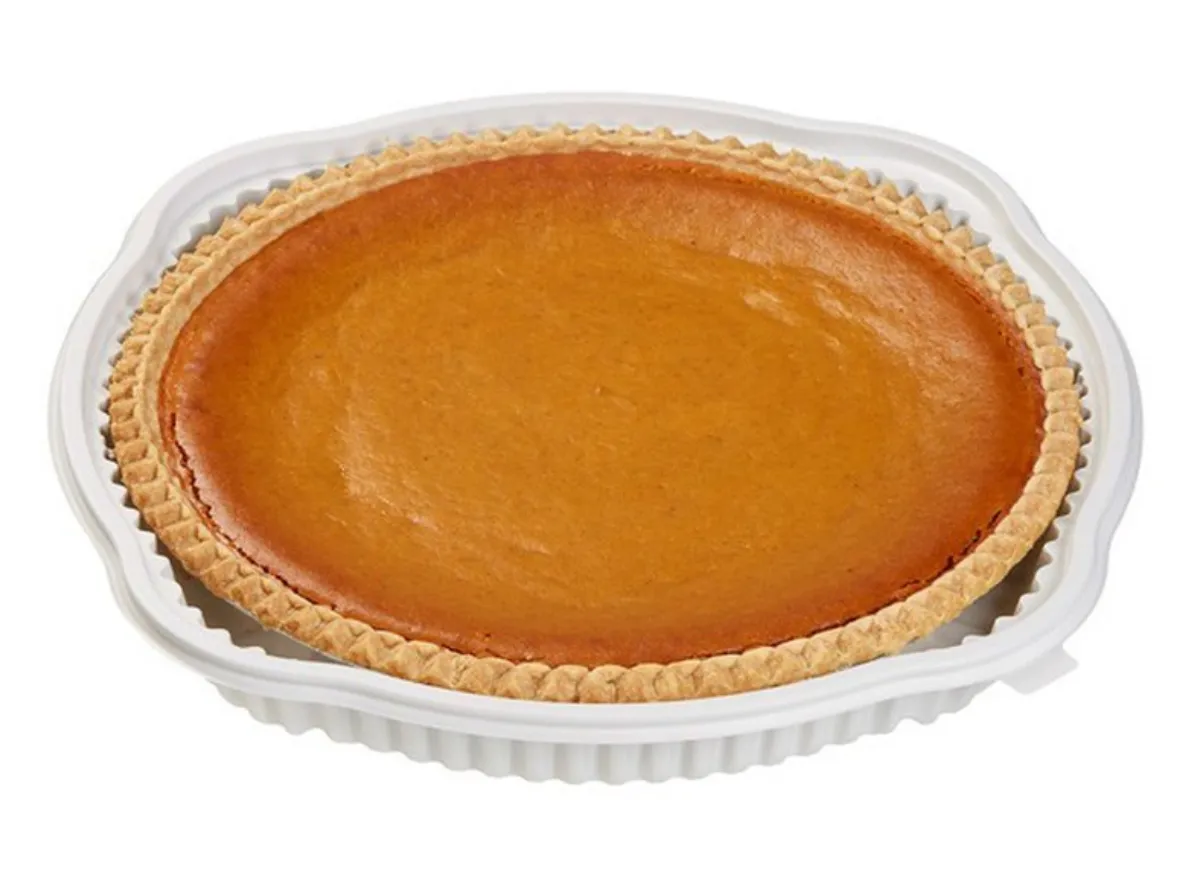 1/8 of 12" pie
: 465 calories, 12 g fat (6 g saturated fat), 370 mg sodium, 72 g carbs (3 g fiber, 45 g sugar), 6 g protein
Pumpkin pie may be the ultimate fall great, but according to My Fitness Pal, it's like a giant bag of Halloween candy in terms of carbs and sugar. If you want to enjoy this baked treat this autumn, make sure you adhere to the serving size and share the rest with friends and family so you can still have a treat or two instead of a trick.6254a4d1642c605c54bf1cab17d50f1e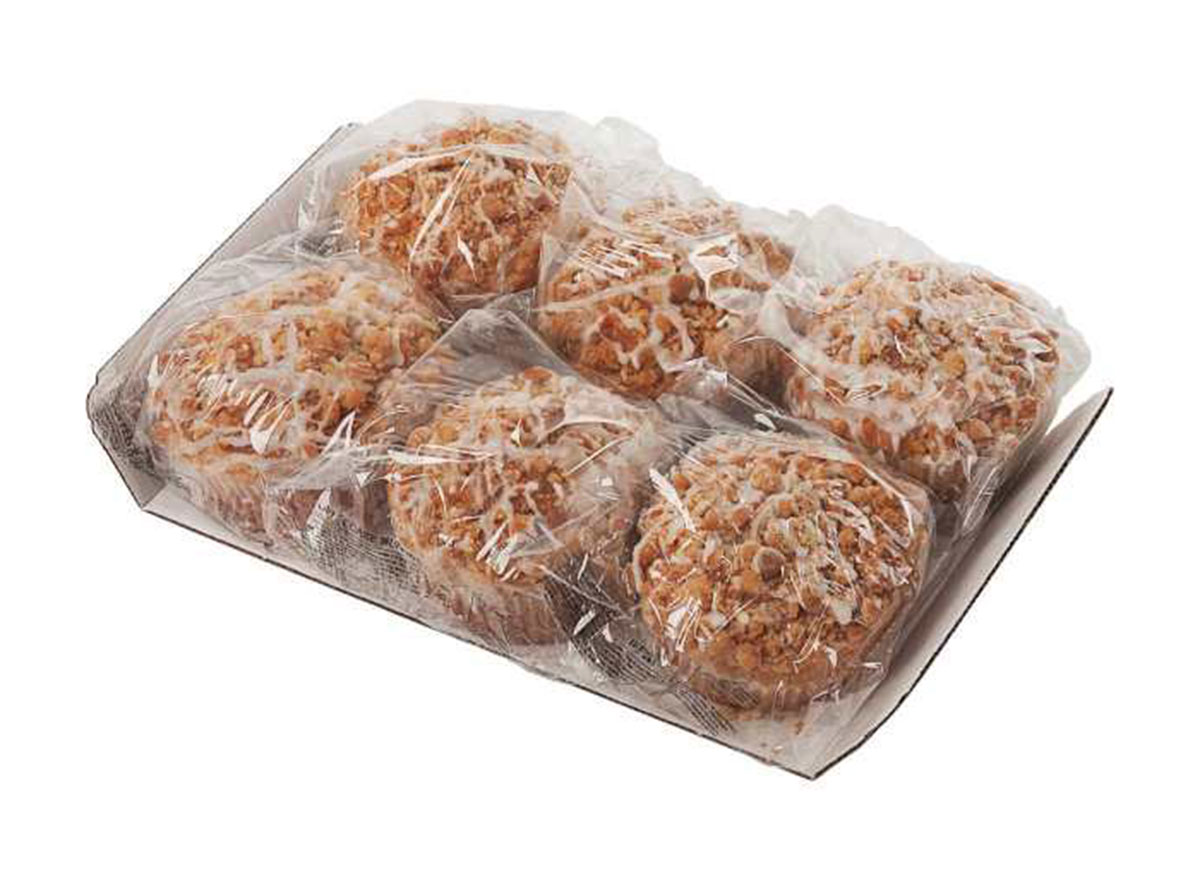 ½ muffin
: 330 calories, 15 g fat (9 g saturated fat, 0.5 g trans fat), 350 mg sodium, 46 g carbs (1 g fiber, 26 g sugar), 4 g protein
The coffee cake muffins at Costco are loaded with saturated fat and carbs, not to mention calories. As to be expected with something of the coffee cake variety, there is also quite a bit of sugar, especially considering the streusel topping. So while this is a delicious fall treat, it's one definitely best consumed in moderation, dietitians say.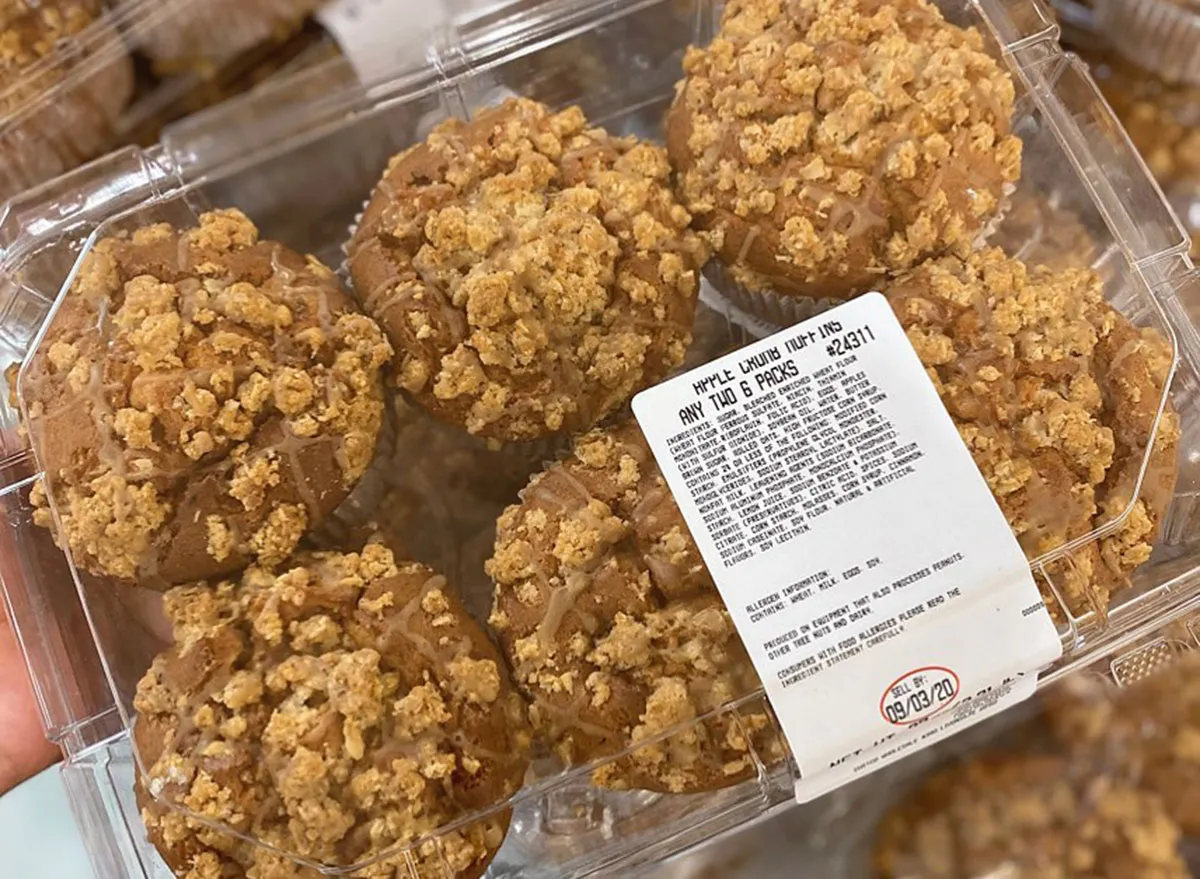 ½ muffin
: 320 calories, 15 g fat (4.5 g saturated fat), 240 mg sodium, 42 g carbs (1 g fiber, 24 g sugar), 4 g protein
Costco's apple crumb muffins, while delicious, are pretty hefty. The serving size is actually half the muffin, and even at that, it's got 320 calories and 24 grams of sugar. Try pairing half with a fresh apple and cinnamon to add some fiber and help keep you full longer.
For more info on what is happening at the Costco warehouse in your neighborhood, check out:
Costco is Already Selling This Insanely Popular Holiday Treat
Hedy Phillips
Hedy is a freelance writer with years of experience covering buzzy food trends, wellness, and weight loss.
Read more about Hedy