The Best & Worst Bulk Buys at Costco—Ranked!
There's a lot to choose from at Costco...but it's not all good!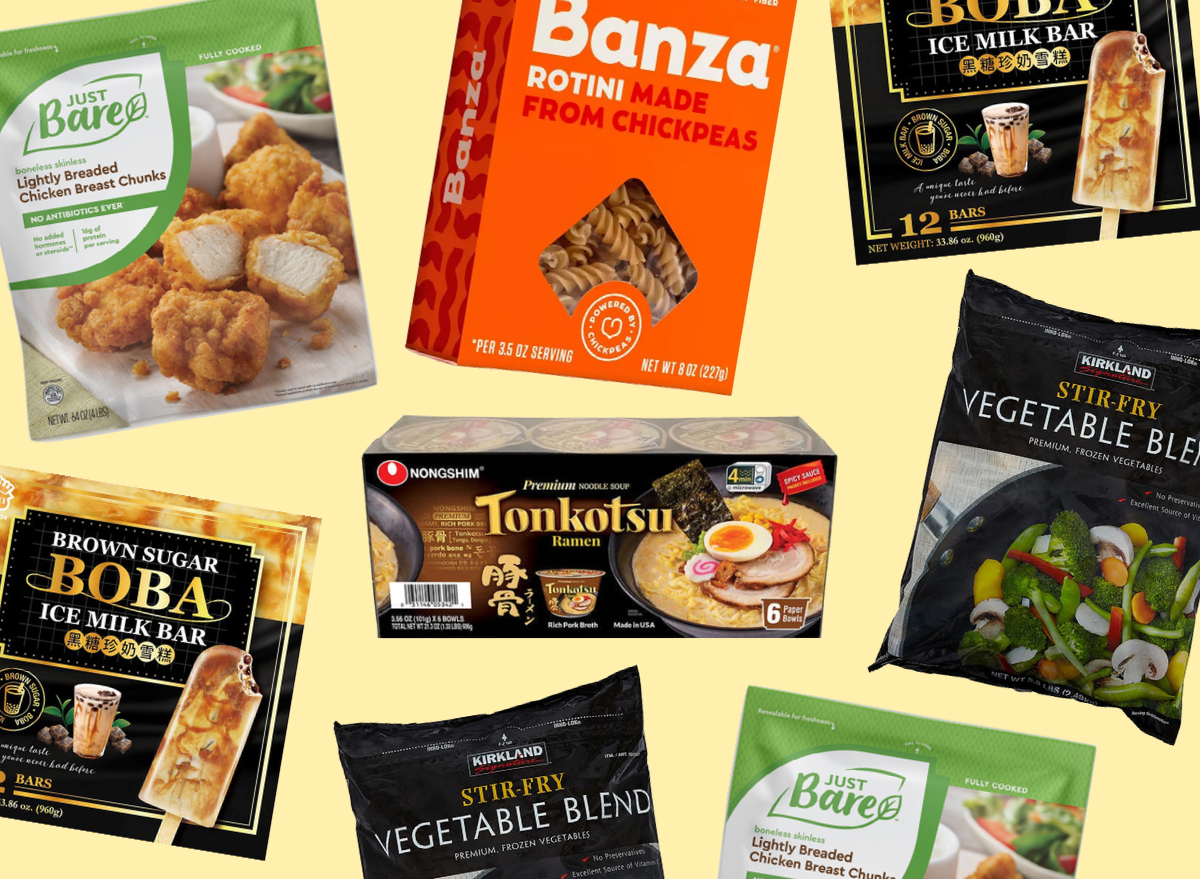 Costco is a treasure trove of bulk buys. The prices at Costco can be tempting, too, because who wouldn't want a good deal on a huge pack of M&M's? But it's easy to get sucked into buying huge boxes of foods that really aren't all that healthy and you shouldn't let your healthy eating fly out the window just because you walked into the warehouse to save some money.
Costco still offers a ton of great better-for-you options and healthy alternatives to some of your favorite junk foods. There might, however, be some buzzy Costco foods that you want to try and might be surprised to find out just how bad they are for you. That's not to say you shouldn't try them, though! Everything in moderation is the key to a healthy lifestyle.
We put together a handy list of some of the best and worst foods you can buy in bulk at Costco, looking closely at the nutritional value. What you'll find here are some kitchen staples, trendy picks, and your favorite treats. Take a peek through to see how your favorites ranked. (And before your next trip to the warehouse, read up on the Popular Costco Foods That Are Making You Gain Weight, Say Dietitians.)
Nutella
2 tbsp serving
: 200 calories, 11g fat (4g saturated fat), 15mg sodium, 22g carbs (1g fiber, 21g sugar), 2g protein
You already know Nutella is packed with sugar—that's partially what makes it delicious. But do you really need a two-pack of 33.5-ounce jars of Nutella in your cupboard taunting you? You don't; skip it.
Related: To get all the latest Costco news delivered right to your email inbox every day, sign up for our newsletter!
Nongshim Tonkotsu Ramen Bowl
1 bowl
: 450 calories, 18g fat (7g saturated fat), 1550mg sodium, 64g carbs (5g fiber, 3g sugar), 8g protein
Listen, this may be tastier and fancier than typical ramen out of a packet, but it's still full of sodium and carbs. This is definitely not something you'll want to eat often, because it's incredibly high in sodium. The FDA says you should aim to have less than 2,300 milligrams a day, so eating just one of these puts you over halfway there.
Kirkland Signature Peanut Butter Filled Pretzel Nuggets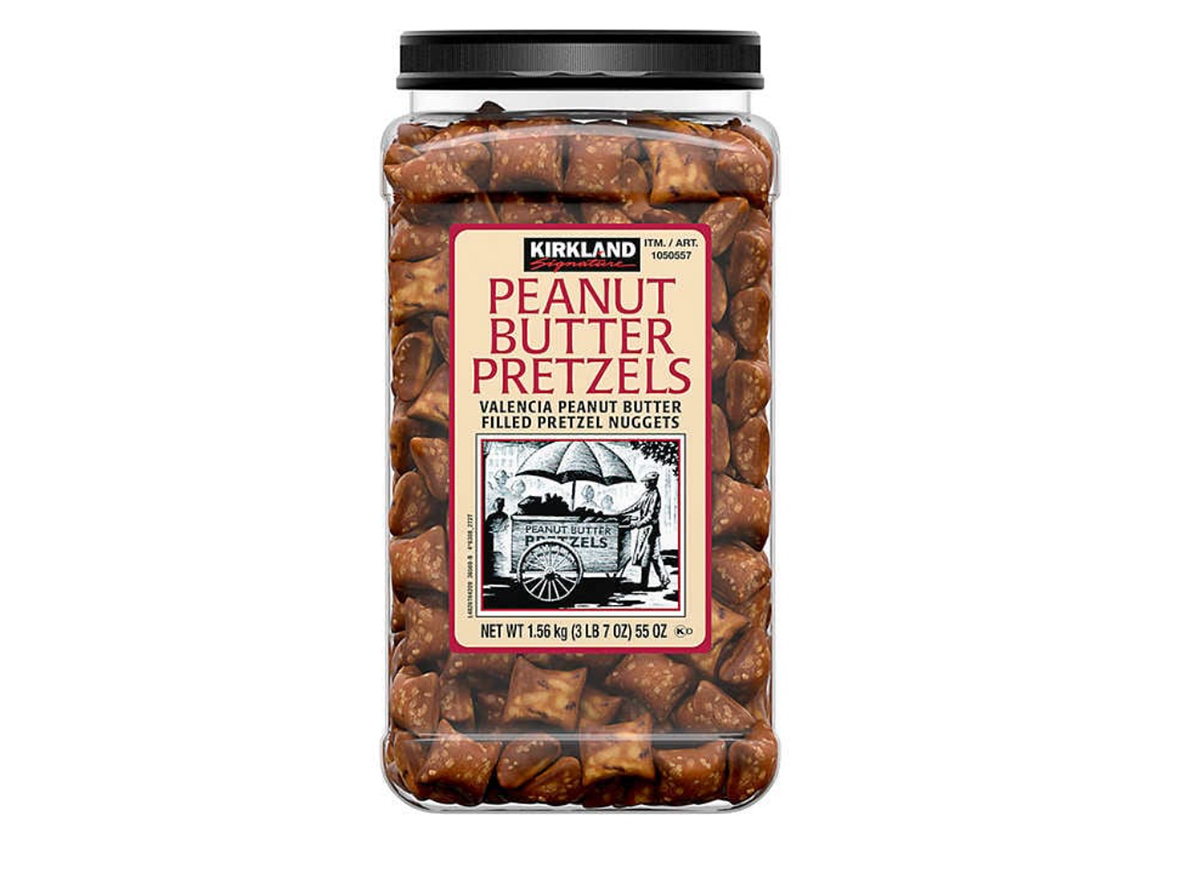 6254a4d1642c605c54bf1cab17d50f1e
28g serving
: 140 calories, 7g fat (1.5 g saturated fat), 230mg sodium, 15g carbs (1g fiber, 1g sugar), 5g protein
Here's the thing with Kirkland's peanut butter pretzels: They're not terribly unhealthy. However, when you buy a giant jug of them, it's hard to resist eating more than just one serving (which is only eight pretzels, by the way). Grabbing handful after handful and add up in no time.
Related: One Major Side Effect of Eating Pretzels, Says Science
Brown Sugar Boba Ice Milk Bar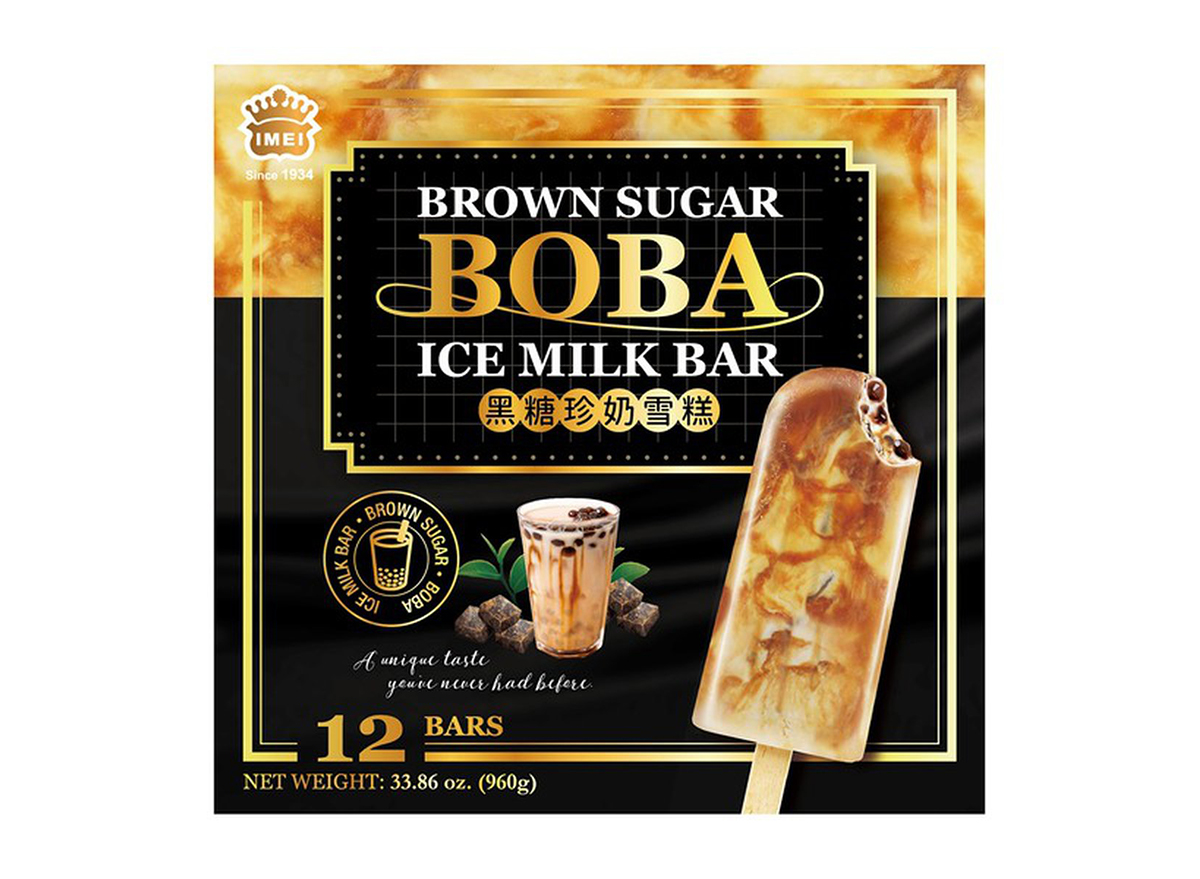 1 bar
: 160 calories, 5g fat (4.5 g saturated fat), 25mg sodium, 27g carbs (0g fiber, 17g sugar), 1g protein
Obviously a frozen treat will have some sugar in it, it's just too bad these boba pops don't also have some fiber for balance. While this is better than something like a candy bar, a sugar-free ice pop or frozen fruit would be a healthier pick.
Kirkland Signature Meatballs
5 meatballs
: 230 calories, 18g fat (7g saturated fat), 540mg sodium, 5g carbs (1g fiber, 1g sugar), 12g protein
A serving of five meatballs is actually quite generous, so for the amount of protein you're getting here, the calorie amount isn't too bad. What you need to watch are the sodium and saturated fat numbers. The Cleveland Clinic recommends someone following a 2,000-calories-a-day diet have less than 22 grams of saturated fat, and just one serving of these meatballs is about 31%.
Bibigo Steamed Chicken & Veggie Dumpling
6 dumplings
: 250 calories, 7g fat (1.5 g saturated fat), 570mg sodium, 34g carbs (2g fiber, 2g sugar), 15g protein
Though you do get six dumplings as a serving here, they come loaded with sodium and carbs. Most likely your meal would include more than just the dumplings, but you're already so overloaded with salt and fat that it's hard to keep the rest of the meal within reason as far as nutrition goes.
Whisps Parm Cheese Crisps
28g serving
: 150 calories, 10g fat (7g saturated fat), 350mg sodium, 1g carbs (0g fiber, 0g sugar), 13g protein
With Whisps, you're getting straight-up cheese and not a whole lot more, which is why the fat content and sodium content are high, but you're looking at a healthier fat than some other snack foods. Also, the saturated fat content is on the higher side, so keep that in mind when reaching into this big bag.
Just Bare Lightly Breaded Chicken Breast Chunks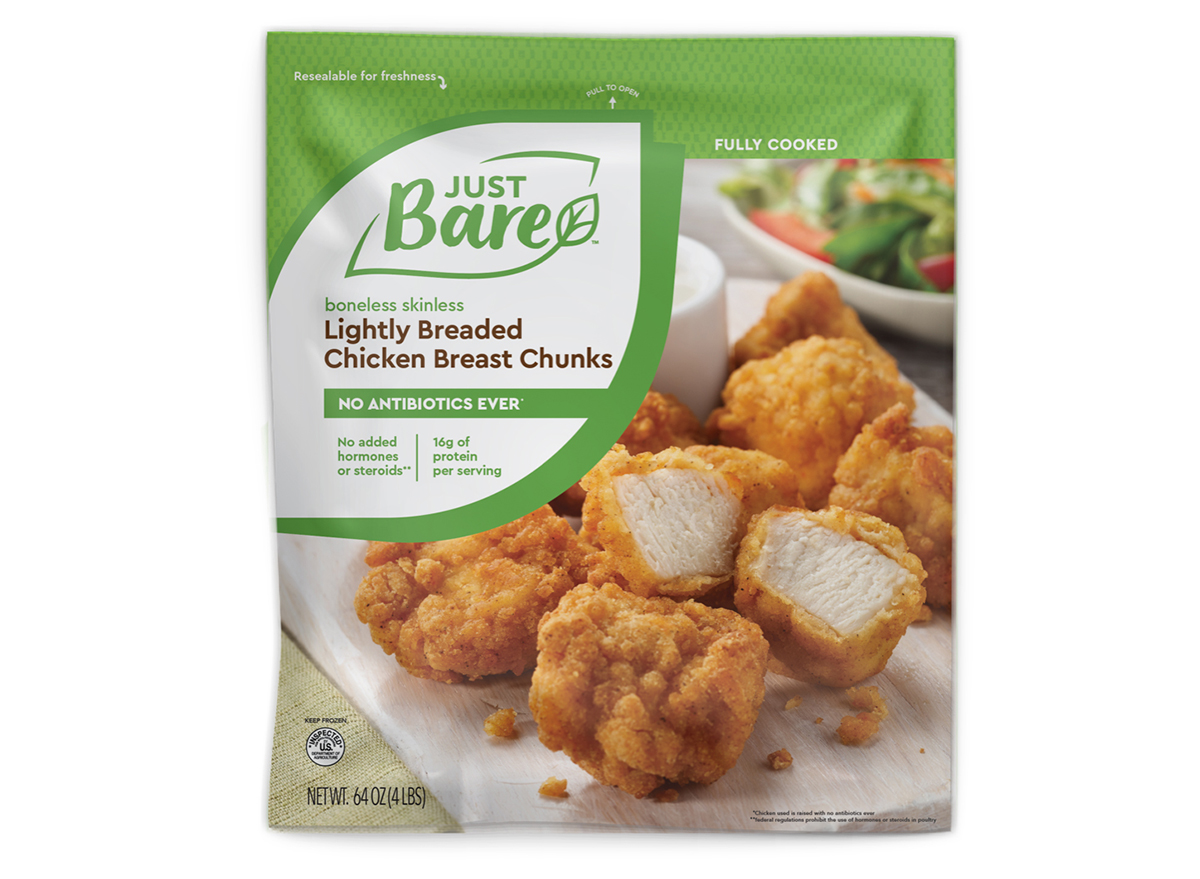 3 oz serving
: 160 calories, 6g fat (1g saturated fat), 540mg sodium, 9g carbs (0g fiber, 2g sugar), 16g protein
While we love the taste of these Chick-fil-A dupe chicken nuggets, you'd be better off just eating some grilled chicken. If you're in the mood for breaded, though, Just Bare's is better than something heavily breaded and deep-fried. Just be aware of the sodium content in these, and opt for a dipping sauce that is lower in sodium.
Related: Costco Is Facing Another Shortage of This Beloved Frozen Item
Banza Rotini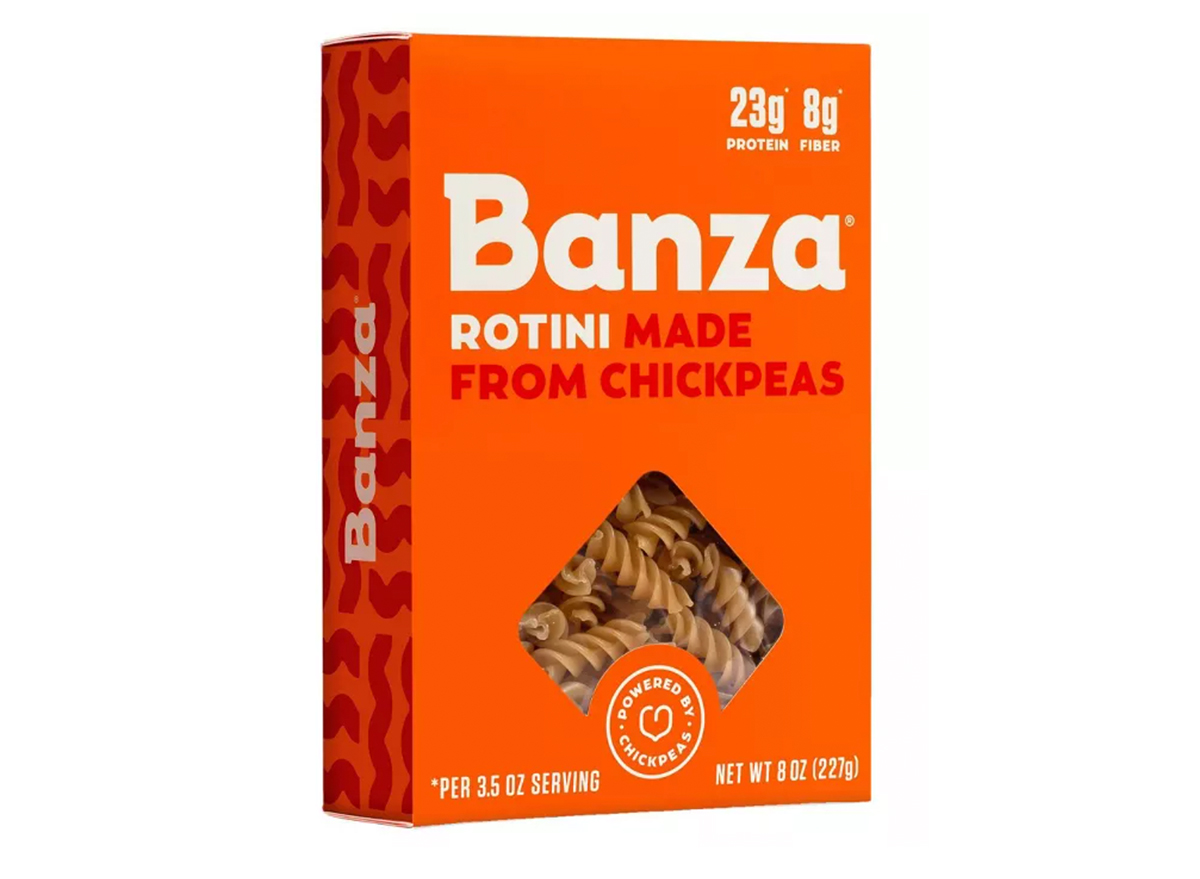 3.5 oz serving
: 340 calories, 6g fat (1g saturated fat), 70mg sodium, 56g carbs (8g fiber, 4g sugar), 22g protein
Before you feel too alarmed by how many carbs are in this chickpea pasta, take a look at the protein. The carbs are coming from the chickpeas, but when you look at the net carbs (take the total carb amount and subtract the fiber amount), this pasta is much healthier than regular pasta.
Organic Hannah Tzatziki Sauce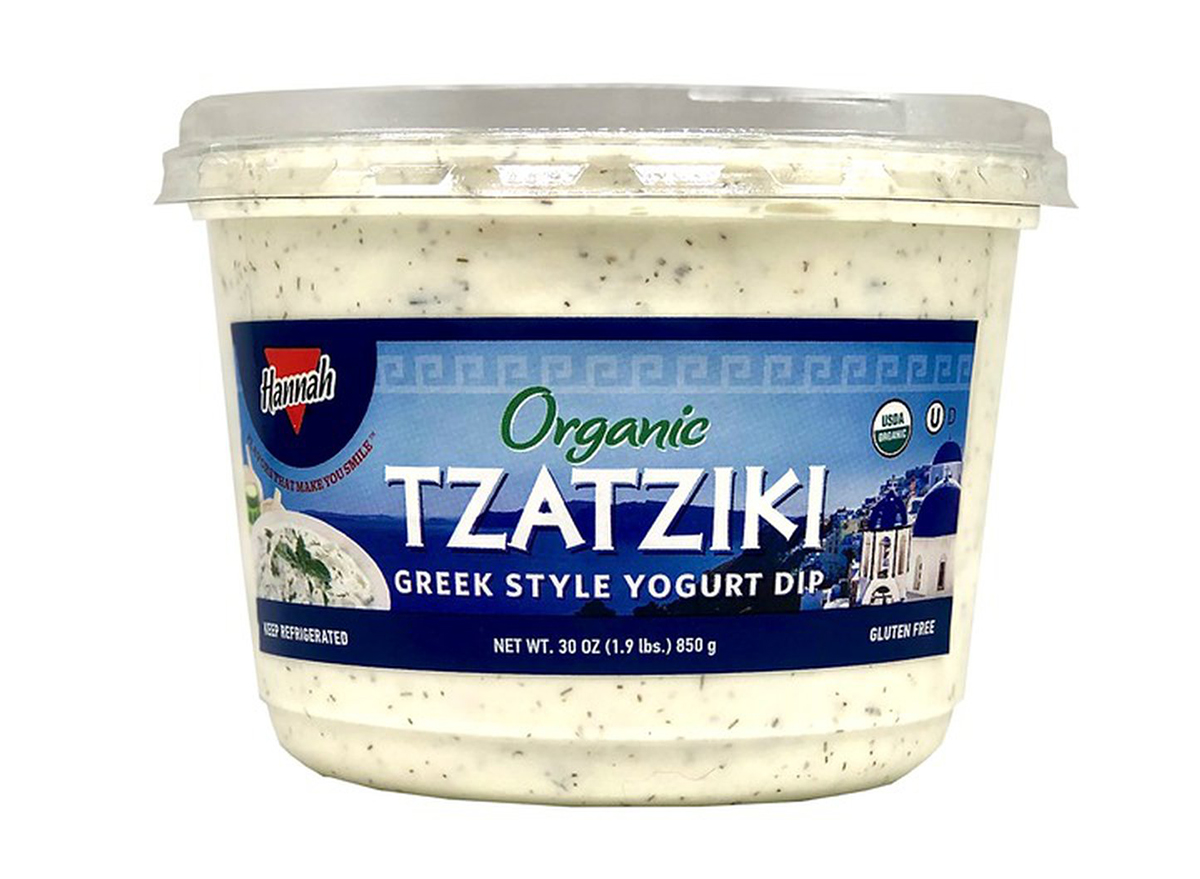 2 tbsp. serving
: 40 calories, 3g fat (2g saturated fat), 140mg sodium, 2g carbs (0g fiber, 0g sugar), 1g protein
There are worse dips you can pick when it comes to nutrition value. This organic tzatziki is low in everything, which means you're getting plenty of flavors if you dip your veggies in it but not any added sugar or a ton of carbs. It's a win-win!
Ittella Organic Acai Bowl
1 serving
: 180 calories, 8g fat (4.5 g saturated fat), 15mg sodium, 29g carbs (6g fiber, 12g sugar), 3g protein
If you're looking at this organic acai bowl as a full meal, the nutrition value really isn't too shabby. Though it does have a decent amount of carbs, it also has a good amount of fiber and protein to balance it out, plus it's low in sodium and calories.
Kirkland Signature Cheese, Fruit & Nut Snack Packs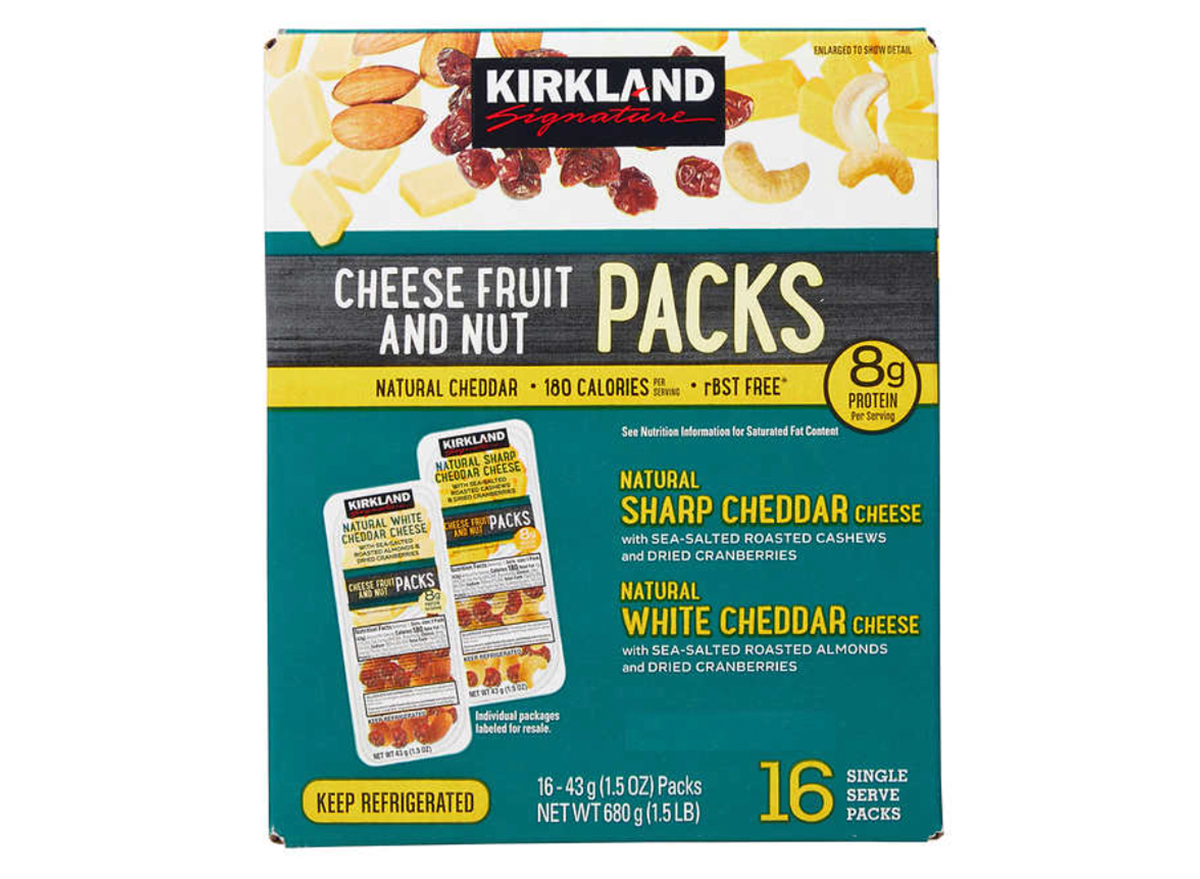 1 pack serving
: 180 calories, 13g fat (5g saturated fat), 180mg sodium, 11g carbs (2g fiber, 8g sugar), 8g protein
For a healthy snack, these packs aren't bad, per se. They're low in sodium but don't have as much protein and fiber as you might want in a quick snack. This is a better option, though, than something with no nutritional value at all, like chips.
Dr. Praeger's Organic California Veggie Burgers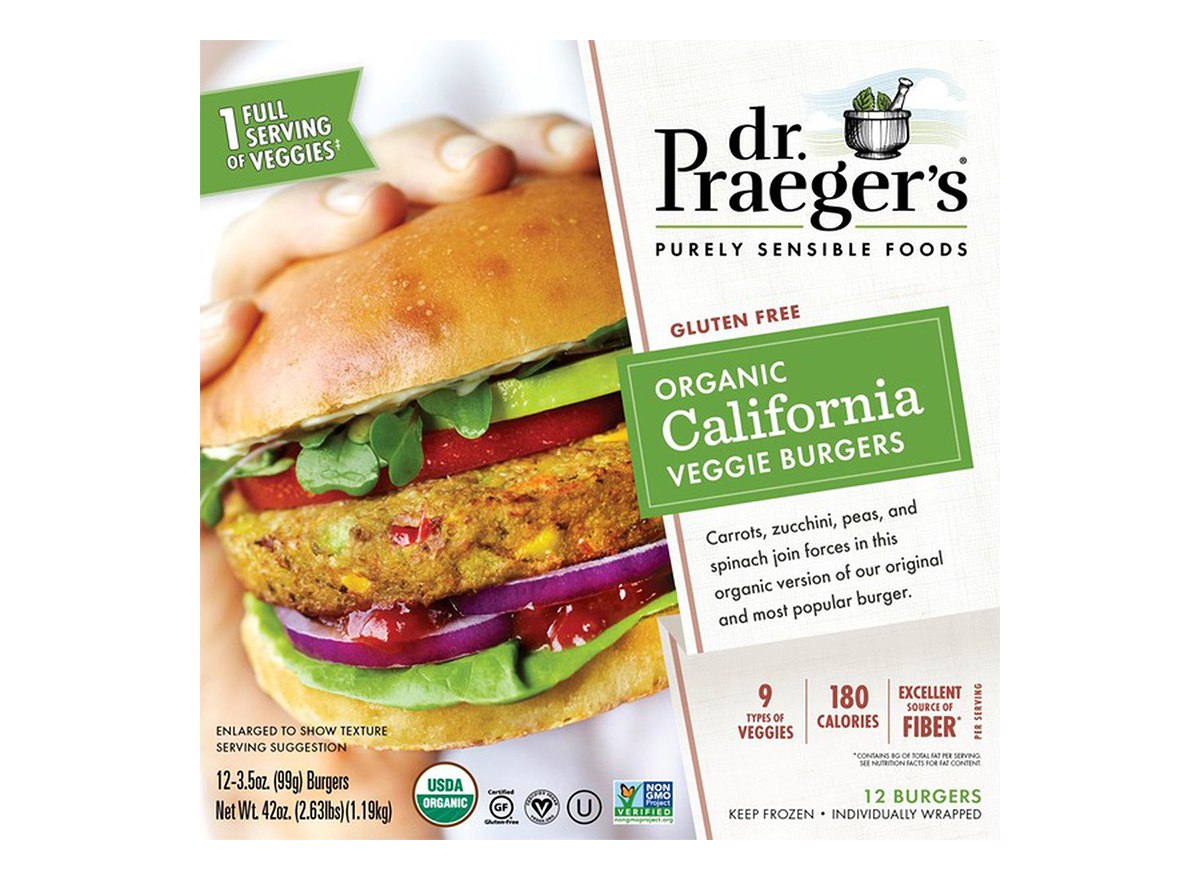 1 burger
: 180 calories, 8g fat (1g saturated fat), 350mg sodium, 20g carbs (7g fiber, 4g sugar), 6g protein
This is a great burger alternative with not a lot of fat and calories. Pair this with a lettuce wrap and some oven-baked french fries and you have a delicious, healthy meal.
Organic Tasty Bite Madras Lentils
⅔ cup serving
: 140 calories, 6g fat (3g saturated fat), 460mg sodium, 17g carbs (6g fiber, 4g sugar), 6g protein
You might look at the amount of sodium and carbs in these lentils and write them off, but here's what we want you to consider: You can eat these with a big plate of veggies and let the lentils be your only sodium in the meal. Plus, they give you a good bump of fiber and protein from a completely plant-based source.
Kirkland Signature Stir-Fry Frozen Vegetable Blend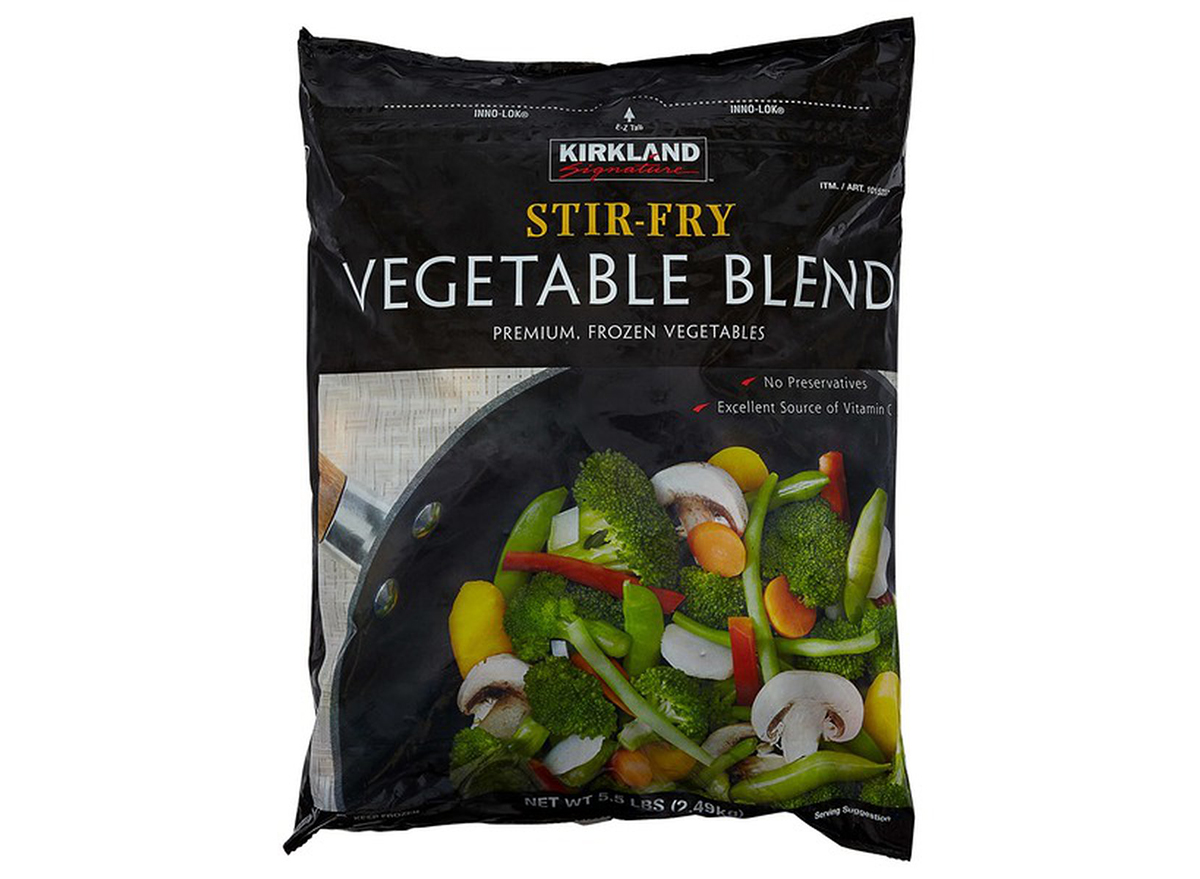 i cup serving
: 35 calories, 0g fat (0g saturated fat), 20mg sodium, 7g carbs (3g fiber, 5g sugar), 1g protein
Costco is a great place to stock up on frozen veggies and fruit because with them, the more the merrier!
For quick lunches and dinners, these frozen vegetables will come in real handy. You'll get all the nutritional value you want in a vegetable blend, but all in a bulk bag you can pop in the freezer.
Kirkland Signature Three Berry Blend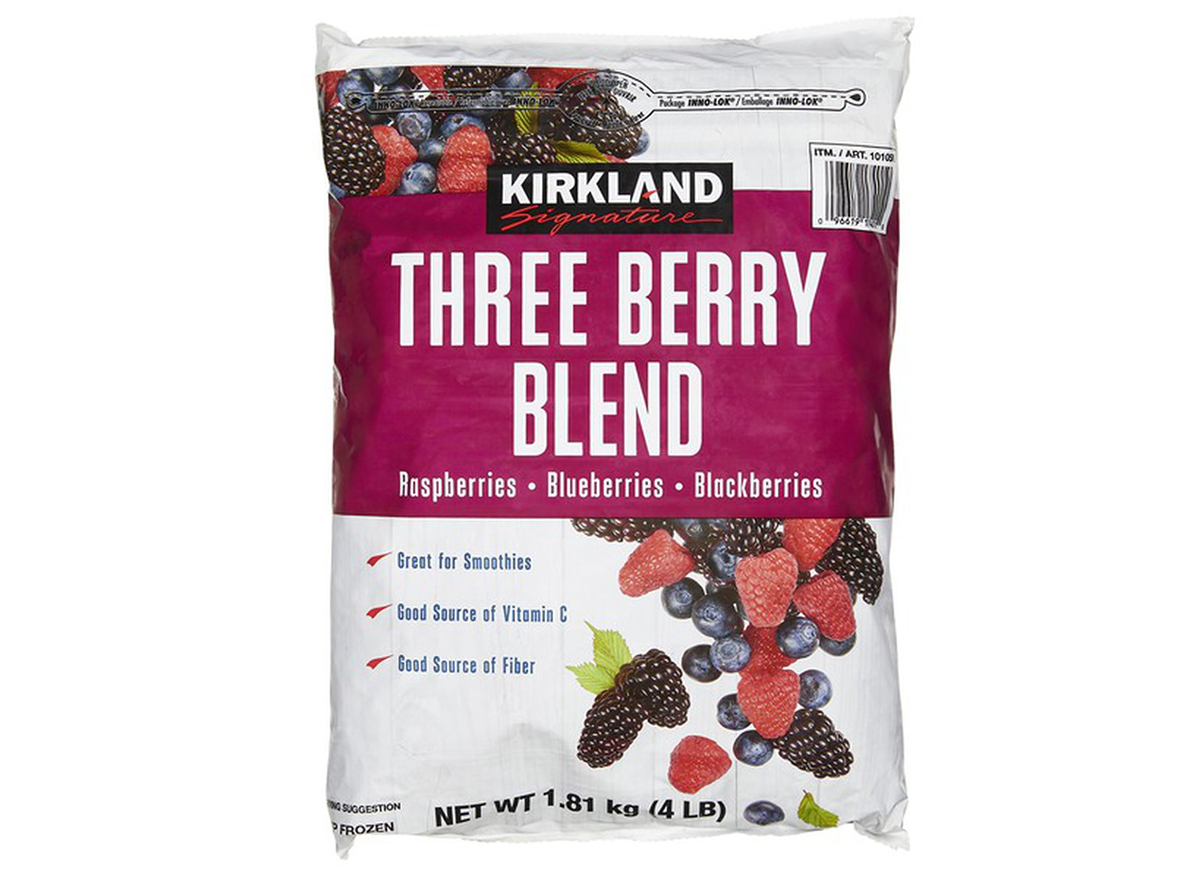 1 cup serving
: 70 calories, 0g fat (0g saturated fat), 0mg sodium, 18g carbs (5g fiber, 10g sugar), 2g protein
Kirkland Signature's big bags of fruit are also a great freezer staple. You can use them for any number of things like desserts, breakfasts, sauces, and smoothies, and they don't have any additives that take away from their nutritional value.
Crepini Grande Egg Wraps With Cauliflower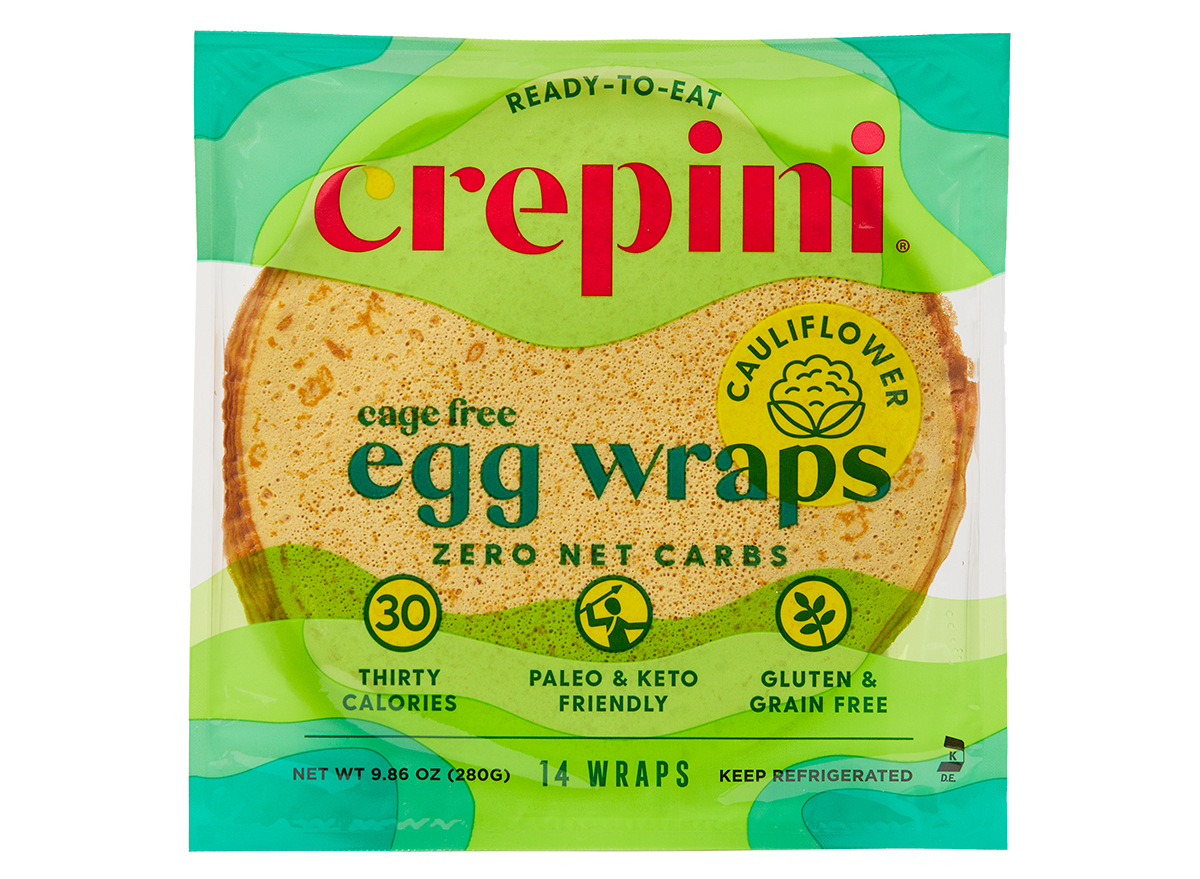 1 wrap
: 30 calories, 1.5g fat (0g saturated fat), 90mg sodium, 0g carbs (0g fiber, 0g sugar), 3g protein
These versatile wraps are so much healthier than tortillas or regular crepes. They're made with eggs and cauliflower to keep them low in calories, fat, and sodium.
For more info on what to get at the warehouse, here are The Best & Worst Produce Buys at Costco.
Hedy Phillips
Hedy is a freelance writer with years of experience covering buzzy food trends, wellness, and weight loss.
Read more about Hedy