Healthier Costco Bakery Swaps to Make At Home
Love these Costco treats? Try baking our versions instead!
Who doesn't love a sugary baked good with a cup of coffee on a crisp, fall day? I admit it's one of my all-time favorite ways to enjoy the season—especially if I can find healthier ways to create my favorite baked treats. Sure, going out to buy baked goods at popular stores—like the popular Costco bakery section—does make having baked goods at home a lot easier, but we know they aren't always the healthiest choices for our bodies.
Listen, I'm a huge fan of enjoying a treat every once in a while. I think it's important to incorporate them into your diet because deprivation does not work long term and stifles your ability to make healthy eating habits for yourself. However, if you would like to find healthier ways to enjoy some of your favorite Costco bakery treats, we've concocted a list of healthy "swaps" you can easily make at home instead of taking the trip to your local warehouse.
Here are the treats to make, and for even more healthy recipe ideas, check out our list of the 100 Easiest Recipes You Can Make.
Who only eats 1/16 of a cheesecake? A serving of the plain cheesecake at Costco is only 1/16 but comes out to a whopping 420 calories. In each slice, you'll find 16 grams of saturated fat (which is 80% of your recommended intake for the day), and 19 grams of added sugar.
Instead, slice all of those numbers with a slice of our keto cheesecake recipe. It only has 3 grams of sugar and comes with a crust made from healthier fatty foods like macadamia nuts, almond flour, and coconut.
Get our recipe for Keto Cheesecake. 
Cinnamon Pull-A-Part Rolls
Craving the taste of a cinnamon roll, but don't exactly want all that sugar? You can get that same delicious sensation with our Cinnamon Roll Overnight Oats recipe. Compared to one small Cinnamon Pull-A-Part Roll, which only has 1 gram of fiber and 4 grams of protein, our overnight oat recipe provides 15 grams of satiating fiber and 20 grams of protein. A much healthier—and satisfying—way to enjoy the taste of a cinnamon roll, if you ask us.
Get our recipe for Cinnamon Roll Overnight Oats.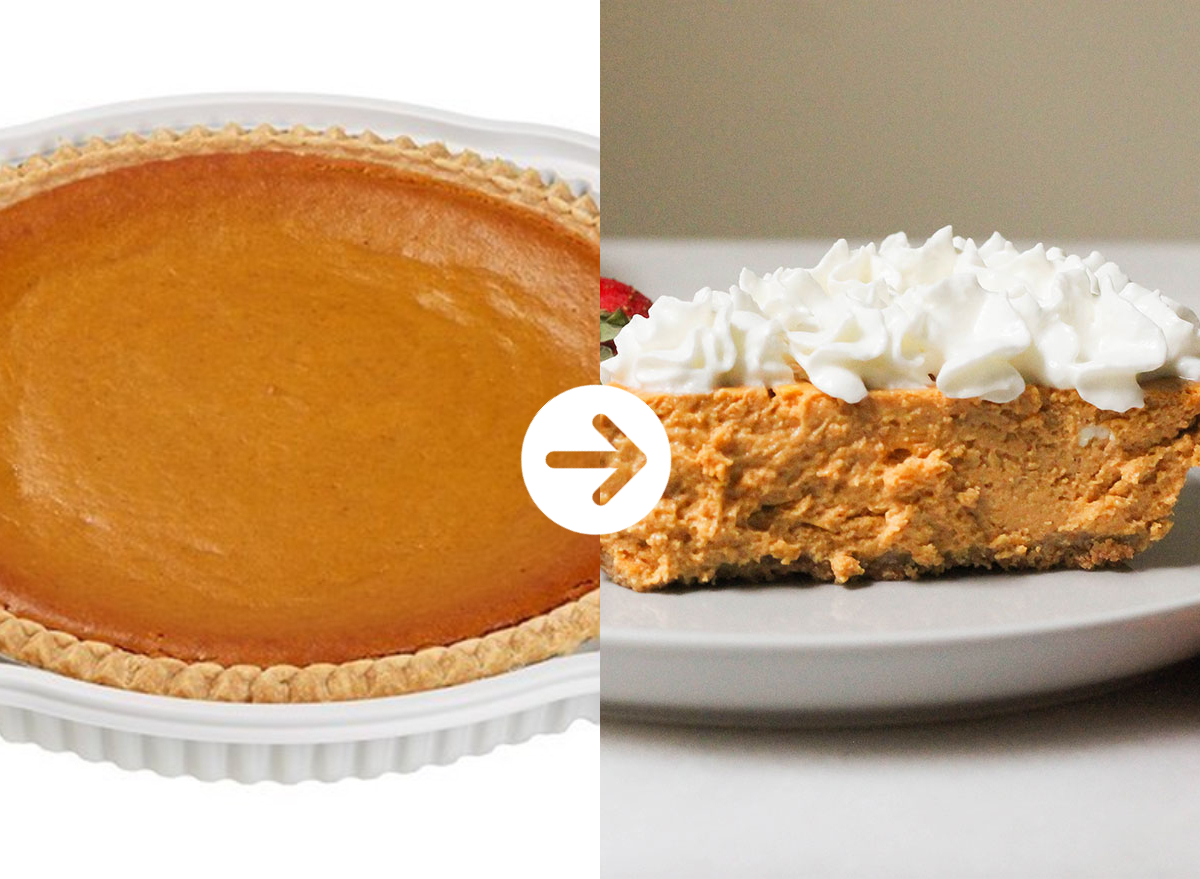 Why choose one when you can have both? If you're a fan of Costco's pumpkin pie and cheesecake, you can enjoy the best of both worlds with our healthier version. Our Pumpkin Cheesecake recipe contains Greek yogurt, low-fat cream cheese, real pureed pumpkin, and natural sweeteners like honey, to keep the sugar and fat count low while still giving you that taste that you love.
Get our recipe for Pumpkin Cheesecake. 
Did you know that a "serving" for a Costco bakery muffin is half of it? That's right—a full muffin isn't considered one serving, which makes you think about how an entire Coffee Cake muffin is actually 660 calories and 52 grams of added sugar (100% of your DRI for the day). Plus, with little fiber and protein, this muffin doesn't keep you satiated and full for very long.
Instead, these snickerdoodle mini muffins are packed with protein to keep you satiated, and taste great warm with a cup of coffee, if you ask us.
Get our recipe for Snickerdoodle Mini Muffins. 
We get it—a warm apple pie or streusel with a cup of coffee in the fall…there's just nothing like it. But why waste all of your calories, saturated fat, and added sugars on one of those when you can easily have a healthier option right at home?
These Apple Turnovers are only 200 calories per, with just 1 gram of saturated fat. It includes all of your favorite fall flavors (cinnamon, nutmeg, ginger!) and only requires 10 ingredients to make.
Get our recipe for Apple Turnovers.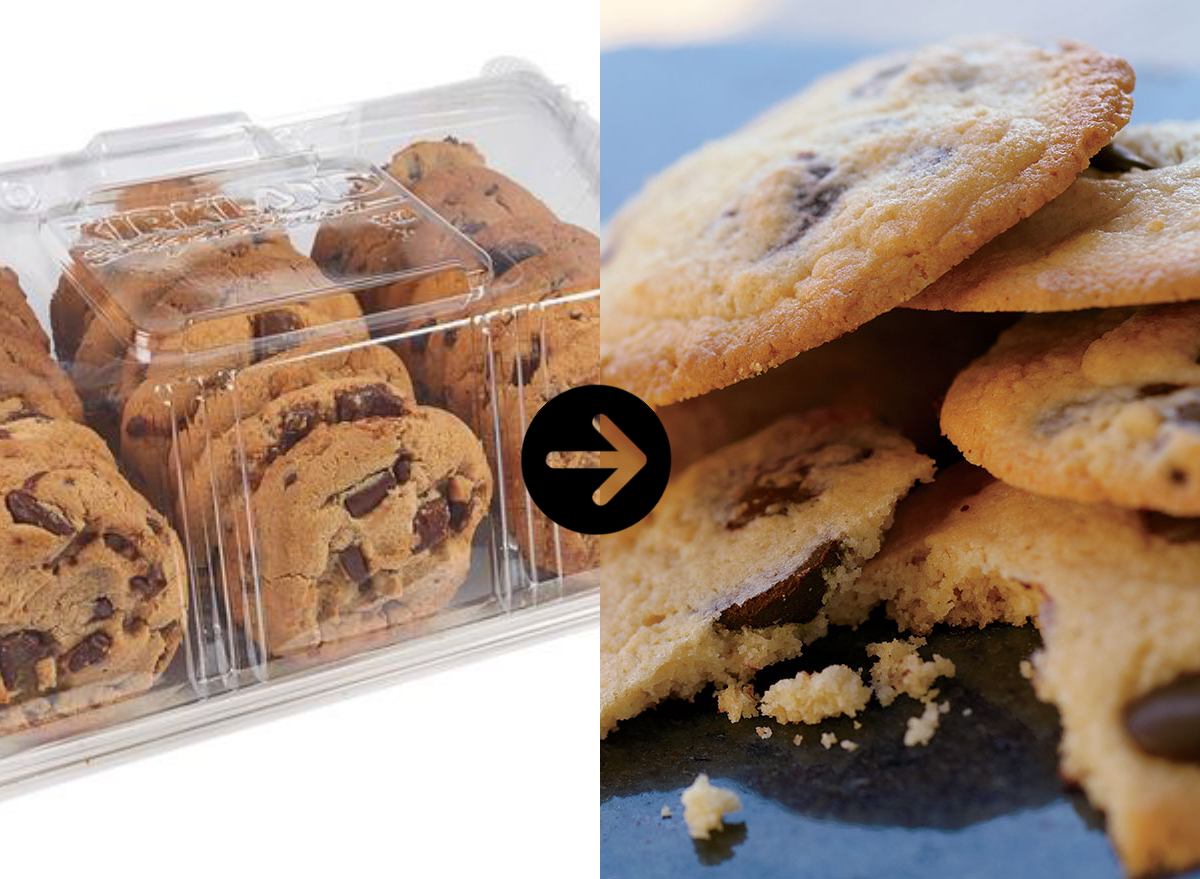 Who wouldn't love warm chocolate chunk cookies right out of the oven? Our healthier chocolate chip cookies keep the sugar and fat count low compared to the Costco bakery chocolate chunk cookies—and only total at 190 calories per.
Get our recipe for Chocolate Chip Cookies.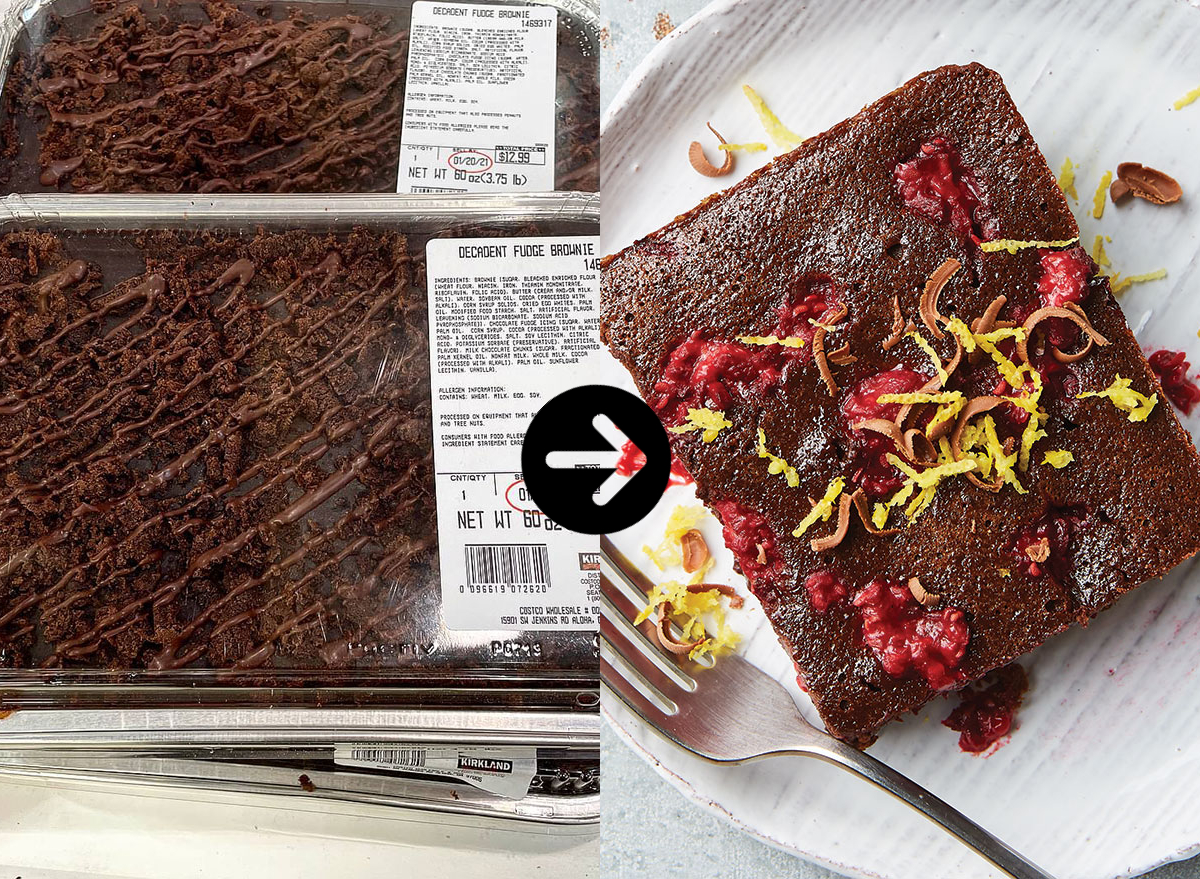 6254a4d1642c605c54bf1cab17d50f1e
Forty-two grams of added sugar for 1/16 of this brownie? And 470 calories? Why even bother when you can practically slash all of these numbers in half (or more!) with our Fudgy Raspberry Brownie recipe? It's made with applesauce and raspberries to sweeten it up without dousing the brownies in sugar, giving your brownies an extra flavor (and fiber) boost!
Get our recipe for Fudgy Raspberry Brownies. 
For even more healthy tips in your inbox, sign up for our newsletter! Then, read these next: