The 4 Worst New Burgers on Fast-Food Menus, According to RDs
While they may be delicious, these novelty items are best avoided.
A burger and fries combo will do the job when fast-food cravings hit, but we don't even need to tell you you'll be hard-pressed to find a "healthy" fast-food version of this beloved order. These burgers and fries are usually super greasy, piled high with toppings, and getting more and more tempting, as restaurants are continually coming up with new and exciting (but not so nutritious!) flavor combinations that you'll want to try.
So before you're tempted by some of the latest menu novelties fast-food chains have put out recently, make sure you know the ones you should stay away from for the sake of your health. Here are a few of the worst new burgers on fast-food menus you really don't need to test out.
And for more, don't miss We Tried 7 Fast-Food Cheeseburgers & This Is the Best One.
Sonic's Bacon Jam Cheeseburger
Per burger
: 700 calories, 43 g fat (16 g saturated fat, 1 g trans fat), 1560 mg sodium, 45 g carbs (3 g fiber, 15 g sugar), 34 g protein
In March, the drive-in chain unleashed this bacon-forward burger onto the world and it's one you may want to stay away from. Sure, it sounds delicious—made with a quarter pound of beef, American cheese, crispy bacon, and a sweet and savory bacon jam, and topped off with mayo and mustard, all on a toasted brioche bun—but nutritionist Lyssie Lakatos, RDN, CDN, CFT highlights just how unhealthy it is.6254a4d1642c605c54bf1cab17d50f1e
"At 700 calories per burger, you'll get about 300 calories more than the average person should get in an entire meal to maintain their weight—and that's before you add a drink or fries," she says. Plus, it has 16 grams of saturated fat, so you'll end up reaching and possibly surpassing your daily limit in just one meal (16-22 grams).
Buffalo Wild Wings' Bacon Smashed Hatch Chile Burger
Per burger
: 980 calories, 64 g fat (27 g saturated fat, 2.5 g trans fat), 2,390 mg sodium, 42 g carbs (3 g fiber, 9 g sugar ) 60 g protein
Another March addition, this Buffalo Wild Wings creation packs a double patty and is topped with bacon, American Cheese, chile peppers, grilled onions, pickled Fresno chile peppers, and Hatch chile aioli, then served on a challah bun. But it also packs all the saturated fat that comes with so much meat, as well as an overload of sodium.
"With 27 grams of saturated fat, it contains more than the 16–22 grams of saturated fat you should get in your entire day, and with 2,390 milligrams of sodium, you've already nearly reached your 2,400-milligram limit for the day," says Lakatos. This burger is a hard pass!
Carl's Jr.'s Triple Fiery Famous Star
Per burger
: 1,150 calories, 63 g fat (22 g saturated fat, 0.5 g trans fat), 2,480 mg sodium, 87 g carbs (9 g fiber, 17 g sugar), 60 g protein
The new Triple Fiery Famous Star features not one, not two, but THREE charbroiled all-beef patties, a Fiery Sauce, Pepper Jack cheese, jalapeños, sliced onions, tomatoes, and lettuce on a toasted seeded bun.
"The fat and sodium content are through the roof and the carbohydrates are shocking," says Trista Best, RD. This burger should not be eaten regularly by anyone, especially those with cardiovascular disease, hypertension, obesity, or diabetes, as it's incredibly high in saturated fat, carbs, and sodium.
There are also 17 grams of sugar in this burger! That's nearly as much as you would get from one Chocolate Frosted Donut with Sprinkles from Dunkin'. Sorry, but burgers shouldn't be this sweet . . .
TGI Fridays' Whiskey Donut Burger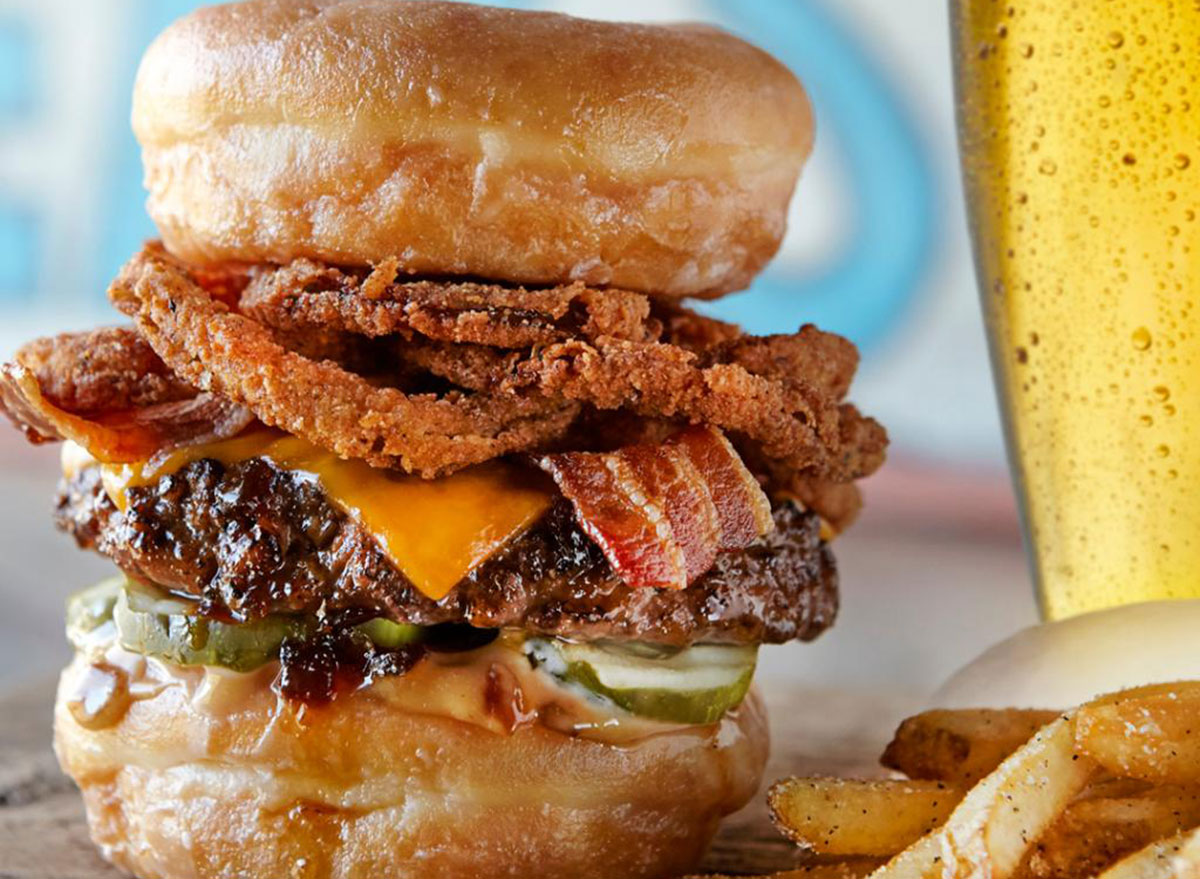 Per burger
: 1,110 calories, 55 g fat, 110 g carbs, 3 g fiber, 46 g protein
Just looking at this burger, you know you're in trouble. This new playful, circus-themed item from TGI Fridays uses two soft glazed donuts instead of a burger bun, which are layered with a beef patty, cheddar cheese, crispy fried onions, pickles, and hickory-smoked bacon. It's a circus in here indeed!
"With cheese, fried onions, bacon, and sugary donuts instead of a bun, it's no surprise that this burger contains nearly as many calories as some smaller females should get in their entire day," says Lakatos. The sugary donut bun makes it a dessert, too!
For more, check out the 108 Most Popular Sodas Ranked By How Toxic They Are.
Isadora Baum
Isadora Baum is a freelance writer, certified health coach, and author of 5-Minute Energy.
Read more about Isadora