10 Old-Fashioned Dips Made With Healthier Ingredients
When someone brings out a big tray of snacks and dips, it's a festive good time.
Chips and dips. Veggies and dips. Crackers and dips. You get the idea! Dipping small bites into dips equals big flavor, and almost everyone loves a good dip. When someone brings out a big tray of snacks and dips, it's so festive and you know it's going to be a good time. 
Whether putting together a tray for game day, pregaming Thanksgiving dinner, or just getting together with old friends, we know a good dip will be a crowd pleaser. We looked back at favorite dips to give you some party inspiration, along with finding some recipes to help you make them just a little bit healthier. Read on to visit some beloved old-fashioned dips and maybe get some new healthier, dip recipes. 
Spinach Artichoke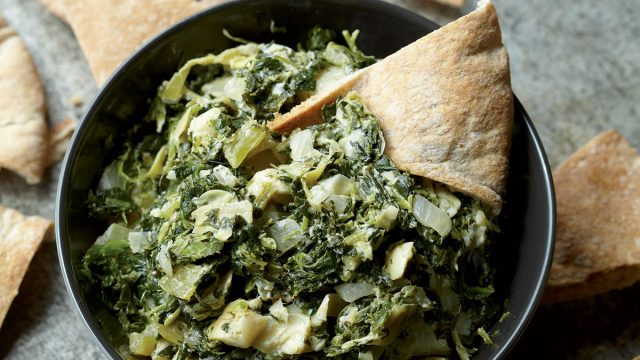 Creamy, dreamy spinach artichoke dip is a fall classic we crave as soon as there's a chill in the air. The origins of this dip trace back to the 1950s, with some saying that when American soldiers returned from the front after the Second World War, they wanted to find some flavors which they had become accustomed to in Europe. In this reimagined recipe, flavorful olive oil-based mayo cuts calories and builds nutrition without sacrificing flavor. 
Get our recipe for Spinach Artichoke Dip.
Queso
Nothing gathers a group like a dish of hot melty cheese, and this version, packed with veggies is so satisfying. Originally a campfire dish from Northern Mexico, queso is traditionally served on a warm tortilla, but we love dipping veggies too!
Get our recipe for Queso Fundido.
Seven Layer Dip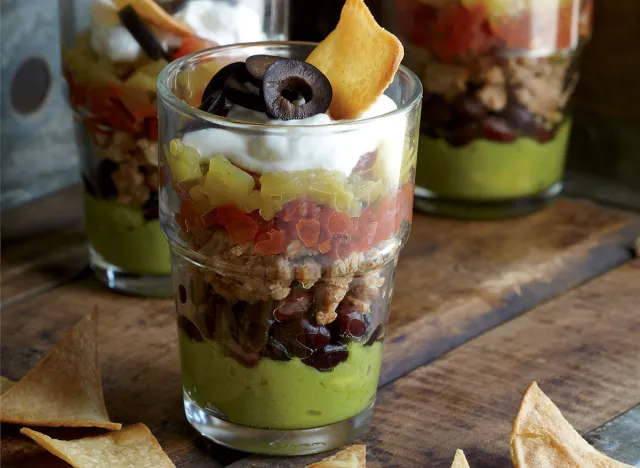 If you grew up on this pretty layered dip—that was created by a clever Texas home cook who added refried beans and jalañpenos to a Southern Living recipe— try our freshened up (never canned) version packed with fresh pico de gallo and Greek yogurt.
Get our recipe for Seven Layer Dip.
French Onion Dip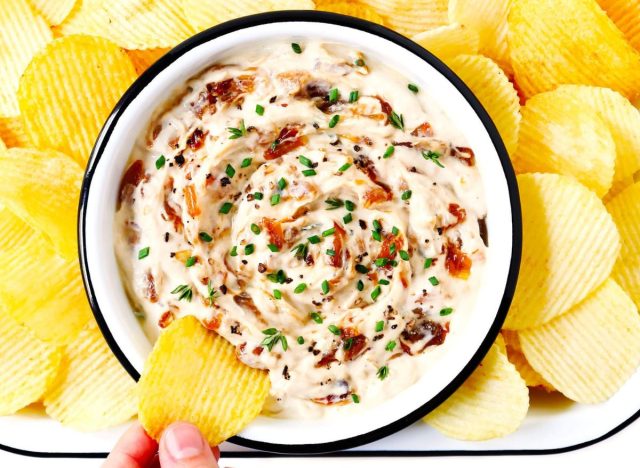 This lightened-up version of your favorite dip is packed with bold flavors—caramelized onions working their magic—and a lot less calories. The original version, created in the 1950s by an enterprising home cook who mixed Lipton soup mix with sour cream, is super tasty but a lot less fresh.
Get the recipe from Gimme Some Oven.
Guacamole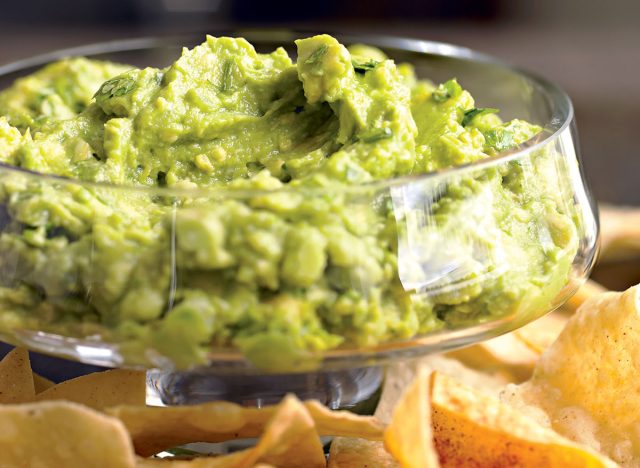 Possibly the most old-fashioned dip on this list, guacamole can be traced back to the Aztec Empire in Central America in the 1500s! Our super simple guacamole is delicious with crispy quesadillas, or just with some tortilla chips and veggies. 
Get our recipe for Easy Guacamole.
Crab Dip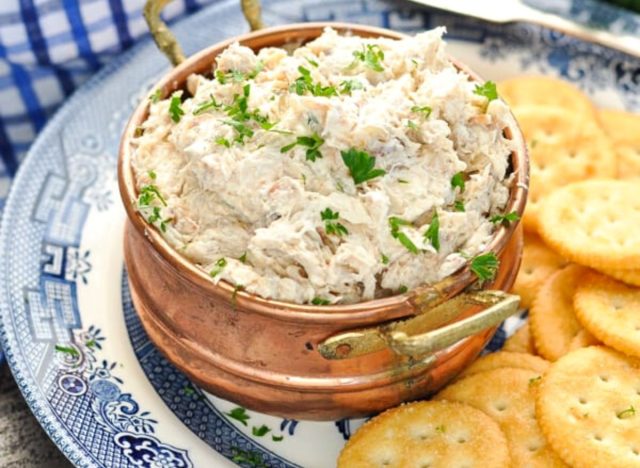 Like a lot of dips on this list, crab dip came into popular culture in the 1950s, due to the popularity and accessibility of canned crab meat. This easy 10-minute appetizer can be served hot or cold and can be prepped in advance. But no one will guess when they're noshing on beautiful hunks of creamy crab.
Get the recipe from The Seasoned Mom.
Buffalo Chicken Dip
There's not much more crowd-pleasing than this lightly spicy protein-packed dip, and you'll set it and forget it with this easy slow-cooker recipe. It's hard to trace when our favorite wings, which were invented in the 1960s by the owner of the Anchor Bar in Buffalo, NY, evolved into a dip, we just know it's been on menus for as long as we can remember. 
Get the recipe from Gimme Some Oven. 
Blue Cheese Dip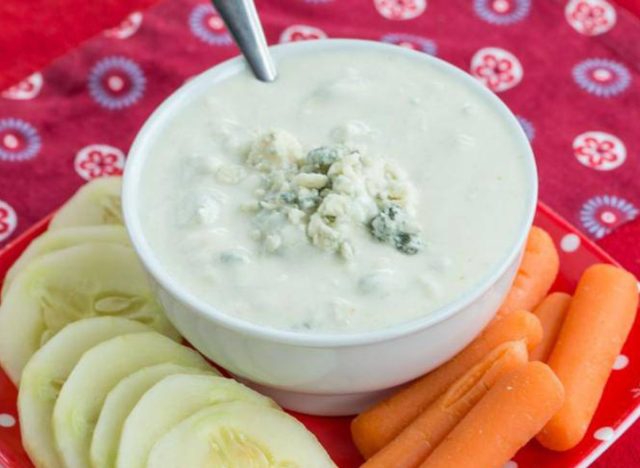 Evolving from blue cheese dressing, which was first seen in a 1918 version of Fannie Farmer's cookbook, this heavy, creamy dip is perfect for baked wings, carrots, and celery or just with pita points. Greek yogurt brings creaminess and sharp flavor, with fewer calories than a store-bought version.
Get the recipe from Cupcakes & Kale Chips.
Pimento Cheese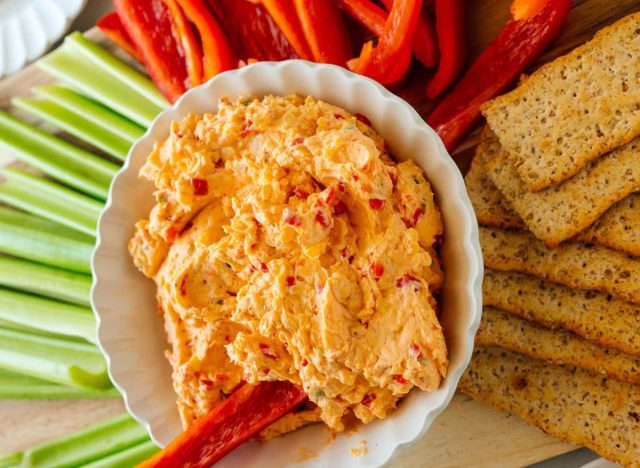 First popping as a Good Housekeeping recipe in 1908, this dip, sometimes called "Southern pate," this dip is creamy and cheesy, tangy, peppery (spicy if you wish), and so spreadable. 6254a4d1642c605c54bf1cab17d50f1e
Get the recipe from Cookies & Kate.
Black Bean Dip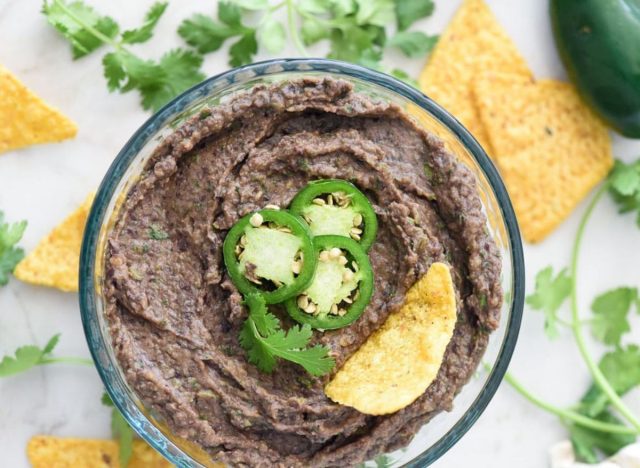 Get the recipe from Five Heart Home.
Almost every culture has some version of a bean dip (consider, if you will, hummus), but most of us growing up in the US are familiar with the jarred or canned versions that hit the store shelves in the 1950s. This take, a zesty dip is flavored with fresh garlic, cilantro, jalapeño, lime juice, and cumin. It's healthy, heavy on protein, and super easy to make. 
Tanya Edwards
Tanya Edwards is a seasoned food and health journalist, who has held roles at Yahoo Health as Managing Editor and at Food Network as Programming Director.
Read more about Tanya